You probably take your fingers for granted–until they're stinging from a rogue BB, full of splinters, or freezing cold during a winter-time match.
Protection is a super-important part of playing airsoft, and one of our most recommended pieces of protective gear is a good pair of tactical gloves. But, finding the right gear for your games can be a bit of a headache.
We've been there and made a lot of mistakes along the way, so we figured we'd give you a rundown of what to look for when choosing gloves, why you should have them, and–most importantly–the best tactical gloves for airsoft.
Let's get to it!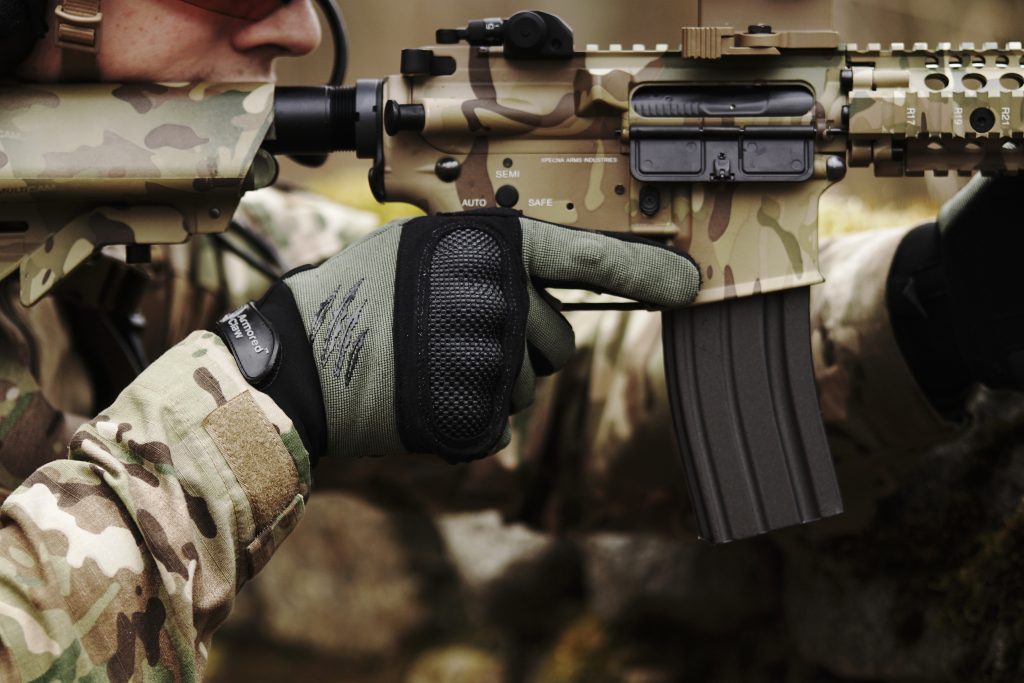 Why Should I Buy Tactical Gloves?
We get it–getting into airsoft is expensive enough, and if you don't need to spend money on something that only looks cool, then why buy it?
It's true that tactical gloves do give you that cool operator look about you, but they're also seriously useful on the airsoft field.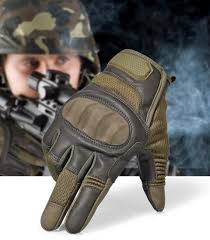 A handful of reasons to wear tactical gloves are:
They offer you a better grip on your gun, your magazine, doors… and whatever else you might be grabbing.
Gloves can protect your hands from rough surfaces, especially when falling or navigating tight quarters.
Ever take a BB to a knuckle? It's not fun, but gloves soften and diffuse the blow so it doesn't hurt nearly as much.
Gloves protect you from cold winter days, but they also can protect you from grabbing onto a hot metal barrier that's sat under the blazing sun all day.
So, as you can see, there's plenty of reasons to add a pair of sturdy gloves to your kit. After all, your hands are seriously important, and a little welt or scrape will leave you miserable for days.
How Do I Choose Tactical Gloves?
While we're about to recommend some of our favorites, it really depends on personal preference as to which pair are the right ones.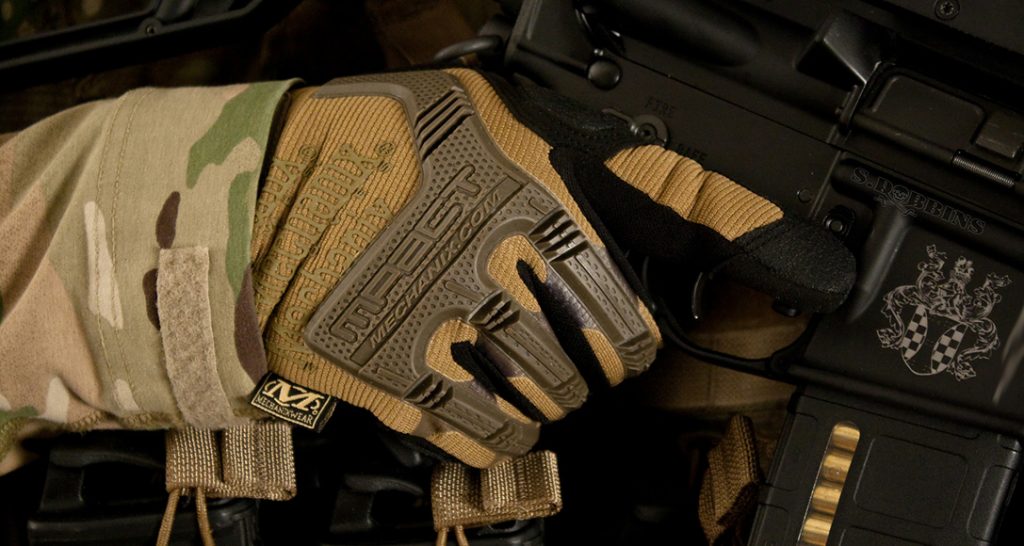 Here are a few things to keep in mind as we go through our picks in a moment.
Size and Fit
Your hands are unique, which means the way a glove fits will also be unique. Generally, when choosing gloves, you'll need to pay attention to the length from wrist to middle fingertip and the distance around your palm, between your thumb and your knuckles.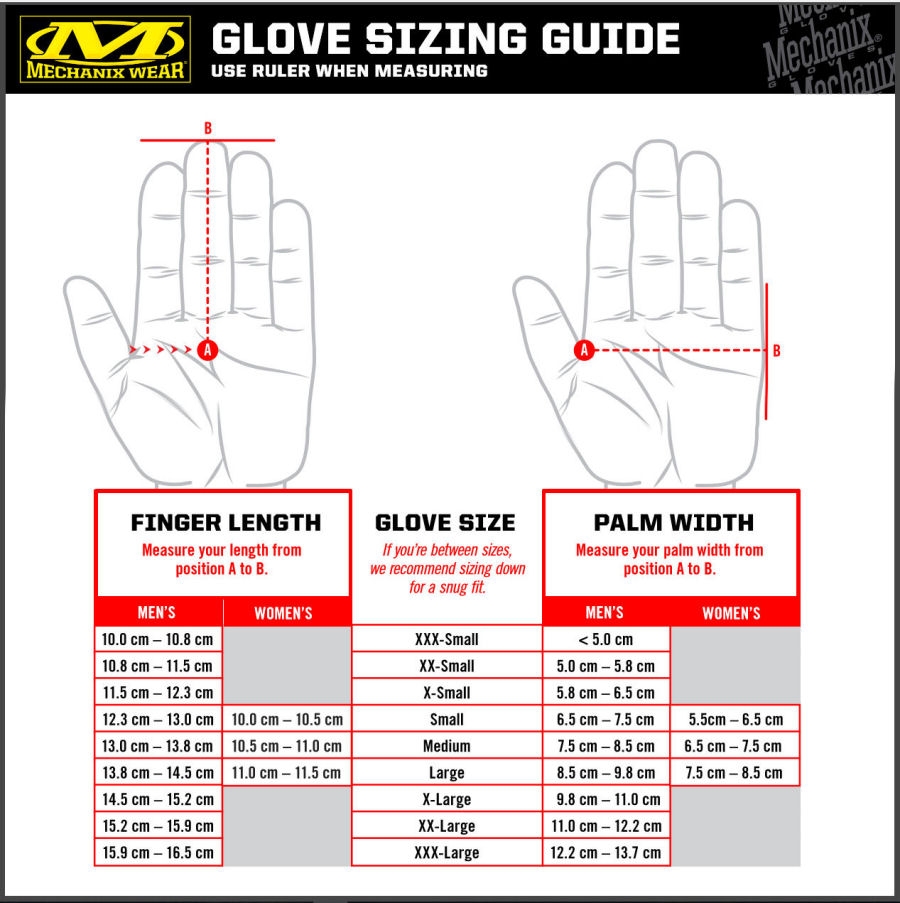 These two measurements will help you find gloves in the right size, but also the right cut for your hands, no matter how they're shaped.
It's also important to make sure your gloves fit well, not only for comfort, but also to ensure you have plenty of dexterity and articulation. It sucks to have to remove your gloves just to reload.
Durability and Materials
Gloves can take a beating, so it's important to think about the durability of a new pair before buying. Reinforced areas, strong stitching, and sturdy materials will stand up to a lot more abuse, but often come at a higher cost.
Additionally, you'll want to think about what the gloves are made of–leather is ultra-protective, but can get sweaty and hot. Sweat-wicking stretch material can be great for summer, but won't keep your fingers warm in colder weather.
Level of Protection
Like we mentioned above, the construction and materials of your gloves will mean a lot when it comes to the amount of protection that they offer.
Some tactical gloves come with padded knuckles or formed plastic protectors to guard the backs of your hands, which can be great for fending off wayward BBs, but will impact your comfort and dexterity.
Lighter gloves offer better dexterity, but less protection. It's all about what feels the best to you.
Budget
We can find tactical gloves for any budget, from basic to bougie, but the right gloves are the ones you can afford without skipping meals. Your hands are important, but plenty of budget gloves do just as well to keep your fingers safe.
Features
As we go through, we're going to make note of any unique features these gloves may have, like touchscreen compatibility, elastic hanging loops, leather reinforcements, and more. Think about what really is important to you, and what isn't so important. You may figure out that your perfect pair of gloves isn't actually as expensive as you'd have guessed!
Best Tactical Gloves for Airsoft
Now that you know what to look for when buying tactical gloves, we're here to offer some suggestions to get started with. These are a few tried-and-true pairs that offer a variety of protection, features, and fits–something for everyone!
Magpul Technical Gloves
If you're not familiar with Magpul, they're a company that makes thousands of aftermarket parts and accessories for firearms. In short–they know what they're doing when it comes to shooting gloves. 
The Magpul Technical Gloves might not be the fanciest gloves around, but they were designed with your trigger finger in mind. The cut is very generous for shooters, without being terribly bulky or loose.
These gloves also have a few cool features, including three touchscreen-compatible fingertips, elastic loops for pulling them on or attaching them to your kit, and a patch of terrycloth on the back of the thumb, which is great for polishing optics up.
Best of all? They're nicely priced, at only $20.
SKD Tactical PIG FDT Alpha Gloves
Our current favorites, the OG SKD Tactical PIG FDT Alpha Gloves. Acronyms aside, these are fully dextrous gloves that are meant to fit quite snuggly so they don't get in your way.
The Alphas feature a synthetic suede palm which makes them great for preventing boo-boos, but a little slow to dry if they get wet–so you might not like them nearly as much in rainy, cold weather. 
These gloves also have a touchscreen-enabled index and thumb pad, a dual-jointed trigger finger, and isolated trigger finger material, which make them very comfortable to shoot with.
If you have smaller hands, you might want to check out the PIG FDT Charlie gloves, which tend to run on the smaller side
Mechanix Wear Tactical M-PACT Gloves
Mechanix Wear gloves are pretty popular, both in the airsoft and tactical worlds, since they're affordable and perfectly designed for comfortable wear. We love the Tactical M-Pact gloves since the molded thermoplastic rubber impact protection pads are great at protecting your fingers from flying BBs. 
They're made from TekDry fabric, which is great at wicking sweat away and keeping your hands nice and cool, even in the hottest weather. These gloves also feature padded palms to help absorb shock.
The thin synthetic suede palm defends against abrasions and punctures, but won't weigh you down or impede your dexterity. 
You don't have to break the bank on them, and they come in a variety of sizes, too!
Magpul Core Breach Gloves
Another great set of gloves by Magpul, the Core Breach gloves are designed with shooters in mind. These might be a little overkill for airsoft, but the heavy knuckle protection and dual-layer, leather palm will protect your hands beautifully.
They also have touchscreen pads on the thumb, index, and middle finger, so you can Snapchat your airsoft exploits. The expansion joints on the backs of the fingers keep your dexterity high so it's easy to manipulate your controls. These gloves are largely constructed of leather, so they can be a little heavy and slow to dry, but they offer awesome durability.
We also like that they have an adjustable wrist so you can customize your fit–and get these gloves off easily.
Valken V-Tac Half-Finger Armored Gloves
Looking for something a little different? Half-finger gloves might give you the balance of flexibility and protection you're looking for.
The Valken V-Tac Half-Finger Armored Gloves feature flexible plastic armor on the back of the hand, which gives you some serious protection. They also have an abrasion-resistant, padded palm–just in case you need it.
Looking for a little more coverage? You can also find V-Tac Full Finger Armored Gloves, too!
Blackhawk 1/2 Finger Light Assault Gloves
Don't have too much to spare on a good set of gloves? Don't worry–we have something for you, too! The Blackhawk 1/2 Finger Light Assualt Gloves are very affordable, but still offer plenty of protection, comfort, and a customizable fit.
Half-finger gloves don't offer quite the same level of protection as full finger gloves, but they make up for it in flexibility and comfort. These gloves are a lot cooler in warm weather and the dry-quick synthetic material will keep your hands dry.
Synthetic suede padded knuckles offer a little extra protection, and the rubberized palm will help you keep your grip. You also get a customized fit with an adjustable cuff and back-of-hand adjustments.
Wrap Up
So, there you have it–our favorite picks for the best airsoft tactical gloves. We hope you've seen just why you need a good pair of gloves and helped you find your next pair!
So what did we miss? Tell us if we didn't include your favorite gloves, if you have any recommendations, or if you want to see us try something out. Don't forget to hit us up on Facebook!