If you've got an eye for detail and that milsim-based need for authenticity, there are only so many AEG options that won't have you replacing most of the externals right off the bat.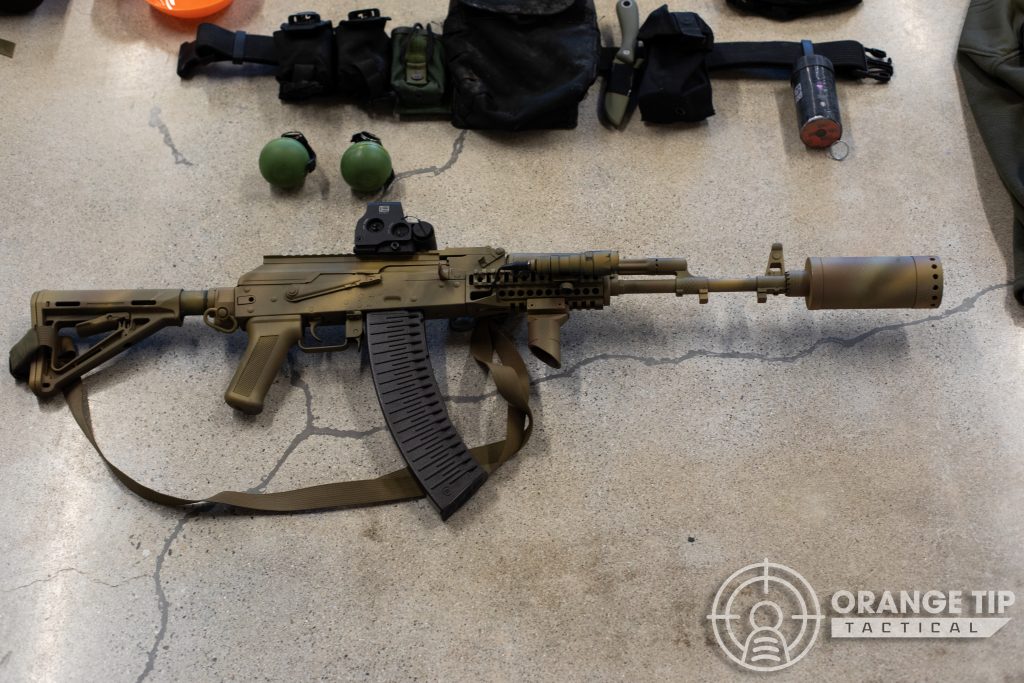 However, internal upgrades can often add up, too.
Does LCT's take on the AK-74M with the iconic STKBR stock hit that sweet spot in the middle?
Let's find out!
Who's It For?
The AK-74M is the standard-issue infantry rifle for the vast majority of the armed forces of the Russian Federation.
A modernized replacement for the older, wood-clad AK-74, the AK-74M is notable for its polymer side-folding full stock, sleek black polymer handguards, and dovetail rail on the left side of the receiver that allows for the mounting of optics.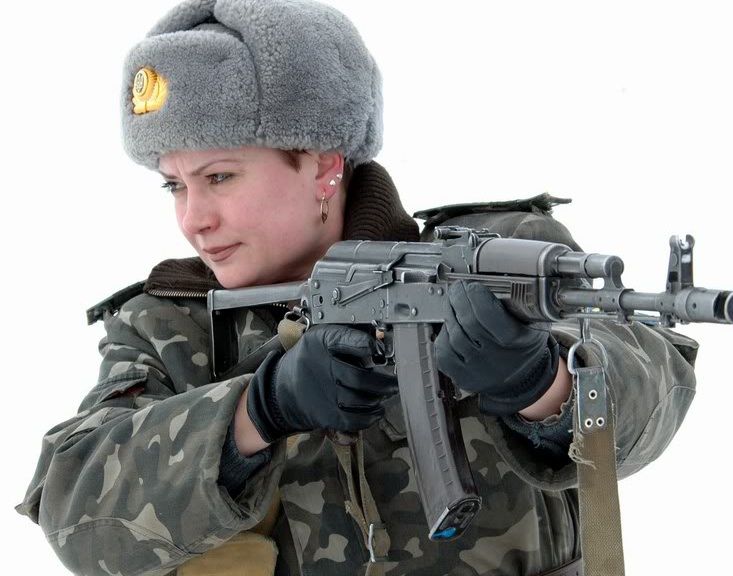 LCT generally serves as the go-to brand for impressive steel externals and totally serviceable internals if you're in the market for a robust AEG.
A fave of many milsim-oriented players for the external durability, LCT guns will generally perform well enough to get you through a bigger game out-of-the-box. But it also offers a fantastic platform for customization both inside and out.
If this sounds like you, read on!
Fit, Feel, and Finish
LCT's rifles are solid. There's no wobble to any of the parts, and no audible wiggling outside of the sling swivel when the gun's shaken.
The exterior of the gun is steel, outside of the pistol grip and handguards.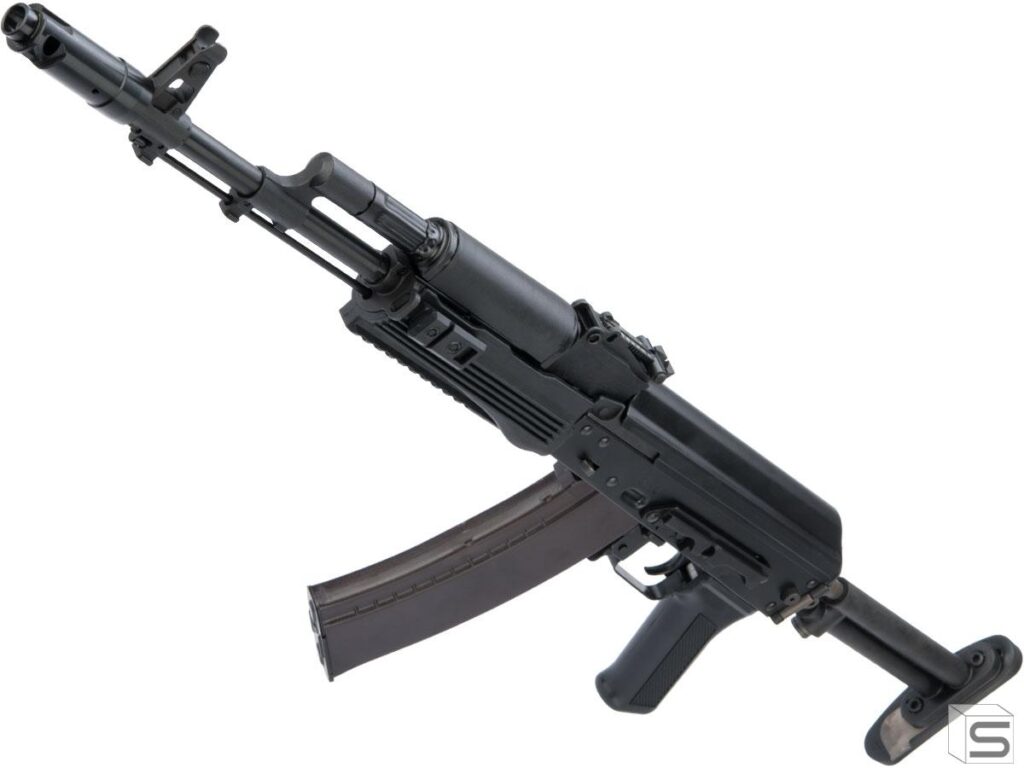 Also, the entire rifle brings a gorgeous matte black finish, with the exception of some of the raw steel-colored components on the STKBR stock.
Though you probably already noticed that we've gone on and painted the AEG before we snapped stock configuration photos. Woops!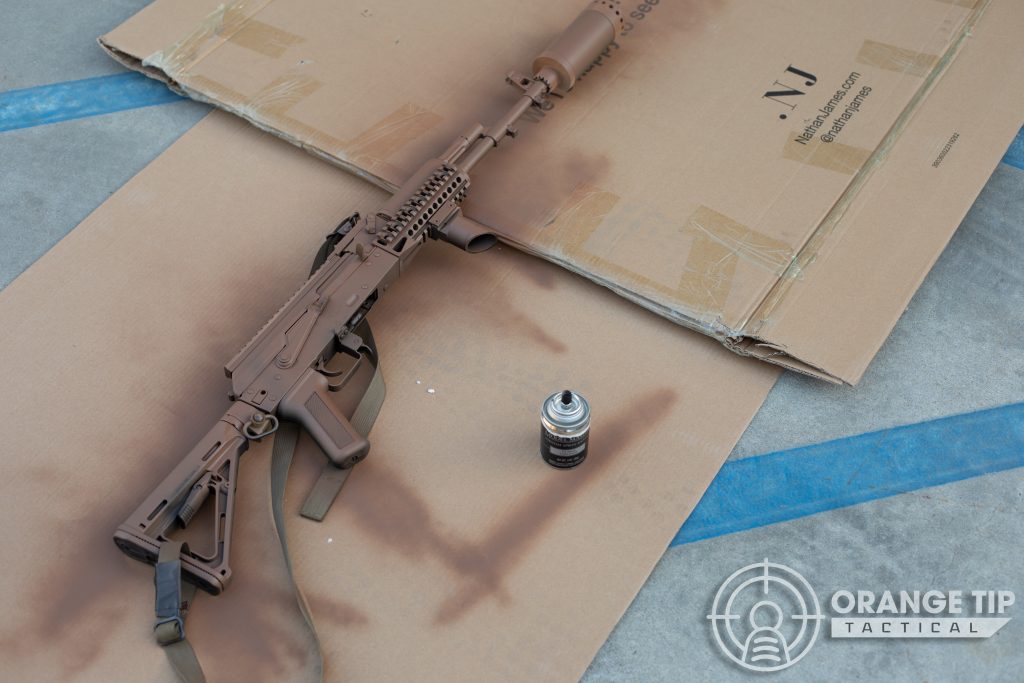 You've probably noticed the stock by now, as it's one of the most iconic components of the gun.
First seen in the early to mid-2000s, the STKBR stock began appearing with FSB and other Russian special operators. These guys wanted a bit more adjustability out of the AK-74's issued polymer stock.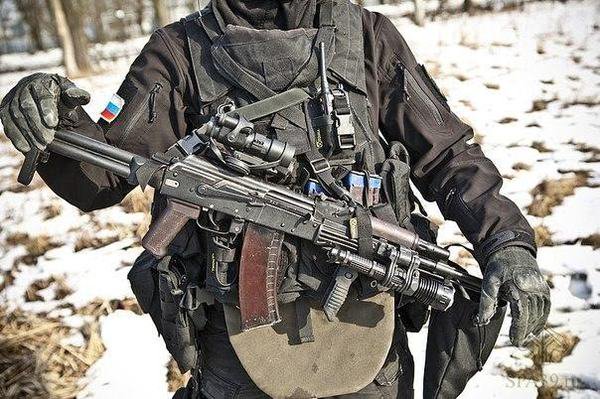 The STKBR retains the side folding capability of the AK-74's polymer stock. But now it adjusts for length-of-pull via a large, spring-activated button on the bottom near the rear of the receiver.
Featuring a generous rubber buttpad and a 5-position skeleton tube, the STKBR offers a pretty cool step above the gun's issued stock in terms of comfort and customizability. It's definitely cool to see such a niche part offered in a stock gun.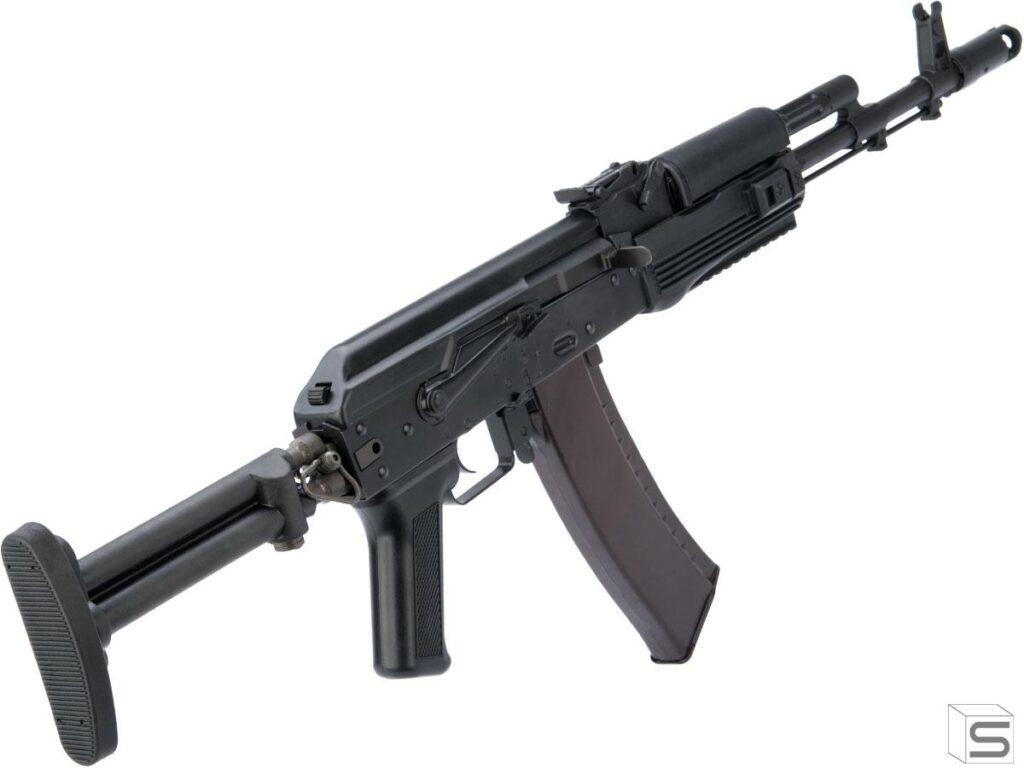 The gun features a steel locking latch on the bottom left inset of the buttpad. This ensures you can still fold the stock securely if you need to.
However, the latch is set to one position. So, you'll need to have that position selected in order to get it to lock correctly.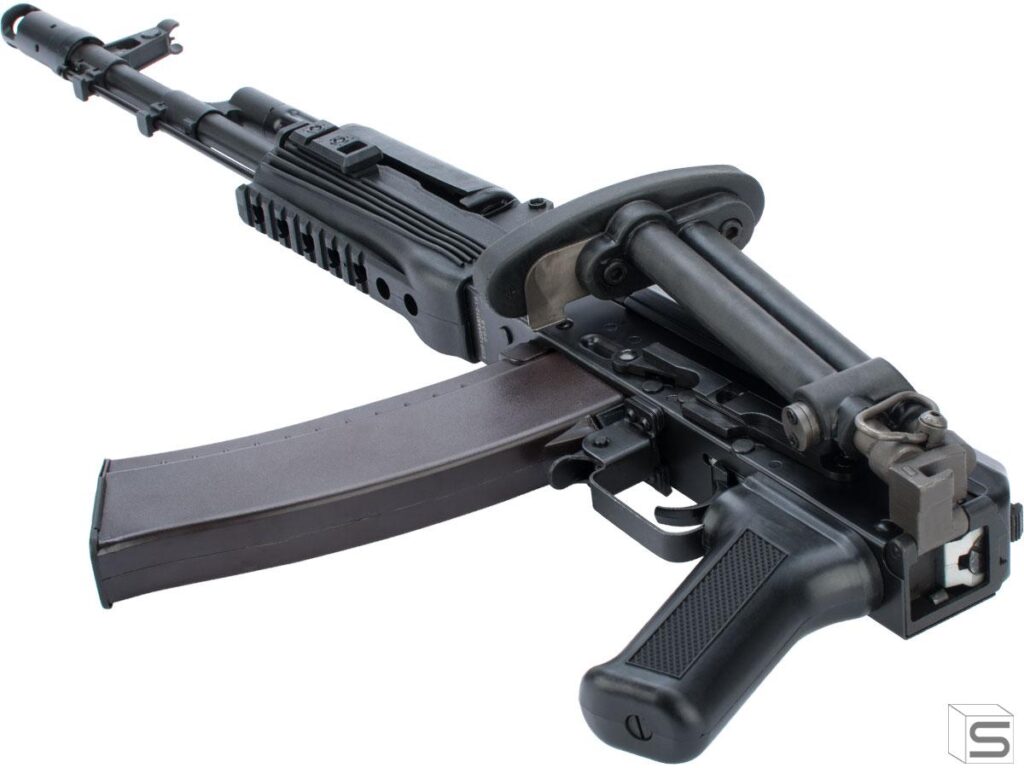 The gun also features Command Arms-style black polymer handguards with an integrated Picatinny rail upfront. This is appropriate and accurate for the time period an AK-74M like this would have seen service.
Meanwhile, the magazine and pistol grip are ever-so-slightly plum-hued. Again, some production AK-74s featured an almost purple-colored set of polymer furniture instead of the modern black.
Score another neat touch and detail point for LCT!
As mentioned, the receiver is rock solid. It houses the mock bolt and dust cover that conceal both your battery storage compartment and the gun's hop up unit.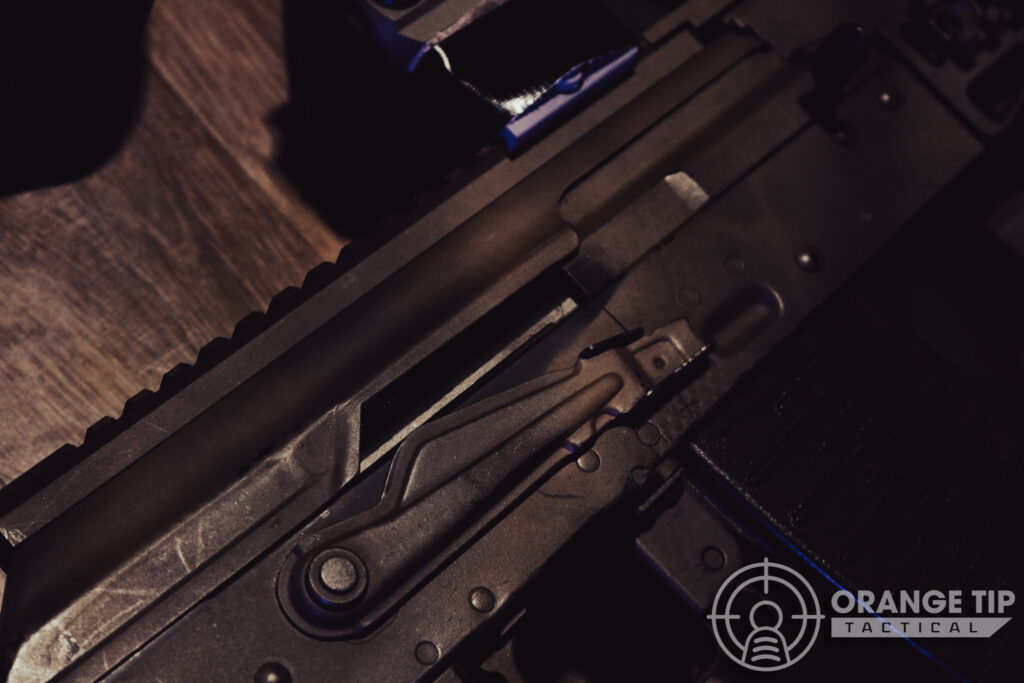 While this particular AEG's dust cover isn't quite as difficult to get back on as the AK-105 we reviewed, you might want to have a rubber mallet handy.
You can rest assured knowing that this thing isn't going anywhere once affixed. But, it can be mildly frustrating once the battery is living in this compartment. A soft tap from a mallet will do wonders.

Once again, loading the mag into the receiver is a bit tricky until you're used to it. LCT receivers require that you catch the appropriate lip inside of the magazine well in order to seat the mag properly.
If the mag lip is inserted too high up into the magazine well, you can't rock the mag all the way to the rear. Practice with the gun a few times and you'll get the hang of it — it certainly isn't game-breaking.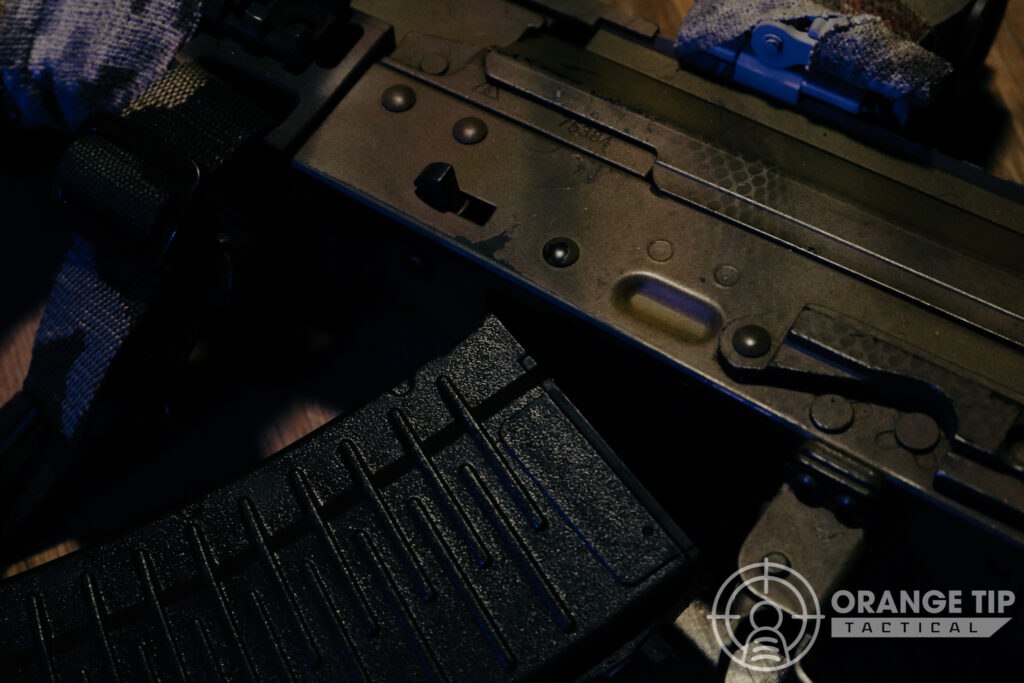 The magazine is par for the course for your standard midcap — holding approximately 130 rounds or so. We like that the mag appeared capable of feeding all 130 rounds. It didn't leave any inside the magazine well to fall out once the mag is removed.
Worth noting, the gun's selector lever is quite stiff. And though it will likely break in through repeated use, this is quite desirable.
Many entry-level AKs have issues with the selector lever backing itself out over time. Occasionally to the point that the vibration of the gun firing itself may jostle the selector out of position.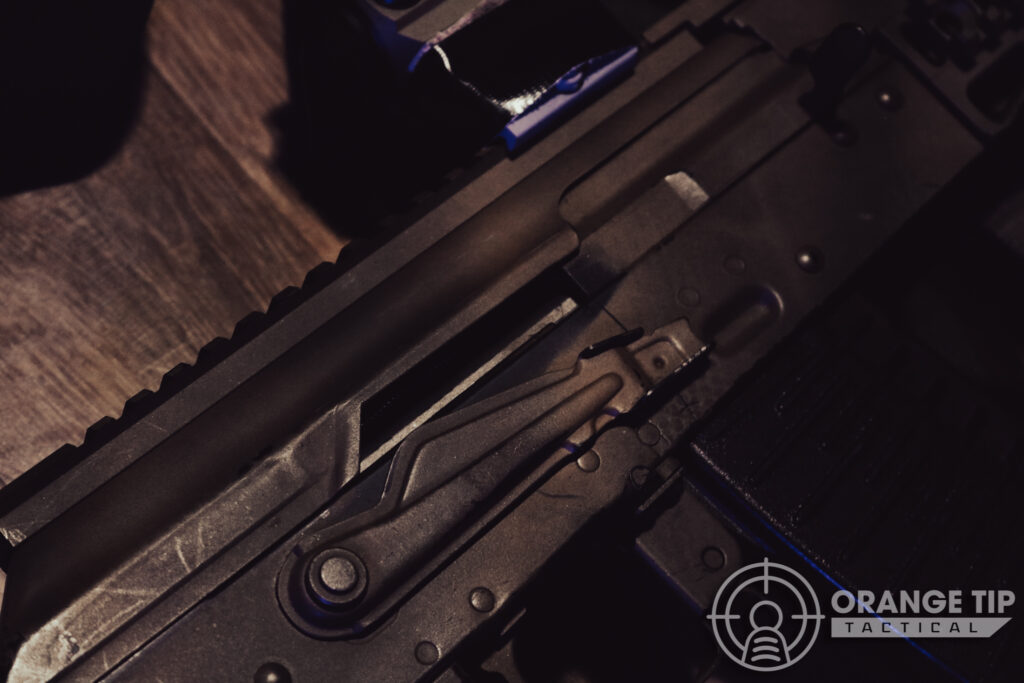 While this won't cause any damage to the gun, it is obnoxious and can be unideal during a game. Not so with the LCT!
As mentioned, the gun's hop up unit is accessed by pulling the mock bolt to the rear. The hop itself adjusts via a small sliding plastic tab. You'll likely want to get your hop upset before enclosing the battery in this same space with the dust cover.
Once the battery and dust cover are installed, you may have trouble accessing or adjusting the hop up tab. Like many other AKs, sliding the tab to the rear gradually applies a backspin to the BB as it leaves the barrel.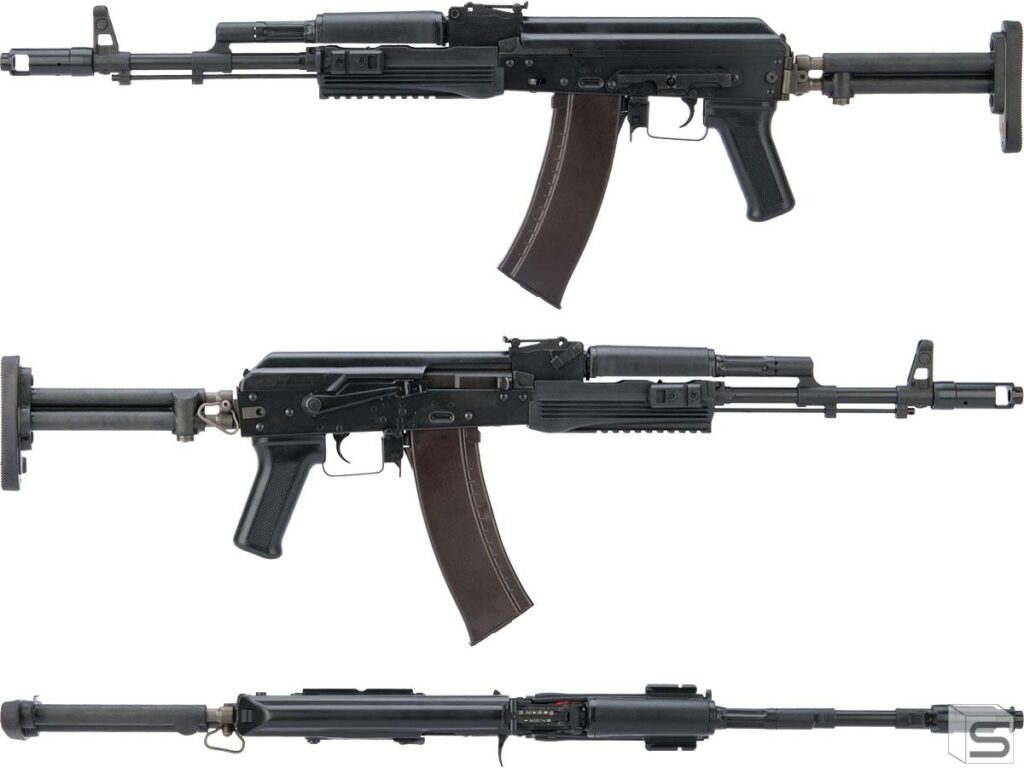 This allows you to fine-tune the distance at which your round begins to drop off. Ideally, this provides a relatively flat trajectory within your desired engagement distance.
LCT AKs have handguard takedown functionality that's quite similar to that of a real AK. You throw the takedown lever (off to the side of the rear sight) which allows you to remove the top handguard and mock gas tube.
This further reveals a secondary takedown lever for the lower handguard. Useful information if you plan to throw rails on your gun!
The railed lower handguard already includes Picatinny rails on both the bottom and sides of the handguard. Although, the left Picatinny rail may interfere with your front sling mount should you choose to mount anything to it.
Both the side rail portions are removable from inside the handguard itself once it's removed from the gun.

Curiously, the SKTBR 74M appears to be missing a portion of the fake cleaning rod.
We're not sure if this was just a fluke on the model that we received. But the rod lacks the 'head' portion that you'd thread a cleaning patch through on the real one. That's also the piece that locks it in place behind the muzzle brake.
Not a huge deal as it's just a decorative piece, but it is something to be aware of. We've taped ours in place just in case, which is occasionally seen on real AK74Ms as well.

Upfront, you've got standard 24mm AK patterned threads at the end of the barrel. While our LCT AK105 included a metal carbine style booster, the STKBR 74M did not.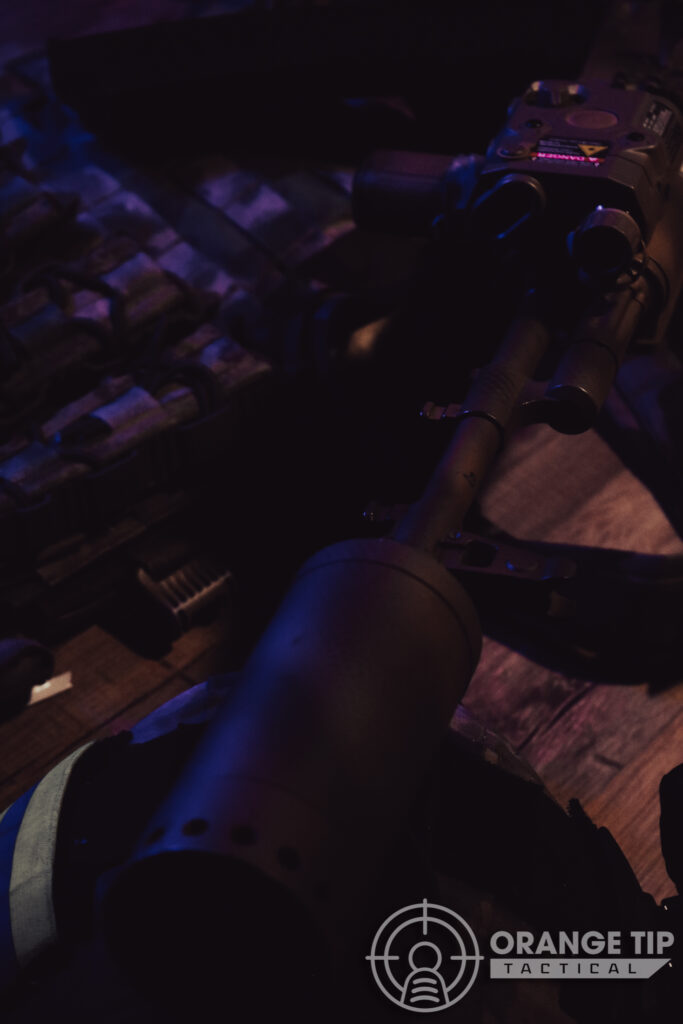 We're not sure if LCT only includes replacement muzzle brakes with certain models of their rifles. But, an aftermarket LCT AK74 muzzle brake purchased separately fits right on.
It's worth mentioning that some muzzle brakes may not fit — even if they're also 24mm, due to the thread count at the end of the barrel.
LCT barrels see quite a bit more threading on the end of the barrel. Brakes from KWA and Tokyo Marui would not thread all the way down to the front sight post.
How Does It Shoot?
While LCT's externals are quite impressive, their stock performance isn't anything super special. Don't get us wrong, they're still perfectly skirmishable straight out of the box.
But if you're buying an LCT, you may want to invest in some internal upgrades down the road.
As compared to our LCT AK105, the STKBR 74M's motor height came adjusted perfectly from the factory. Considering the 105's motor height adjustment screw appeared cranked all the way down into the motor cage and loctite'd, this was a pleasant surprise.
The gun sounded much healthier without its motor working at a mechanical disadvantage to turn the mechbox over. And the trigger response felt sharp and snappy with an 11.1v Li-Po battery.
With the SKTBR's hop up adjusted correctly, we hit man-sized targets with full auto bursts at about ~120 feet or so. Maximum range stands at probably ~150 feet. Definitely not bad for a stock gun!
Upgrades and Accessories
As always, adding accessories to the exterior of your airsoft gun can be a roll of the dice. While there's always a chance modification will be required, these parts should fit with minimal sweat and tears!
If you're seriously eyeing an LCT, you probably want to dress the gun up with typical Russian-themed SOF flair.
To that extent, Asura Dynamic's line of Zenitco replica pieces is going to be your go-to here. Look at the B11 handguard. It gives you Picatinny rail space for lights, lasers, etc.
As we wound up using this specific AK-74 for a 40-hour Milsim West event, we went a little bit crazy tricking the gun out with some high-speed, modern Russian accessories!
The specific event we attended was very much outdoor and field-based. That meant we wouldn't really have to worry too much about the constrictions of a CQB environment.
We snagged a Zenimei replica of Zenitco's B10M railed lower handguard paired with their RK-06 short hand stop — giving us a great place to index off of to hit our light's pressure pad.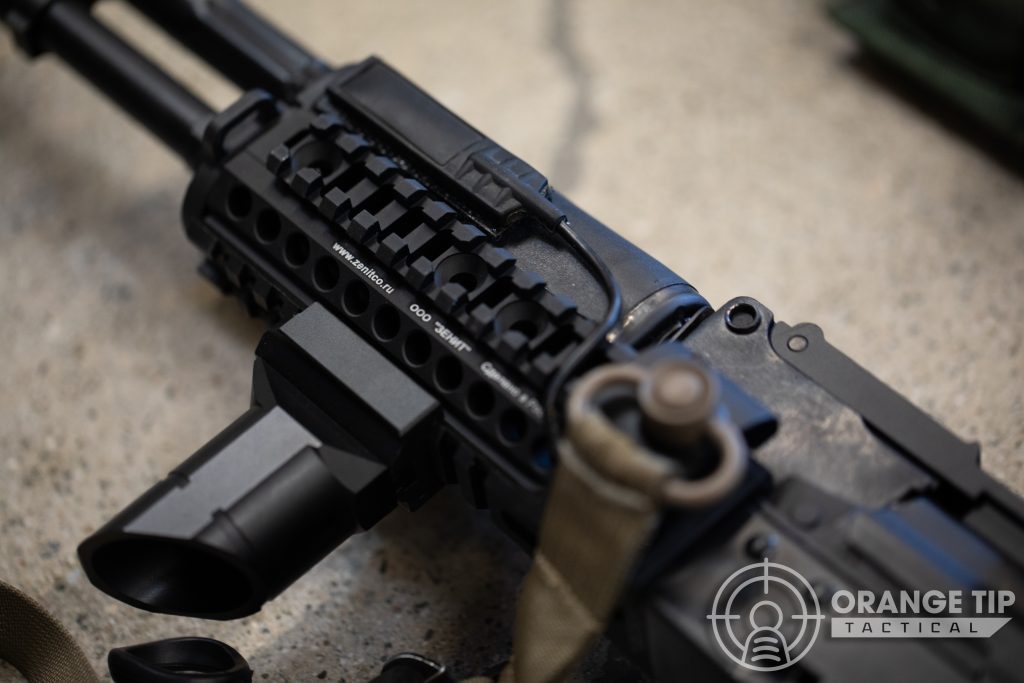 Installation was a breeze, as LCT's generally play very nice with Zenimei's brand of Zenit replicas!
As we'll be using night vision at the event we're attending, having a bit more customizable length of pull makes a world of difference!
This Asura Dynamics buffer tube adapter is actually on loan from another one of our guns (an LCT PP-19-01 Vityaz) hence the previous paint job/wear and tear. We've fitted it with an actual Magpul CTR stock, as they show up in FSB use quite often.
And we're nerds. But you knew that.
The stock adaptor fits great on any AK-74 series gun with a side folder, and gives you QD sling points to boot!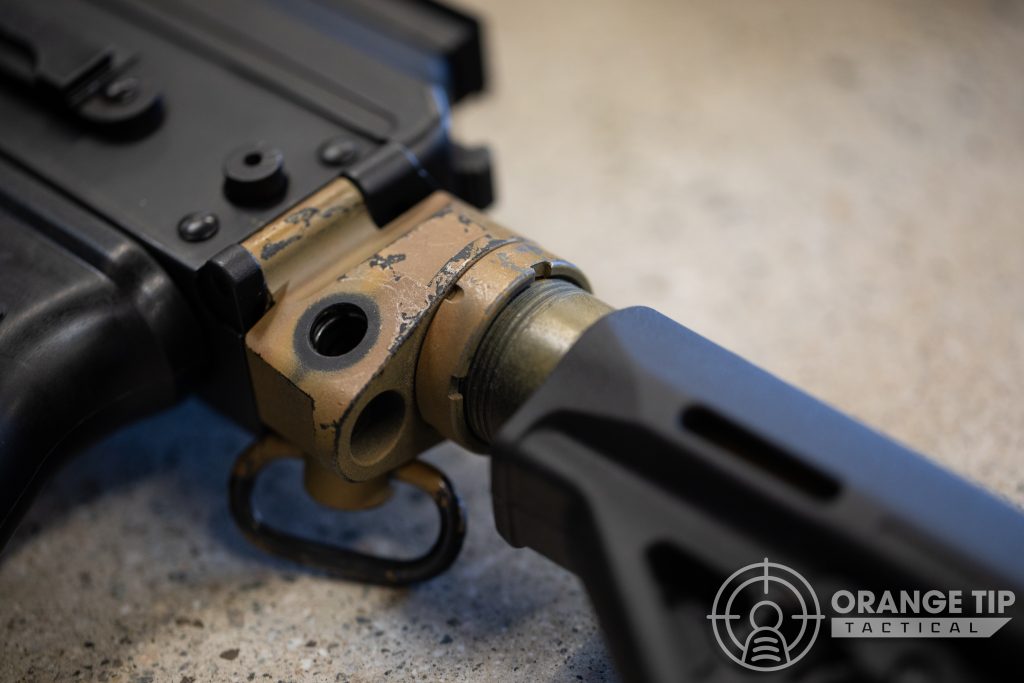 As you'll generally see a lot of real guys doing fieldwork with slightly larger magazines than is normal, we threw in this TWI Molot RPK-74 style magazine pretty much just for aesthetics!
It doesn't hold a whole lot more than a standard AK-74 midcap, but it looks damn good.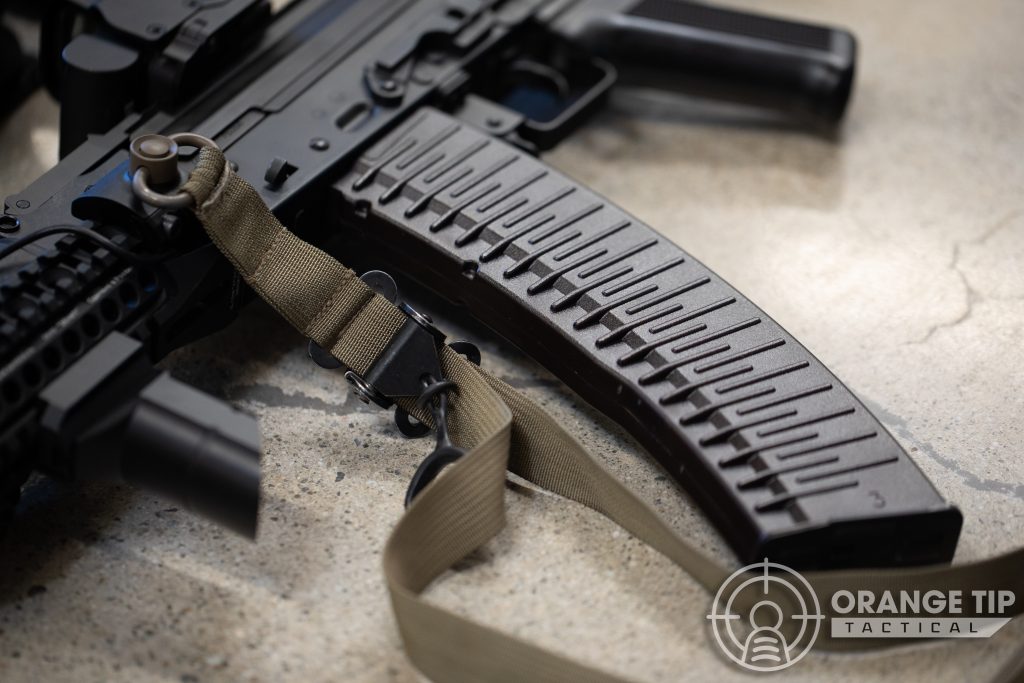 We've also added an absolutely massive Zenimei Zenitco "Putnik" replica suppressor.
Again, purely for cosmetic purposes, but be aware that this thing is an absolute monster that's not for the frail. It's pretty damn chunky!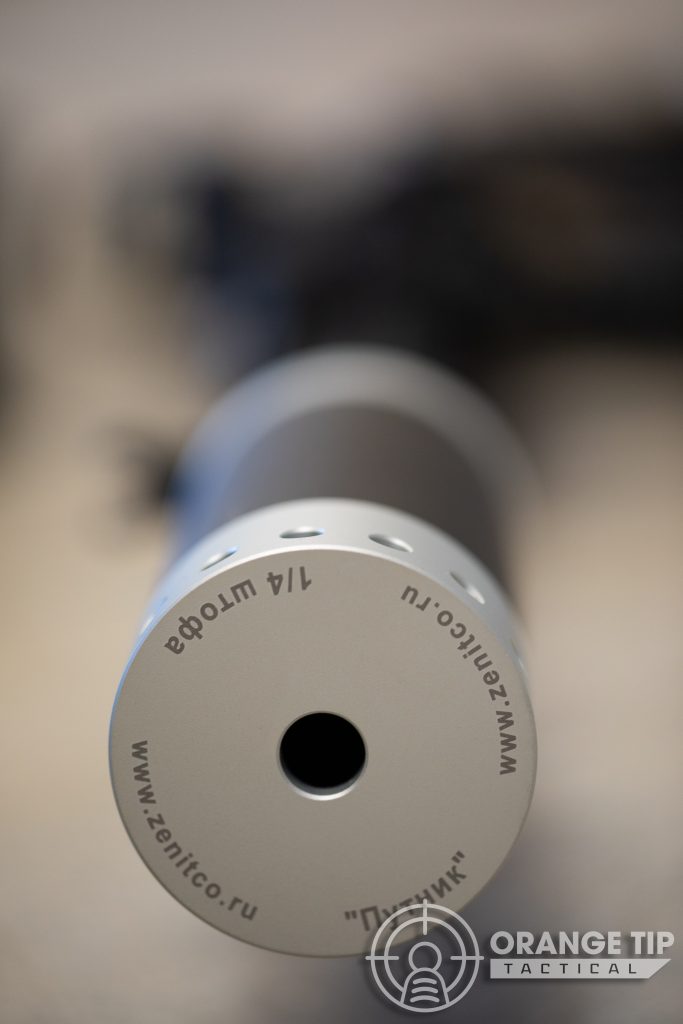 Lastly, we've installed an LCT Railed Dust Cover, which replaces the rear sight block and gives us a mounting solution for our EOTech that doesn't involve clunky side mounts.
The gun's complete!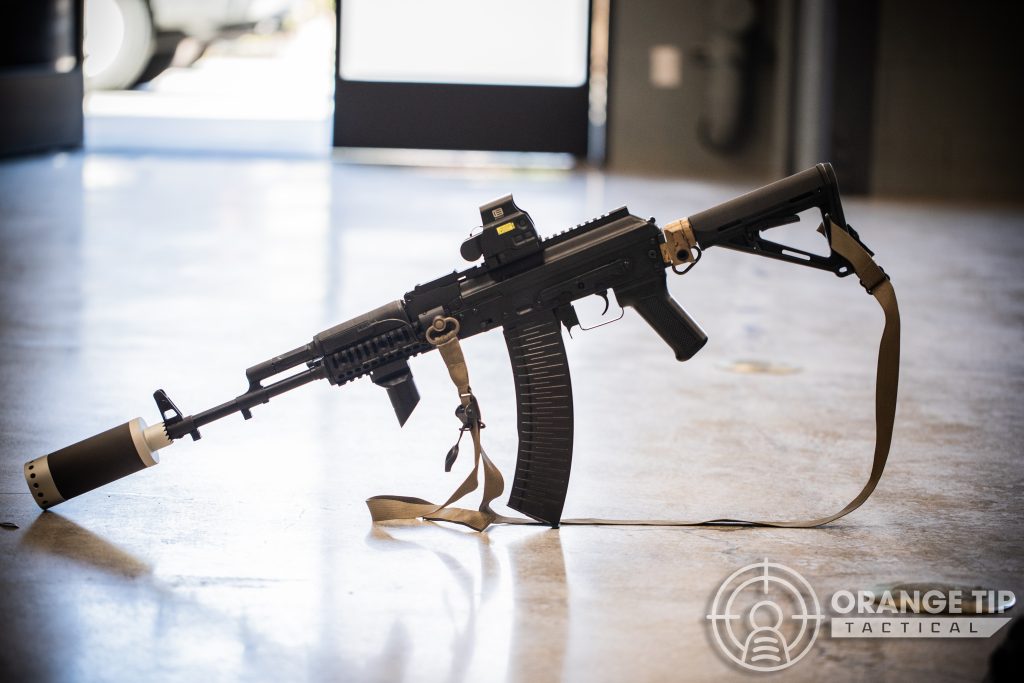 Optics
This model of AK is definitely going to need an adapter if you're looking to mount any kind of standard red dot or holographic sight on it. But, you've got a few ready-made options that will fit the gun's dovetail mount, such as this PSO style scope most commonly seen on SVD Dragunov type rifles.
If you'd prefer to go the traditional red dot route, we'd likely snag a scope mount and something a bit lower profile, like this Microdot sight.
By The Numbers
Reliability: 9/10
LCT AEGs are pretty damn rock solid straight out of the box. After a weekend of some serious abuse at a local milsim event, we're happy to report we encountered no malfunction or failures to feed of any kind with the 74M! It shoots when you need it to. And once you've got it dialed in, the BBs go where you want them to. Crazy how that works.
Accuracy: 8/10
Decent accuracy out of the box with the ability to easily hit player-sized targets within your effective range, and that hop up makes follow-up shots a breeze!
Effective Range: 8/10
It's a stock AEG, so you're looking at stock AEG range — but still not bad! Anything within ~120-150 feet should be easy pickings if you've got everything dialed in.
Rate of Fire: 7/10
LCT motors tend to be a little bit torquey in their stock configuration, so RPS is gonna be just about average here – around 13-14RPS with an 11.1v LiPo. Plenty for field games, which is likely where you'll be using this AEG!
Ergonomics: 8/10
With a whole world of accessories for the AK platforms just hitting the market within the past few years, now's a better time than ever to be an AK-style AEG owner! While it's great in its stock configuration if you're a fan of that specific old-school SKTBR flair, the ability to customize just about every component on the AEG opens up a whole world of possibilities!
Looks: 8/10
Maybe I'm biased, but LCT has NAILED the AK-74 and 100 series aesthetics perfectly! From the flat black polymer furniture to the beautiful steel, you'll be visually stoked.
Customization: 9/10
Whether you want to go the modern tactical AK route found on guns in the US, or aim specifically for the kind of flair seen in use with the Russian military, everything from lights, lasers, rails, grips, stocks, and sights are at your fingertips!
Conclusion
Formidable in its stock form and an excellent platform to base your next milsim-inspired build on, LCT's AK-74M SKTBR is a fantastic option.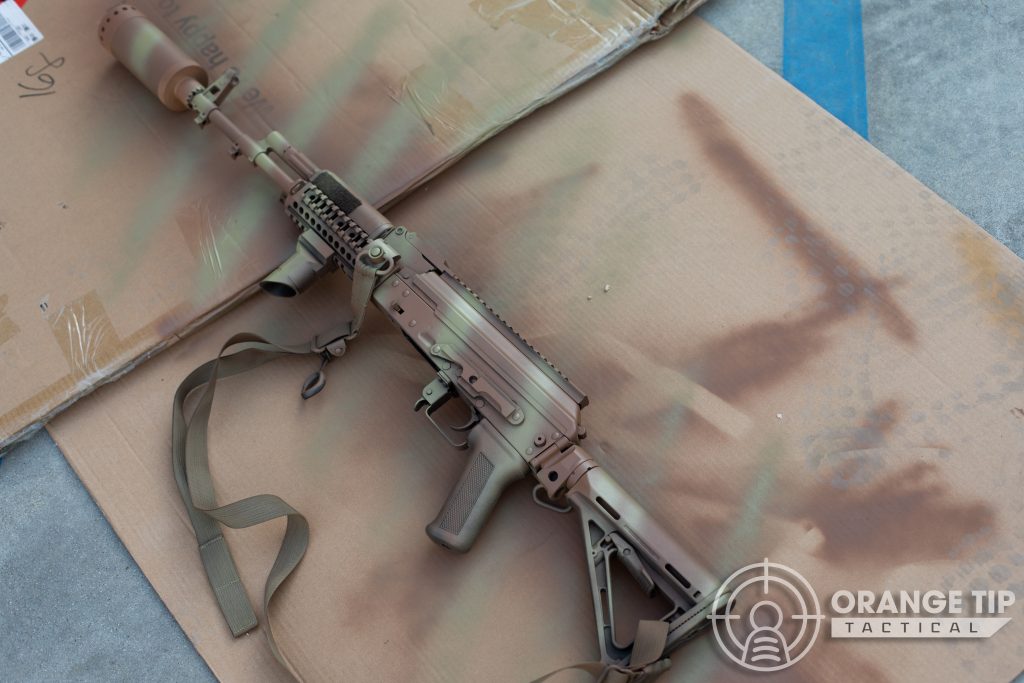 It works for both the nerdy wargame enthusiast as well as the mid-tier player looking to step into the world of super high-quality airsoft AKs.
If either of those descriptors sounds like you, we'd say take a look!
What do you think? Let us know your thoughts in the comments. Also, be sure to head over to our Best AK AEGs to see some other options!