Krytac has earned its reputation in the airsoft industry as one of the leaders of high-quality, performance-driven AEGs that'll hit wreck shop without wrecking your wallet.
They first hit the scene when other contenders for that specific slice of the market were realistically only KWA.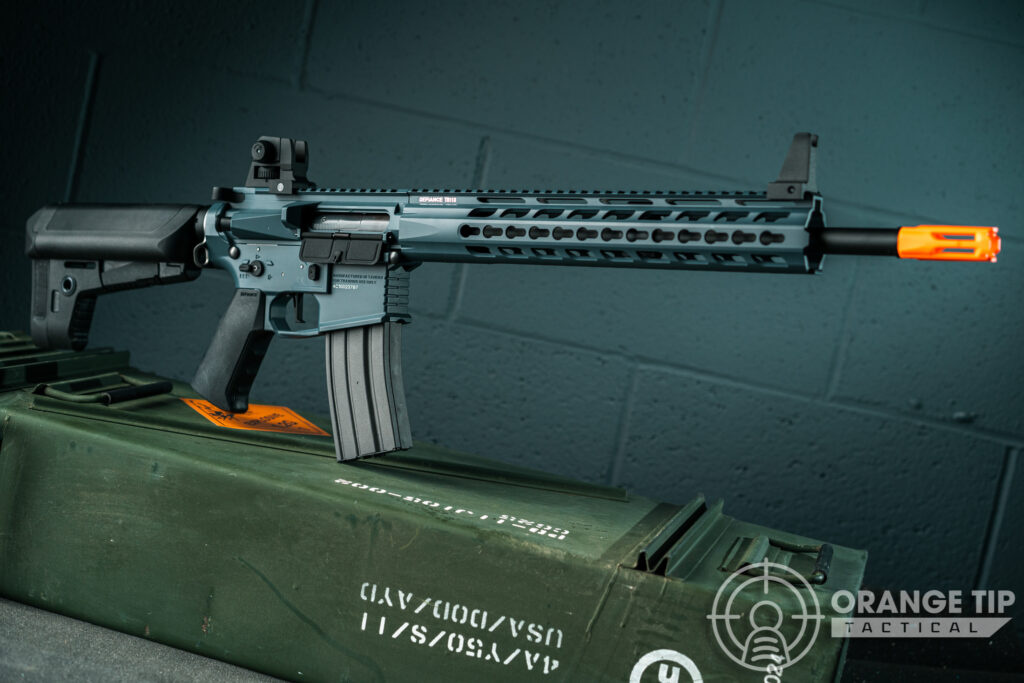 Since, Krytac earned its place in the hearts of serious, competitive play-oriented airsofters as well as the casual player!
But we wanted to know — does the Krytac Trident SPR continue to hit that sweet spot of quality and affordability?
Well, we're about to find out.
Read on to see what we think about the Krytac Trident SPR and whether you should buy…
Who's It For?
As mentioned, Krytac makes no mistake about presenting itself as a go-to manufacturer for performance-oriented players.
Their AEGs serve as a good base to upgrade into hyper-specific builds found (or required) at milsim events. But the Krytac SPR is pretty much a dedicated "scout rifle" that naturally excels at medium and longer ranges in a generally open field type environment.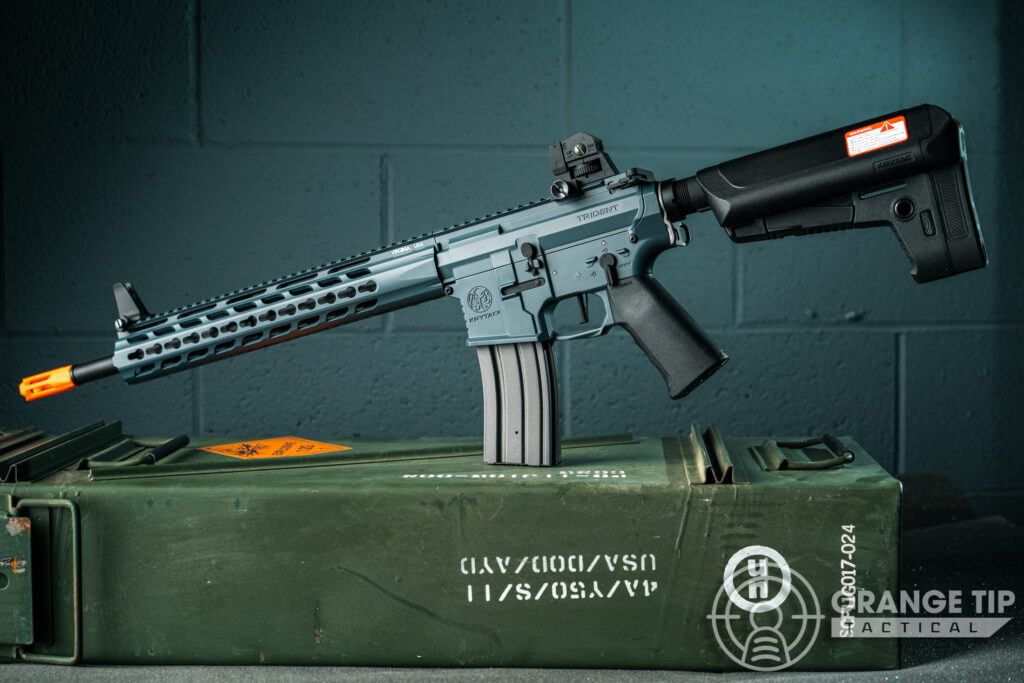 Positioned at an attractive middle-range as far as pricing goes, the Trident SPR is perfect for players with a little bit of experience with the game. And those who are willing to step up to an AEG that complements their fieldcraft abilities.
It will really allow players to maneuver freely and flank the opposing team in those aforementioned open-type environments.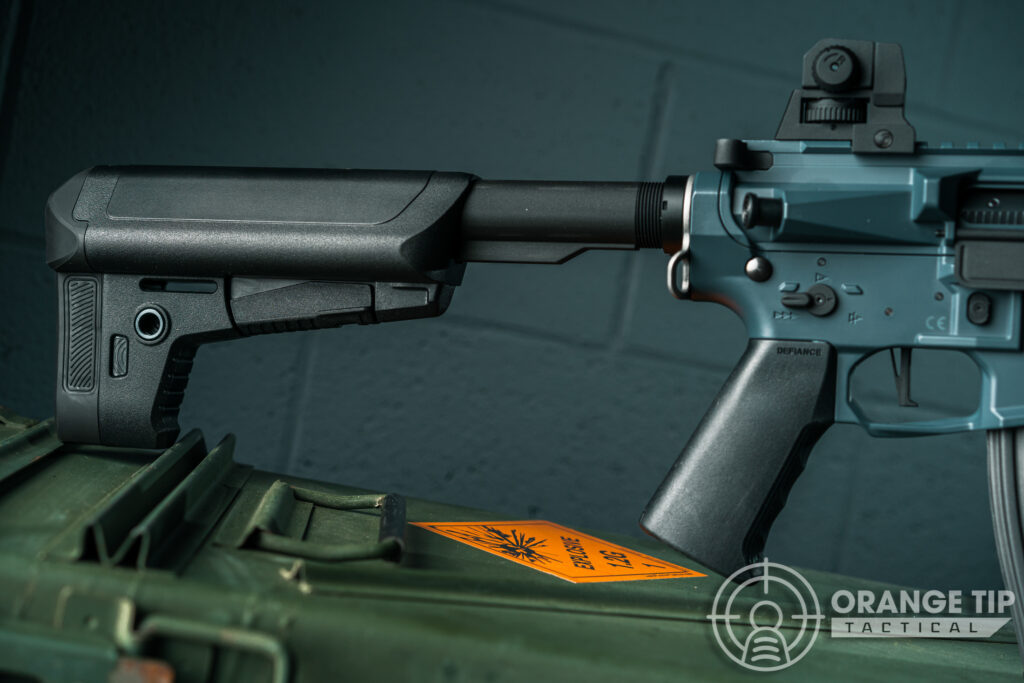 But that's obviously not to suggest that it wouldn't be a great choice for beginners sure of what they're looking for either!
Fit, Feel, and Finish
Krytac's done a tremendous job with the flat, almost Navy-esque "bluish grey" finish on the receiver and rail.
It'll likely be the first thing you notice!
A slightly longer than average outer barrel comes adorned with a mandated blaze-orange pronged flash hider. But a metal version of the same design is indeed included in the box.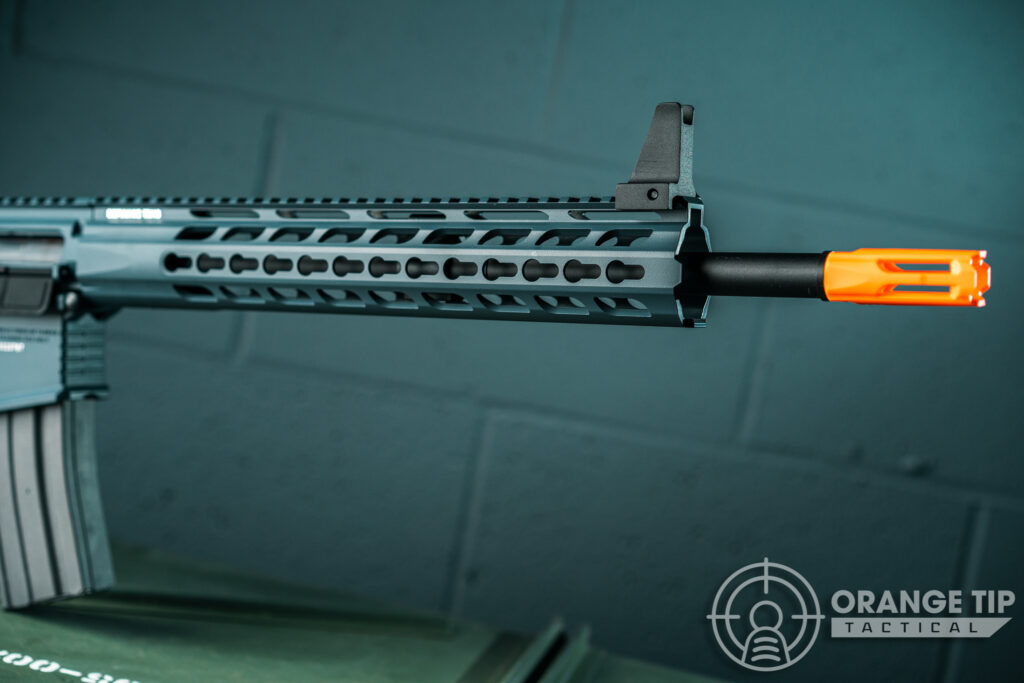 The ~416mm inner barrel should be compatible with normal 14mm CCW muzzle devices — if you're trying to change things up.
Additionally, the Trident also comes with fixed front and rear sights that mount right to the Pic rail up top if you so choose!
Speaking of that rail, you've likely noticed that the Trident utilizes a Keymod handguard over the slightly more ubiquitous M-LOK setup. That said, the overall idea here is pretty similar.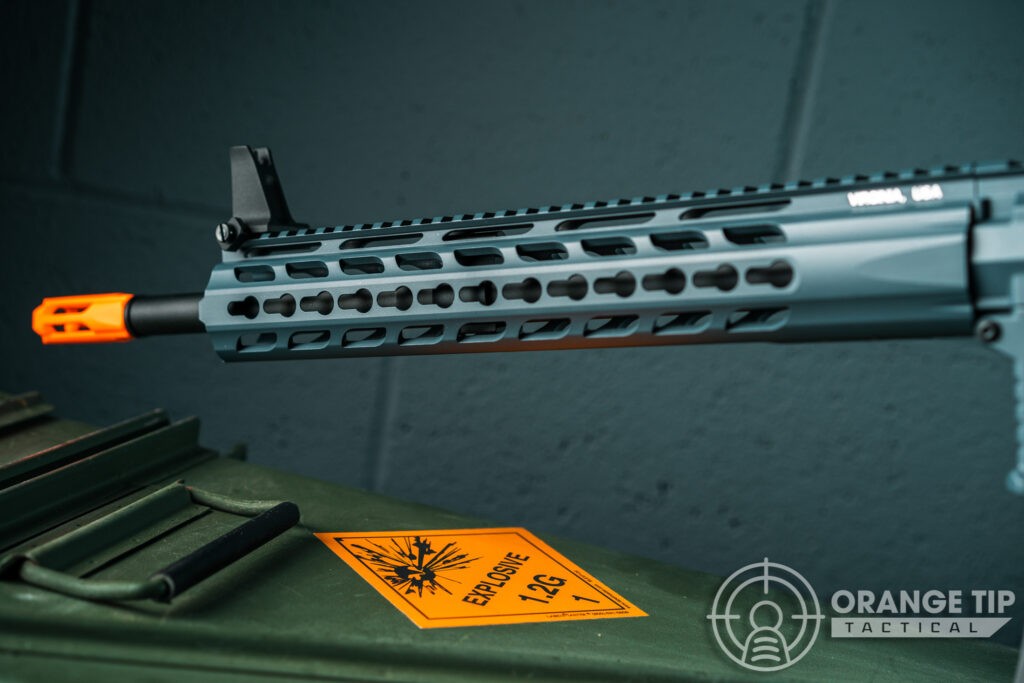 The Keymod system is basically a miniaturized version of the industrial shelving slot setups you've probably seen at hardware stores.
Since its inception, many aftermarket attachment producers released Keymod compatible accessories that mount directly to the Keymod interface — no rail required!
However, if you've got a host of Picatinny accessories lying around and don't quite feel like swapping over, the Trident includes a Picatinny rail segment.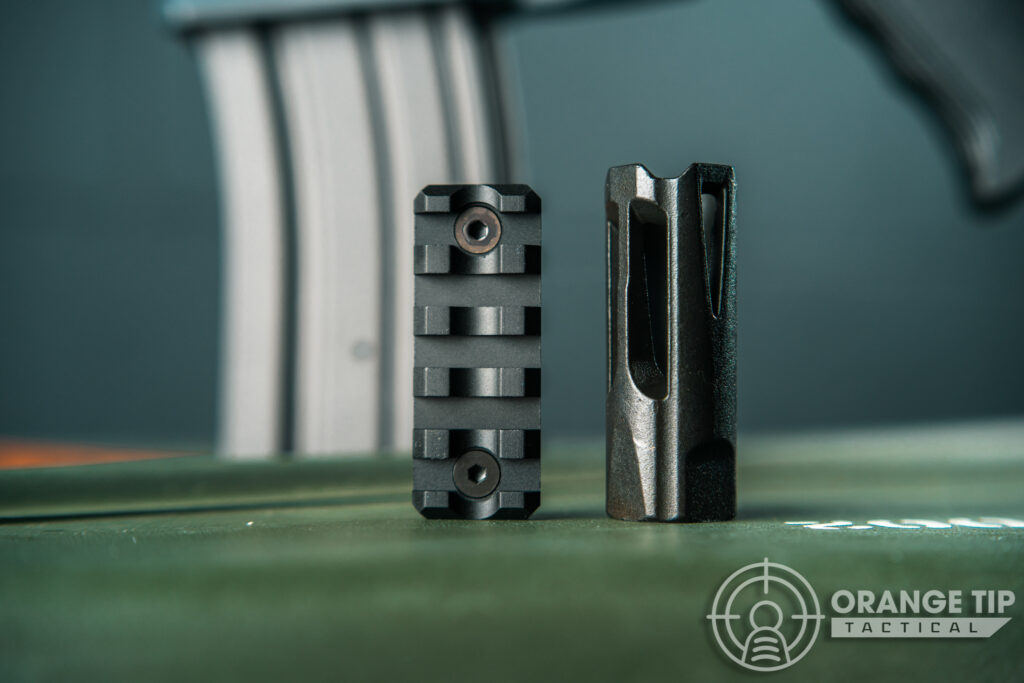 This allows you to add any older generation stuff you might want!
Moving back to the receiver, we've got a few things going on.
As one might expect from an airsoft M4 variant, your hop up adjustment is located just behind the fake bolt carrier. It can be accessed by pulling the charging handle rearward.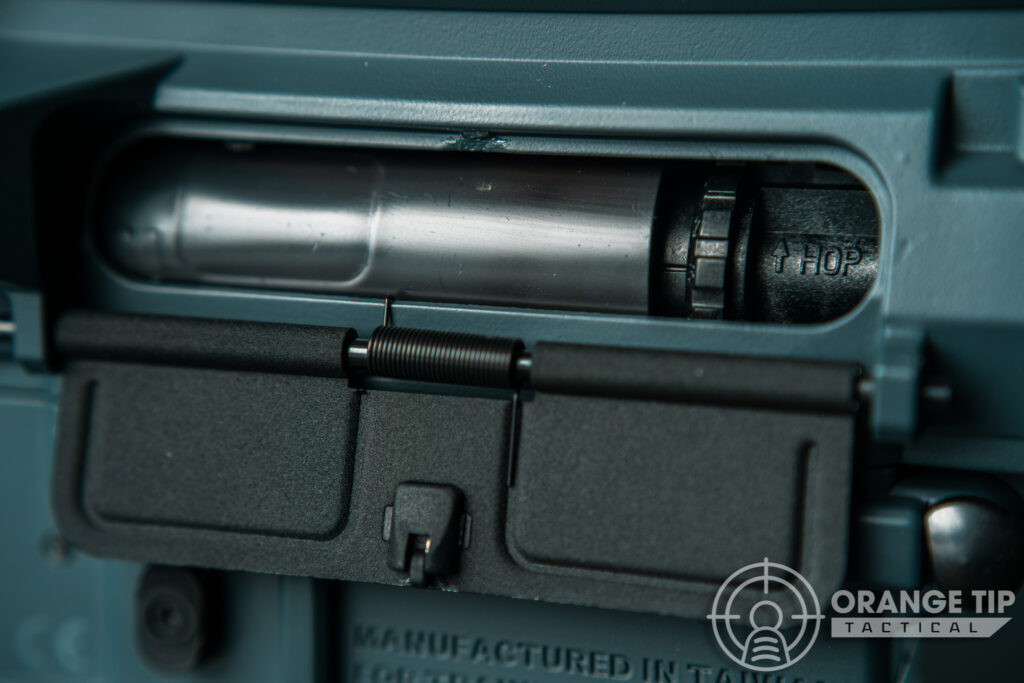 This in turn locks that fake bolt to the rear, which is a handy feature that makes dialing your hop up in just a little bit less of a juggling act!
It's also worth mentioning that the Trident comes pre-equipped with that rotary-style adjustment drum you see above.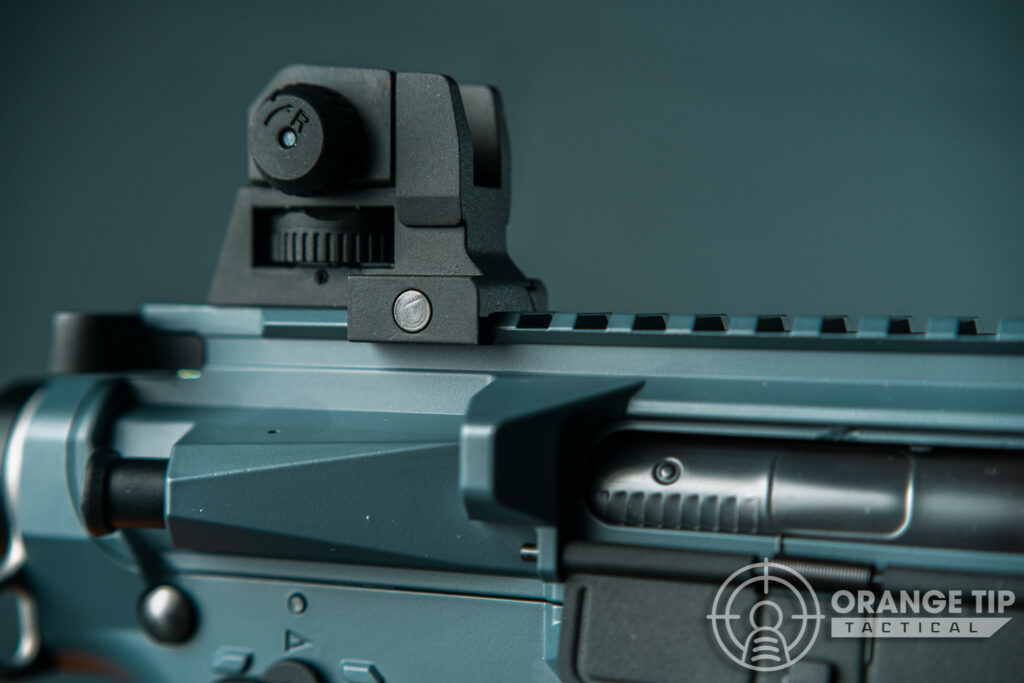 That's far and away the superior way to tweak your BB's flight path as compared to various older designs.
On the opposite side of the receiver, the bolt release paddle is actually functional and will send that mock bolt home when you're done with yer fiddlin'.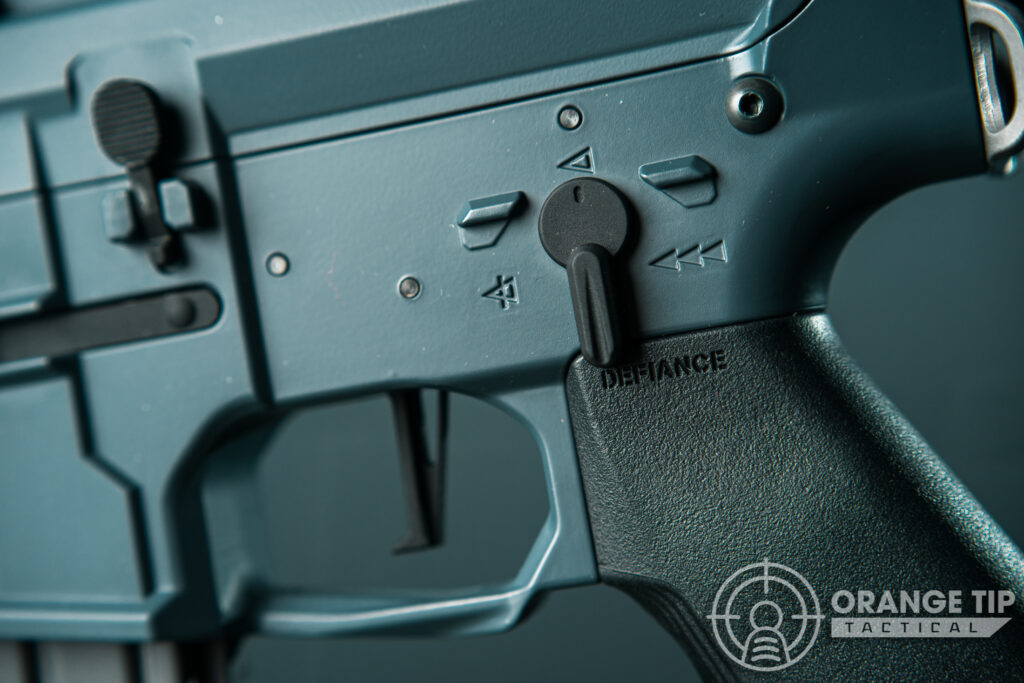 You'll notice that the fire selector on the Trident is ambidextrous.
While it doesn't have quite the tactile click we prefer when flipping between fire modes (truth be told its a tad bit stiff), this might be something that opens up a bit with use.
It certainly gets the job done just fine!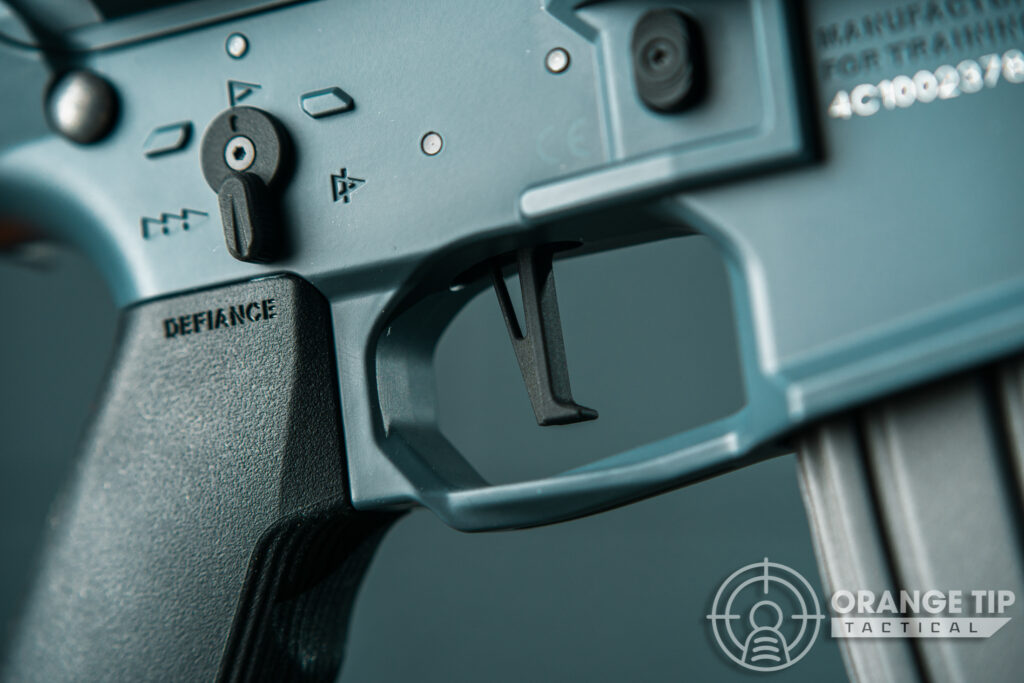 The gun comes stock with an upgraded flat trigger to boot.
Honestly, you're not going to really enjoy the same kind of mechanical advantage that a flat trigger adds to a real firearm, but it does look and feel great!
The Trident's pistol grip is unique as well. It feels vaguely reminiscent of a Magpul MOE grip if you're familiar.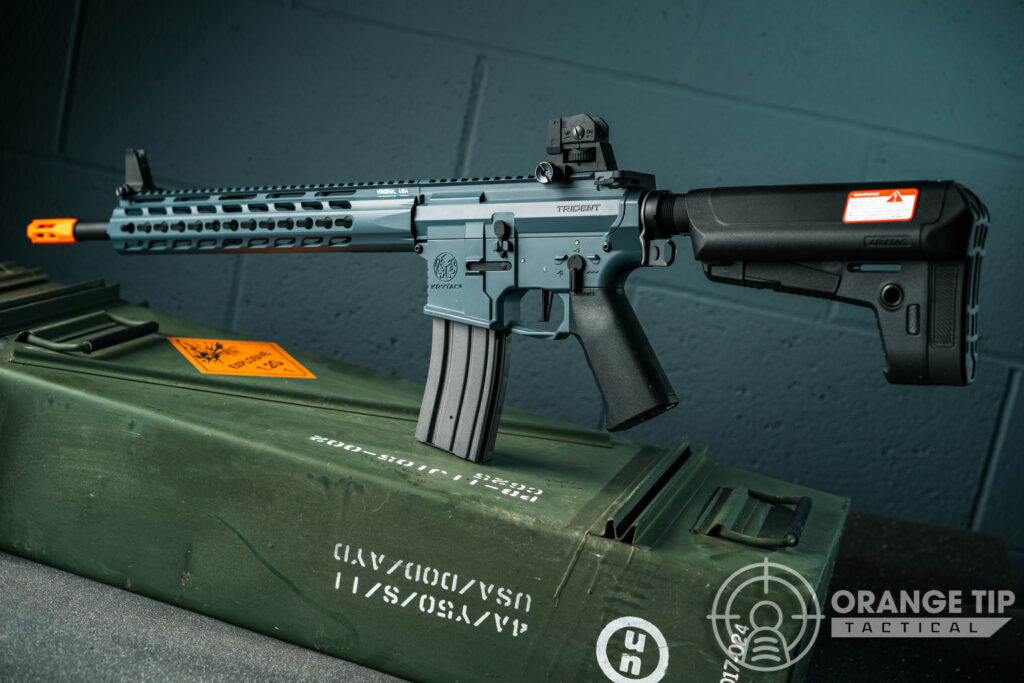 It's perhaps a tiny bit thicker than the former, but its ergonomic finger grooves mean you're able to get a real solid purchase on the AEG with your dominant trigger hand.
As mentioned, you've got a cut down fixed BUIS included that'll attach to the rear picatinny rails, and some cool angular cuts on the receiver that add some neat visual flair. Ooooohhhhh.
A rear sling plate comes pre-installed and offers an attachment point for any slings that utilize wolf hooks or various clips currently on the market.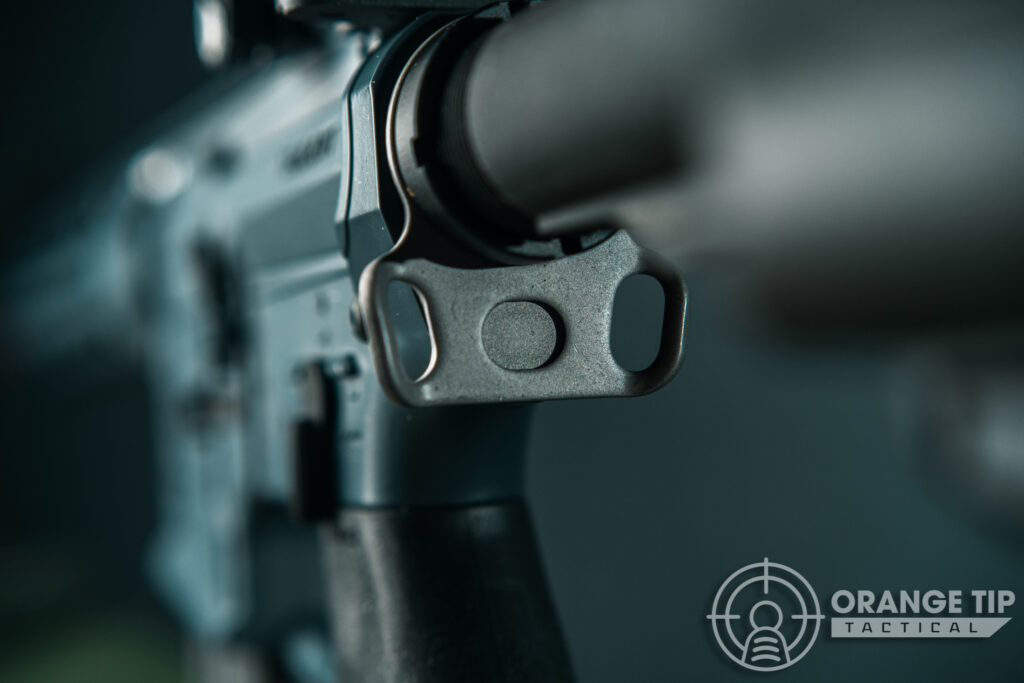 The Trident's stock is indeed adjustable and allows you to figure out the optimal position for your particular physiology.
A total of 6 positions mean you can really nail that ergonomic zone that fits you just right. It's also adjustable on the fly if you're the type that prefers to shortstock your AEGs when moving from outdoors to CQB, etc.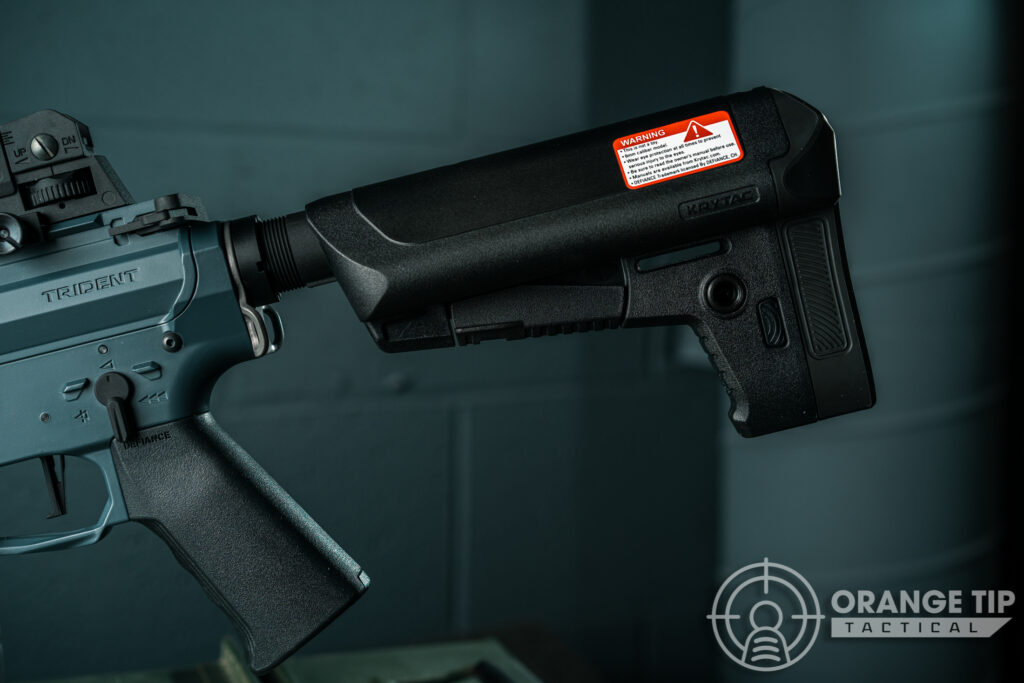 The stock itself has got a bit of a clubfoot design going on, featuring "saddles" that allow you to get a really good cheek weld with it shouldered.
Additionally, there are two more QD sling attachment points on the rear of the stock. These work well for a two point sling if you go through the effort of adding a similar attachment point up near the handguard.
Typical of M4 AEGs, the Trident's battery storage compartment is inside of that buttstock, accessed by pressing inwards on the two tabs of the buttpad until they "pop." Then you remove the buttpad.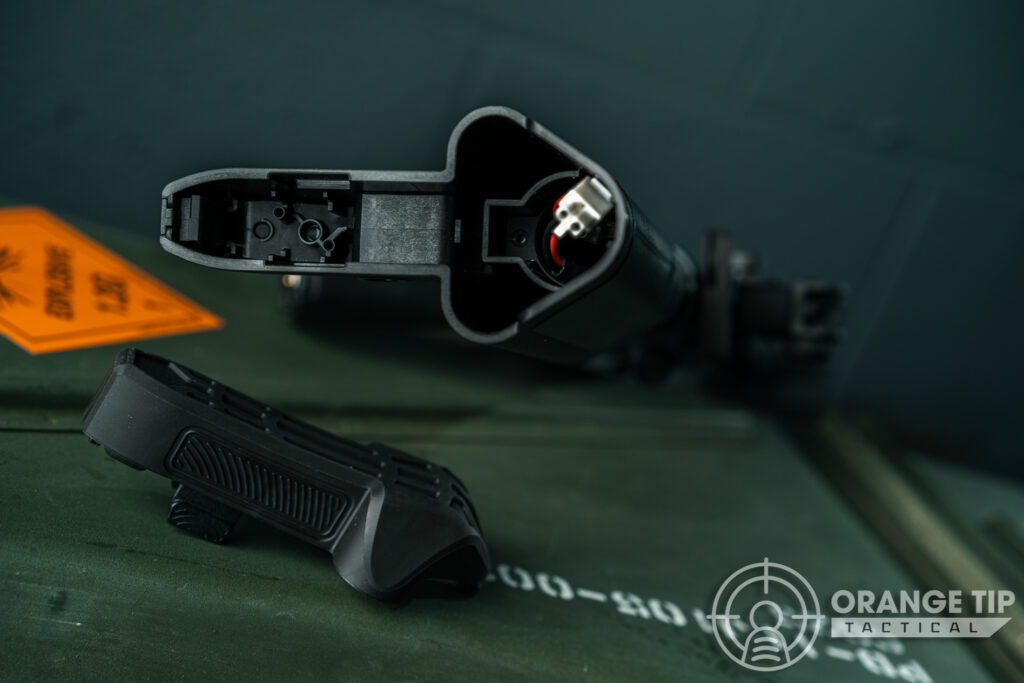 This isn't our favorite method of battery storage access, as those tabs are designed intentionally to be quite stiff — meaning you're going to wreck your fingers if you've gotta access that space repeatedly.
But it works well enough.
How Does It Shoot?
The Trident SPR has a pretty snappy feeling trigger on semi auto that's quite nice. Also, it can put a decent amount of BBs in the air quickly on full auto!
Running the Krytac SPR through a chronograph with some .20g BBs gives us a pretty tight FPS cluster right around ~390 FPS or so.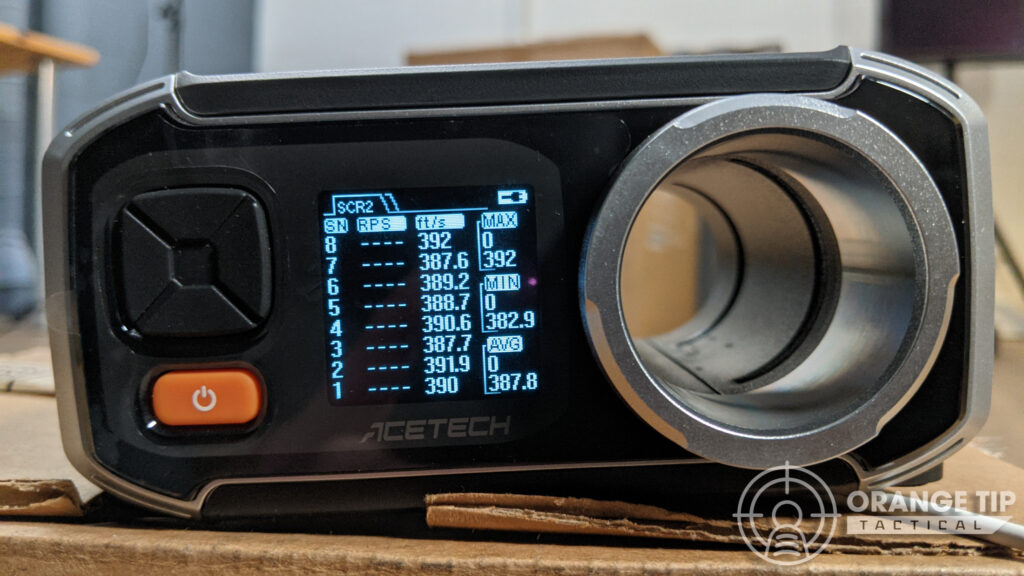 As we've mentioned in other reviews, this is really optimum territory for a field-type AEG – as you're packing enough of a punch to stay competitive at the mid to longer ranges this gun excels at.
But you're not likely to step over that 400 FPS threshold that's often the upper limit at a lot of fields.
Using a standard 11.1v Li-Po battery, we were averaging bursts of about 18 rounds per second. Not blazing fast, but still above average for stock gun territory!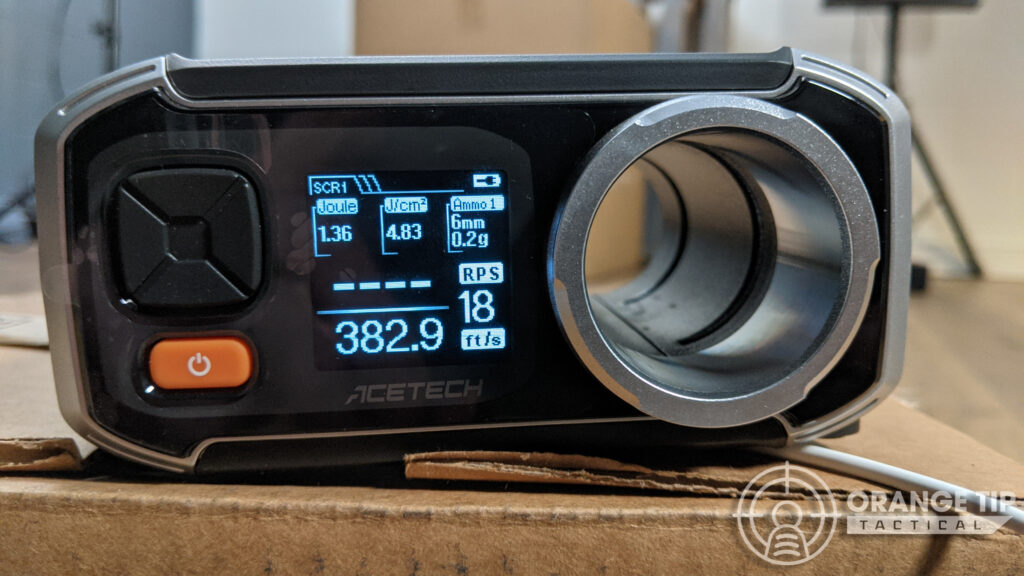 Aside from one random flyer shot (that actually may have been my fault), we've got a pretty respectable ~1.75 to 2-inch group from ~75 feet or so.
Well inside of effective range and more than enough to make sure those hits count!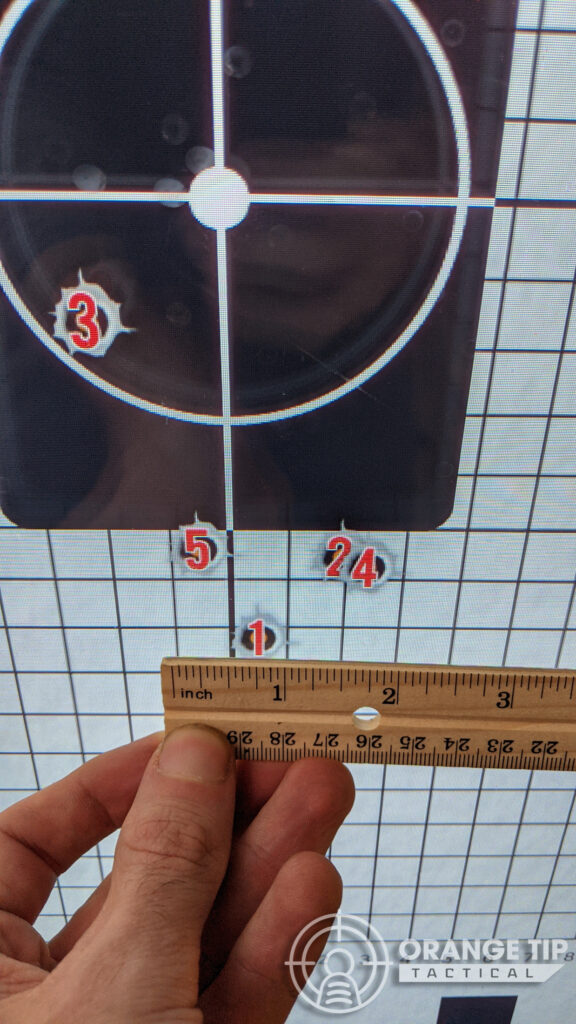 Upgrades and Accessories
As this is an M4 platform, you can enjoy the benefits of a pretty massive aftermarket accessories selection!
Personally, we'd probably play to the gun's strengths and utilize that sweet sweet Keymod handguard upfront.
Although the world is very much your oyster, a safe bet is to start with some kind of front foregrip to get better control over your AEG, such as this BCM Ergonomic Grip.
If you foresee the need for illumination, consider slapping this Night Evolution Scoutlight on one of the Trident's included Picatinny rail adapters!
Optics
The gun's optics rail is going to allow you to install any Picatinny compatible sight you choose, but we're partial to smaller, sleeker designs like this Avengers T1.
This maintains the gun's overall minimalist profile!
By The Numbers
Reliability: 10/10
Krytac AEGs have a standing reputation as one of the most reliable brands on the block for a good reason! We're happy to report that we had no issues with our Trident SPR during our time spent with it.
Accuracy: 8/10
While our one flyer lowers this gun's accuracy marks overall, you're still going to be capable of hitting an objectively small group from what's largely considered standard engagement distance for AEGs. Considering this gun is a bit of a recce rifle that excels at medium-longish ranges, we can't imagine a situation in which one round being slightly off is going to make or break your gaming experience!
Effective Range: 7/10
While you're certainly not going to be turning this into any kind of DMR platform in its stock configuration, we expect you'll be plenty happy with the AEG's stock range of ~150 feet accurately or so — with a maximum range probably a bit beyond that! Again, the Trident SPR is really going to shine in middle-range engagements, and you should play to the AEG's strengths with that in mind.
Rate of Fire: 7/10
Eighteen rounds per second isn't considered crazy high ROF for enthusiasts out there building plastic hoses. In our opinion, it's going to be more than enough to saturate your targets – assuming you're running an 11.1v lithium battery!
Ergonomics: 8/10
While there isn't a ton going on with the Trident SPR that you won't find on other M4 models, that's not necessarily a bad thing! It's got a few nice comfort-based additions that both increase your control over the AEG and make it that much more comfortable to wield.
Looks: 7/10
While Keymod certainly isn't my cup of tea, I recognize this is largely personal preference! The Trident SPR does sport a super rad naval grey coating that looks fantastic when blended with black accessories and furniture.
Customization: 9/10
At a certain point we're just going to start putting "lol its an M4" here, but indeed – it is an M4! The vast majority of the airsoft aftermarket's components are open to ye, should ye be brave or fool enough to pursue them.
Conclusion
If you're looking to snag a high-end AEG that's gonna be competitive for field engagements straight from the get-go, we imagine you're probably going to be pretty happy with Krytac's Trident SPR!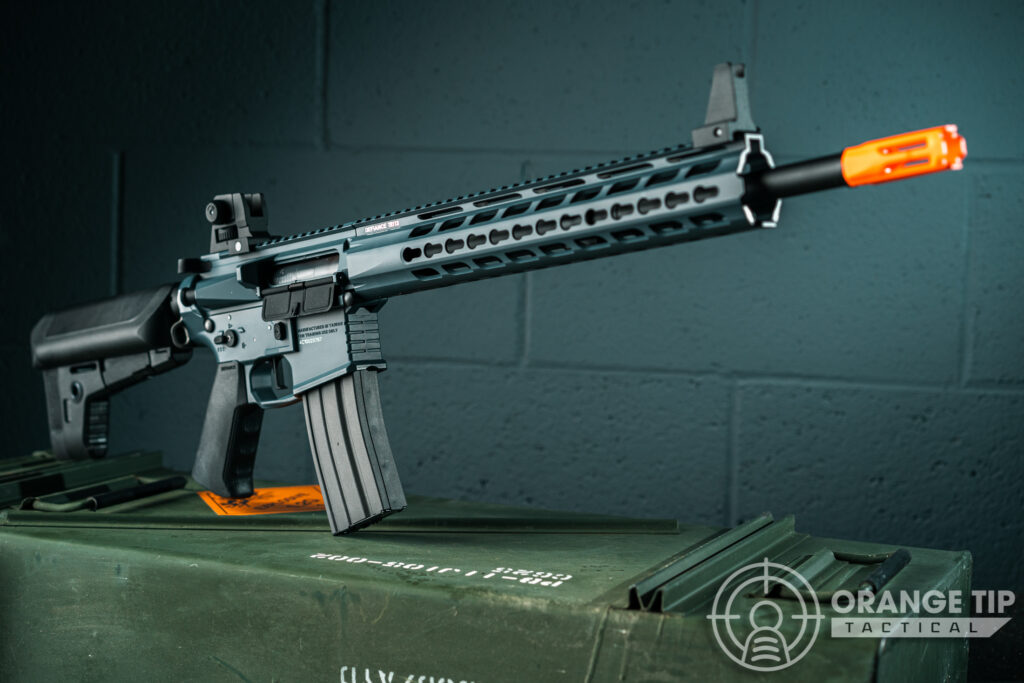 Its combination of endless Keymod customizability, high stock FPS and rate of fire, and decent mid to longish-range accuracy make this proto DMR a no-brainer for reaching out and touching the competition. 😏
What do you think? Let us know your thoughts in the comments. If you're looking at M4s, be sure to check out the Best M4 AEGs for All Budgets!