We love airsoft sidearms–it's true!
A reliable airsoft handgun can mean the difference between making it to your objective or suffering a humiliating plastic death, and there are numerous situations where transitioning to your secondary weapon is going to be much more beneficial than continuing on with your AEG or other long gun.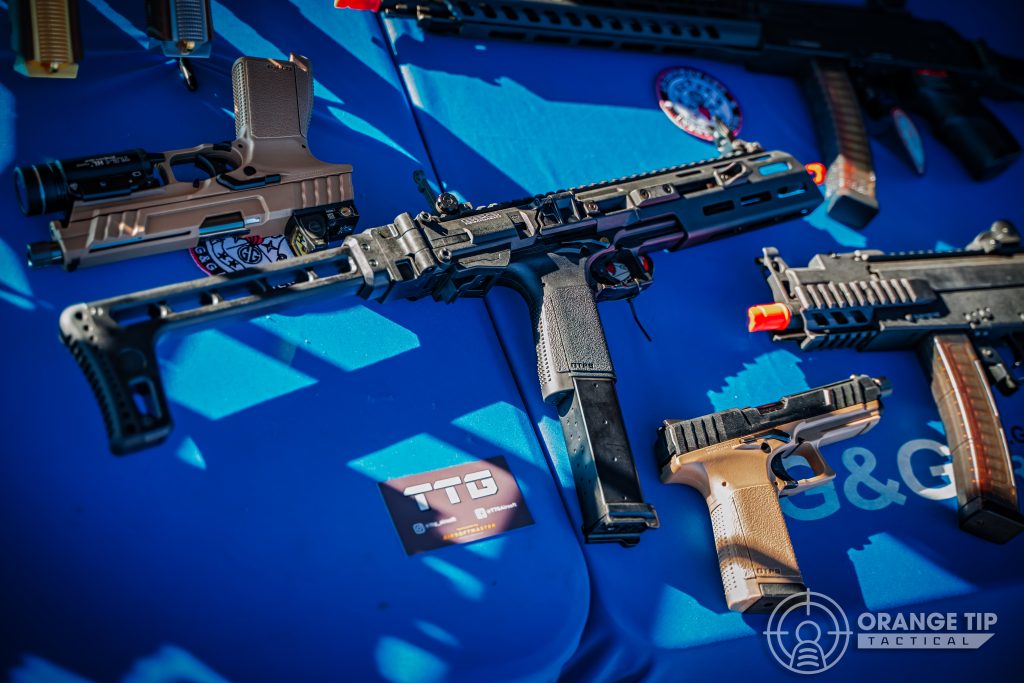 In a firefight when you hear that familiar dry thud of your gun firing when your mag runs empty? Switching to that handgun can often be faster than fumbling for a mag if you weren't expecting it!
Perhaps you're maneuvering in the cramped spaces of close quarters, indoor games and your AEG's feeling a bit unwieldy–a pistol is going to allow you to round those corners with much less exposure than your average M4 or AK, so let's take a look at some of our faves!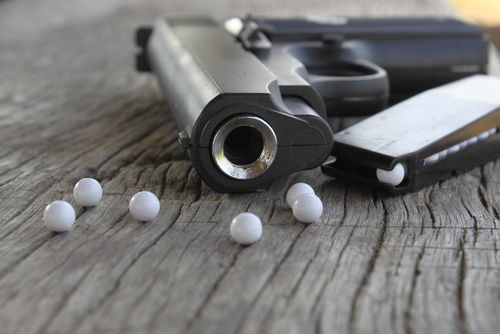 Best Gas Airsoft Pistols
1. Elite Force Licensed Gen 3 Glock 17
After years and years of Glock aggressively pursuing unlicensed airsoft copies of their pistols and retailers that sold them, the Elite Force licensed line of Glocks has finally arrived–and let's just say it's been worth the wait!
Featuring all of the quality and familiar fire controls of its real-life counterpart, the Elite Force line of licensed Glock products, including their Glock 17, delivers the performance you'd expect from a product bearing that Glock name, and there are several different models and generations to boot!
170
at Evike
Prices accurate at time of writing
Prices accurate at time of writing
Powered by green gas and operated by a crisp-yet-strong blowback action, Elite Force Glocks sit in that perfect niche of being a sturdy, reliable gas blowback airsoft pistol for beginner and intermediate players, while also being rugged enough to stand up to the rigors of milsim and serious training sessions. Need we say more?
2. KWA / Umarex Licensed H&K USP 45 Full Size
Before the days of Umarex working with existing airsoft manufacturers to produce licensed versions of the rifles and pistols they'd already been producing, KWA reigned supreme in the world of gas blowback handguns–and their full-size Heckler and Koch USP 45 is no exception!
With hard-hitting performance built on KWA's own NS2 gas blowback system, the USP 45 is one of the rarer types of gas blowback pistol that actually runs when you need it to–far from some of the more fragile pistol systems out there that waiver at the sight of dust and debris. KWA pistols are the perfect, mid-level airsoft handgun for those who use their equipment hard, and aren't afraid to get down and dirty!
150
at Evike
Prices accurate at time of writing
Prices accurate at time of writing
3. KWA M9 PTP
As mentioned, we love KWA GBBs, and they've been around for a bit longer than most folks realize!
Prior to bringing their line of affordable, performance-driven AEGs to the grubby hands of airdorks everywhere (ours included😎), KWA's primary focus was mainly gas blowback pistols that focus on actual performance above all else–giving you a line of truly skirmishable airsoft pistols that still remained relatively unchallenged in their ability to handle hard use and actual dirty gameplay.
The M9 Beretta PTP is a faithful replica of the iconic M92, with the addition of a front Picatinny rail on the frame for the addition of ✨tactical accessories✨. Pretty much a staple of the airsoft handgun roster, the M9 PTP is equipped with KWA's revolutionary (for the time) NS2 system, which utilizes gas much more effectively and ensures that you'll be able to get through an entire mag's worth of ammo before needing to top your gas reservoir off again in all but the most frigid temperatures!
160
at Evike
Prices accurate at time of writing
Prices accurate at time of writing
4. WE 1911 Gas Blowback Pistols
While we're always of the opinion that you may as well invest in an airsoft platform that's got some longterm staying power, there are plenty of folks who'd rather just get out and play–and who are we to disagree?
WE's line of entry-level 1911 style gas blowback airsoft guns are great for newer players who'd like to do just that, and perhaps aren't quite as worried about the ability of the gun to stand up to dust/dirt/grime as well as some of the more expensive options on this list. This isn't to say that WE 1911s are fragile, but they're much more suited to CQB/indoor type gameplay than the filthy, filthy outdoors. 😉
60
110
at Evike
Prices accurate at time of writing
Prices accurate at time of writing
If you're looking to snag a reasonably priced GBB to dip a toe in the water, you likely won't find a better option than the WE family of 1911s! With plenty of models to choose from with different external features, there's undoubtedly something for every flavor of new player to enjoy!
5. EMG SAI BLU Airsoft Training Weapon
Evike's custom line of Salient Hi-Capa based gas blowback pistols take the concept of using airsoft pistols as a training or supplemental aid for real firearms, and takes it to the next level!
Many forward-thinking firearms instructors have long realized the utility of a training tool that lets you ape many of the same movements and muscle memory found during actual firearms use, and the SAI line of 2011 style gas blowback pistols is certainly no exception.
Featuring precision-machined aluminum slides and an impact-resistant, high strength polymer frame, an injection molded frame that provides long term durability without the heft, and the gun is offered with magazines that can utilize both CO2 and Green Gas for a varied array of fuel sources.
180
at Evike
Prices accurate at time of writing
Prices accurate at time of writing
With high visibility fiber optics sights, special grip texture for unlimited purchase, and performance that's reliable enough to count on, both the BLU and RED Salient Arms EMG pistols are perfectly suitable as a master class skirmish gun or effective training aid.
The rest is up to you!
6. EMG John Wick 3 STI / TTI Combat Master
Let's face it–a ton of us got into airsoft because of movies and video games, so why wouldn't you want to own a licensed replica of Keeanu's custom-built Combat Master 1911 from John Wick? Come up with a reason–we bet you can't. 😉
The EMG Combat Master features highly detailed CNC machine work with beautifully executed STI roll marks and laser engraved TTI trades–long story short, this thing is as likely to turn heads as… John Wick is to… snap them? 🤷‍♂️
A stippled grip and flared mag well make sure that you've got the leverage you need to flow into your workspace like the man himself when you sweep and clear your parent's basement. That's not a judgement, we all do it–don't lie.
195
at Evike
Prices accurate at time of writing
Prices accurate at time of writing
For that mix of performance and visual aesthetic, you'll not find much better! Snag one of these bad boys and seek justice for airsoft dogs everywhere.
7. Elite Force 1911 CO2
Elite Force's venerable 1911 is perhaps one of the most common airsoft handguns found across all types of fields and gameplay styles, and for good reason! Its incredibly simplistic design means that it's got near unrivaled reliability–and the CO2 magazines mean this budget-priced 1911 has got some measurable oomph to its performance, sizeable recoil via the gas blowback action, and a relatively high muzzle velocity compared to other, comparable gas blowback pistols.
While indoor players might want to be aware of whatever FPS or joule limits their particular field might have, the EF 1911 deserves its place as the regular player's sidearm of choice.
110
at Evike
Prices accurate at time of writing
Prices accurate at time of writing
8. Elite Force Smoke Wagon
YEEHAW.
A bit of our departure from our more milsim or skirmishable-focused selections, we love the Smoke Wagon. Why? Well, pardner, it's just plain fun to play with.
While its performance isn't anything particularly fantastic (its serviceable, no doubt), there's nothing quite like playing around with a well-balanced revolver that's clearly taking cues from iconic guns of the west like Colt's Single Action Army, and if you've ever wanted to practice your fancy Ocelot-style twirling moves, the Smoke Wagon's absolutely perfect for it!
125
at Evike
Prices accurate at time of writing
Prices accurate at time of writing
Ideal for those seeking cosplay props, backyard fun, or a bit of salty cowboy showboating (if you can manage it), the Smoke Wagon is an all around blast to fiddle with!
Conclusion
So, when in doubt, whip your pistol out! And thanks to this list of awesome sidearms, you'll have a great jumping off point for your grand shopping adventure.
We want to know–which one of these beauties is going to hang on your hip? Do you have any of them? Let us know in the comments below! And don't forget to check out the Best Airsoft Sniper Rifles, since you're going to want something more than just a pistol!