Does the phrase 'Two World Wars' mean anything to you? Do you routinely play airsoft in knee-high white socks and New Balances? Is your primary form of nutrition White Monster?
If you answered 'yes' to any of the above (and perhaps even if you didn't), Elite Force's CO2 1911 might be right for you!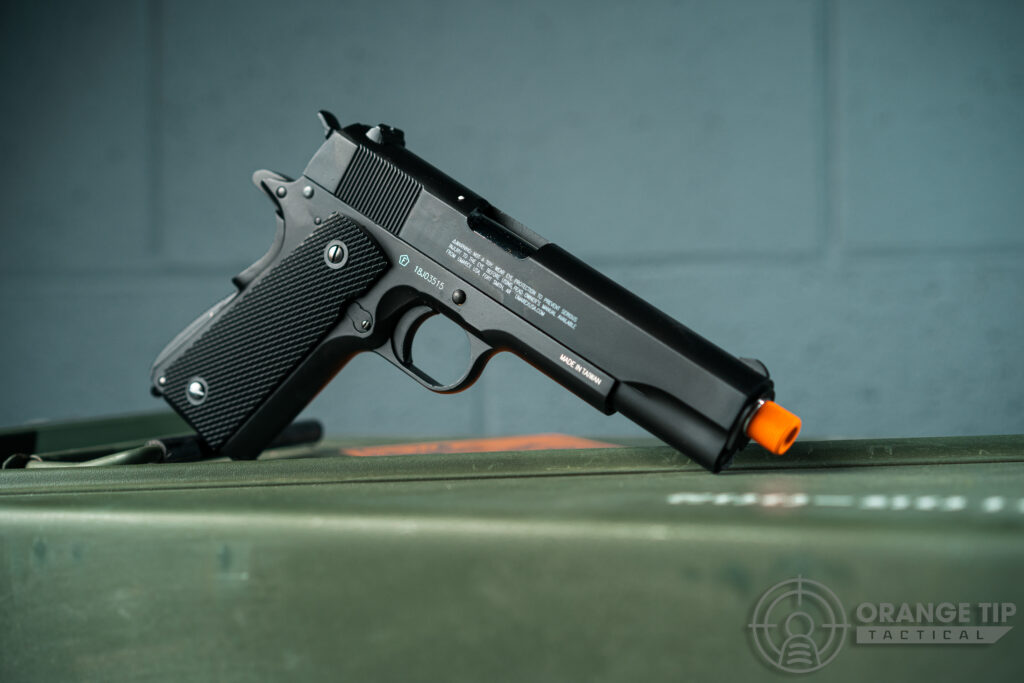 Hopefully, the information here will help you make an informed decision. Yeehaw!
The Real Deal: History, Design, and Operation
Let's get some context going before we dive in, shall we?
The M1911 was adopted by the US Government in…You guessed it, the year 1911. But its legendary inventor, John Moses Browning, began toying with what would go on to become the 1911 we know and love today in the late 1890s.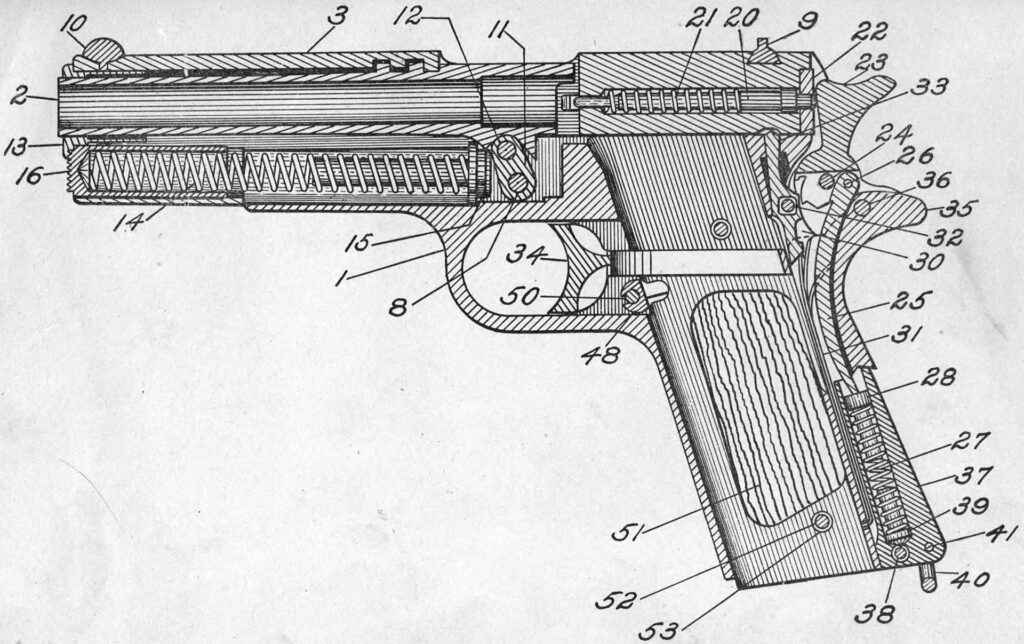 Famous for its stopping power derived from the hefty .45 ACP round, the sidearm would go on to win the favor of U.S. troops in conflicts all over the world.
This would include both World Wars, Vietnam, Korea, and even some limited usage during the more recent Global War on Terror.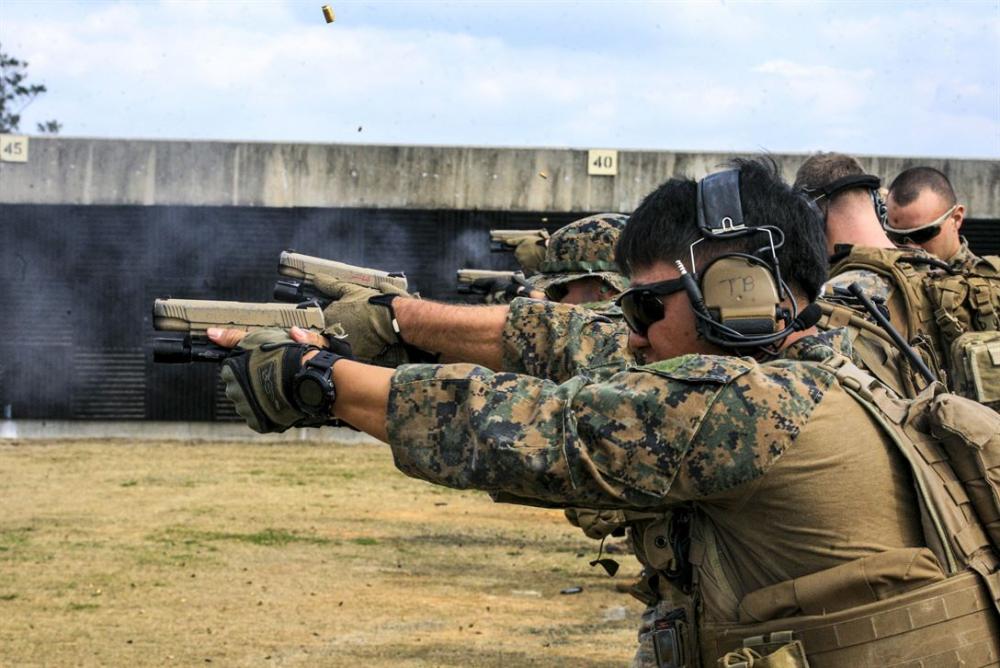 The Airsoft Model
Needless to say, the real 1911 created some pretty spectacularly large shoes to fill…and it's going to take only the most rugged airsoft replica to step up to the plate.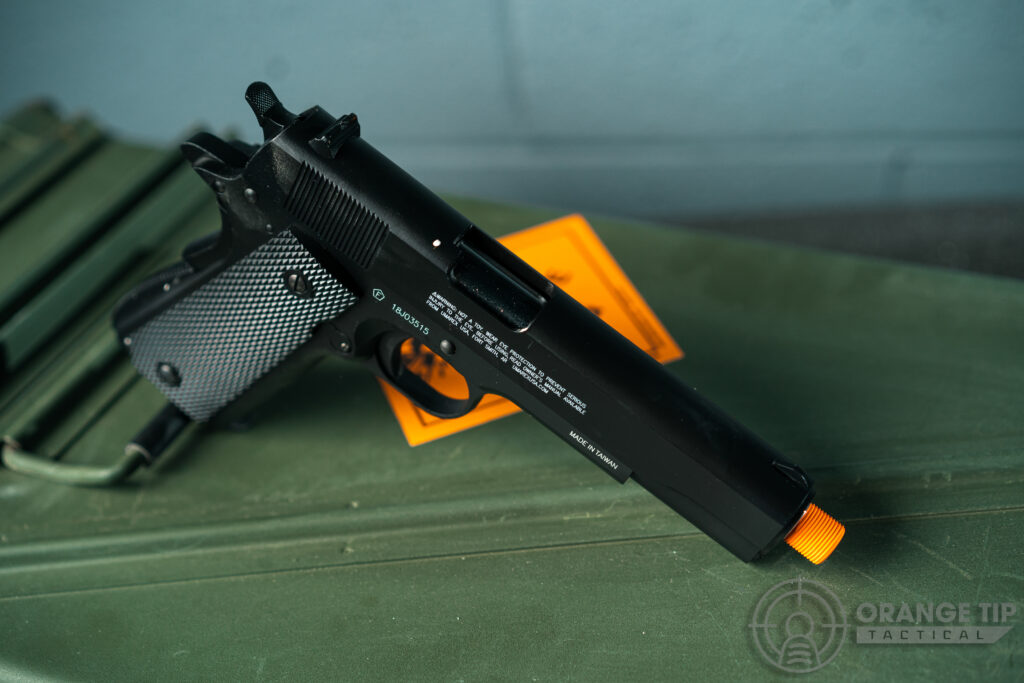 Thankfully, the Elite Force CO2 1911 is easily one of the most skirmishable out-of-the-box airsoft sidearm options on the market.
While there are certainly plenty of gas blowback pistols with a few more in the way of bells and whistles, this bad boy's got that rugged feel that makes it, in our humble opinions, worthy of the almighty 1911's moniker and legacy. 😎
Fit, Feel, and Finish
The EF 1911's got some pretty damn serious heft to it. And that's likely what you're going to notice first above all else — but we're not complaining!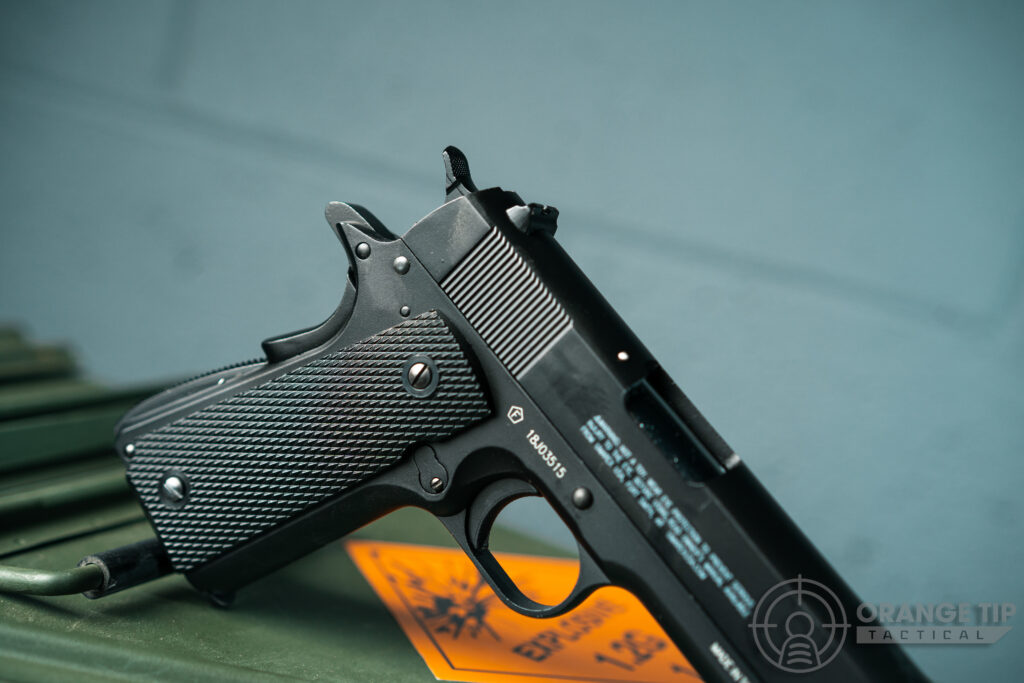 Vigorous shaking of the pistol will give you a tiny bit of feedback in the way of play between the slide and the frame. It's certainly not a deal-breaker, though.
There aren't really any surprises here either. You've got an attractive semi-gloss black frame and slide, checkered grips, and all raised fire control surfaces on the pistol are checkered to ensure you can get a good handle on them when you need to.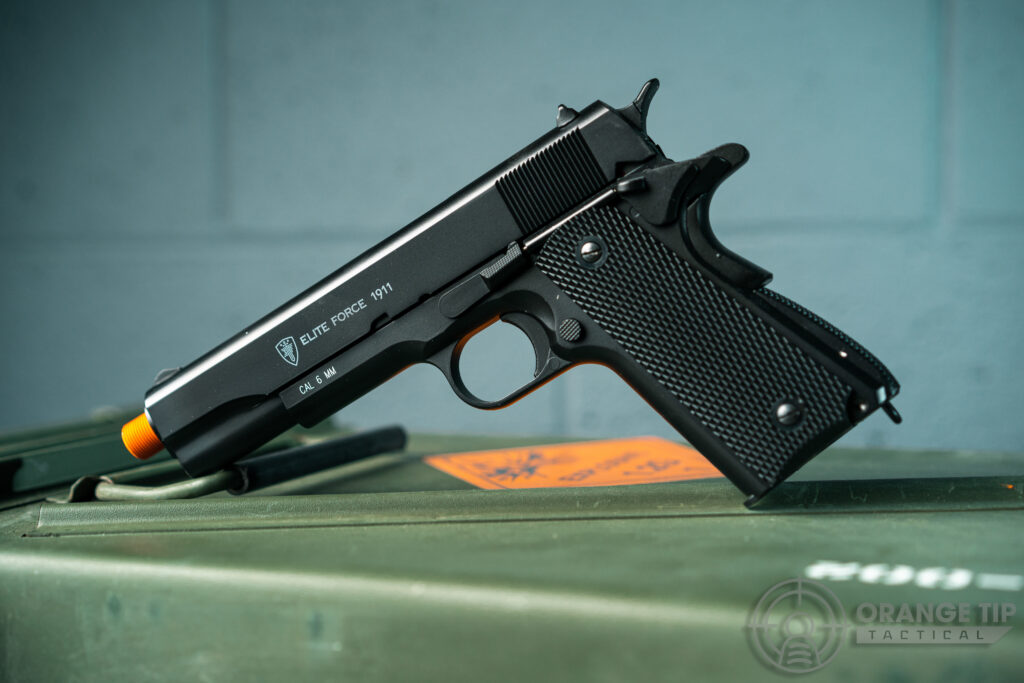 While, unfortunately, lacking a Picatinny rail, you are ready to throw a mock suppressor on the included threaded barrel adapter, should you be so inclined!
The EF 1911 features standard 14mm- (CCW) threads and should accept most suppressors that match that thread pitch.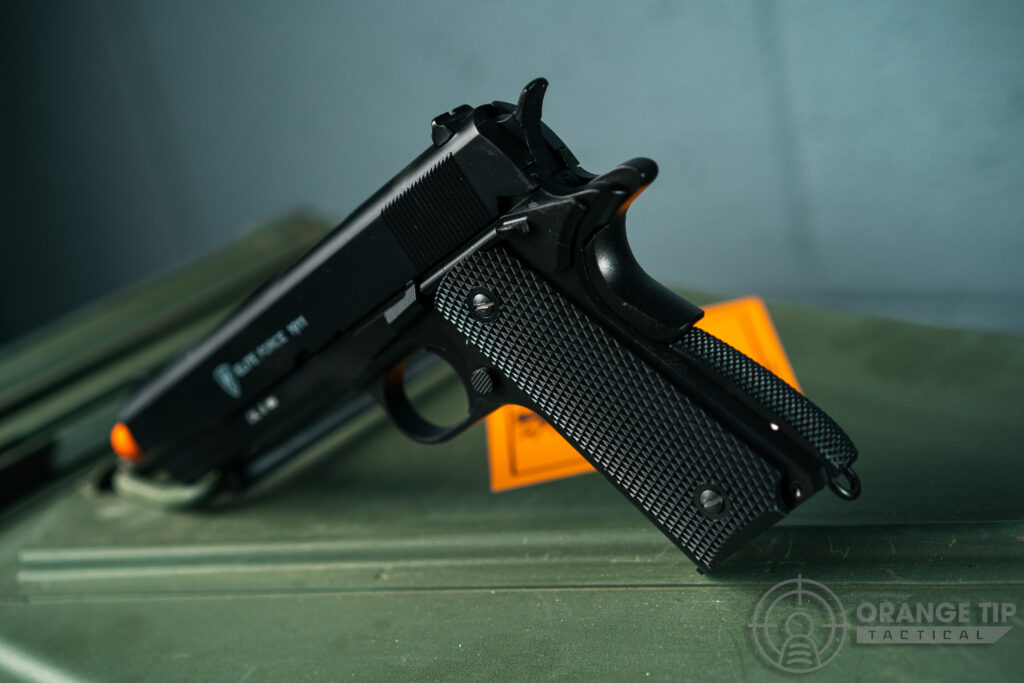 You've also got your standard beaver-tail safety grip mechanism at the rear of the frame. This means the gun won't fire unless that safety is depressed first.
Additionally, there's a manual safety lever that can be activated when the hammer is back and you've (presumably) got a BB chambered. The 1911 is single action so it won't pull the hammer back unless it's been pre-cocked by chambering a round with the slide (or, less commonly) manually.
A lanyard loop also adorns the very bottom of the frame's pistol grip. This allows for the attachment of a lanyard to ensure that the pistol is still attached to your person should it slip out of a holster or pouch!
As you might expect, the EF 1911's slide locks to the rear when the magazine runs empty. And this providse a clear visual indicator that it's time to take cover and swap mags.
So How Does it Shoot?
All the cool whizbang features in the world are pretty darn useless on an airsoft gun if it doesn't also shoot well, right?
Luckily, that too isn't a thing you have to worry about!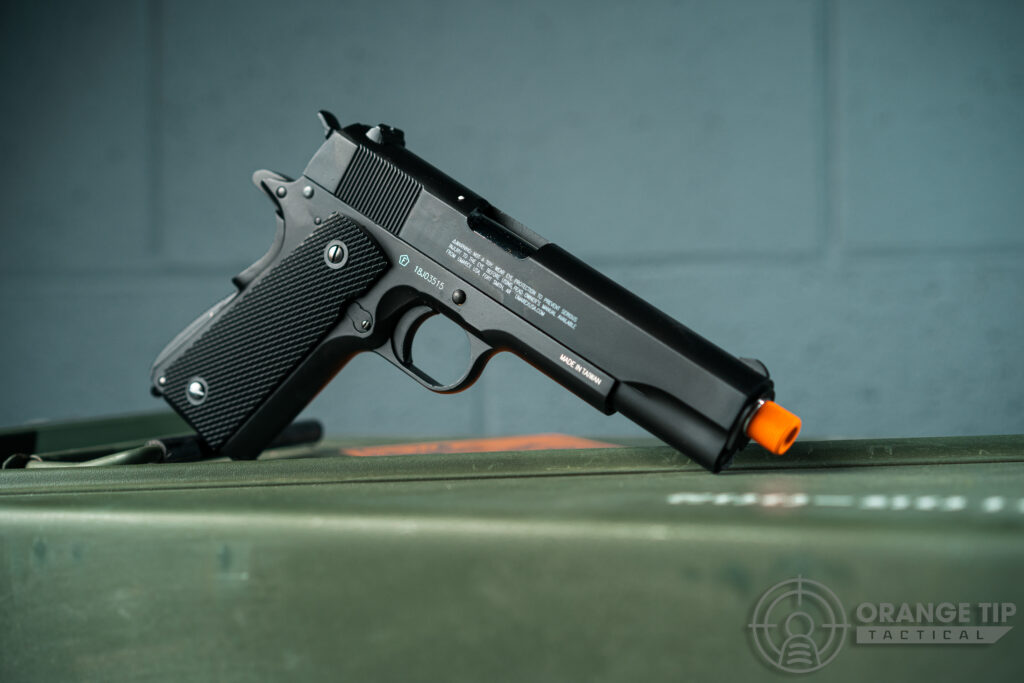 Given that the EF 1911 runs on CO2, you're going to have two advantages over your average gas blowback pistol user.
CO2 generally allows for both a higher muzzle velocity as compared to green gas, as well as increasing the amount of rounds you can put downrange before running empty on your propellant!
What's not to love?
Clocking in at right around 345 FPS measured with a .2g BB, the EF 1911 is right at the FPS threshold found at most indoor fields. That's presumably where you'd be using it as a primary or a hardy secondary should your main AEG or SMG go down for whatever reason.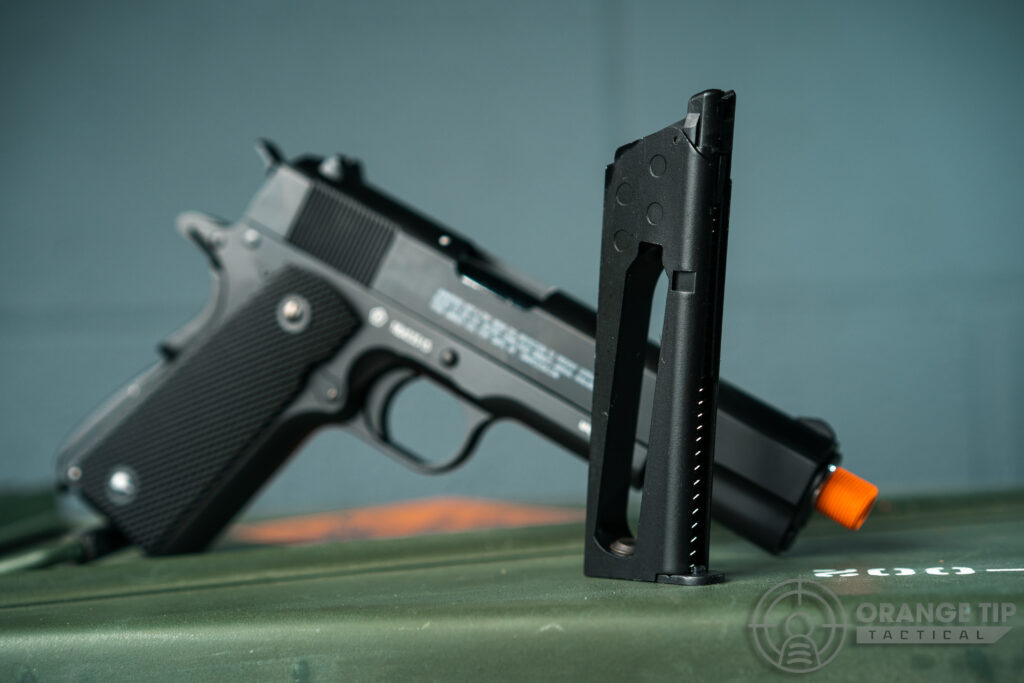 Perhaps slightly uncommonly, the EF 1911 even includes an adjustable hop up. This means you've got a bit of adjustability to dial in your BB's flight path if you need to!
We were able to get accurate shots out of the EF 1911 up to about ~60 to 80 feet away. Certainly not up to AEG range, but it's not intended to be either. Remember, most gas blowback pistols are intended for close-up BB fights!
Upgrades
Unfortunately, here's where we hit our first potential snag with this particular variant of EF's 1911 line. It's not super upgradeable.
Given the fact that the gun lacks external Picatinny rails, you're sadly going to be SOL if you're trying to find an easy solution to mounting a light or laser on this bad boy.
Holster: The good news is that, as one might expect, a gun that's been around since WW2 in various iterations has a ton of holster options on the market! We'd probably take a look at this hard plastic modular style holster from Matrix. You've got plenty of options for mounting locations, which allows you to tailor draw location.
15
at Evike
Prices accurate at time of writing
Prices accurate at time of writing
Magazines: Wanna make sure you have a few backup mags just in case you wind up doing more plastic slinging with your secondary than perhaps you intended? No worries! One of our favorite things about the EF 1911 series is that mags are both relatively cheap (for a gas blowback platform, at least) and reasonably plentiful. It's always a good idea to stock up and have a few handy.
39
at Evike
Prices accurate at time of writing
Prices accurate at time of writing
Mock Suppressor: Going for that sneaky guy aesthetic? The EF 1911's included 14mm- threads will allow you to toss on any mock suppressor compatible with that thread pitch!
28
at Evike
Prices accurate at time of writing
Prices accurate at time of writing
By the Numbers
Reliability: 10 /10
No jams, mag freezes, or other hiccups to note. Our T&E period with the EF 1911 went flawlessly and we couldn't be happier. These things have a reputation among serious airsoft nerds for a reason!
Accuracy: 8/10
It's an airsoft handgun, which means that you might need to skew your expectations if you're trying to seriously reach out to even normal AEG ranges. But for what it is, it'd be hard to find a real reason to complain!
Effective Range: 7/10
Again, keep in mind that the EF 1911 is going to excel at short ranges above all else – and excel it does indeed.
Rate of Fire: 10/10
It's always great to see the snappy feel of a single action trigger replicated in airsoft form, and the EF 1911 is no exception! This thing is going to run just about as fast as you can pull that trigger there, Audie Murphy.
Ergonomics: 6/10
Perhaps expectedly, the EF 1911 feels a little outdated compared to other more ergonomically designed handguns introduced in the ~110 years since its inception. But that doesn't mean that anything here is bad per se! If you're after a 1911 specifically, you'll know what you're getting into.
Looks: 8/10
It's sleek, it's simple, it's a 1911. It's got some mildly unnecessary disclaimers on one side of the slide that we could do without, but other than that? Yeah 😎
Customization: 5/10
Perhaps the only real big setback is the relative lack of accessories available for the gun considering it doesn't have much in the way of attachment points. But hey, sometimes running things stock is ok. Right? Right?
Overall 8/10
Conclusion
While overall a pretty simplistic offering, we have nothing to gripe about over the EF 1911 — it just runs. As players, that's what we're all about!
If you're looking for a skirmishable, reliable, hard-hitting GBB that won't break the bank while providing performance over bells and whistles, you'd be hard-pressed to go wrong here.
Have you tried out one of these beauties? Want to? Leave us your thoughts in the comments below! And since you're here, check out some more great gas pistols!