For those of us that grew up on the cheesy action movies of the 90s, there's probably one gun that sticks out as the most iconic pistol of the era — the Beretta M92!
Is KWA's gas blowback replica that bills itself as a "professional training pistol" up to snuff?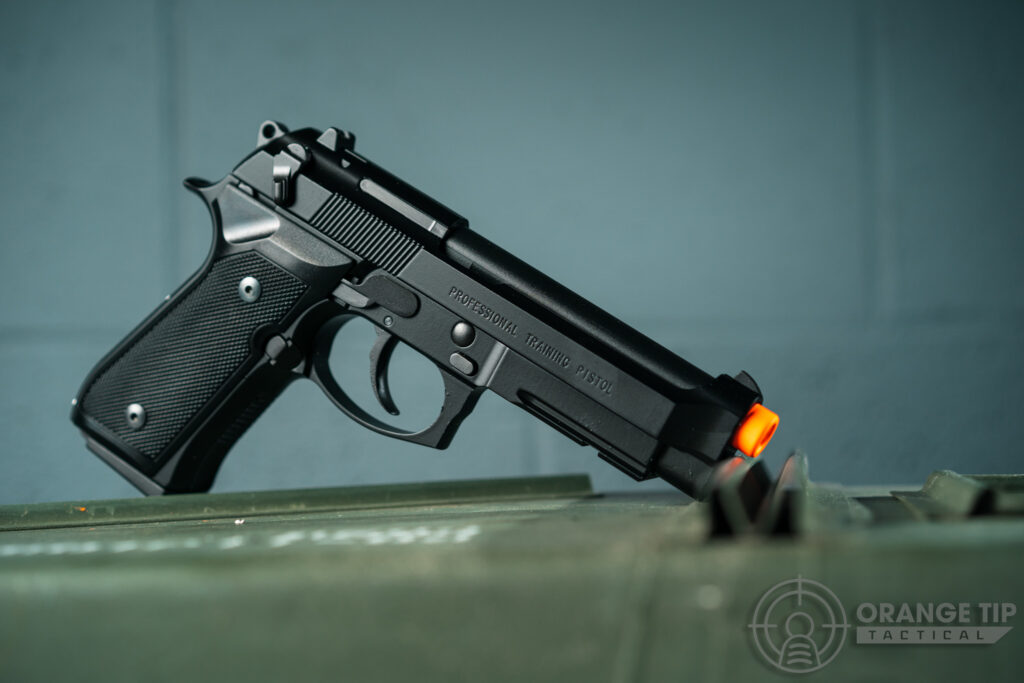 Just what does 'PTP' actually mean?
Let's find out!
159
at Evike
Prices accurate at time of writing
Prices accurate at time of writing
We'll go over the specs, what I like and don't, and ultimately help you decide if this is a pistol worthy of you.
The Real Deal: History, Design, and Operation
Before we talk about the airsoft replica, let's talk some details about the actual Beretta M9 for those unfamiliar.
First winning a competition in the 80s, the M9 was officially adopted by the US Army in 1985, replacing the 1911 as the standard-issue sidearm and entering actual service in 1990.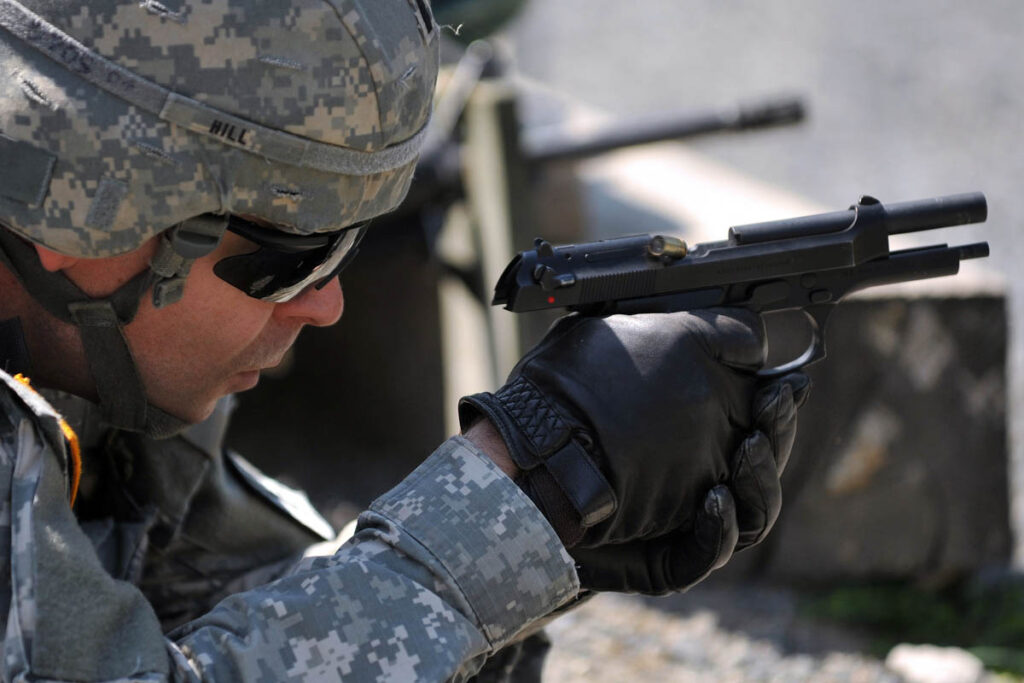 While the Army largely chose the M9 over other competitors for cost-related reasons, its reception among both police and military has been mixed (at least with early iterations).
But the M9 became something of pop-culture phenomena — appearing in schlocky kung-fu flicks all the way up to Hollywood blockbusters.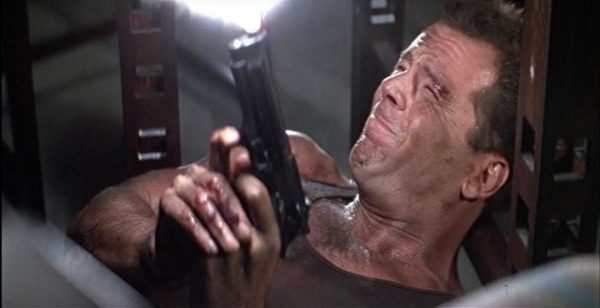 The Airsoft Model
How then does an airsoft replica fill those big shoes?
The answer is…with one of the most revolutionary gas-blowback systems to date — the NS2!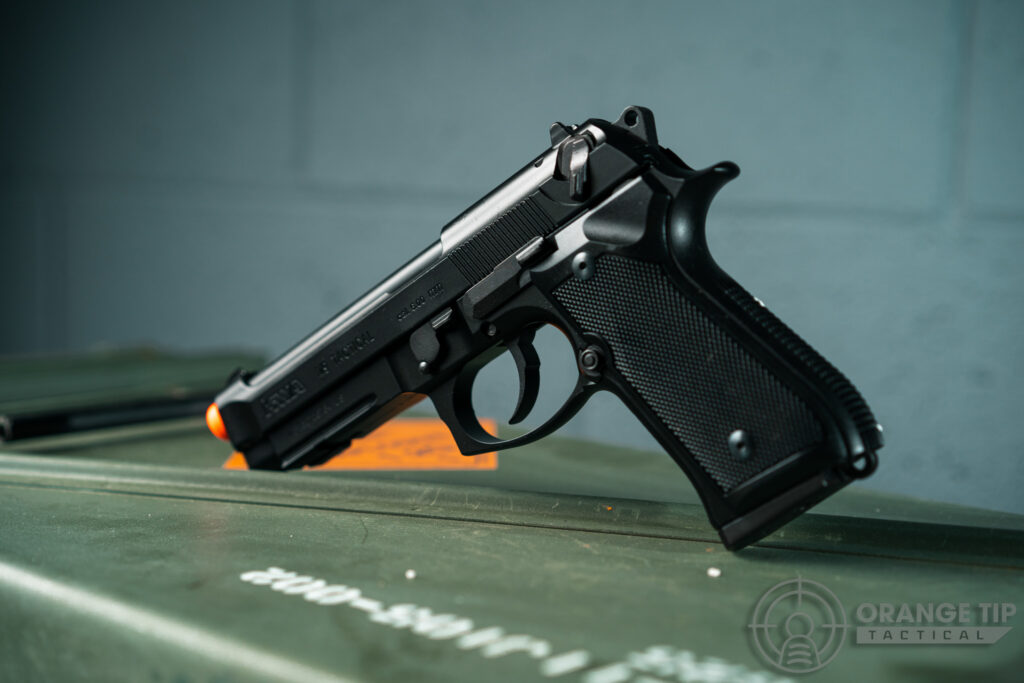 At the time of its introduction, the NS2 easily changed the landscape of what type of performance gas blowback pistols were capable of. It provided both reliability, velocity, and mitigated the cool-down effect of rapid firing.
While we don't have the space the go in-depth with all of the mechanics of the NS2 system here, just know that KWA changed the game with its introduction. And the system still holds up today!
Fit, Feel, and Finish
The M9 PTP feels solid — and those of you familiar with KWA's history probably expect just that!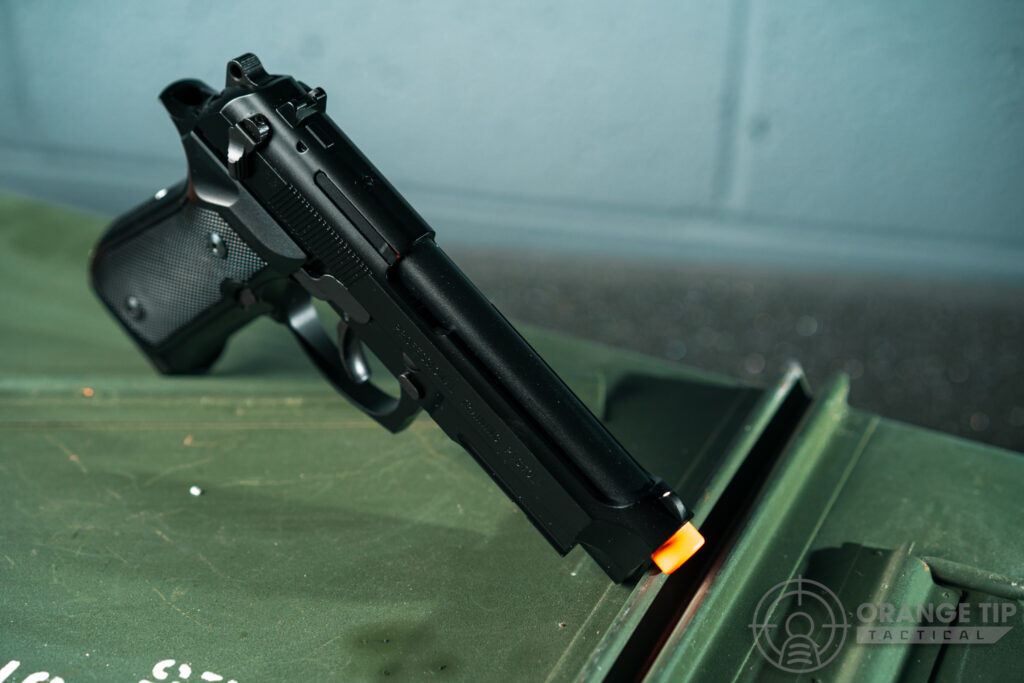 Accurate to the real deal, the KWA M9's frame and slide provide a sturdy metal construction. This leads to zero wobble or rattle when the gun is given a vigorous shake. And yes, that's what passes for science around these parts 😉
The gun's got an attractive semi-gloss finish that's sure to turn heads (maybe even before you fire plastic at them).
The grips are polymer, and checkered to enhance your grip on the pistol. Since the M9 is a double-action GBB, your first trigger pull with the hammer back is also going to cock and then drop the hammer — turning it into a single-action pistol from thereon out!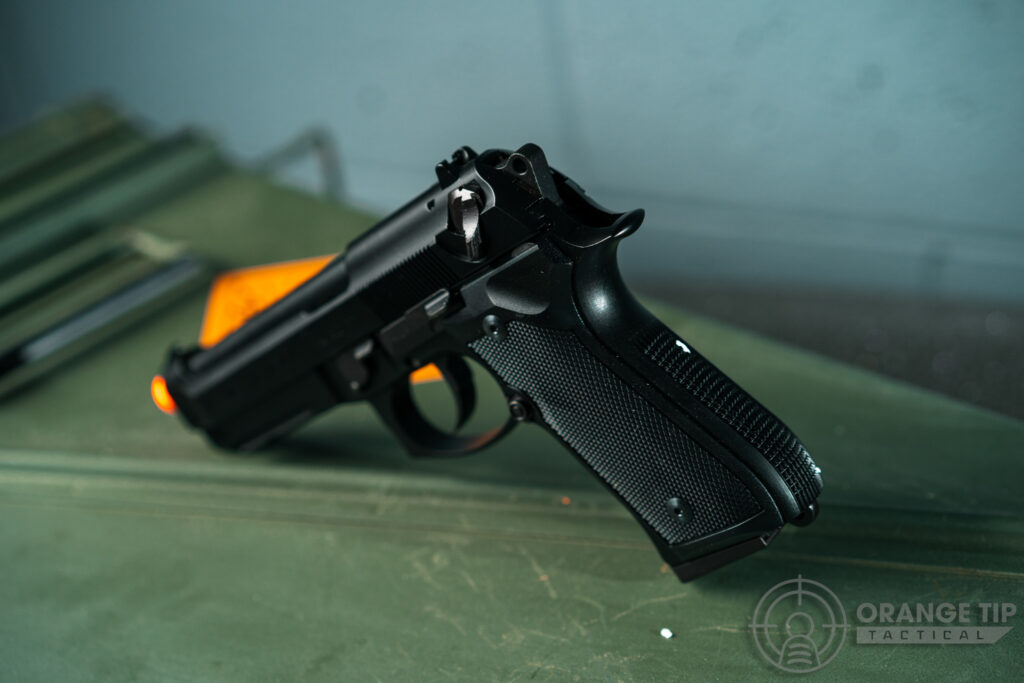 The safety is located on the left-hand side of the receiver, just above the beavertail. It also decocks the pistol if you need a safe way to drop the hammer.
The gun's trigger feels crisp — but not as twitchy as some other gas blowback pistols. You've got a tiny bit of takeup that travels smoothly before hitting an obvious wall.
Yet, it doesn't feel quite as crisp as some of the custom EMG pistols. But you probably shouldn't expect it to either.
Compared to the average M9, the M9 Tactical includes a railed Picatinny section up front. This allows for the attachment of lights, lasers, and more! You know. Tactically.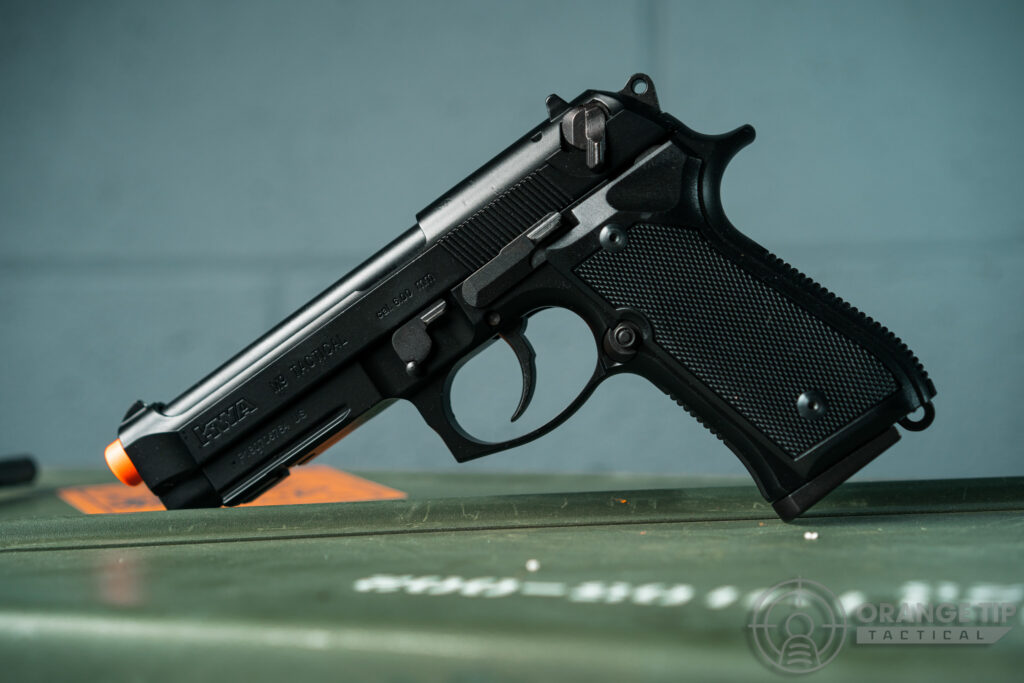 Like all semi-automatic gas blowback airsoft guns, the slide locks back on an empty magazine. This gives you a clear visual indicator to swap mags should you need to keep the BBs flying!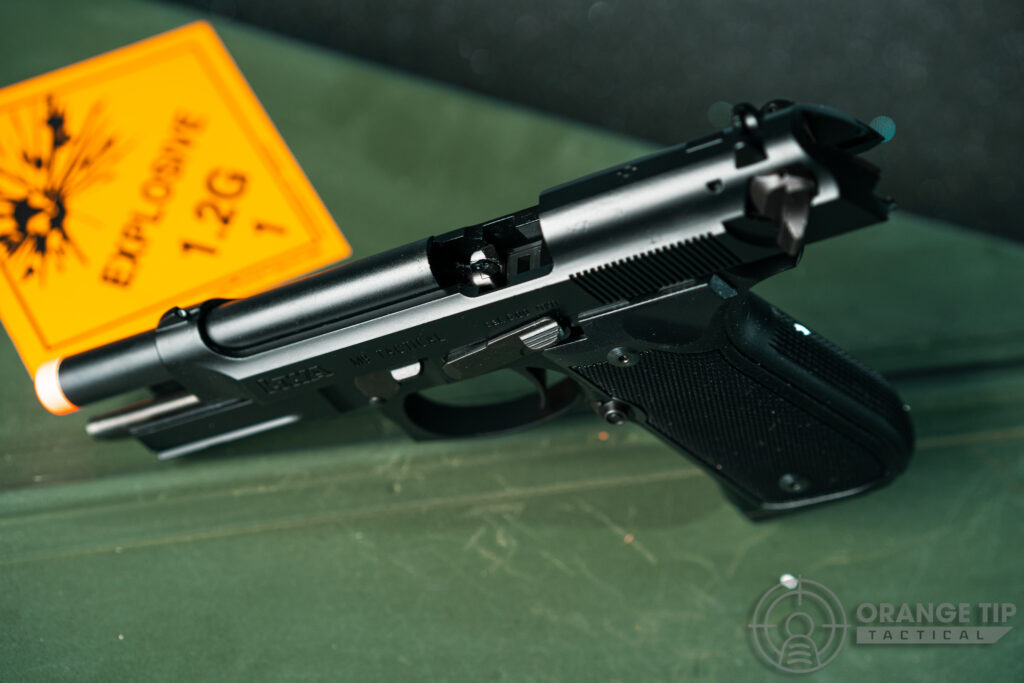 While the enlarged trigger guard is somewhat of a throwback to older pistol designs, it does allow the pistol to be easily fired with gloves — particularly thicker, cold-weather gloves.
You can thank the Army for that one.
All told? It's a solid, attractive replica that's more or less true to all of the details we love about the original M92!
So How Does it Shoot?
As we mentioned, that KWA NS2 system makes the M9 PTP a beast!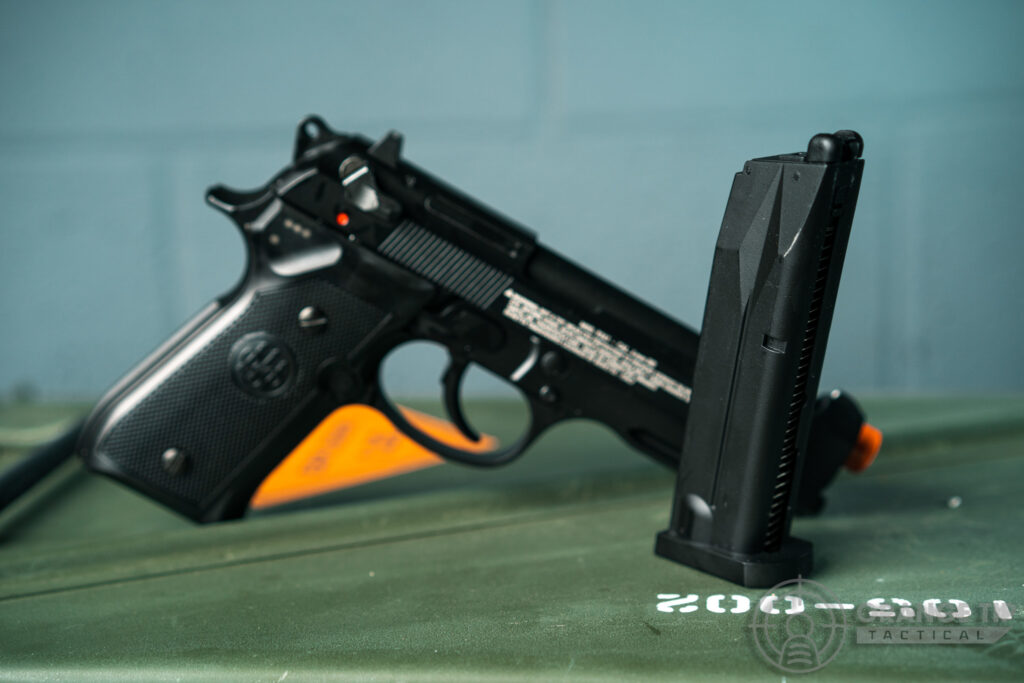 You'll hit right around 330 FPS with a .2g BB and normal atmospheric conditions. This makes the M9 perfect for CQB fields that might have an upper limit of 350 FPS.
With a magazine holding a staggering 24 rounds, you've got both plenty of ammo and a large enough gas reservoir to make sure you're getting through the entire magazine without reloading!
Even a rapid-fire magazine dump isn't going to cool the magazine down enough to inhibit firing. Thanks NS2 system!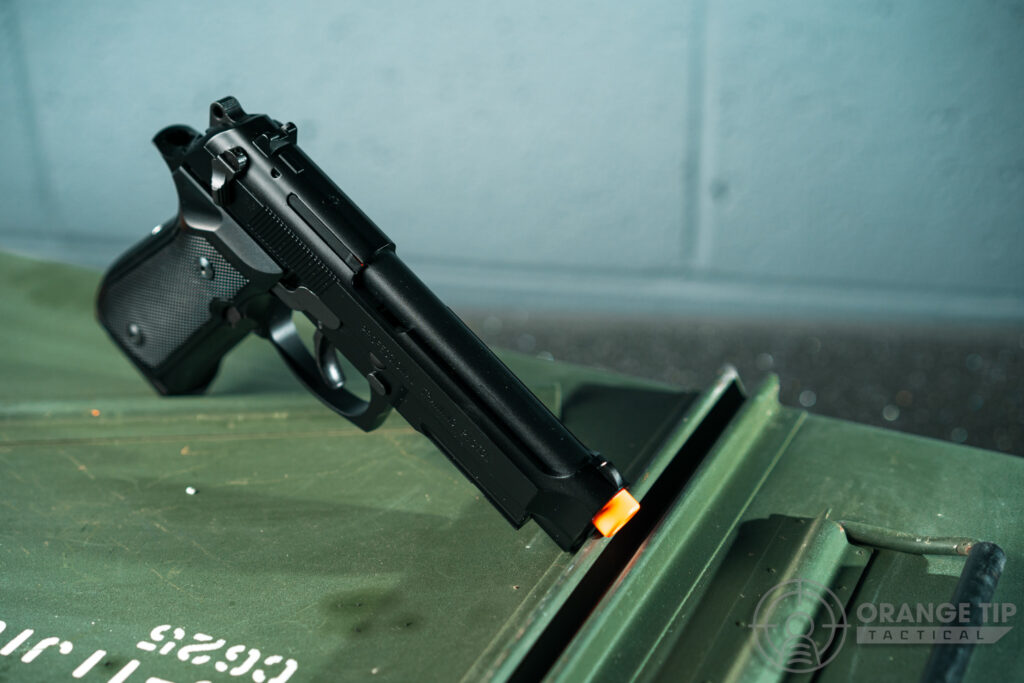 Additionally, the M9 PTP features a hop-up unit that is accessed by locking the slide and using the included adjustment tool to dial in your exact round trajectory.
Keep in mind that this is a pistol. You're not really going to be capable of eLiTe sNipEr headshots, but you'll have a reasonable amount of adjustment to ensure your round is going where you send it — within pistol range of course!
Upgrades
While there isn't a ton that can be done to the M9 PTP upgrade-wise — there's definitely a few choice add-ons we'd recommend!
Holster: We're pretty huge fans of Matrix's in-house brand of affordable, hardshell holsters. And it's hard to see how a player on a budget could go wrong with their specialized holster guaranteed to fit the M9!
28
at Evike
Prices accurate at time of writing
Prices accurate at time of writing
Magazines: While the M9 PTP holds a generous 24 rounds, it's never a bad idea to make sure you've got more on hand.
39
at Evike
Prices accurate at time of writing
Prices accurate at time of writing
Tight Bore Barrel: Looking to squeeze more accuracy out of your setup? Slap a tight-bore inner barrel in your M9 and decrease the amount of air that escapes around the BB as you fire! You'll have to clean your GBB more often, but for some, the tradeoff is worth it.
30
at Evike
Prices accurate at time of writing
Prices accurate at time of writing
Pistol Light: Make sure you've got lumens when it counts with this affordable, 400 Lumen LED light that'll attach right to that front Picatinny rail!
57
at Evike
Prices accurate at time of writing
Prices accurate at time of writing
By the Numbers
Reliability: 10 /10
The NS2 system provides one of the most reliable gas blowback platforms we've had the pleasure of playing with. During our testing phase, we encountered no issues whatsoever!
Accuracy: 8/10
Accuracy with airsoft pistols must always be qualified with a reminder that, indeed, it's a pistol. It's primarily intended for up-close use. That said, the M9 PTP put rounds where we sent them.
Effective Range: 7/10
You're easily going to be capable of shots within the 60-90 feet range — the higher side for GBB pistols!
Rate of Fire: 8/10
It's a semi-automatic pistol with a slightly less sensitive trigger, but it'll dump that mag without a cooldown.
Ergonomics:7/10
Fans of ultra-modern pistol design may want to look elsewhere, as the M9 hails from the days where large, bulky controls and economic design were the names of the game. But for those who know what they're getting into, it's hard to go wrong!
Looks: 10/10
As we mentioned, it's essentially the quintessential action movie pistol, and for us? That rules.
Customization: 7/10
Tricking your pistol out can always be a bit…tricky, but we appreciate that there are at least tightbore barrel options available — not to mention that Picatinny rail!
159
at Evike
Prices accurate at time of writing
Prices accurate at time of writing
Overall 8/10
Conclusion
For those that need that John McClain swag, or (insert any other number of explosion-based movies here), the M9 PTP is hard to go wrong with!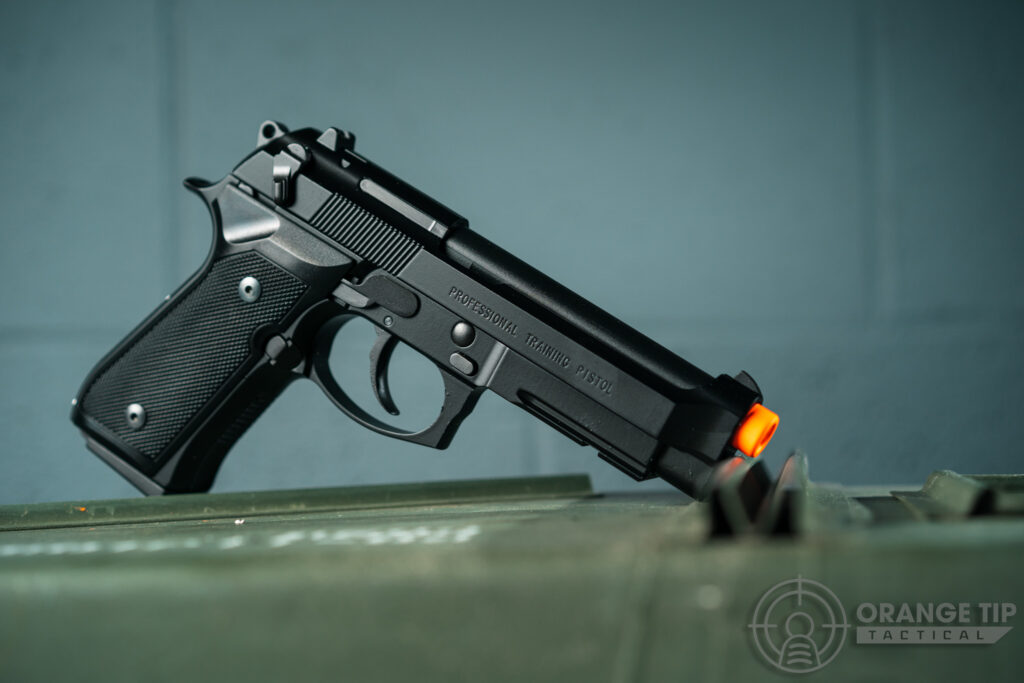 We love that it both looks cool and gets the job done. And for that, it receives the vaunted OTT seal of approval.
Have you tried out one of these beauties? Want to? Leave us your thoughts in the comments below! And since you're here, check out some more great gas pistols!