Want a classic sniper rifle with some seriously Russian style? Then look no further–the Dragunov SVD-63 has you covered!
We got our paws on this gorgeous gat, and we're going to give you the full rundown on how it performs, what we love about it, and what you need to know.
Ready to jump in? Let's go!
The Read Deal: History, Design, and Operation
The SVD-63, also known as the SVD or the Dragunov sniper rifle (or formally, "Sniper Rifle, System of Dragunov, Model of the Year 1963"), was introduced in 1963 as a replacement to the Mosin Nagant M91/30 and SVT Tokarev sniper rifles. It is a semi-automatic sniper/designated marksman rifle chambered in 7.62×54mmR and developed in the Soviet Union by Yevgeny Dragunov.

During WWII, Dragunov served as a senior armourer for the USSR. After 1945, he returned to Izhevsk and joined the Arms Design Bureau. In 1959 Dragunov submitted his design for a military rifle, the SVD, which was accepted into Soviet military service in 1963 and later became known as the Dragunov rifle.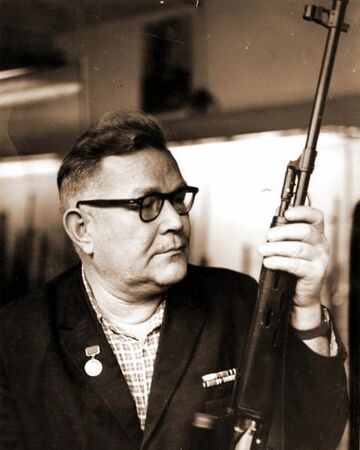 The Dragunov is a semi-automatic, gas-operated rifle with a short-stroke gas-piston system. Its receiver bears a number of similarities to the AK action–such as the large dust cover, iron sights and lever safety selector–but these similarities are primarily cosmetic in nature.
Unfortunately, these cosmetic similarities can lead to mis-categorization of the Dragunov as an AK variant, but it truly is a different beast altogether.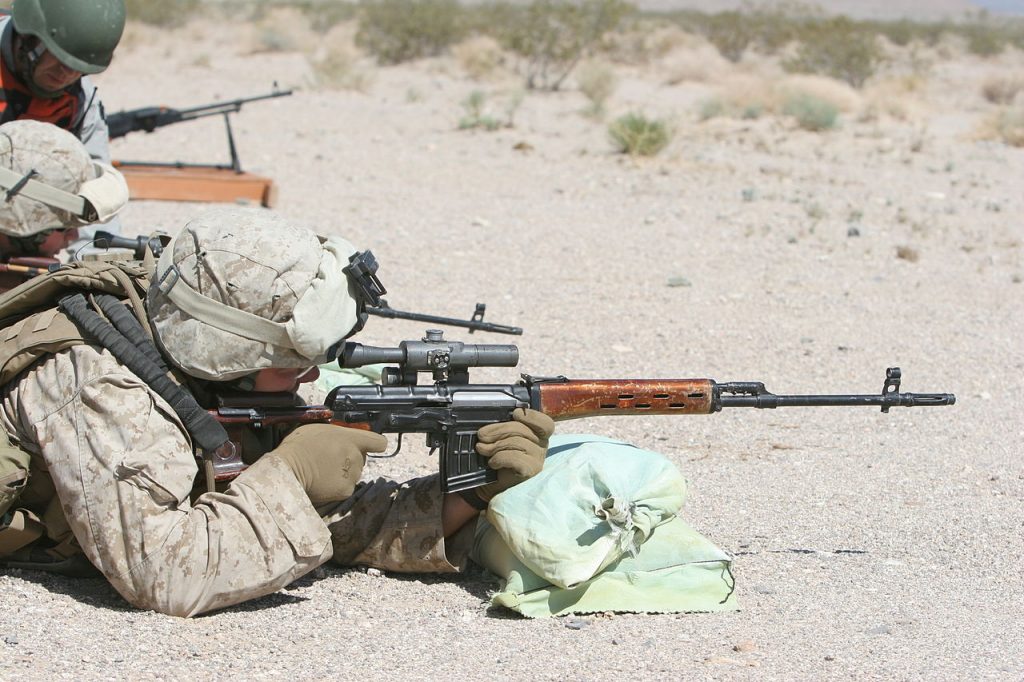 Though the SVD is sometimes called a sniper rifle (and the Russian translation of the name literally means sniper rifle), it was originally designed as a squad support weapon, or DMR, and was intended to be used for precision shots within 400m (437ish yards) using a 4x scope.
While it wasn't intended to be a sniper… despite the name… the effective long-distance combat ranges have been reported as anywhere from 600m-1300m (656-1421 yards).
The Airsoft Model
With all that sexiness that is the real thing, how does the Dragunov SVD AEG measure up?
The answer is: quite well.
209
at Evike
Prices accurate at time of writing
Prices accurate at time of writing
It can be pretty hard to make an accurate replica that feels like the real thing. CYMA does a pretty damn good job, though. At 48 inches in length, the AEG model is a mere two-tenths of an inch (or 6mm) shorter than the real rifle. It's a bit lighter, at 7.7 pounds, but probably not noticeably so unless you're one of those weirdos that is a human scale.

You get 26.88 inches of internal barrel length, which gives you some pretty great power behind your shots. We'll talk more about that in a second.
The stock is 11.5 inches in total, and has a built-in pistol grip/thumbhole stock to keep you steady. It's semi-auto only, like the real deal, so sorry to those with itchy trigger fingers–you're gonna have to work for it.
Inside, you'll find a short-type motor and a custom, full-metal 4-gear design gearbox. Outside, you'll find quite a bit of metal, as well (which is why it weighs almost as much as an actual SVD). This includes the full receiver, top cover, trigger guard, trigger, mag release, safety selector lever, rear sight, full magwell, full outer barrel, gas block, front sight, and compensator/flash hider, to name a few parts.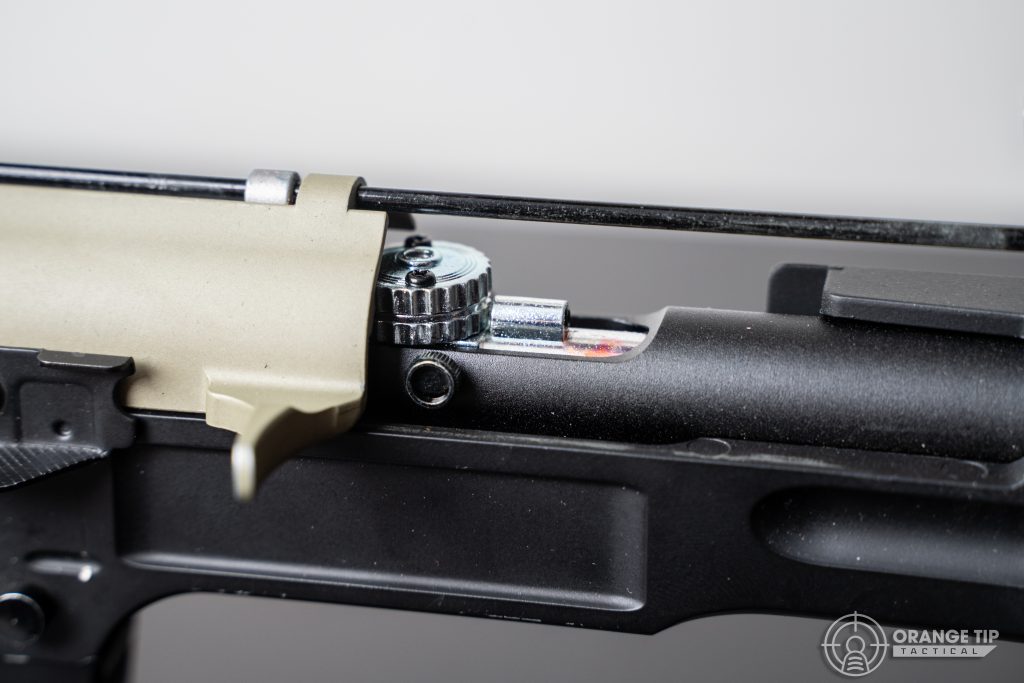 The metal itself feels strong and high quality almost akin to real steel parts, overall mid-tier for an airsoft gun. I have no fear that the barrel would bend unless subjected to extreme circumstances. The finish is a standard matte black paint that wears easily in high traffic areas giving the gun a worn look within just a few uses outdoors.
The nylon fiber polymer stock and pistol grip, as well as the plastic handguards, help keep this thing from being an absolute boat anchor.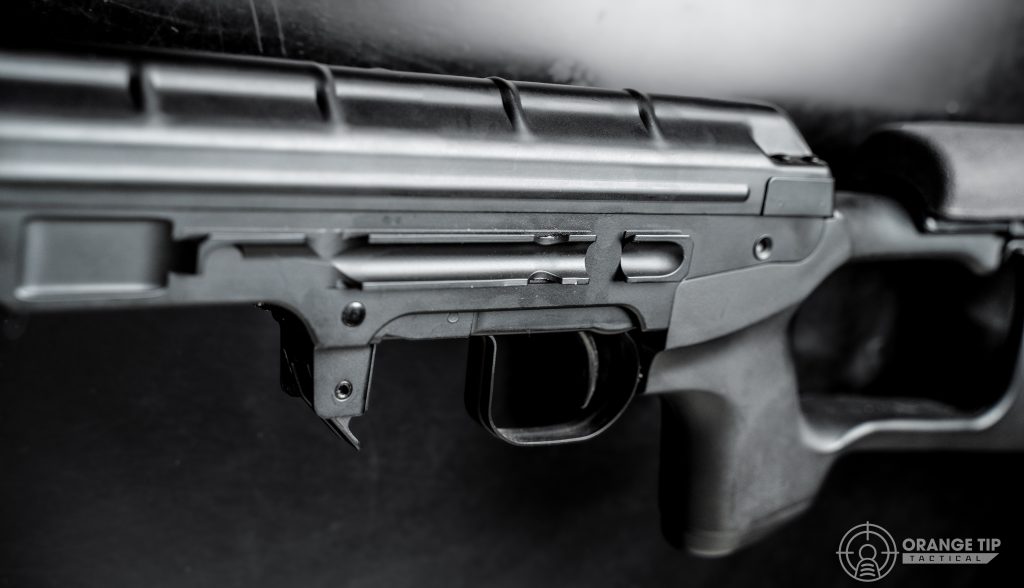 Due to the overall length and full-metal design, the gun is a little front heavy, however, the balance point is centered on the magwell. Though heavy, with a traditional rifle grip it is very well balanced. You might just have to tweak your form a little.
The Furniture: Stock, Grip, and Handguard
The length of the stock is short for a sniper rifle, as it is nearly the same length as a standard AK stock.
This helps while moving, especially indoors, as it compensates for the long barrel. It can be a hindrance while using the rifle prone, however, because it makes it more difficult to get proper stock placement against the shoulder.
When shooting from a standing or propped cover, it is a very comfortable gun–if you can get used to the length. I'm above-average in the height department, and it's a good fit for me, but it really dwarfs shorter players (*cough* Like Milo *cough*).
The gun comes with a rubber and full metal cheek pad that is nonadjustable. It's not the most comfortable cheek pad ever made but is high quality and dense.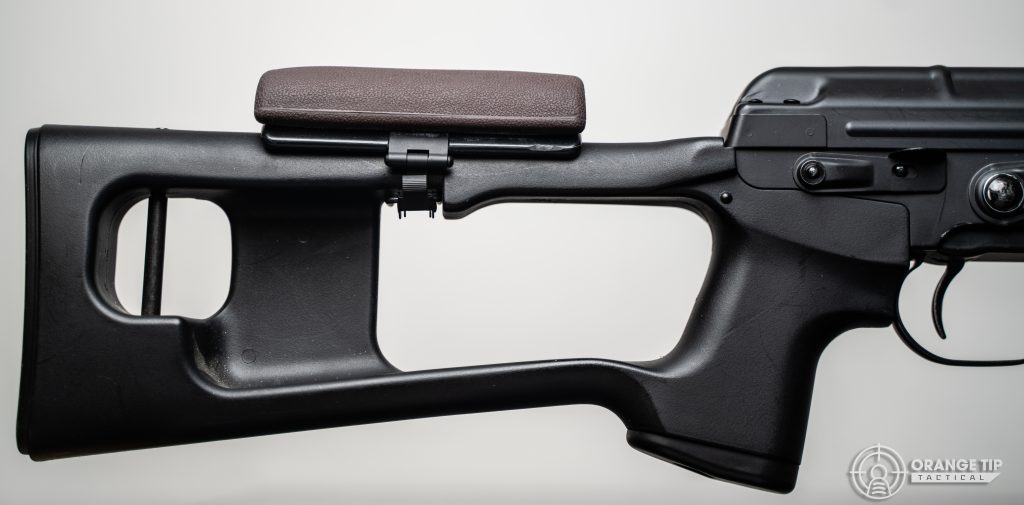 A downside to the cheek rest? You cannot use iron sights while it is attached, since it can't be adjusted and it lifts your cheek to be right in-line with any scope or red dot you may attach to the scope mount on the side.
I love using it with a holographic sight for closer encounters. It allows me to just look at my target and like magic, my sight is right there without me having to tilt my head to get onto the stock. Pew pew!
Sadly, the pistol grip is not very ergonomic–it's actually a bit chunky and wide. My large hands can fit around it, however, someone with smaller hands will most likely have trouble getting a proper grip on the gun. The nylon fiber polymer feels comfortable to the touch and fairly durable.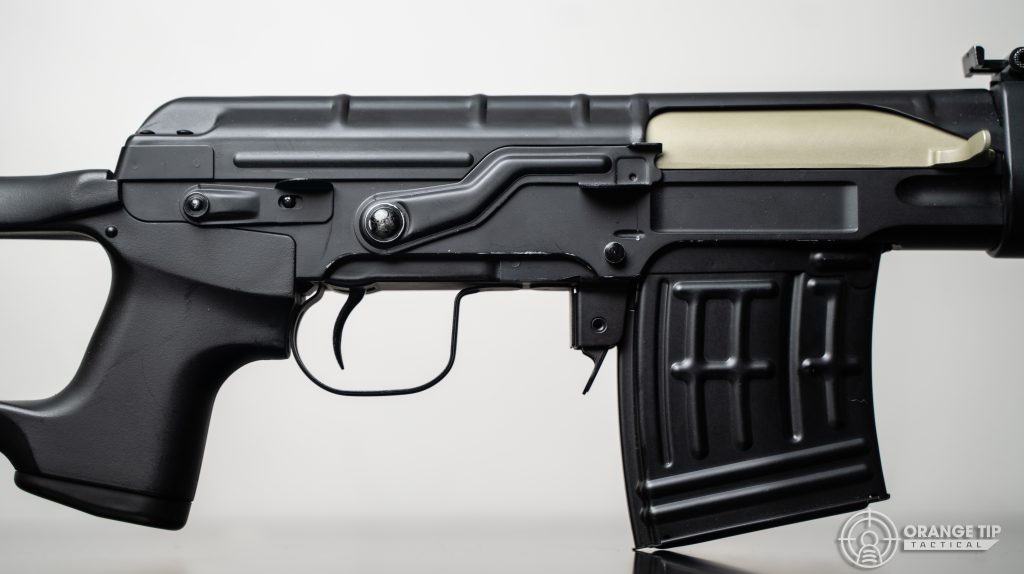 The front handguards are by far the cheapest part of this gun. They are also made of nylon fiber polymer, and though they do feel somewhat comfortable, I doubt they could stand up to much abuse.
The handguard is comprised of 2 pieces that separate down the center. The ends slot into groves towards the receiver while the front pieces are pushed together and held by an "upper band" and held in place by a band axle pin, which I believe is how the RS rifle also works.

Unfortunately, the fit is not the tightest, and there is a bit of slop which allows the handguards to shift back and forth when force is applied. The movement is only about an ⅛" but I find it annoying enough to write about. Take that as you may.
That funky handguard aside, the furniture on this AEG is well-fit and feels sturdy–despite being an airsoft gun, this doesn't feel like a toy.
Battery Compartment
Once the handguard is removed, you can access the battery compartment. It is approximately 8" long, ¾"-1inch wide, and about ¾" deep. Like most AEG's, it is too small and could've been designed better. *shrug*

Personally, I use the ASG 11.1V 1500mAh 20C High-Performance Stick Type Li-Poly Battery, which fits snugly. It is most likely the largest battery you could use in this gun.
25
at Evike
Prices accurate at time of writing
Prices accurate at time of writing

Sights
The iron sights are pretty much standard Russian rifle design similar to the Mosin Nagant. The front site and compensator/flash hider are one complete metal piece.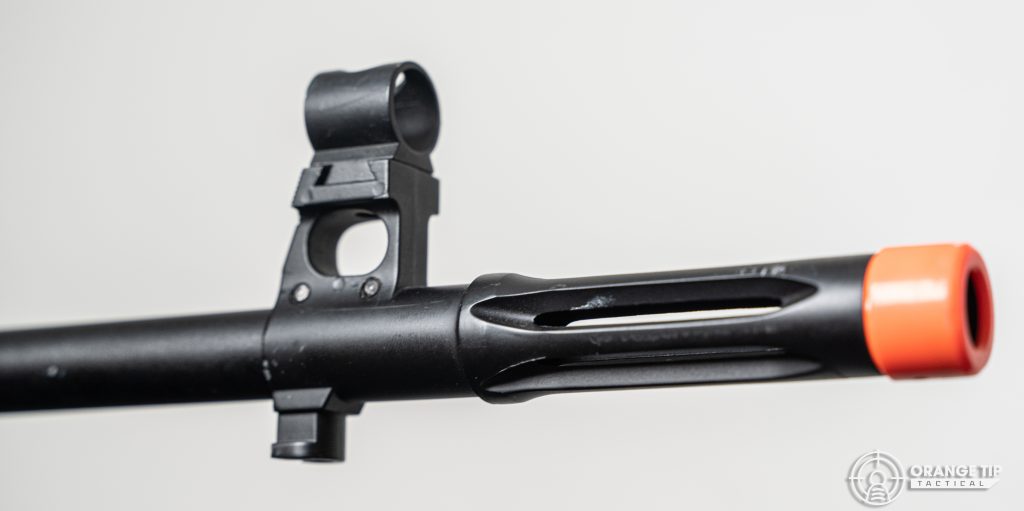 The top part of the sight (the circle in front) can be removed however the rest appears to be pinned in place. Your front sight is fairly tall and tends to snag on objects while on the move especially when in foliage.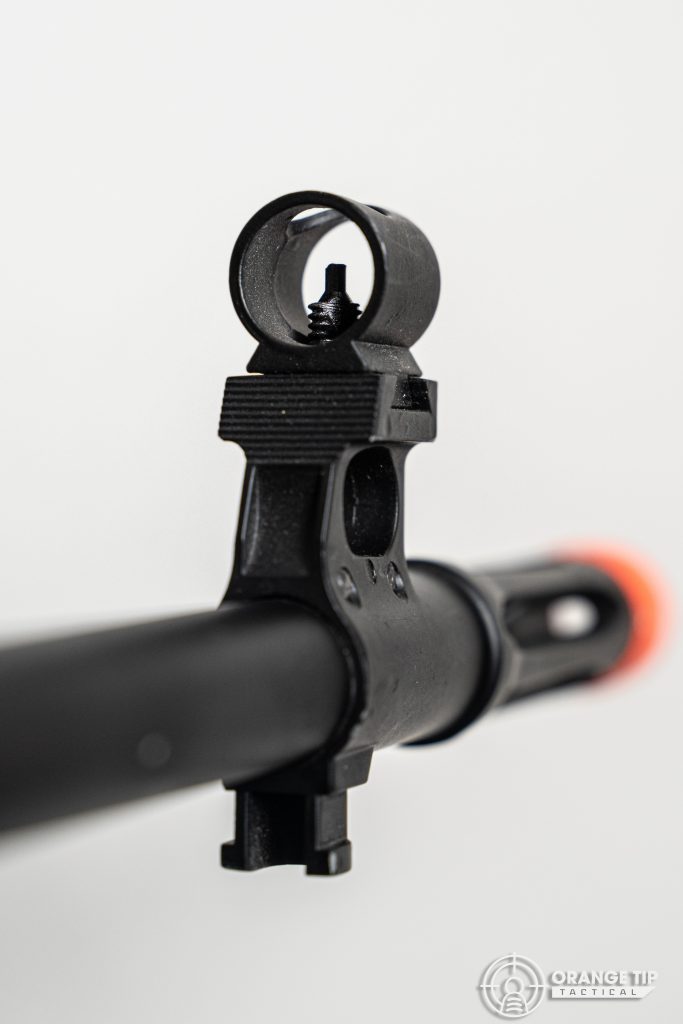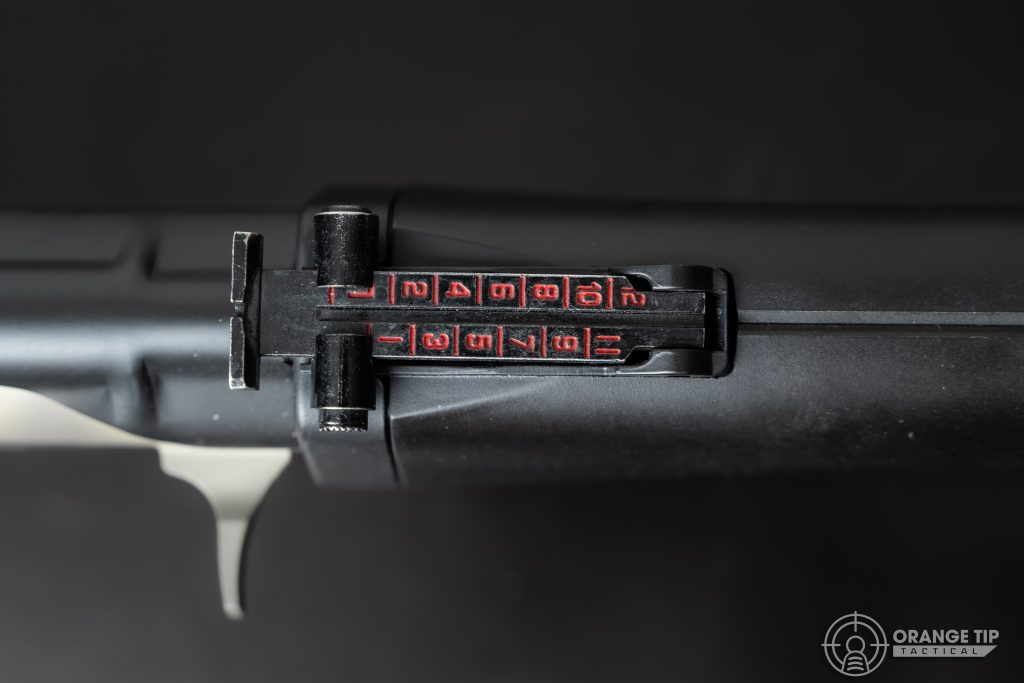 I highly recommend that you swap it out for a Russian PSO-1 as it mounts to the gun with the built-in scope mount. Or you could get a Picatinny scope mount for AKs.
101
at Amazon
Prices accurate at time of writing
Prices accurate at time of writing
I run the gun with the Picatinny scope mount with a standard 1x red dot for closer distance DMR work, however, I would highly recommend using it with a real scope and at least a 3x.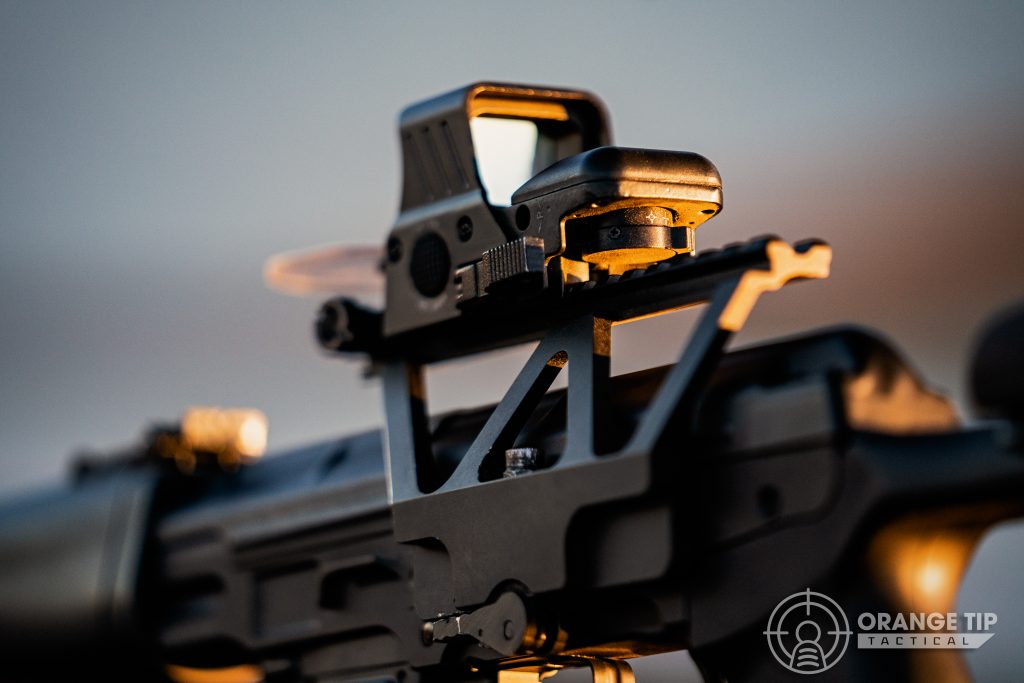 The Matrix 4×26 PSO-1 Scope is pretty much the only easily accessible scope you will find for this gun unless you're willing to spend north of $250
160
at Evike
Prices accurate at time of writing
Prices accurate at time of writing
Magazine
Nothing too exciting here–the magazines are pretty standard SVD style full metal magazines. The one that comes with the gun is a 220 round AEG style windup magazine, however, I prefer to use something like 90 round midcaps as the mags need to be wound approximately every 30 shots and the midcaps do not need to be wound.
15
at Evike
Prices accurate at time of writing
Prices accurate at time of writing
The magazine seats fairly tight however there is quite a bit left-right wobble, which is very apparent when you shake the gun. It can be a bit difficult to seat the mag, due to the unique design If you are used to AK mags it can take a while to learn exactly how to insert the magazine.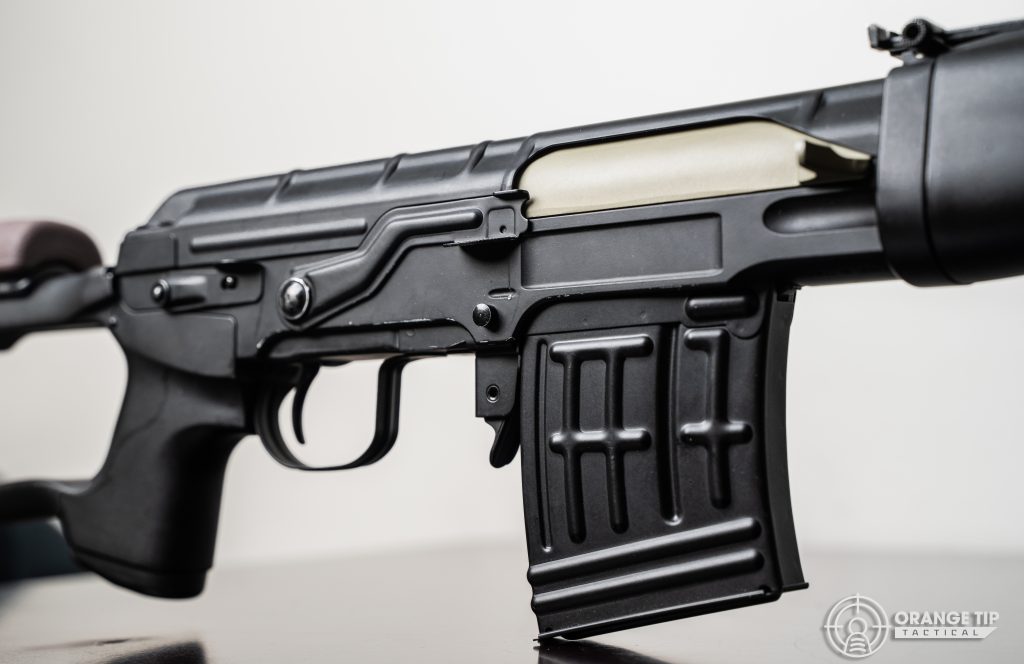 It's almost the standard loading procedures but you have to push the mag forward as you rock the mag into place. Sometimes it takes 2-3 times to actually seat the magazine. Mags are an annoying size as they don't fit in any standard AK style mag pouch nor M4 style pouch.
I end up just putting them in my pockets when I play, which is annoying for reloads. I would recommend getting dedicated SVD style mag pouches.
Trigger
The trigger is full metal and fairly decent for an AEG. There is not a lot of travel before the motor is activated and there is not a lot of "wind up" in the motor before it fires. That makes it decently snappy for a stock AEG.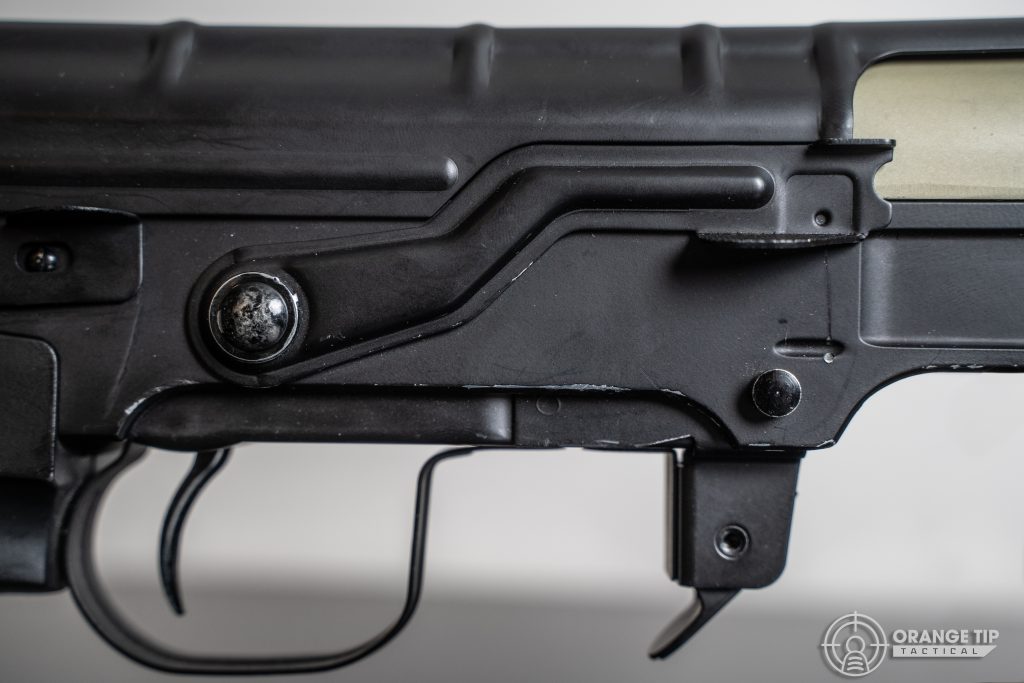 I have only used the gun with 11.1v LiPos however, so I cannot speak to how it performs with the manufacturer recommended 8.4v Small Stick Type / 7.4v LiPo. With my batteries, however, I'm quite happy with the performance.
Hop Up
Hop Up adjustments are really easy since the hop up is a breeze to access, simply pull the bolt backwards using the charging handle and you can clearly see it. Bada bing, bada boom.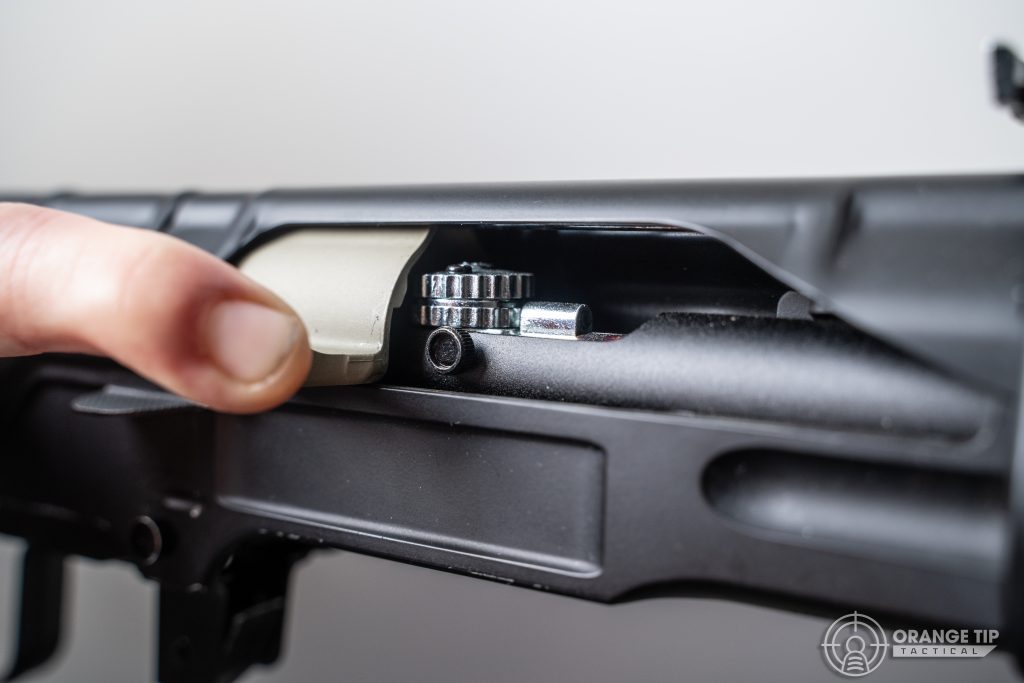 It is a bit hard to wind, but it allows for a lot of customization on how you set it. For using .25s, I had to crank the hop up almost all the way in order to get the BBs flying straight. When it was all the way down, I was able to shoot straight for about 100ft.
Almost all the way up, I am shooting comfortably to 175-200ft with the BBs flying straight before slicing up and to the right a bit.
How Does it Shoot?
While I still play with this AEG, its performance has been known to be lacking at times. As I mentioned before, I get great performance out of my shots, as long as everything is properly adjusted.
The table below shows you a more detailed look at how the SVD handles different BB weights:
| | | |
| --- | --- | --- |
| Weight | FPS | Joules |
| 0.2 | 423.83 | 1.674 |
| 0.25 | 382.93 | 1.605 |
| 0.28 | 347.4 | 1.636 |
| 0.32 | 323.48 | 1.555 |
| 0.4 | 285.24 | 1.513 |
However, that doesn't mean there aren't some quirks you'll have to know about.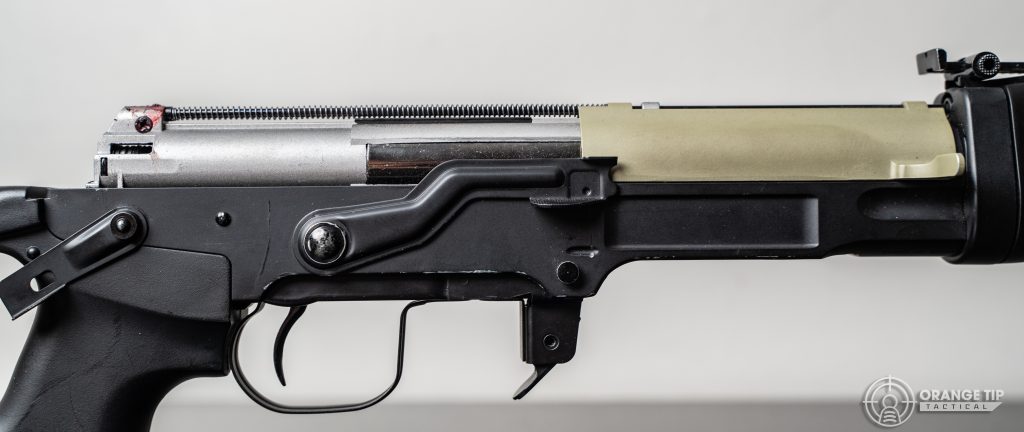 There is a tendency for BBs to roll down the barrel before you actually shoot thus causing a blank fire. On the other hand, double feeds happen too often–about every 15 shots or so. I have been told that you can fix the double-feed issue, however… it requires using a Dremel.
The "gas block" is able to twist left and right which pushes a tension rod down onto the battery to hold them into place. I find it does not work at all and is annoying as it can keep moving instead of being locked into place.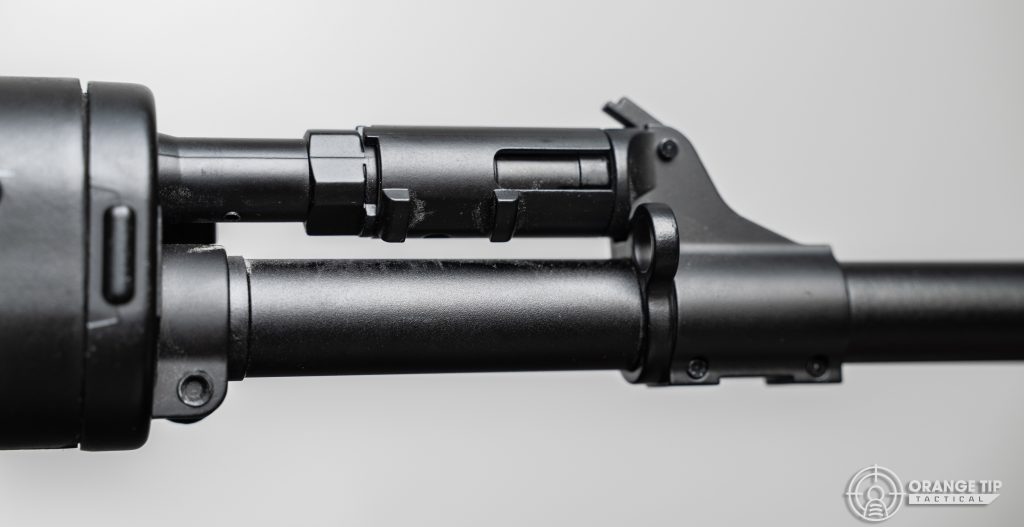 Is it perfect? Nah.
Is it still fun? Hell yeah!
Upgrades
Recommended upgrades would be pretty standard for any AEG as this gun in its stock state is slightly better than most AEGs at around the $150 price point. You definitely could upgrade the internals for a bit better performance, and take a closer look at your hop up system to make sure it's working as effectively as it can.
There just are not a lot of real steel parts available for this gun.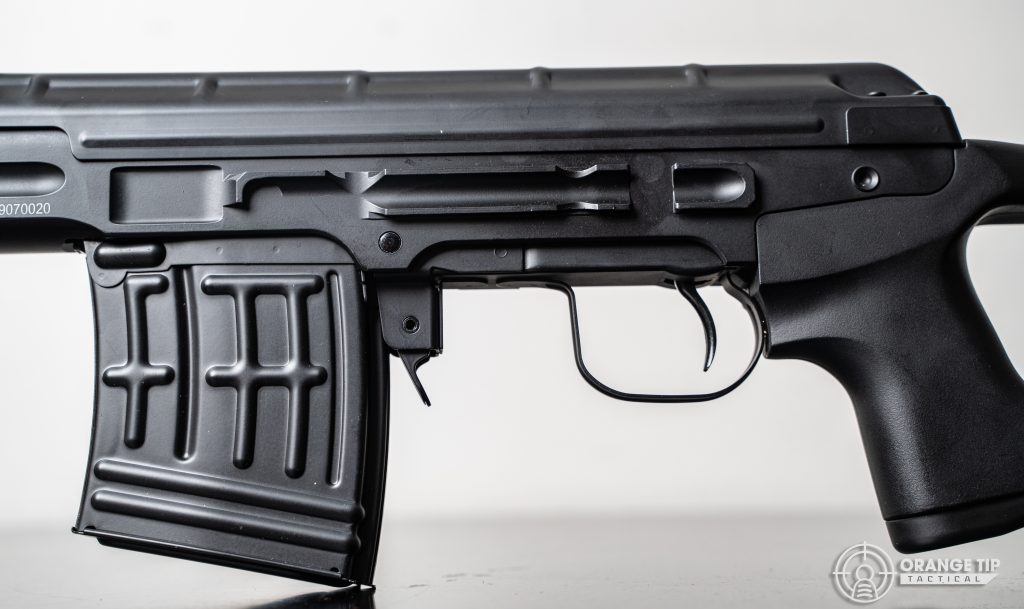 You have the choice of a few stocks mainly just wood of plastic, a couple of scopes that can be mounted without a Picatinny rail adapter, and a few bipods that will fit onto the gun natively. Due to the battery compartment's location, I do not think you can put railed forends onto the gun.
There are built-in sling mounts but I do not have a sling long enough for this gun, and you would only be able to use a sling while slung on your back. That being said, I would strongly recommend finding one that works for this gun since it's freakin' heavy and running with it all day is exhausting.
By the Numbers
Reliability: 6/10
BBs have a tendency to roll down the barrel when not shooting and double feeds happen occasionally, turning the sniper into a double-barrel shotgun. The magazines are hard to seat at times, causing BBs not to feed.
Accuracy: 8/10
This gun is decently accurate and consistent once tuned, but it's not a tack shooter by any means. It'll work for its intended purpose, but don't make any dumb bets with your buddies over its performance, 'kay?
Effective Range: 7/10
The range is disappointing for a sniper rifle–as you have to use lightweight BBs–but is decent for a stock AEG. An upgraded spring would go a long way to help turn this gun into a true foe.
Rate of Fire: 5/10
There is only one firing mode, semi-automatic. Just as fast as you can pull the trigger, however, it is decently snappy for a stock rifle.
Ergonomics: 8/10
If you aren't an AK user, then this is one awkward gun. However, if you're a lover of comblock style rifles, then you will feel right at home. It is nice and slim, however, it is heavy.
Looks: 9/10
The metal finish and attention to detail really stand out on this rifle. It could absolutely be used in a film and the audience would have no clue it is not a real rifle. The only major downsize about this rifle is that the charging handle and bolt are an off-green/tannish color. It is really out of place and does not look realistic.
Customization: 5/10
The reality with this rifle is that it's made for a very niche market.
It's a replica of a real steel rifle that was developed in the 60s, when modularity and customization were not in mind. Due to the handguard design, it is unlikely you could add forward rails to this specific model. You're very limited in choice of optics unless you go with a Picatinny rail adapter–in which case the world is your oyster.
Otherwise, you are stuck with whatever Russian surplus scopes that you can find (if you can afford them that is).
Overall: 7/10
Conclusion
This is a great budget, semi-auto DMR/Sniper rifle. If you want something that is pretty decent stock without having to upgrade, then this is the gun for you. If you want to trick out this gat out with all those fun modern accessories, and upgrades out the wazoo, then you might want to look somewhere else.
Children and smaller-statured people should probably avoid this gun since it is simply too long and too heavy to be comfortable.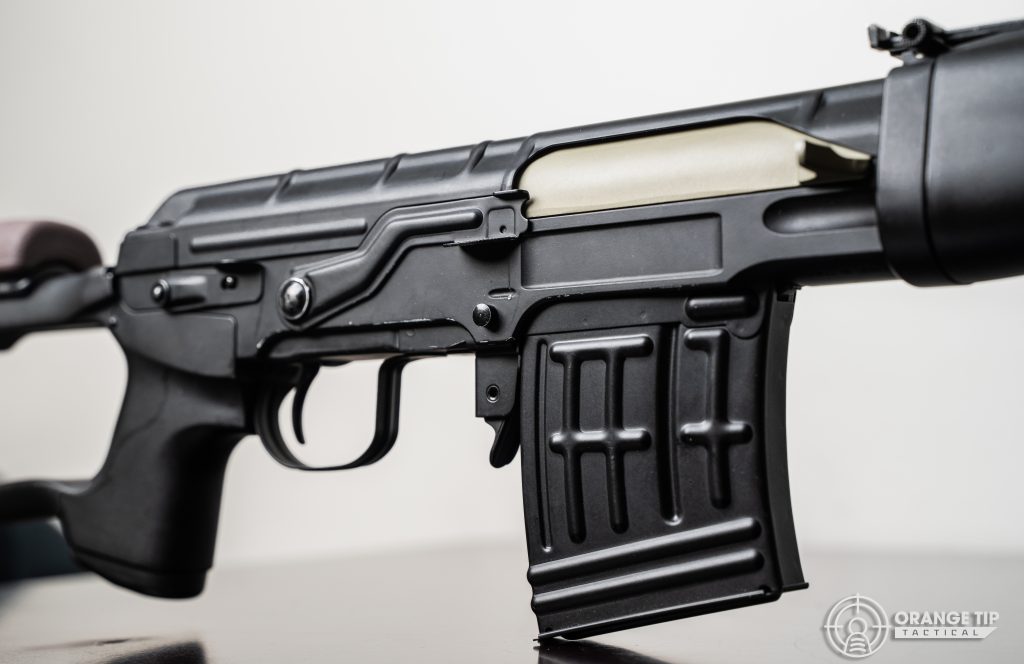 It's a fun gun to have if you want to run a RUSFOR kit or Militia style insurgent kit. With a scope, upgraded spring, upgraded barrel, better gearbox, and appropriate magazine pouches, you would have a really nice and accurate DMR that's well suited for hit and run style medium distance firefights.
I think it would also be well suited as a prop for recreation or films as it is very realistic in its replication of the real steel rifle.
209
at Evike
Prices accurate at time of writing
Prices accurate at time of writing
Finally, it's great for someone who has some experience and wants to get into sniping but does not want to use a bolt action. We know you're out there.
So… what are your thoughts on the Dragunov SVD? Love it? Hate it? Gotta have it? Tell us all about your thoughts in the comments below, as well as any tips you have for playing with this gun or what you like better. You might also like to check out the Best AK AEGs for every budget, too!