If you've never been out to a hardcore, 3-day military simulation event before, making sure you've got everything you need can be a little bit intimidating.
Luckily for you, we've thrown together a handy visual guide to show you just how to survive a 40-hour long plastic fight!
First things first–many milsim games have hard stop and start times for the action, and may even let players go back to the cars or sleep off-site at night between the evolutions. This guide is going to be geared more towards the extreme end of milsim airsoft, or events that require you to sleep and sustain yourself in the field for the 40-hour duration of the event!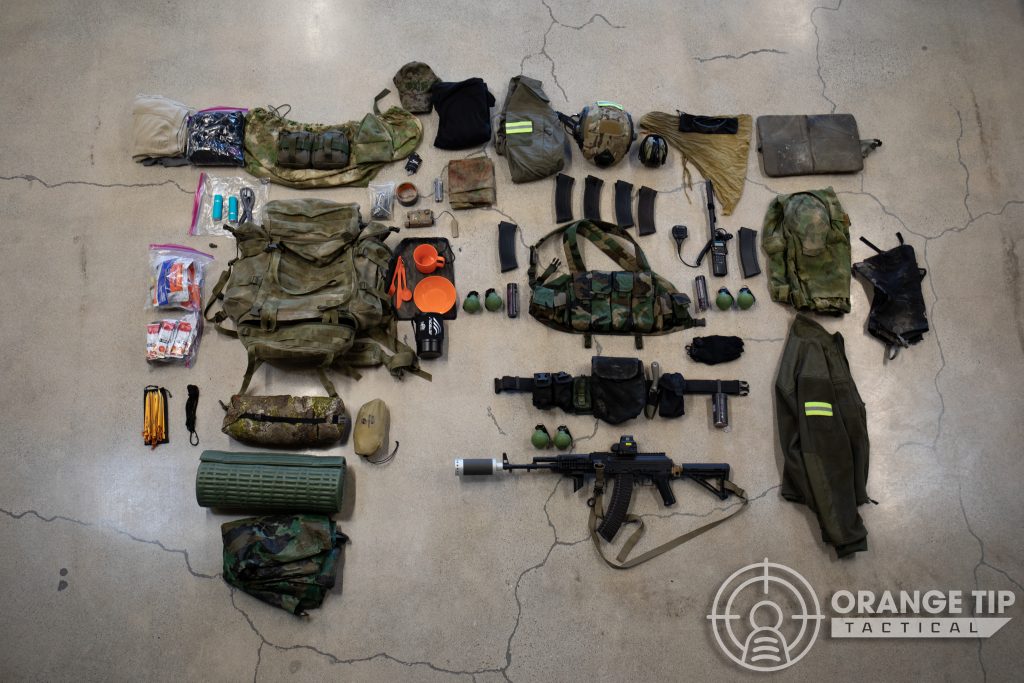 While obviously everyone's kit is going to be different, if you're anything like me, having a reference guide makes it that much easier. Let's start with the basics!
3rd Line Kit: Your Ruck and Sustainment Items!
Having a good ruck for longer events is going to be absolutely crucial. While not every event is going to include rucking per se (where one might have to patrol or move locations carrying their full bag while still in game), you can imagine that if you're going to be living out of a backpack for the weekend, you may as well make it easy on yourself with the most sensible approach possible.
For the event I attended with this kit in question, I was a part of a fireteam in a Russian FSB platoon–and as this is milsim, most of my kit is going to be based on things seen in actual reference photos. The ruck is an SSO 3 Day Assault Pack, and it's nothing particularly special or high-speed, but it does the job just fine and looks the part!
82
at Amazon
Prices accurate at time of writing
Prices accurate at time of writing
It's essentially just a huge open space inside with two large utility pockets, a lower area for sleep gear storage, and a fold-over top with draw string and zippers for small items you might need to access quickly.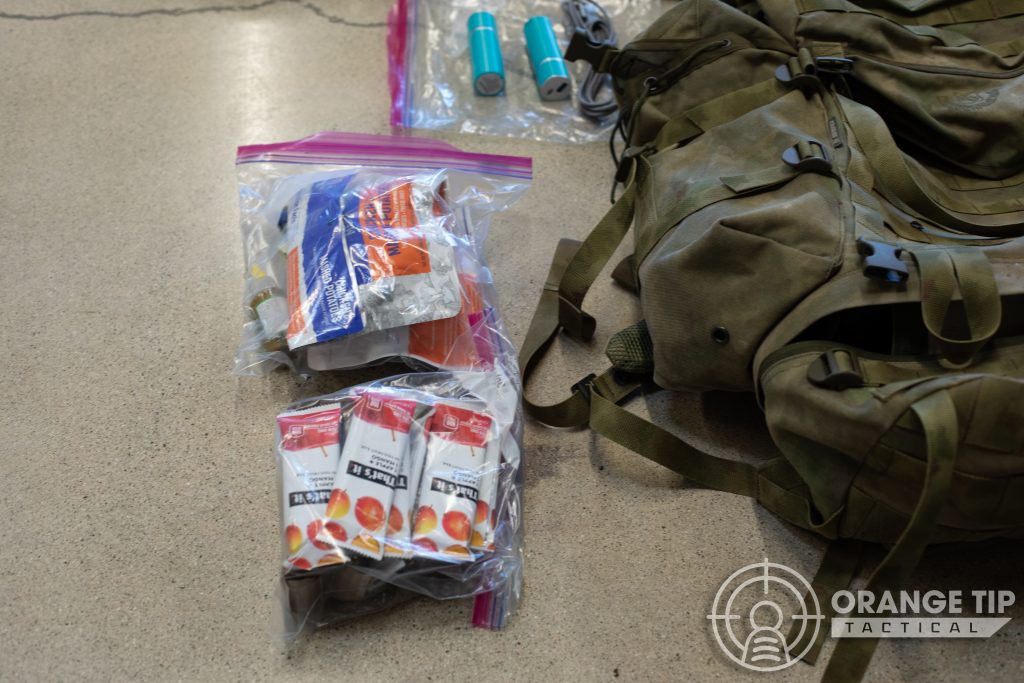 Unless otherwise stated, you'll be eating every meal out of your ruck as well, which makes calorie dense and dry goods a lynchpin of the milsim player's temporary diet. Here, I've got a few various snack bars, nuts, and beef jerkey removed from whatever box they came in, and stored in ziplock baggies for both organization and moisture protection.
Up top, I've given myself about 2 hot meals per day via dehydrated Mountain House Meals. Designed for backpacking, they also work great for milsim as long as you've got some kind of way to heat water in the field.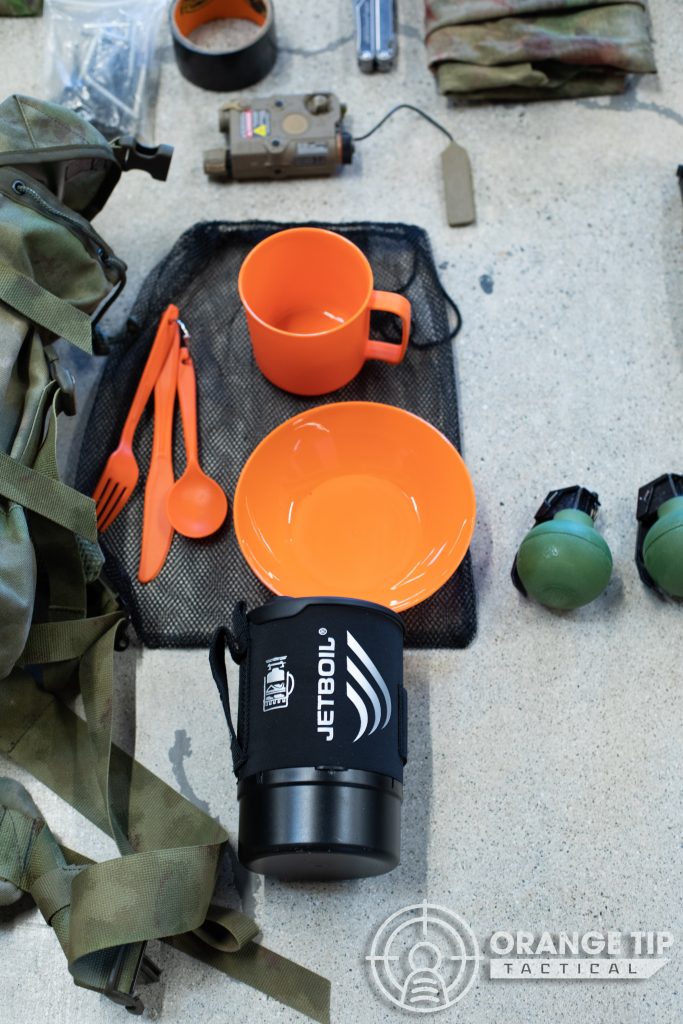 Speaking of! I've got a Jetboil with fuel and stand all packed up neatly here, which is what I used to heat water for both Mountain House meals and coffee in the morning.
It might sound silly if you've never been to one before, but never underestimate the power of a warm cup of coffee at an event that you likely won't be sleeping much at!

Up above, I've got a generic mess kit with utensils, a small bowl, and a mug. Everything stows away nicely in a mesh bag as well!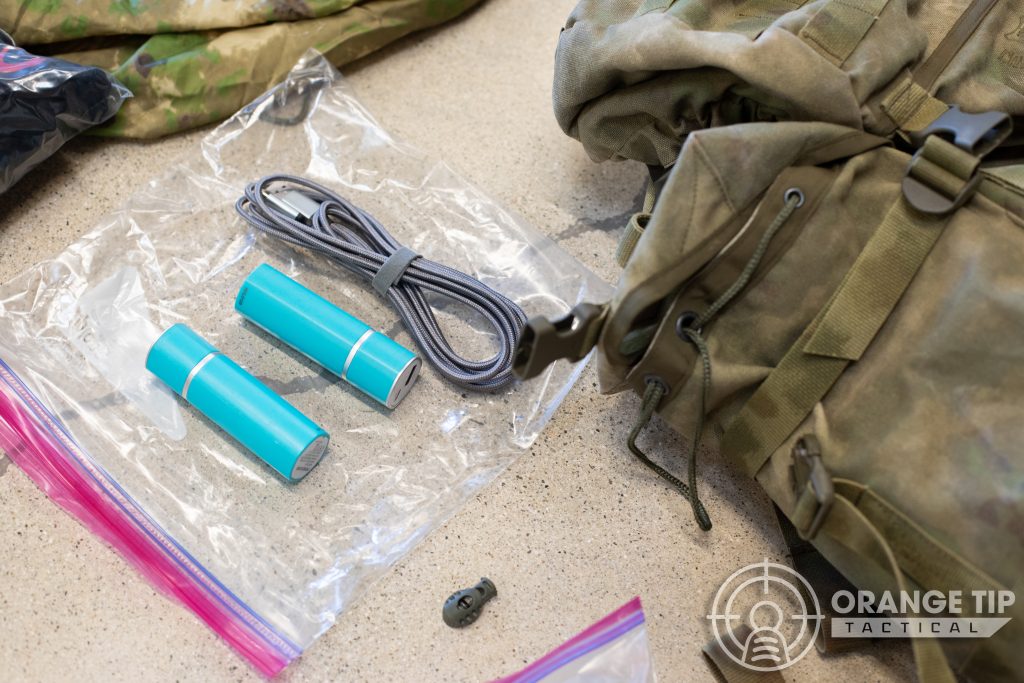 I always like to have extra batteries for literally every piece of electronics I bring into the field with me, and throwing a few USB Power Bricks, a charging cable, and a handful of AA / AAAs for headlamps into a Ziploc bag means I'm not going to be the dude bumming batteries off of people after night 1.
You shouldn't want to be this guy, either.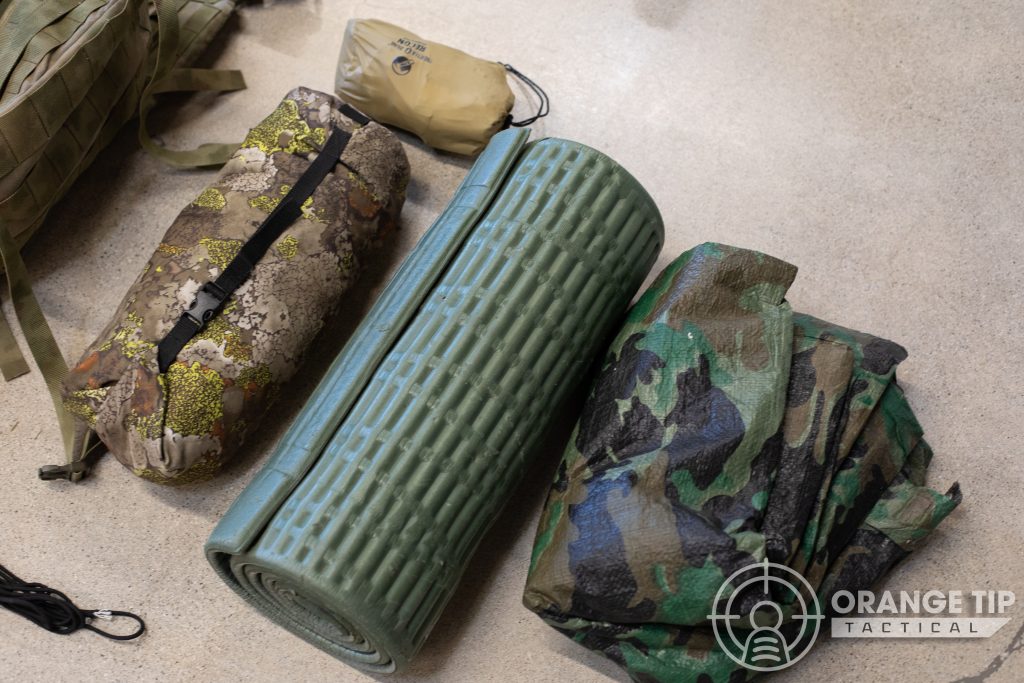 Sleep gear is crucial! As I mentioned, you'll be sleeping with your squad most often in some kind of group shelter, fighting position, etc.–and very rarely is the weather pleasant throughout the entire event! Every event is going to be different, so there's very rarely a catch-all solution–this setup specifically is geared for the wet weather often found at this particular field. You may need to scale up or down from here if your event is extreme, weather-wise!
I've got a Thermarest Sleeping Pad rolled up there, more for ground insulation than for actual padding, as the earth will be a primary zapper of your body heat if you don't have something that's going to reflect your own heat back at you between you and the cold, cold ground.
A Klymit Inflatable Sleeping Pad is compressed and tucked away in the small khaki pouch up there, but once fully inflated provides some of the most comfortable rest I've had while sleeping with a bunch of smelly dudes in a big hole in the woods.
60
at Amazon
Prices accurate at time of writing
Prices accurate at time of writing
In the rock-patterned camo bag lives my Jerven Hunter, a versatile sleeping bag that can be worn as a weird… blanket cloak thing that's also lightly water-resistant and compressible! The Jerven is one of my favorite pieces of kit both for its breathability and the fact that it does quite well in both warm and pretty chilly and wet environments. I've used the thing in games that had hot nights in the ~60s, all the way down to 15 degrees with slushy rain.
Pricey, but worth it in my opinion!
The camo tarps folded up on the bottom are used to create shelter quarters with homies in the squad or fireteam, as the homies that sleep together… sweep… together? 🤷‍♂️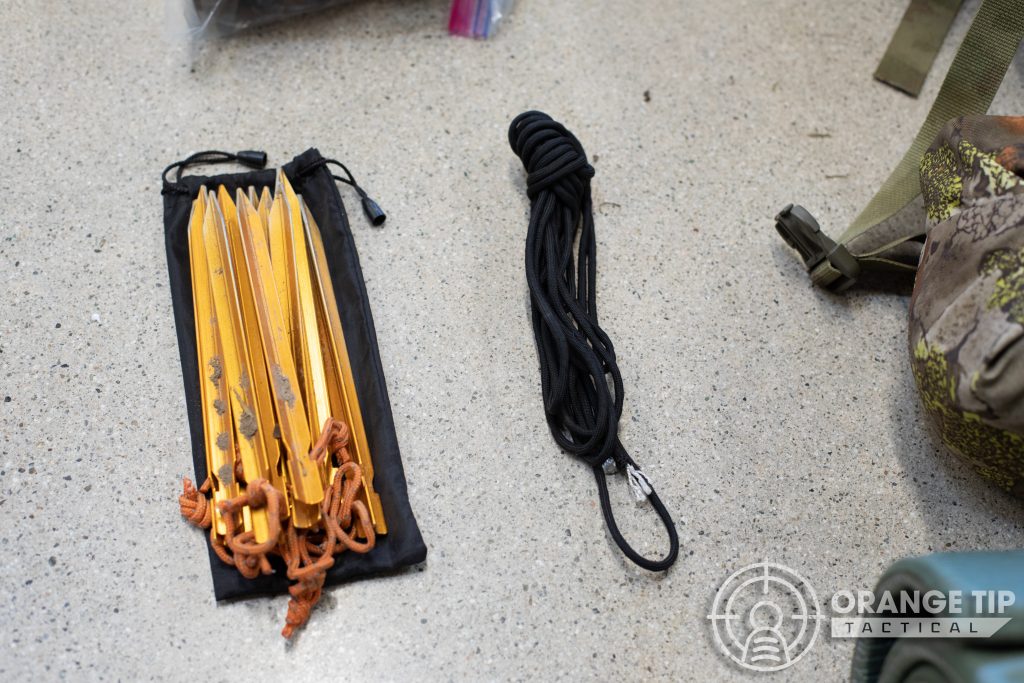 Additionally, you'll want to snag some tent stakes and paracord to ensure that you've got a means to lash the tarps together and secure them to the ground. As mentioned, these events can play host to pretty wild weather, and keeping both your kit and person dry are going to be pretty essential to your enjoyment of the event.
Ask me how I know this. 👀
And there we have it! That wraps up our sustainment items that make existing in the field easier throughout the duration of the event, and now we move on to…
2nd Line Gear: What you need to fight!
Your second line kit basically includes everything worn on your person during the game that's going to assist you in your primary role during milsim airsoft: Shooting other dorks with bb guns.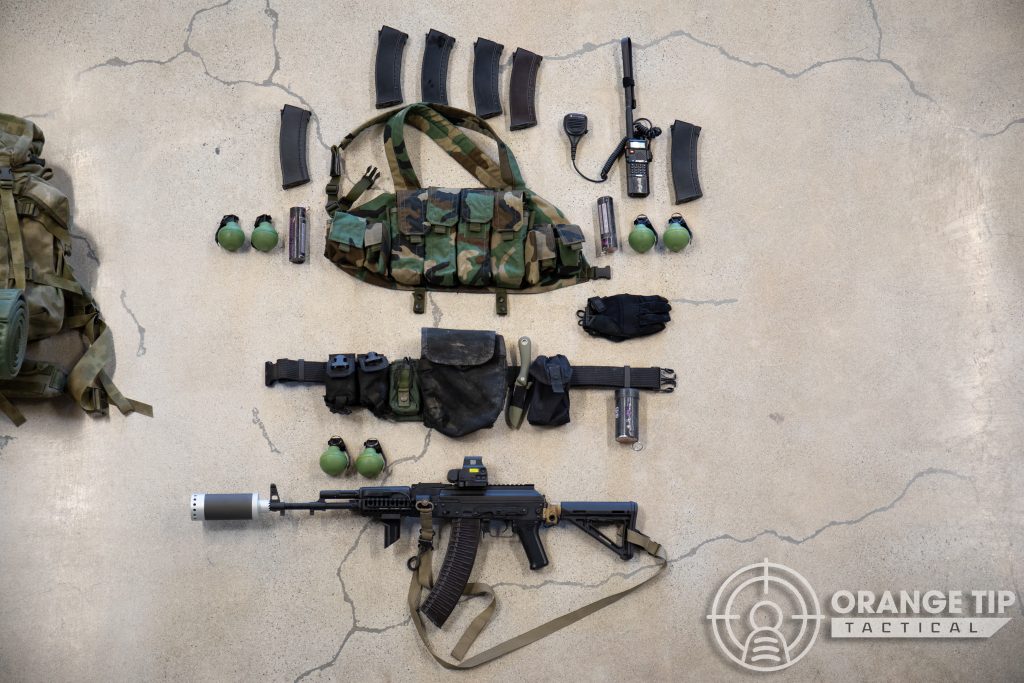 As you can see, my 2nd line kit consists of my load-bearing vest, my duty belt, and my AEG–everything I need to play the sport of softair: HARD. 😤
Up top, I've got an SRVV V2 chest rig, which is seen pretty often in older photos of Russian FSB officers. While the rig carries up to 8 magazines total, I've opted to carry 6 mid capacity magazines, plus the one in my AEG, giving me a bit more room for both my Baofeng Radio and the smaller Enola Gaye Smoke Grenades.
30
at Evike
Prices accurate at time of writing
Prices accurate at time of writing
The rig also has 4 individual frag grenade pouches, and while they're designed more for the egg-shaped Russian RDG-5 style grenades, they do fit TAGINN TAG-67 airsoft frag grenades with a little bit of work. Good luck getting them back out, though.
You'll want to check your individual event rules for details regarding pyrotechnics, as they can be dangerous to use in dry environments with a lot of tinder about, but if you've never played airsoft with a ton of frags on you–you're not living, man. 😎
My glove of choice personally is the pair of PIG Alphas you see right before you. I've used a lot of gloves over the years, but these are by far the best in my opinion–their combination of dexterity and durability make them a go-to! I love that you can still use your phone while wearing them, and my previous pair lasted a good 3 years before this one.
43
at Amazon
Prices accurate at time of writing
Prices accurate at time of writing
Below that, my SRVV Duty Belt plays host to two more frags (😎), a Gerber Spine Fixed Blade knife for general tool purpose use (obviously you're not going to be shanking people in airsoft), a backup FORT Radio Pouch, and a larger SRVV Smoke Grenade Pouch for my EG-18 Smoke Grenade.
The AEG itself is an LCT AK-74M that's been upgraded externally with a Zenit style railed handguard, Zenit style vertical grip, B-33 railed dust cover, an M4 buffer tube adapter with Magpul CTR stock, and lastly the enormous "Putnik" type mock suppressor upfront because if you're not there to look cool, you may as well go home 😉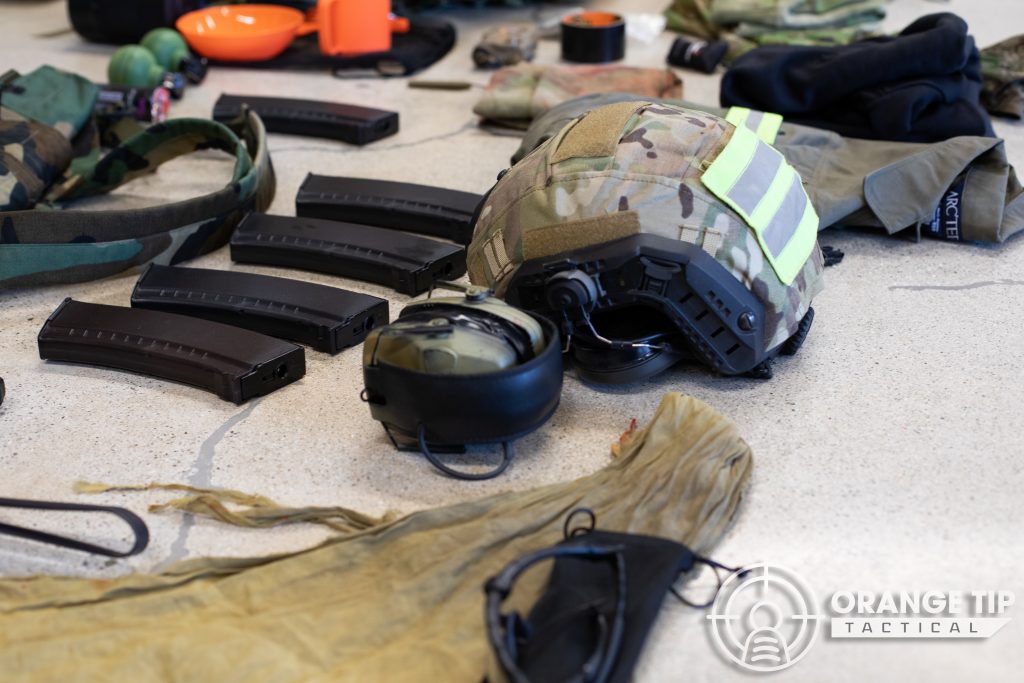 Considering this event occurred at a wide-open, sprawling field with plenty of grassy hills, I opted for a lightweight chest rig over an armor carrier as there's going to be a lot of patrolling. However, using a helmet as a means to run night vision is usually the easiest way to get your spooky hours on, so I've got a FAST Style helmet as host.
However, I'm going to be rolling a patrol cap during the day when I don't need NODS, and as there are actual explosions and blank fire at this particular event series, having a pair of ear protection isn't a terrible idea! These are a pair of Howard Leits that have built-in electronic protection–attenuating sharp noises over a certain dB amount and amplify speech. Nifty!
1st Line Gear – Clothing and Miscellaneous
Your first line gear is essentially going to be comprised of the clothing and snivel gear items that you've got for the event–everything from your main combat uniform to all of the layers, socks, underwear, etc that you'll want to have on your person so that you can more readily adjust to fluctuating temperatures (and also not be a disgusting filth golem by the end of the event).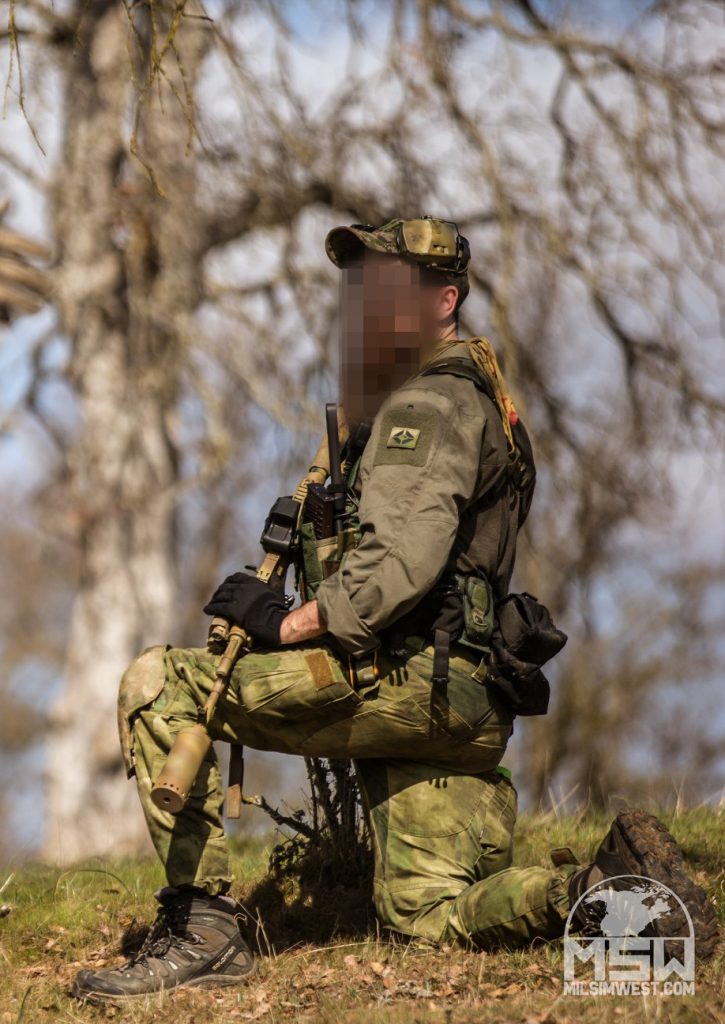 As I mentioned, all of my kit revolves around a generalized idea of what Russian Federal Security Service officers have access to, and they're often seen running a mix of both domestic Russian-produced kit and Western gear.
To try and capture that same vibe, I opted for an Arc'teryx LEAF Combat Shirt, with Slavyanka ATACS FG Combat Pants. The Slavyanka pants have a ton of pockets, similar to the cut of Crye Combat Pants, but with some specific Russian flair. Up top, I'm rocking an SRVV SURPAT FSB Ball Cap, and down low I've got on a pair of Salomon Quest 4Ds–by fair my favorite pair of Goretex boots I've ever owned!
You'll also want to make sure you've got a couple of pairs of wool socks to cycle through for the weekend as well, as there's nothing worse than wearing disgusting socks for the entire event, or not being able to swap out to dry ones in the event they get wet.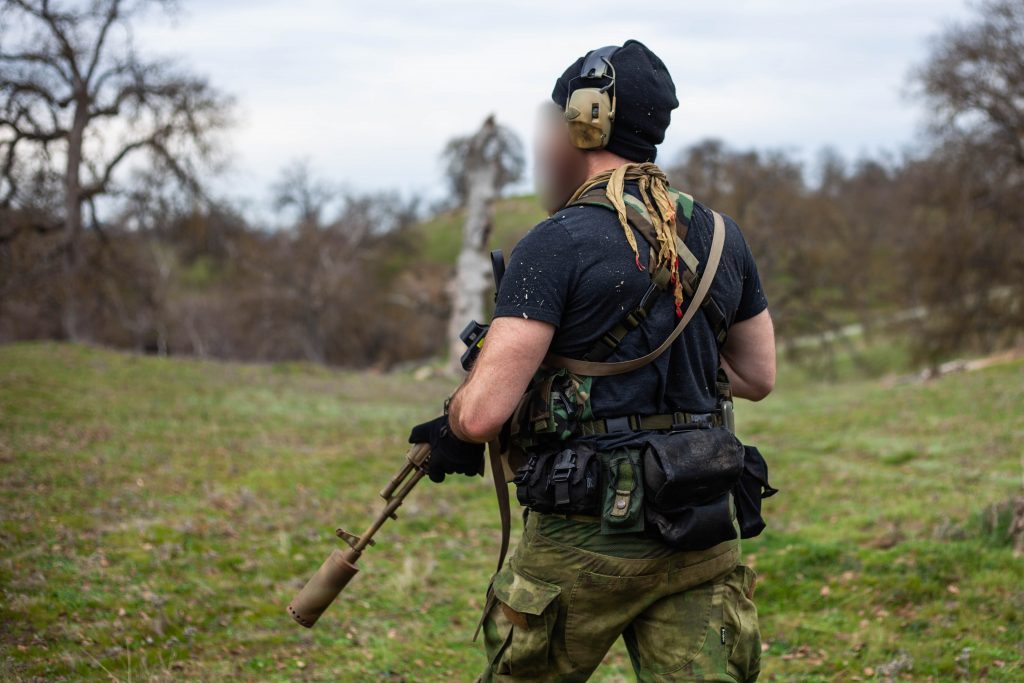 I'll usually also have a spare, basic cotton T-shirt to wear around the patrol base–which gives your main kit a chance to dry out if need be.
A wool beanie is an absolute must-have for situations in which you're standing watch at 3 am (and you will), as it gets downright chilly AF at some of these events. In this particular photo, we had to push out a QRF in response to being attacked in the morning–meaning I rolled straight out of my sleeping bag and grabbed my rig and gun, not having time to throw my full normal kit on.
You gotta be ready at all times, BROTHER.
Lastly, I use Oakley M-Frames as my go-to choice for eyewear at these events, as they're durable, breathable, and have the ability to quickly swap lenses for the environment you're going out in. Just be sure not to take dark lenses on a night patrol. 😎
I've also got an absolutely shredded Russian triangle bandage that I used both as a face covering in the field, and as a way to wipe down small items if necessary (such as if/when eye protection fogs, etc).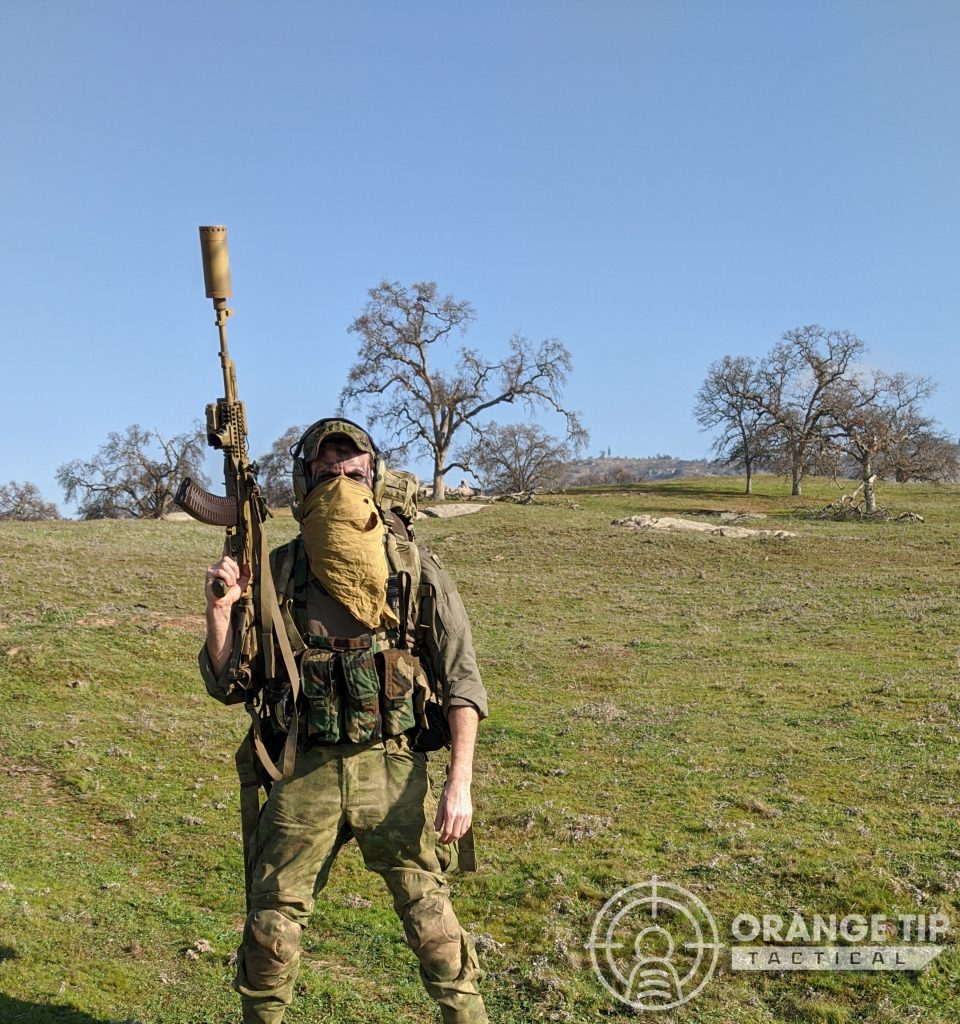 Conclusion
And there you have it! We hope you've found this visual guide informative and entertaining, and we'd love some feedback!
If you're a new player–is this helpful, and would you like to see more in-depth guides? If you're an old hand, what do you think we missed? Comment below! Check out some of our other beginner-friendly guides like the Best Airsoft Guns for Beginners!