So, you went and got yourself an airsoft gun, but now you're wondering just where you can use it, right?
While backyards are a pretty popular location for pickup games, there's plenty of reasons you might need somewhere else to go (sorry, apartment dwellers!).
We get it–after all, not everyone has access to their very own airsoft field, and playing with airsoft guns in too public of places can get you in some serious trouble. Don't let it get you down, though!
Orange Tip Tactical is sharing some of our favorite places to play airsoft, as well as tips for finding your own space.
Can I Play Airsoft at a Park?
It can be tempting to just start a pickup game in the local park, but you absolutely should not do this.
For one, airsoft BBs can go far, and it's easy to miss your buddy and nail a kid on the playground nearby. Bystanders aren't safe when you play in public–there's a reason everyone at an airsoft field is required to wear eye protection.
If you injure someone, you could be held legally responsible for their injuries. It's just not worth it.
The other reason is that you will definitely get the cops called on you, and if you're lucky, you'll only get a very stern talking to. At the worst, you'll end up on the five o'clock news as the victim of an officer-involved shooting.
Let's be clear–waving guns around in a public park, even with the orange safety tip–is a bad idea.
Where to Play Airsoft
So, where can you play airsoft? Well, there are quite a few safe options, we're delighted to say. Let's take a look at some of the places we recommend for airsoft games.
Private Property
We know you may not have access to a handy backyard or warehouse, but maybe you have a buddy who does. Private property is a great place to play airsoft, whether it's indoors or outside, since there is less risk of bystanders or law enforcement interference.
What is important, though, is that you get permission from the owner themselves. Always be respectful of the owner and their property, and don't make permanent changes without express permission.
Don't forget to clean up your BBs, or use biodegradable BBs that will break down.
Indoor Airsoft Fields
Depending on where you live, indoor airsoft fields may be popular. They're usually found in places where free land isn't as available, but they're also great when the weather outside isn't the best to play in.
Most indoor arenas have collections of obstacles and cover, CQB simulations, and other features to play with. Some can be booked for private events if you have a large enough group, but you can also meet new buddies and participate in events if you're solo.
Indoor fields are great for fast-paced games at short ranges, where agility and speed are the deciding factors.
Many fields also let you rent gear, so it's easy to try out new guns or get into airsoft without spending too much money right off the bat.
Outdoor Airsoft Fields
Like indoor fields, outdoor fields can offer a lot of obstacles, barricades, bases, CQB, and more. They might, however, be as simple as an open field or wooded area, so be sure to check our your local field before you go.
Some fields offer themed areas, which can add a touch of realism to your milsim-style games. You may not need to be realistically geared up the way you would for a milsim event to enjoy the challenge of an outdoor game.
Outdoor fields lend themselves well to slower-paced, long-range games where stealth, camouflage, and accuracy are how you win the game.
It may also be possible to rent your gear at an outdoor field, which is always a nice perk for new airsofters or when taking a friend along who doesn't own gear.
Milsim and Airsoft LARP Events
If you want to dive into the deep end, try out a milsim or LARP event. These are often for the most hardcore players and can involve days on end of immersive play.
Check out Operation Lion Claws for a good example of what milsim games can be–they're one of the biggest war game simulation organizers.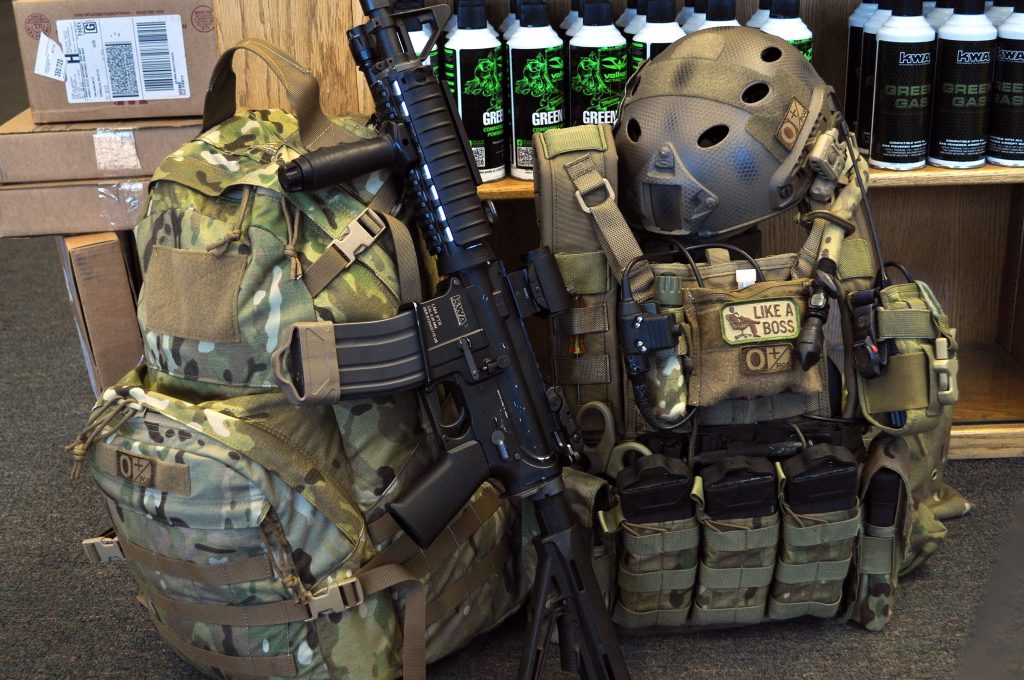 From Chechnyan insurgency battles to the wild, wild west, there's an airsoft LARP even for just about anyone.
Finding a Place to Play
Now that you know what to look for, let's talk about finding places to play airsoft!
Obviously, Google is a great resource, but if you're not sure what you're looking for, it can be a little overwhelming.
AirsoftC3 manages a database of airsoft fields. While it won't have every field listed, it's a great resource to explore local fields and see what they offer. If you sign up to be a member, you can also register for notifications when a new field opens near you.
Looking around for local airsoft teams can also help you find places to play, and also can be a great way to get support and advice when you're just starting out.
Finally, if you're interested in events, check out some of the milsim event organizers and look for events near you. Just be sure to pay attention to age and gear requirements before registering for an event!
Final Considerations
It can be frustrating when you don't have a space to play airsoft regularly, but don't let a lack of venue keep you from joining the sport. There are plenty of opportunities to play, you just have to know where to look!
How do you find places to play airsoft? What websites or social media groups do you use? Share it with us in the comments below! Want to learn more about different types of airsoft games? Check out our airsoft game guide!