The Kalashnikov family of rifles are undoubtedly the most prolific small arms of all time, seen in conflict zones the world over due to their legendary reliability and ease of use. Not to mention, they just… keep… going…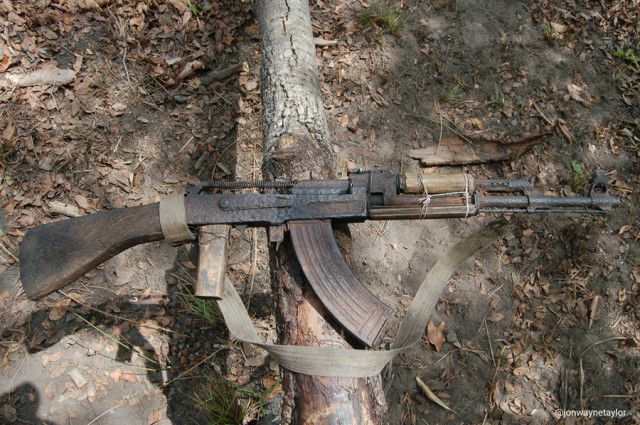 They also happen to be some of the most popular models of AEGs–ensuring a ton of different models have airsoft representation, no matter what your aesthetic or play preferences might be!
We've assembled a list of some of our favorite airsoft AKs on the market, aimed at delivering a few different options depending on your level of investment and desire to spend coin.
Now, onward!
Best AK AEGs for Any Budget
1. LCT STKBR AK-74MN AEG
LCT has long been renowned for phenomenal steel externals and internals that are ripe for souping up if you need an upgrade platform, and their FSB-style AK-74MN with STKBR stock is no exception!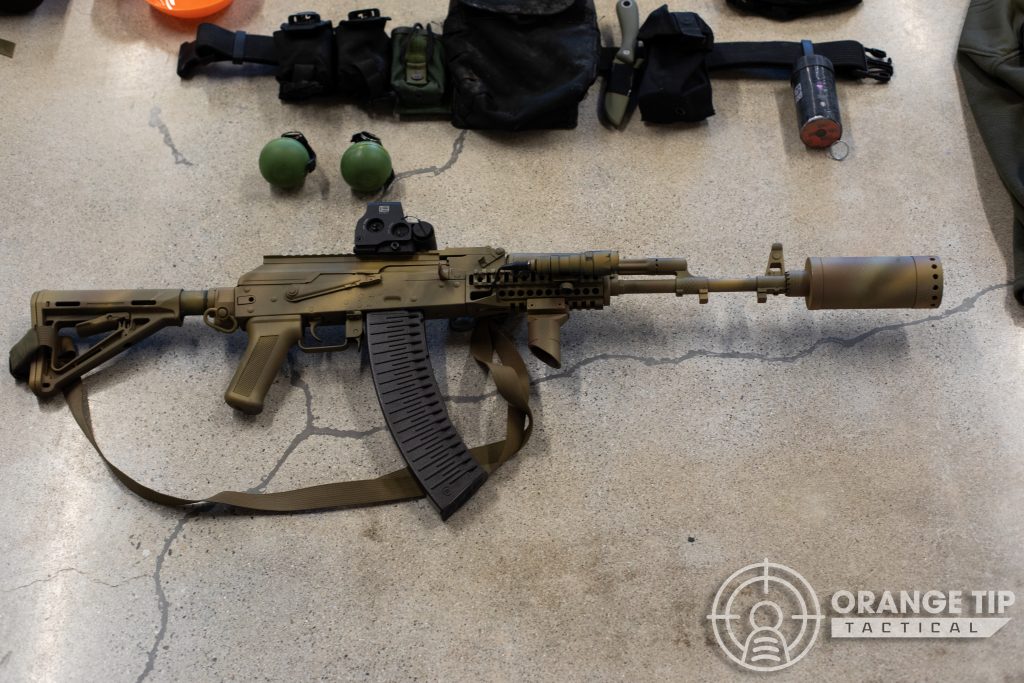 This LCT blaster comes straight out of the box with a full-steel SKTBR stock, commonly seen on AKs in use with Russia's Federal Security Services during the mid to late 2000s. As you might guess, that means this one's aimed specifically at the milsim crowd!
A polymer Command Arms-style railed lower handguard gives you options for mounting lights, lasers, and grips–representing an evolutionary step just before Russia embraced the gospel of the Picatinny rail fully. Truly, a unique and specific look!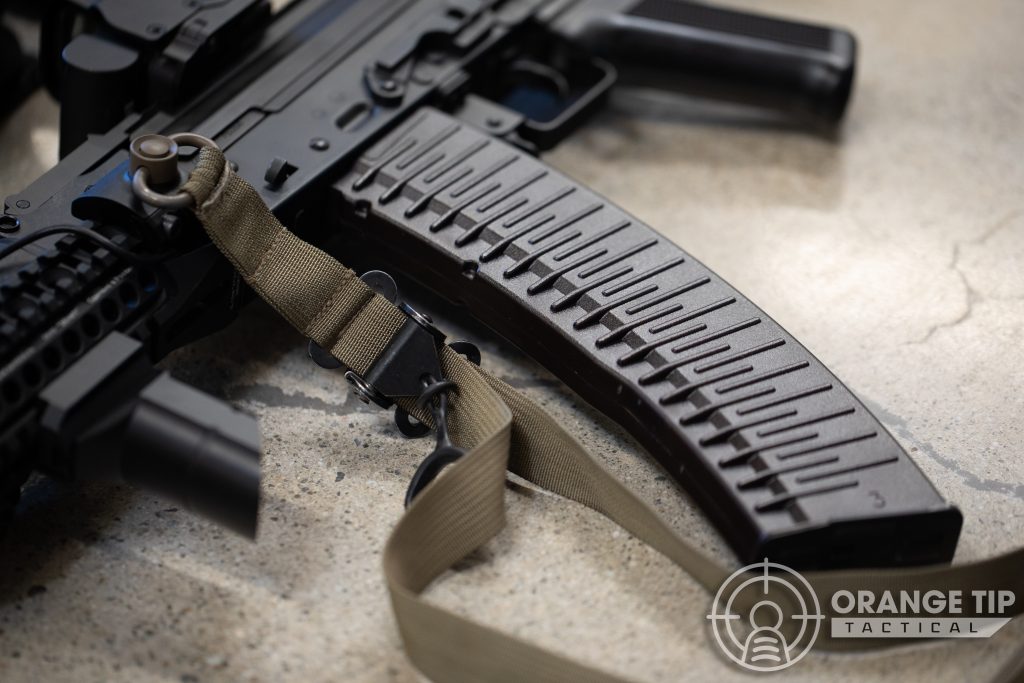 It's also got the signature Russian-style optics dovetail mount on the side of the receiver, allowing you to mount Eastern Bloc optics directly to the gun itself, or make use of an adapter to give you standard, Western-style Picatinny rail options.
320
at Evike
Prices accurate at time of writing
Prices accurate at time of writing
Internally, the LCT AK-74MN hits right around 400 FPS or so, with a nice snappy motor. Certainly formidable at field games if you'd rather leave it stock, but ideal to turn into a beast as well!
2. LCT AK-104 AEG
If you're sold on the rugged externals and quality internals of the LCT brand, but aren't interested in confining yourself to a specific look for milsim, the AK-104 might be where to look!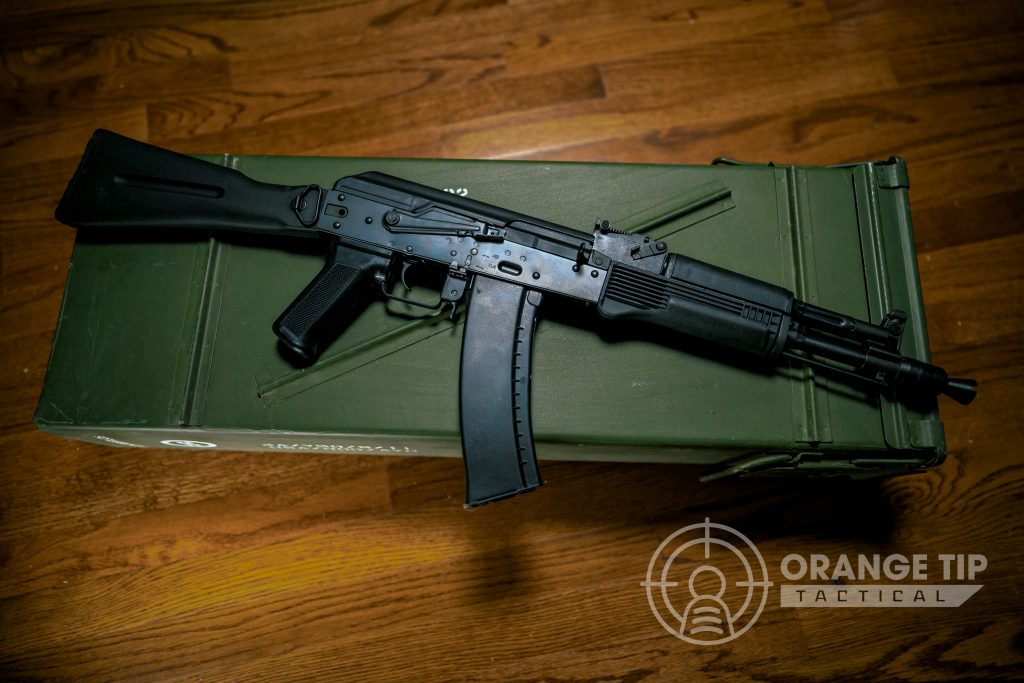 The AK-104 is technically an AK-74 carbine (and technically an AK-105, but…), featuring a shorter barrel that ends just forward of the gas block and is often seen with an iconic booster muzzle device rather than the AK-74 muzzle brake. Still solidly in "milsim player" territory, the AK-104 is often seen tricked out and full of high-speed, modern accessories in real life–making it the perfect AK platform to go all out on!
295
at Evike
Prices accurate at time of writing
Prices accurate at time of writing
Considering LCT AEGs are generally Li-Po battery ready straight out of the box, the LCT AK-104 is great for the aspiring milsim nerd who wants to shoot for the stars when it comes to building the perfect contemporary AK carbine.
And we got the full review on the LCT 104/105. Boom.
3. Tokyo Marui AK-74MN NGRS AEG
Tokyo Marui is a name generally synonymous with quality, and their line of Next Generation Recoil Shock AEGs is no exception! The Marui NGRS system utilizes a unique mechanism to deliver simulated recoil to the shooter in a way that doesn't come at the price of decreased performance!
Marui's AK-74MN represents the standard-issue AK-74 for much of Russia's military, and features the same side-folding stock and black polymer furniture as its IRL counterpart.
Internally, Marui rifles are a bit famous for their out of the box performance. Even if their stock FPS rating isn't much to write home about, Tokyo Marui guns are absurdly accurate and get fantastic accuracy at range due to the attention to detail and craftsmanship found within! Having a killer hop up doesn't hurt either, though.
What's more, when used with an NGRS compatible AK-74 magazine, the gun features an automatic cut off that'll prevent the gun from firing after its last round has been fired.
545
at Evike
Prices accurate at time of writing
Prices accurate at time of writing
Realism dork senses tingling yet? The Marui AK-74MN might just be for you. 😉
4. KWA AKR-74M AEG
KWA is also one of the longer-running manufacturers in the modern airsoft scene, and has held a reputation as the respectable, middle-grade brand for a hot minute!
KWA AEGs perform and are competitively priced to boot. One of the first companies to place internal components first, the KWA AKR-74M utilizes a similar recoil engine to Marui's NGRS at a fraction of the cost! While note quite as "robust" feeling as Marui's recoil system, it's still nice and chunky, and adds just that much more realism to the act of firing your AEG. It's also got
It also hits much harder in its stock configuration–right around 400 compared to Marui's 300 or so. If you're a mid-tier player that wants a taste of realism without the burden on your wallet, we'd take a look at KWA's line of competitively priced AEGs!
280
at Evike
Prices accurate at time of writing
Prices accurate at time of writing
5. Cyma AKS-74U AEG
If perhaps close quarters games are more your thing, Cyma's AKS-74U is right up your alley!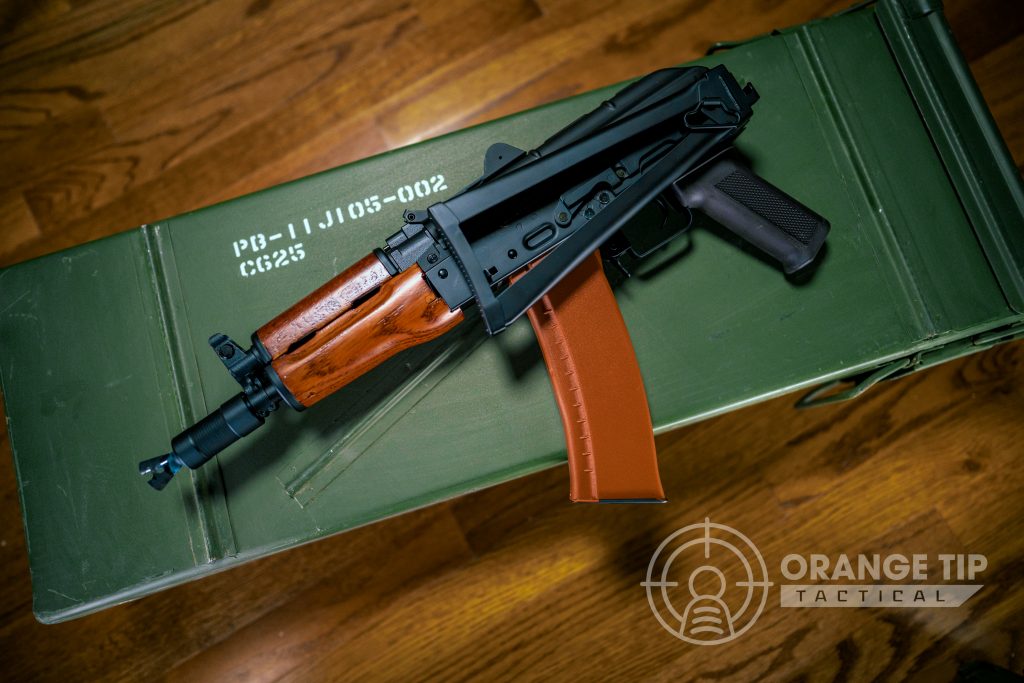 By far the smallest stock AK-series AEG, the AKS-74U excels in tight spaces, and its steel externals mean it'll handle bumps and bangs with ease. Cyma AEGs tend to be aimed at newer players looking to snag a bargain and hop right into the game–but they can also make excellent upgrade platforms!
In addition to a side folding triangle stock and a ~600 round high cap magazine, Cyma's AKS-74U also hits right near 400 FPS from the get-go, making it an excellent choice for players who want a CQB-mid range carbine for fields with higher FPS limits.
179
at Evike
Prices accurate at time of writing
Prices accurate at time of writing
Did someone say "hands-on review?" 'Cause we got the CYMA AK74U hands-on review!
6. Cyma AK-74 AEG
Want the reasonable pricing of Cyma's AKSU but don't need the compact frame? The full-size Cyma AK-74 provides the same stock high FPS performance, but with the added benefit of a much longer inner barrel. As inner barrel length generally stabilizes your BB's flight path (up to a point), the AK-74 is going to add accuracy at a range that shorter barrels usually can't match.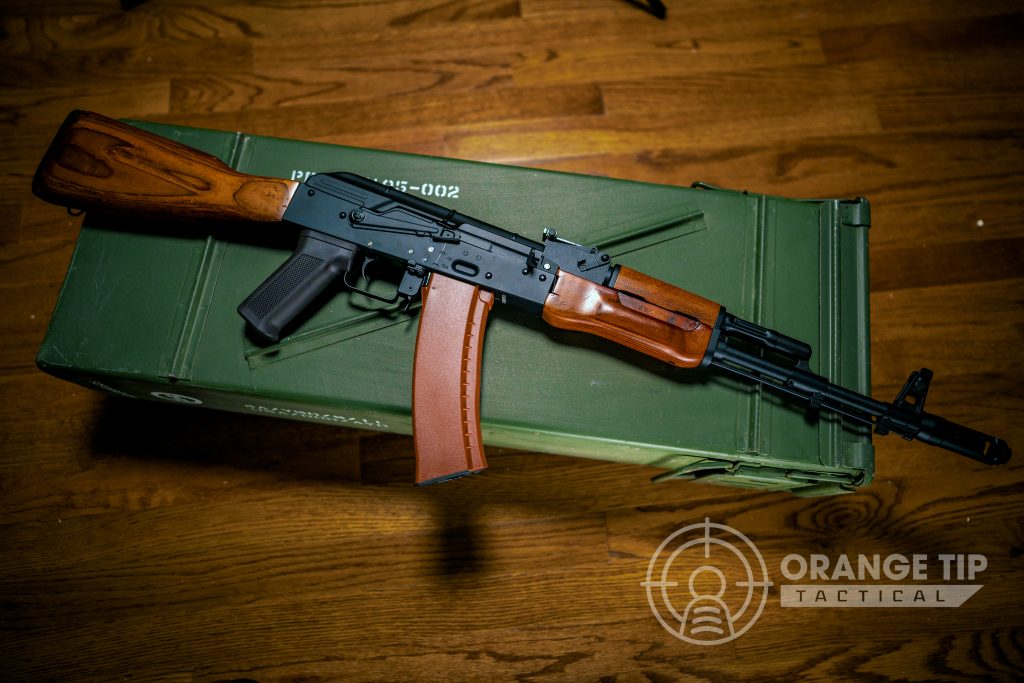 With steel externals and real wooden furniture, the Cyma AK-74 makes a great entry point for newer players looking for an accurate, hard-hitting field gun–or impression-minded players looking to snag an AEG that'll work as an "OPFOR" gun for a ton of different scenarios!
218
at Evike
Prices accurate at time of writing
Prices accurate at time of writing
And, of course, we have a detailed review of the CYMA AK-47, too!
7. DYTAC Licensed SLR AK-47 AEG
Lastly, if you'd rather skip all the work and go straight to a highspeed, Western-style AK–the DYTAC SLR AK-47 has got your back!
Featuring an iconic, stylized railed handguard with options for mounting lights, lasers and accessories from the get-go, the SLR AK also sports an Ultimak-style railed gas tube, meaning that you've got a way to toss on a red dot without the sometimes cumbersome adapters necessary with other models of AKs!
Available in three different sizes, (Full size AK-74, AK-105 carbine, and "Krinkov" AKSU length), the Dytac SLR AKs keep the side folding stock functionality of their true Russian counterparts, but in a sleek way that's much more reminiscent of the G36 series of rifles than the cold, hard lines of Eastern Bloc aesthetics.
239
at Evike
Prices accurate at time of writing
Prices accurate at time of writing
All models sport above-average FPS, and the ability to swap springs on the fly–meaning that the AEG can be made as ready for different types of play as you are!
Conclusion
Anyways, if an M4 isn't for you… you still got plenty of phenomenal options over here on the AK side of the fence (not that I'm biased or anything…). Whether you're ballin' on a budget or bougie to the max, any of these picks will do you a solid and give you a great gat to mess around with.
Have a favorite? Did we miss yours? Don't keep it to yourself–speak up in the comments below and give us a piece of your mind. If AKs aren't your style, you might be happier checking out the Best M4s for Any Budget!