Whether you're just getting started with airsoft as a whole or you're about to take your first steps into the dorky world of Milsim, snagging an AEG that's got staying power without breaking the bank is clutch! Does Cyma's full wood and steel AK-74 stack up?
Join us as we cover the gun inside and out, and give you some accessory recommendations to boot!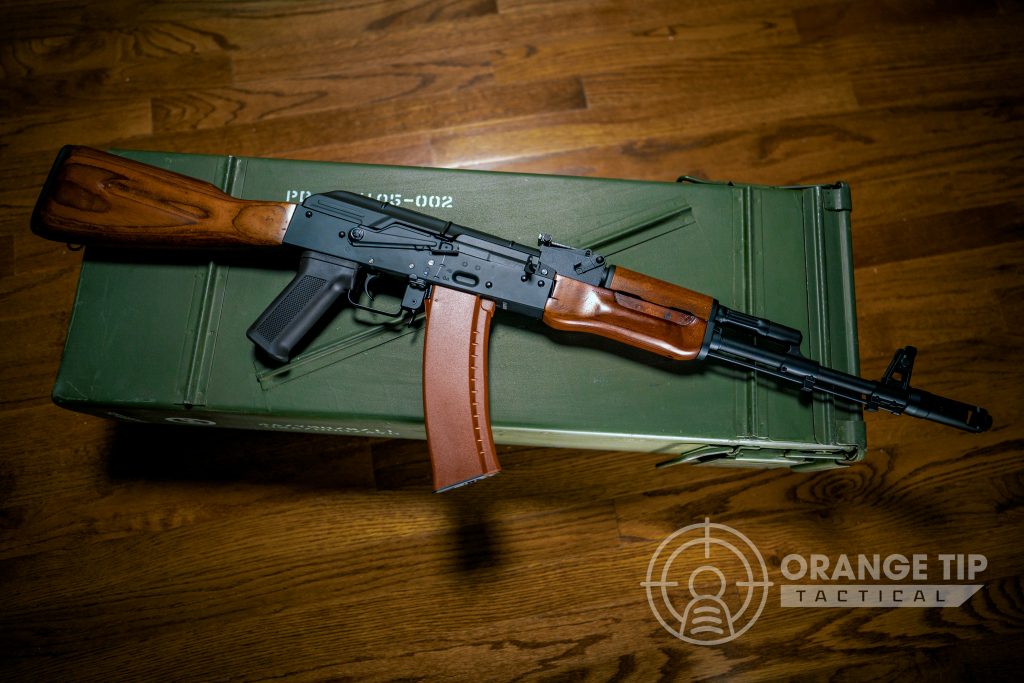 Who's It For?
First fielded in large numbers during the Soviet invasion and subsequent occupation of Afghanistan, the IRL AK-74 represented a shift away from the larger-caliber AKM to a higher velocity intermediate cartridge analogous to the 5.56x45mm round in use with NATO forces – the Soviet 5.45x39mm.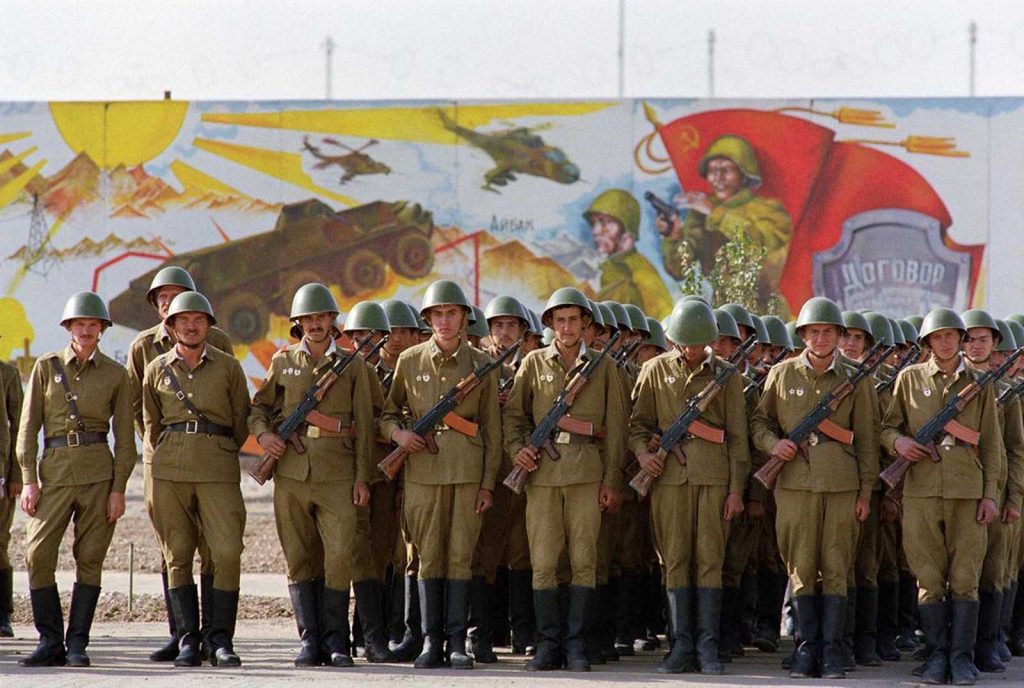 Cyma's recreation of the iconic East Bloc blaster is quite nice–especially considering its beginner-friendly price tag! Cyma's AEGs are aimed pretty squarely at both beginner and intermediate players, and there's a lot to love for both camps here.
Given that the AK-74 saw widespread service throughout most Soviet Satellite states during the height of the cold war, it's another familiar silhouette of a classic OPFOR rifle that's seen use with irregular forces the world over.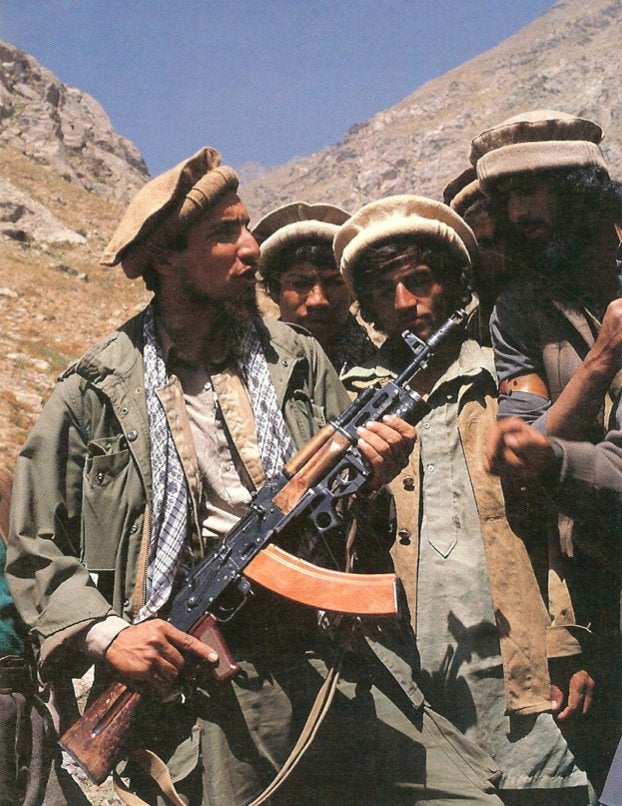 From newer players who want to step away from the sea of M4 derivatives to intermediate dorksofters who want to get their feet wet playing the bad guy, the Cyma AK-74's gotcha covered!
218
at Evike
Prices accurate at time of writing
Prices accurate at time of writing
Fit, Feel, and Finish
First impressions are pretty damn good! The combination of steel externals and wood furniture is a hot one, and a vigorous shaking of the gun reveals no real play between any of the components and an almost imperceptible rattling of the rear sling mount. Not bad!
From front to back, you've got the iconic AK-74 muzzle brake threaded directly onto the front sight base with 24mm threads, by way of an adapter lug that jumps up from 14mm threads beneath it. This means that you can likely find a way to make most airsoft muzzle devices work one way or another.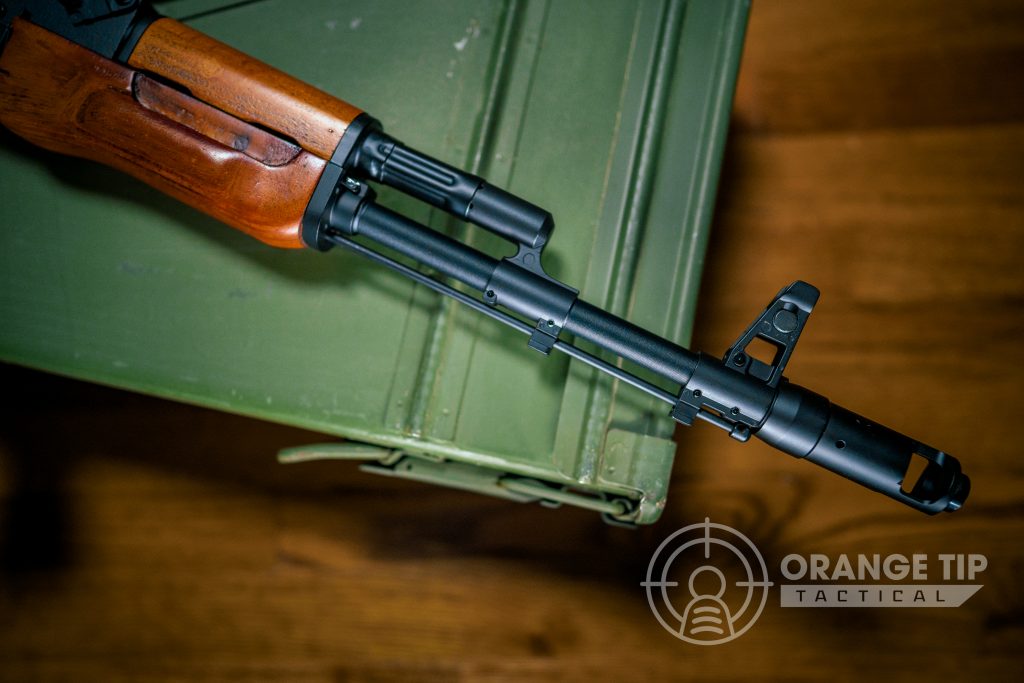 There is a tiny bit of wiggle on the front sight itself, but this is pretty par for the course on Cyma AEGs and not really cause for concern, as it's maybe less than ~1mm or so. This is due to the face that the front sight base is held onto the barrel by two pins underneath the sight base itself, and this can always be corrected with a tiny bit of epoxy if one was so inclined.
The Cyma AK-74 includes a mock cleaning rod that slots onto prominent lugs underneath the barrel, although it's purely cosmetic and shouldn't actually be used to clean your AEG's inner barrel as they can be sensitive to metal on metal contact that can create scratches and adversely affect performance.
Speaking of those lugs–they hold more than the cleaning rod! The AK-74 is equipped with attachment points that hook up to the GP-25 and GP-30 grenade launchers, and airsoft variants of those same launchers should slip right on! Be aware that you might need to shim the space between the launcher and the lower wooden handguard, but it is an option that's available to you if you're trying to add "fireworks launcher" to your AEG's capability repertoire.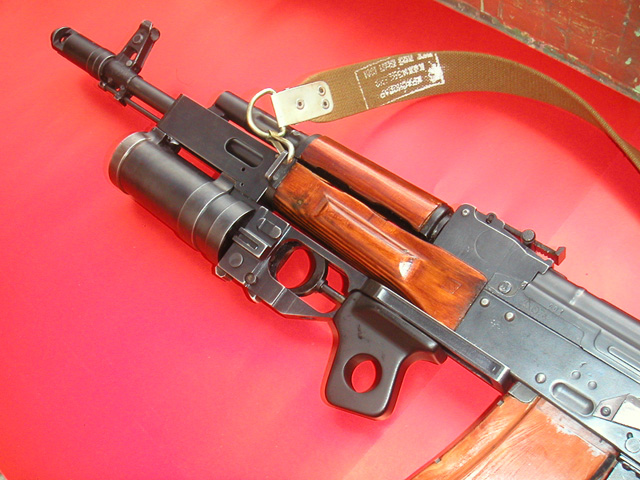 The wooden handguards themselves feel quite nice, and color wise are pretty damn similar to the reddish-stain found on many AK-74s – although notably they lack a bit of the distinctive lacquer shine present on their real steel counterparts. That's not anywhere close to being a big issue, but if authentic cosmetics are a concern for you, you can always strip and re-stain the wooden furniture! DIY or die, etc 😎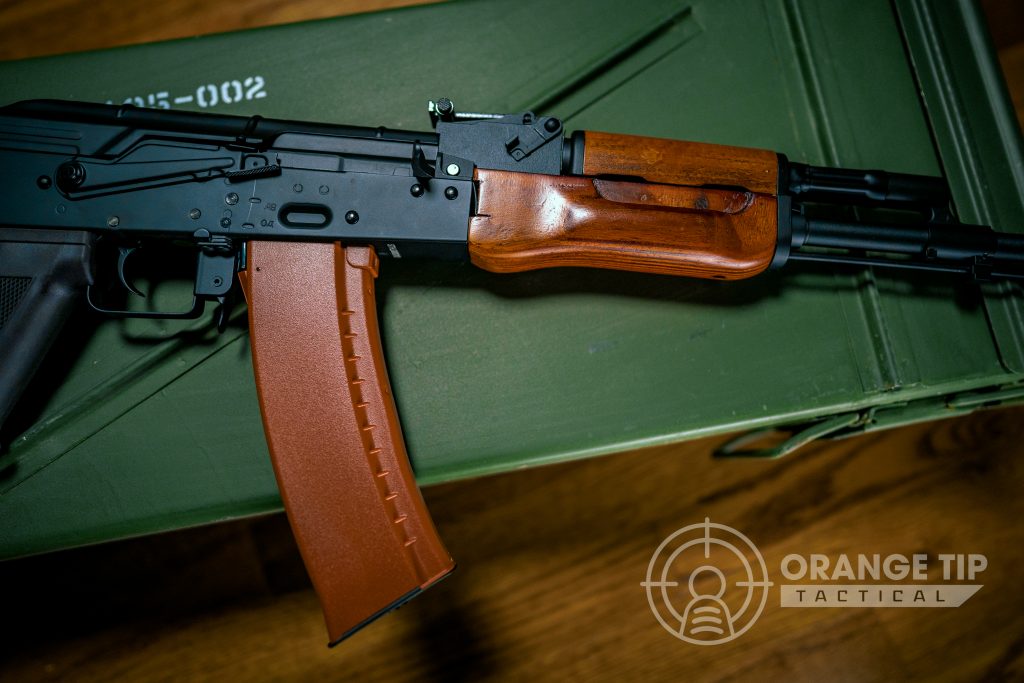 The handguards can be removed in a manner pretty similar to that found on an actual AK-74 – you've got a throw lever off to the right side of the rear sight block that'll rotate up, moving a locking lug out of the and allowing the top handguard and mock gas tube to be removed.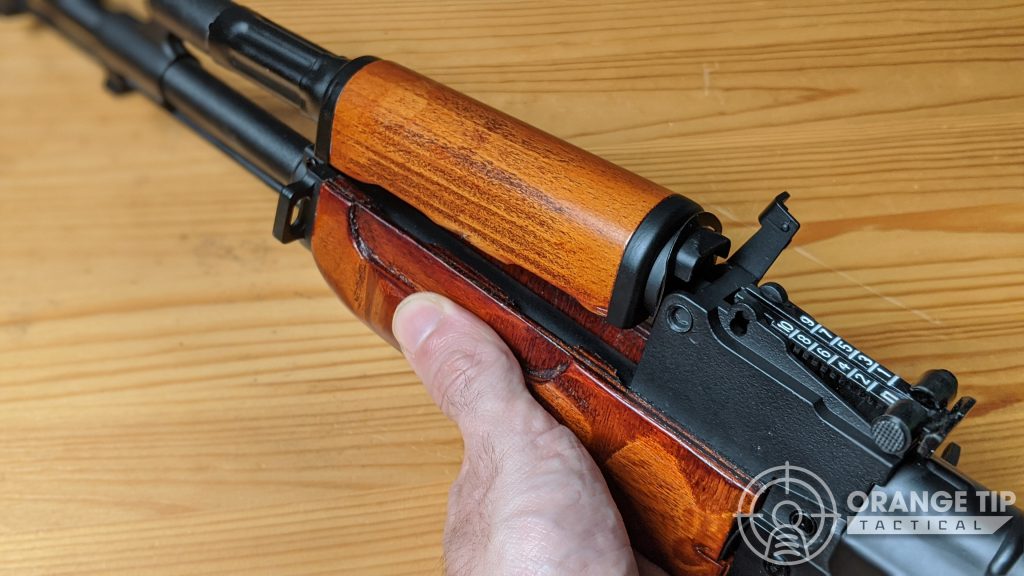 Once separated, you'll see a secondary throw lever on the upper right portion of the lower handguard, which will allow the handguard to be removed when rotated as well–although keep in mind you'll need to remove the mock cleaning rod in order to do so.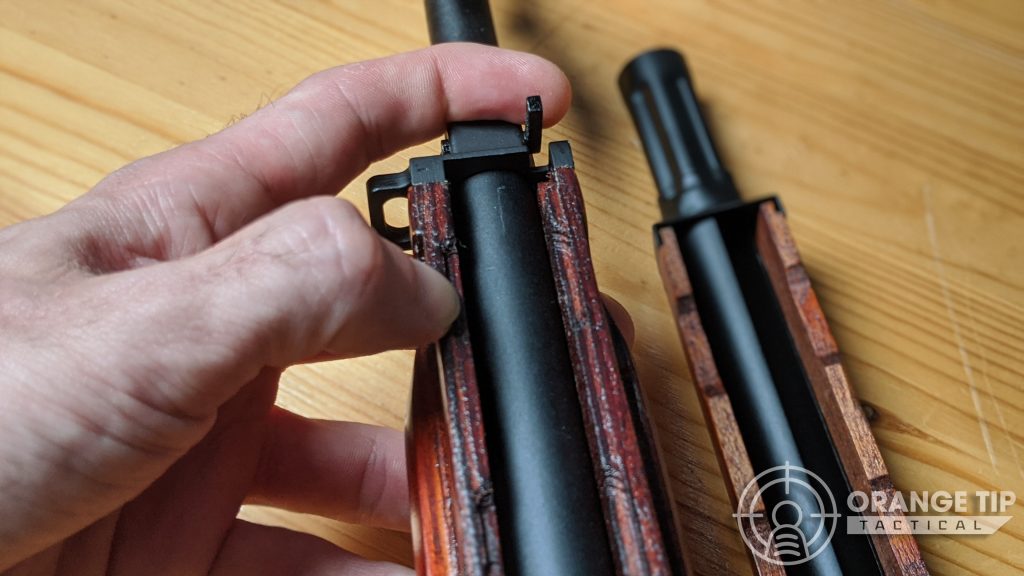 All this means that adding aftermarket handguards or rail systems is a breeze if you're so inclined! Do be sure to keep an eye out for the upper handguard's leaf spring though–as it does like to jump out if you're not careful.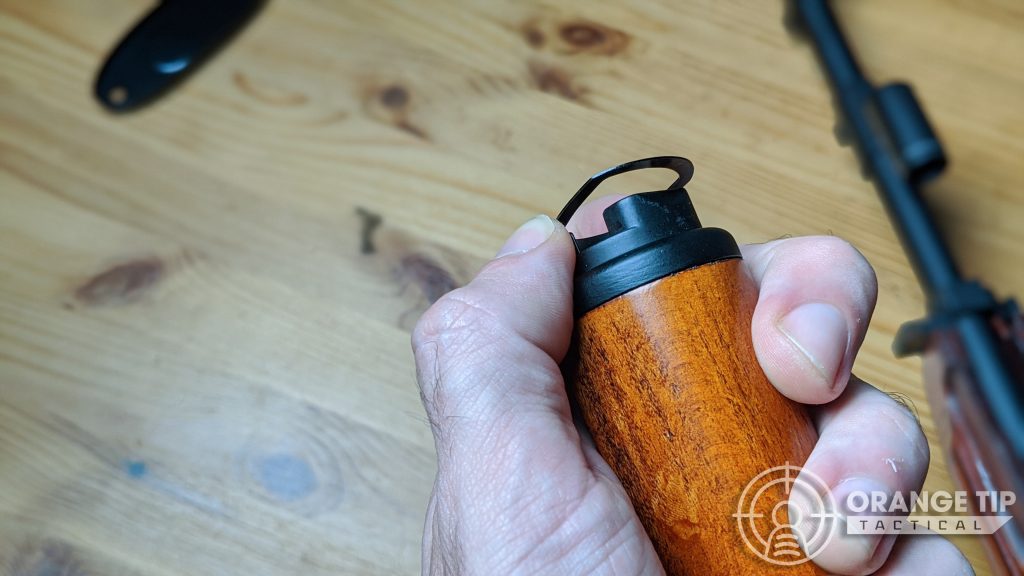 The rear sight block itself features a traditional AK-style rear sight, with markings and elevation adjustment all the way out to 1,000 meters. Obviously, airsoft guns don't punch out anywhere near that far, and the sight adjustments are essentially just for decoration.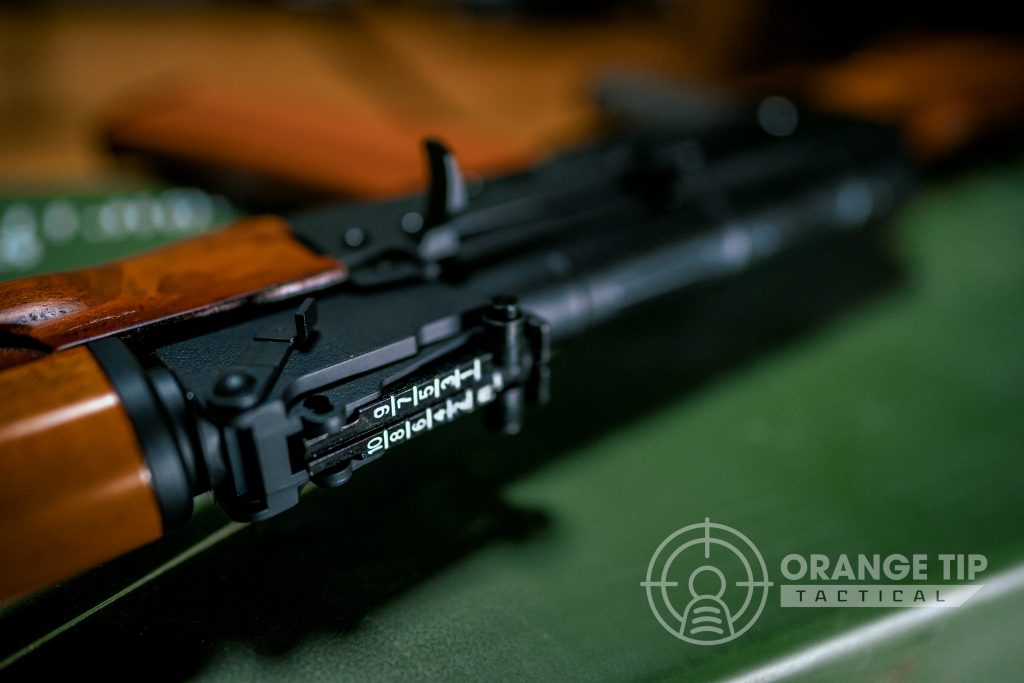 The receiver's got fake pop rivets throughout its exterior surface, and includes a dovetail style rail on the left side for the attachment of optics or sight rails. Technically, this is not correct for an early Soviet AK-74s, as the initial rifles were issued with a completely slick receiver with no rail mounting options. The AK-74N was a slightly later variant originally issued for use with early Soviet night optics… if you wanna get nerdy about it 🤓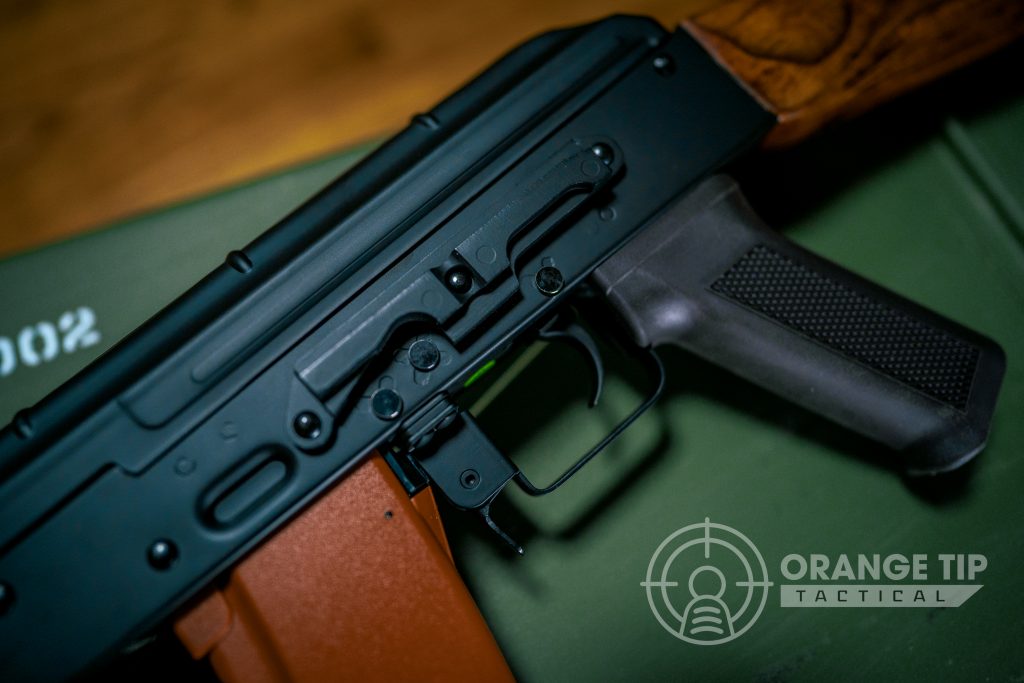 Contrary to many AK AEGs, since the AK-74 includes a full length wood stock, its battery compartment isn't located in the space beneath the dust cover.
While this can be a mild pain in that it means you've got to have a phillips head screwdriver handy to remove the buttplate and access the battery compartment, you do get a lot more space for the battery itself!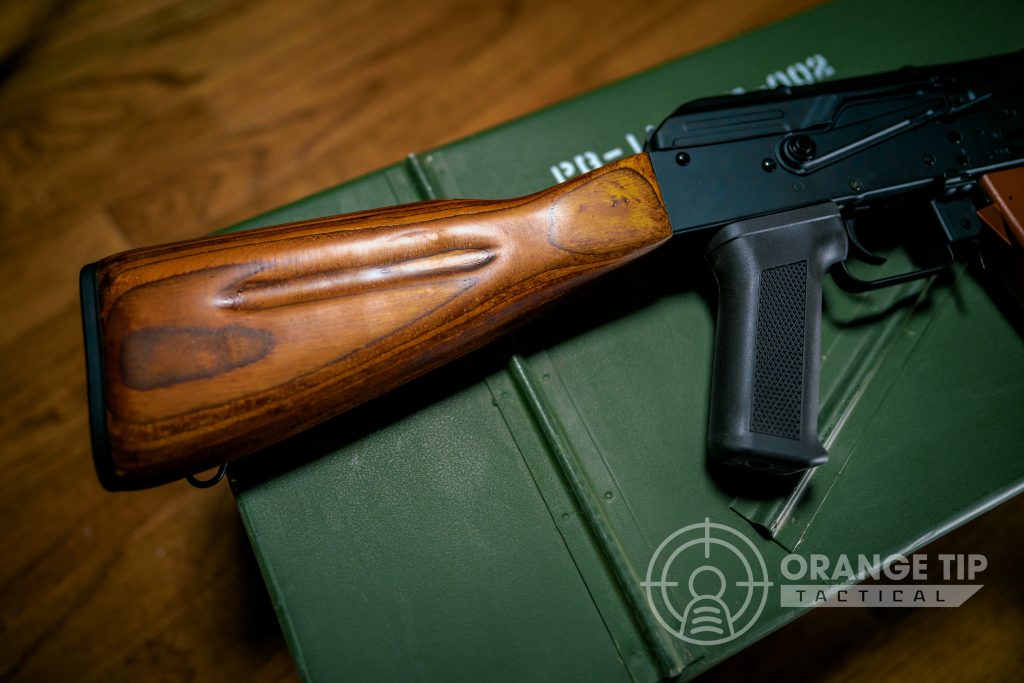 Additionally, you're not left struggling to route battery cables and wire harnesses into potentially compromising positions in which they might get pinched or snagged, and you've now got a ton of free space to adjust the hop up without wrestling the battery to boot. Not too shabby as long as you've got a multitool handy!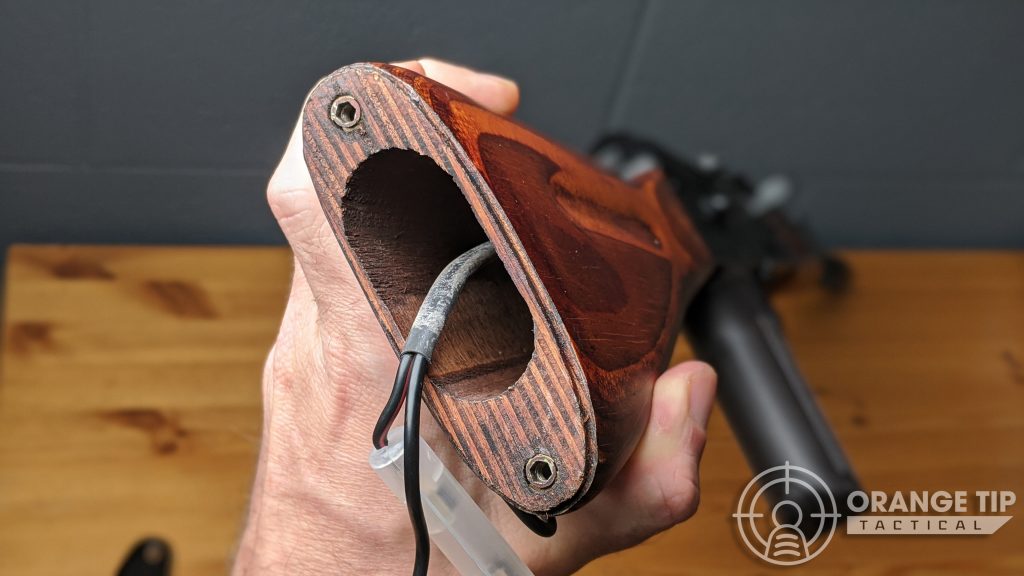 Speaking of that hop up unit, it's located just behind the mock bolt assembly inside of the space hidden by the dust cover.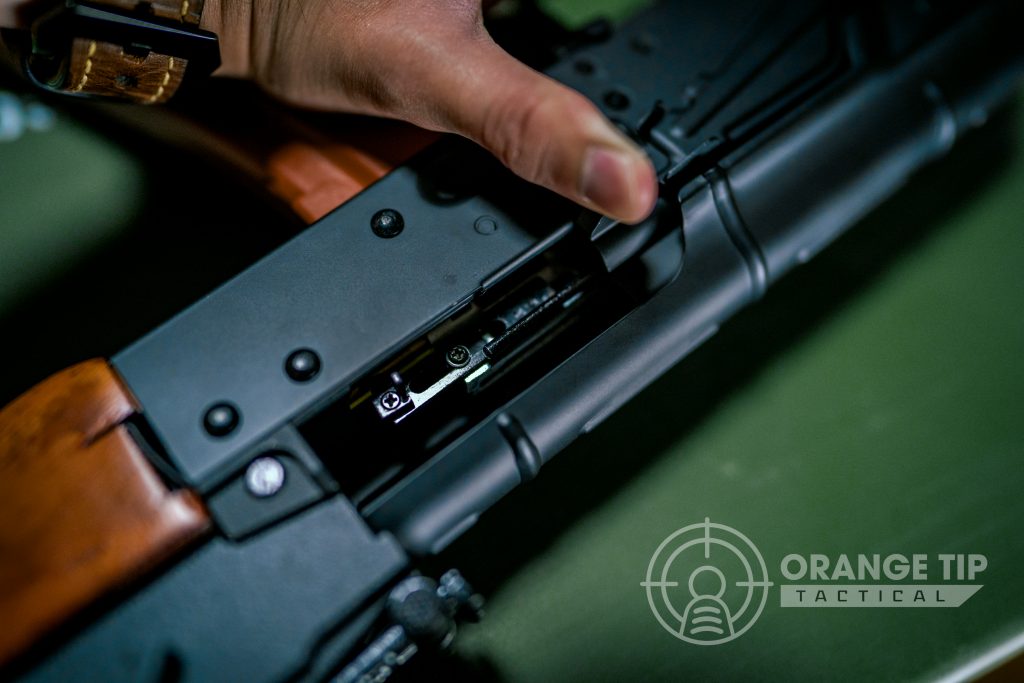 Adjusting it can be a little tricky in that you're going to need to pull the bolt back, then slide the small plastic tab either forward or backwards to increase or decrease the amount of backspin applied to the BB as it travels down the barrel. This is going to be your primary method of dialing in your round's flight path, as it forces the BB through an arc that ideally is going to drop off right at the outer limits of your engagement distance. More on hop ups here!
Magazine wise, the gun comes stock with a ~600 round high capacity magazine that will require a continuous amount of winding to keep the gun fed. While this isn't too big of an issue (and gives you a great way to carry a good amount of ammo for just one magazine), it can get tedious winding repeatedly to feed all 600 rounds.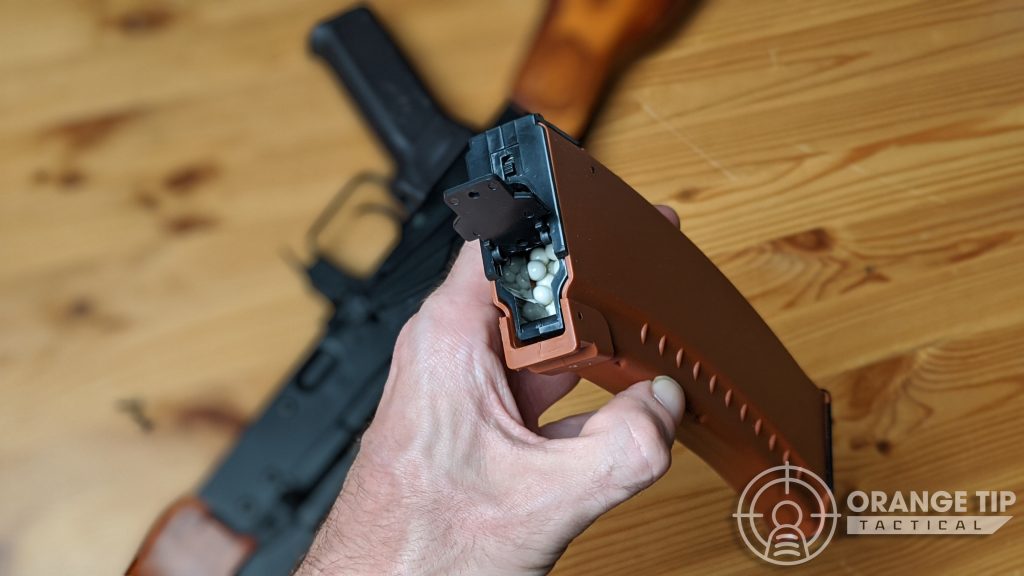 Hicaps are also pretty noisy to boot, as there's loose ammo just jangling around inside of a reservoir. Many experienced players switch over to mid-capacity magazines for this very reason, and many higher-level events now require mid caps when the emphasis is on realism or milsim.
AK mags are a bit notorious for their method of insertion, being that you've got to lock the front lip of the mag into the magazine well and then "rock" the rear portion of the magazine into the receiver. It's not too easy to get the hang of, but you're definitely going to want to make sure you're not forcing the mag in until you've got the motion figured out.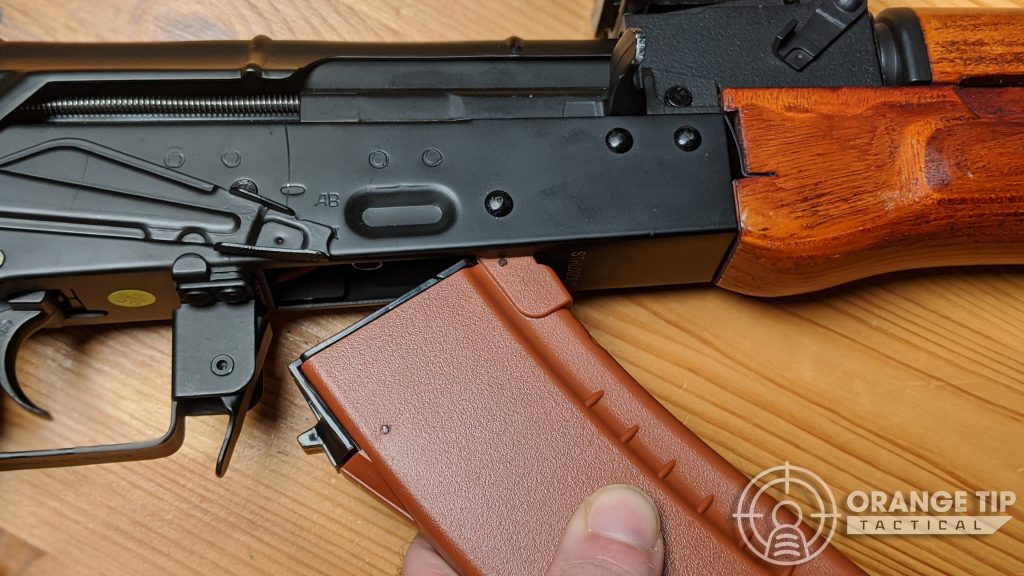 Lastly, the pistol grip houses your motor and is pretty simple stock polymer design wise. Again, for the realism oriented folks, AK-74s should have a pistol grip made out of a marbled bakelite pattern, but most players probably aren't going to be that detail obsessed.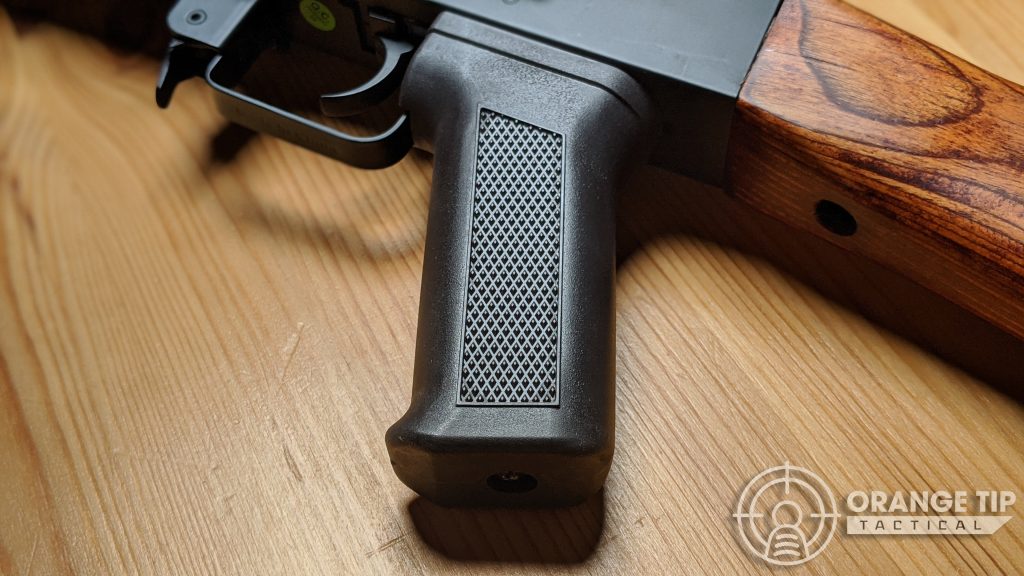 It's worth noting that AK AEGs are typically capable of having their motor height adjusted by simply removing the polymer pistol grip and locating the allen screw on the bottom of the motor cage.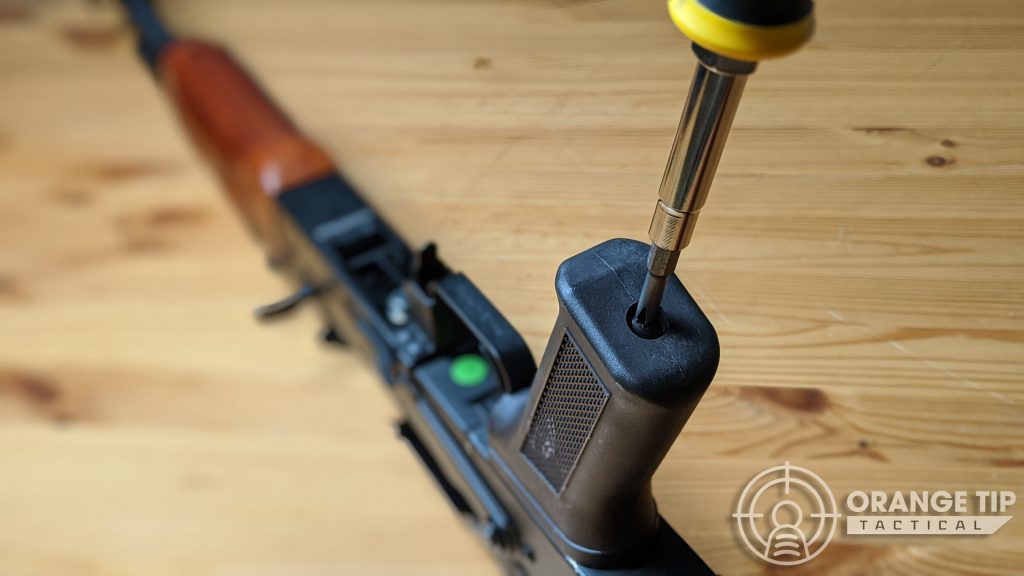 Turning it will either raise or lower the motor height, which is the depth at which the motor engages the gun's internal gear set. While most guns are going to come from the factory with this setting adjusted pretty well off the bat, they can sometimes walk themselves loose and may require adjustments here and there!
How Does It Shoot?
We saw the gun jump around a bit when chronographing it–fluctuating between 420-430 FPS. This is about what stock Cyma AK-74s are advertised as shooting using .20g BBs, so no surprises here! It's worth noting that you're always going to want to check the rules at your local field with regards to FPS limits before heading out to play.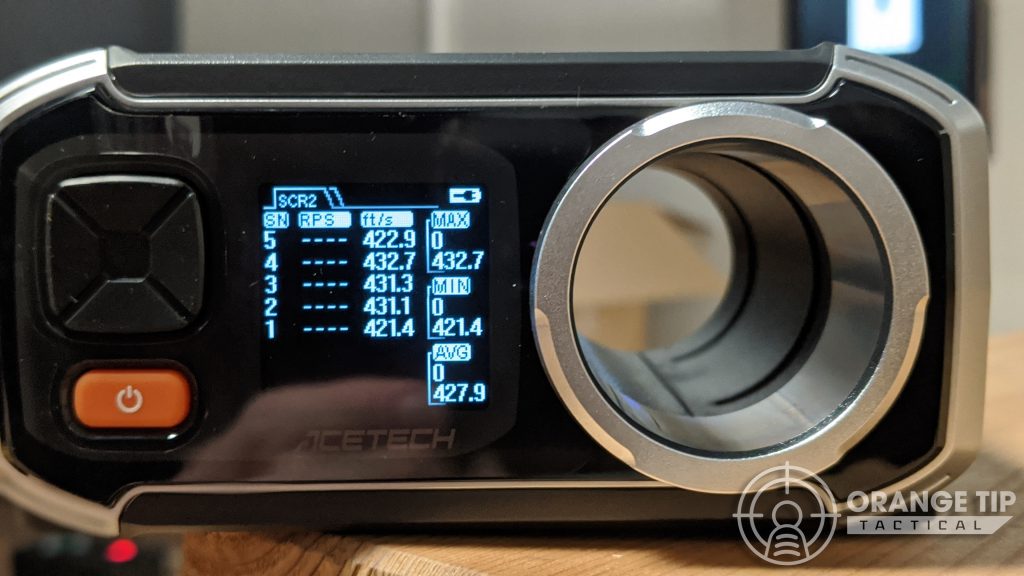 We've also got some pretty reasonable accuracy going on with our 5 shot spread!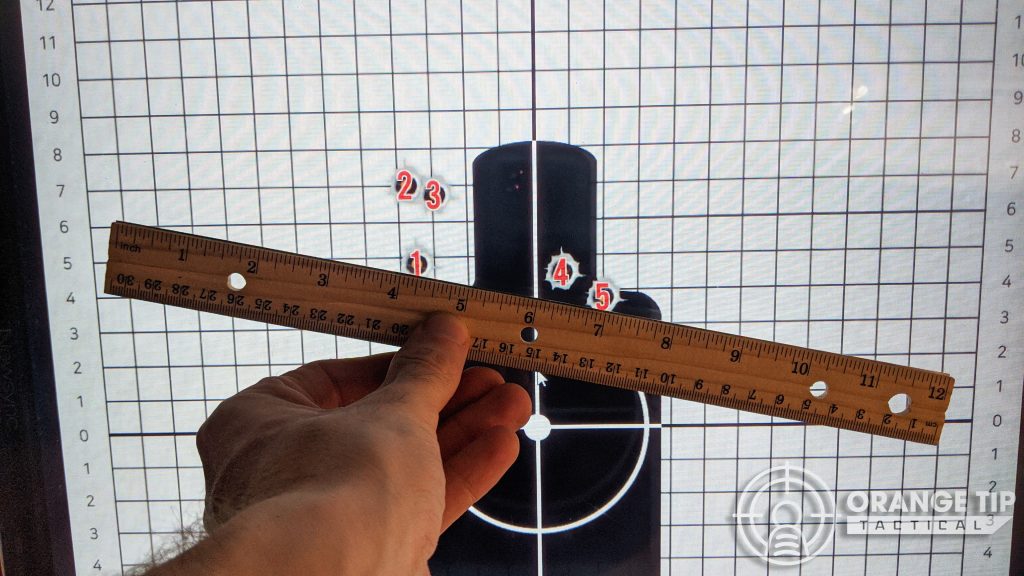 A ~3 inch spread at about 25 yards or so is pretty decent for a stock gun, in our opinion. Sure, you're not going to sailing rounds through the same hole off the bat, but you shouldn't necessarily expect or need to! Accuracy like this is absolutely skirmishable in its stock configuration.
Upgrades and Accessories
As always, adding accessories to the exterior of your airsoft gun can be a roll of the dice in terms of out of the box fit. While there's always a chance a bit of modification will be required, these parts should fit with minimal sweat and tears!
While there aren't a ton of purpose-built parts for a Soviet rifle from the late 70s floating around the airsoft market, plenty of accessories meant for newer AK-patterned rifles should fit!
To that extent, Asura Dynamic's line of Zenitco replica pieces are going to be your go-to here, such as their B10 handguard–giving you Picatinny rail space for lights, lasers, what have you.
112
at Evike
Prices accurate at time of writing
Prices accurate at time of writing
Stay tuned as we test and add more accessories to the mix!
Optics
While this model of AK is definitely going to need an adapter if you're looking to mount any kind of standard red dot or holographic sight on it, you've got a few ready-made options that will fit the gun's dovetail mount, such as this PSO style scope most commonly seen on SVD Dragunov type rifles.
160
at Evike
Prices accurate at time of writing
Prices accurate at time of writing
If you'd prefer to go the traditional red dot route, we'd likely snag a scope mount and something a bit lower profile, like this Microdot sight.
55
at Evike
Prices accurate at time of writing
Prices accurate at time of writing
By The Numbers
Reliability: 8/10
Cyma AEGs are popular with entry level players for their general, out of the box skirmishability. We had no particular issues with our AK-74 during the testing phase, although we would like to see perhaps a bit more consistency in terms of FPS. Things to correct during the upgrade phase!
Accuracy: 8/10
It's always a bit tricky to provide meaningful measurements of accuracy within BB gats, but the AK-74's ability to land ~3 inch spread shots at roughly 25 yards or so is more than adequate for most dorksoft engagements.
Effective Range: 7/10
Again, it's a stock gun and it should be judged as such. You're definitely not going to be stretching the legs on this AEG, but you're also not really going to be limited to short and medium range engagements either. Realistically you'll find the 74's sweet spot sitting right in the 100-150 feet range or so, with a max perhaps a bit further past that with a well-adjusted hop up.
Rate of Fire: 6/10
14 rounds per second on an 11.1v Li-Po battery is pretty par for the course on stock guns. It's not bad by any means and is more than enough plastic to stay competitive in close quarters, but you may find yourself outgunned if you're regularly playing against speedsofters.
Ergonomics: 6/10
It's an AK platform rifle, and there's certainly nothing special about them ergonomically. However, it's also a design that's been around the block for a good hot minute, meaning that it's got staying power for a reason! Combined with the fact that it's just modern enough to be compatible with some newer accessories on the market, and you can easily make this bad boy a bit easier to wield overall if you're so inclined.
Looks: 8/10
While the Cyma AK-74 definitely looks great, it'll take a little bit of elbow grease to get closer to it's real life counterpart, if that's a thing you're particularly concerned about. We'd probably strip and re-stain the furniture and add a bit of carefully-crafted patina were we to go that route, but there's definitely nothing wrong with it as is either!
Customization: 8/10
Gone are the days when the aftermarket parts world was largely dominated by M4 accessories, and AK users can now enjoy a full host of both internal and external upgrades to really fine-tune their AEG exactly to their liking!
Whether you're trying to trick this bad boy out for a milsim event with a replica Zenitco parts, or you're trying to squeeze more accuracy and tighter groups out of it, the Cyma AK-74 is ready for pretty much any situation you might find yourself in as a beginner or intermediate player with an eye towards the OPFOR or Soviet/Eastern Bloc aesthetic 😎
Conclusion
For the newer player who feels no real draw towards the massive amount of Western and highspeed AEGs on the market, the Cyma CM048 AK-74 is a pretty damn good place to start your journey into 6mm nerddom. It hits hard, it's reliable, and it's got that bad-guy cool factor that we have no issues with recommending if any of the above sound like boxes you're trying to tick. Check it out!
218
at Evike
Prices accurate at time of writing
Prices accurate at time of writing
Love it? Hate it? Gotta have it? Let us know your thoughts in the comments below–we want to hear from you! You might also like to take a peek at the best airsoft M4 AEGs, too!