Looking to step into the high-speed world of SF-based kits the world over, or simply looking for a top-tier M4-style carbine capable of taking some serious abuse?
Elite Force and Umarex's licensed HK 416A5 might be right up your alley! Check out our overview of the gun below as we take you inside and out, and throw some accessory options at you to boot.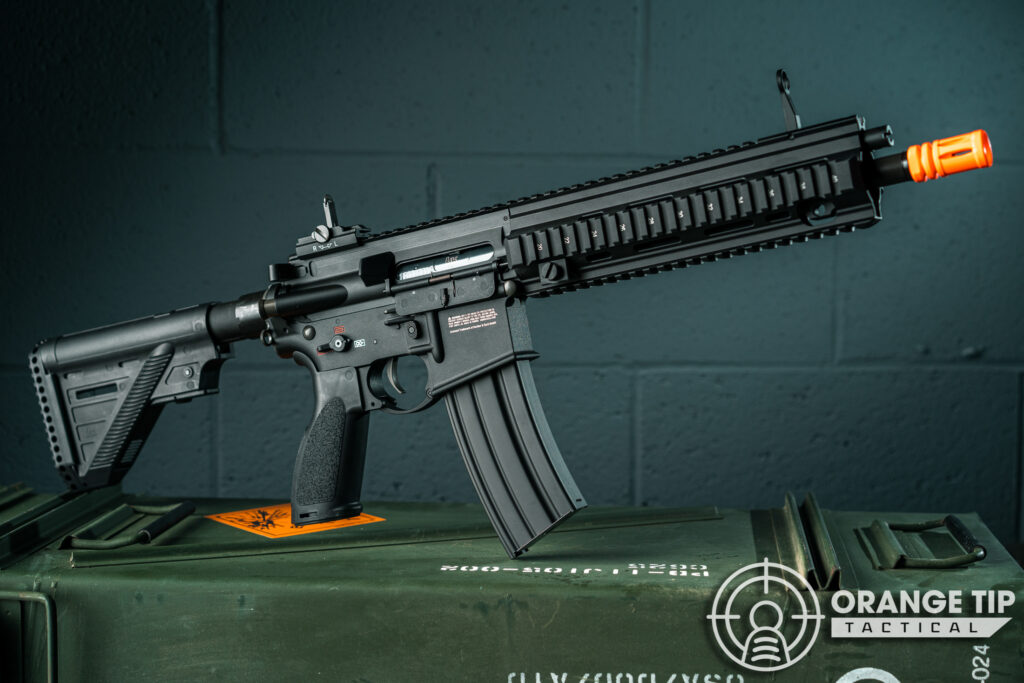 455
at Evike
Prices accurate at time of writing
Prices accurate at time of writing
Who's It For?
The 416 was born out of a US Military program to replace the M4 carbines in widespread use throughout the branches of America's armed forces, and while it didn't catch on as a standard infantry rifle in America, has been adopted by numerous other Western countries and SOF forces alike.
Elite Force's specific HK-416 is a clone of the later A5 variant, which features an improved buttstock design and ambidextrous fire controls alongside numerous other quality of life upgrades that aren't particularly relevant for airsofters, but hot damn is it pretty!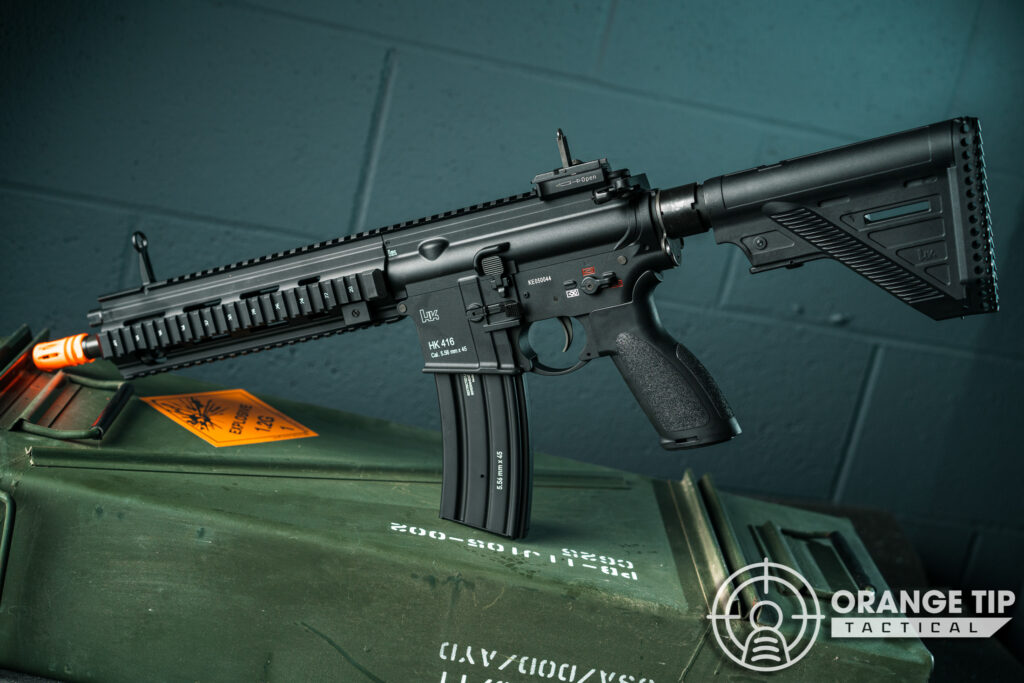 The AEG is a pretty damn faithful recreation of its namesake and is essentially a top of the line pick for folks looking at doing any one of a number of milsim-oriented kits based on actual units, or mid-level players who want to throw down cash in exchange for a fantastic quality bb gat.
Fit, Feel, and Finish
As expected from a top tier AEG put out by the indecipherable Umarex/Elite Force/VFC conglomerate, first impressions are stellar! The gun's got an incredibly sturdy exterior thanks in part to its full steel construction and monolithic rail design. There's absolutely no wobble or clanking from any components when the AEG is given a vigorous shake–no surprises here.
From front to back, you've got a blaze orange A2-style birdcage flash hider on a 10.5″ barrel that runs through an HK-style monolithic quad Picatinny rail system that features a flip-up front sight.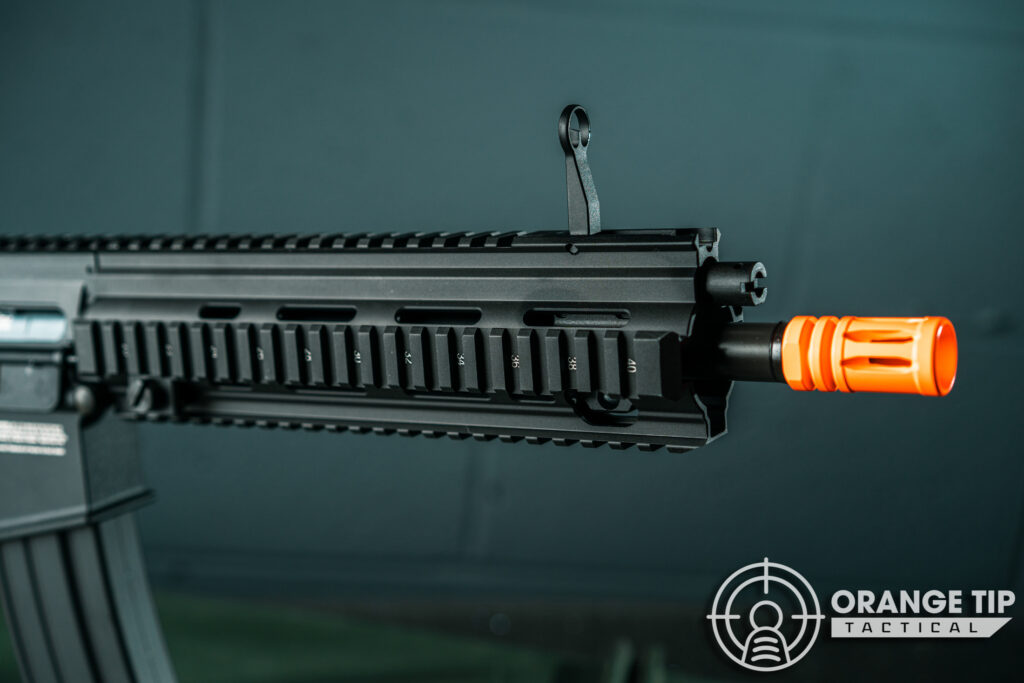 Further back, iconic Heckler and Koch trademarks adorn the rock-solid receiver, with all of the typical ergonomic upgrades usually found therein. The magazine release is ambidextrous and can be actuated with your off-hand thumb assuming you're shooting right-handed–although the ambi release is a fair bit stiffer than the one you'd normally hit with your index finger during mag changes.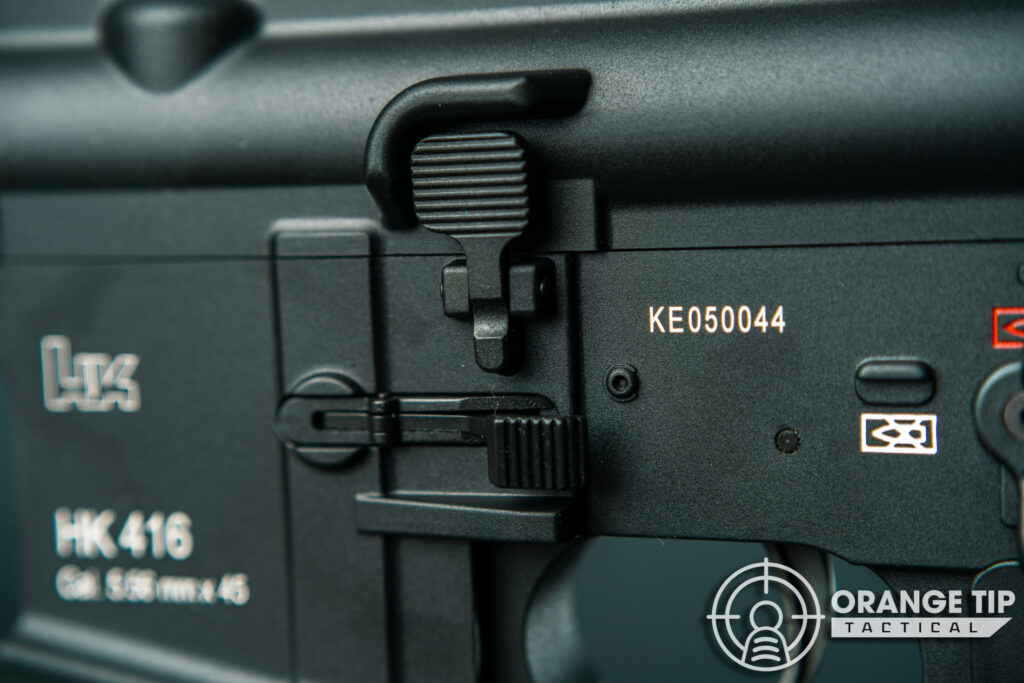 The fake bolt release is also ambidextrous, and after pulling back on the charging handle to lock the mock bolt and reveal your hop-up unit adjustment, can be sent forward again with either the left side paddle or the right side lever just about the trigger guard.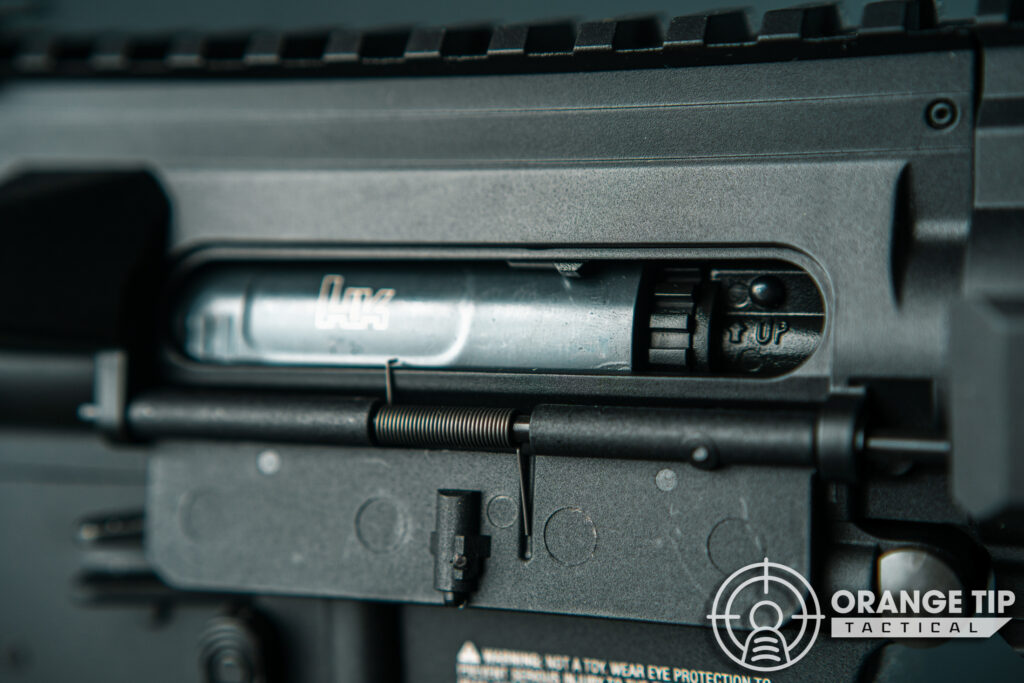 Adjusting the hop-up is a breeze, and the oversized rotary dial-style adjustment is a welcome change over older, more finicky systems. The drum itself also features positive clicks that make finding the "sweet spot" for your AEG's BB trajectory a breeze–and easily repeatable if you happen to be switching between different BB weights!
A bit further back, the 416's also got an ambi fire selector that's a bit smaller than a normal M4's but features a small flare to make flipping either side quite easy. The selector also affirmatively clicks into place, which should avoid situations in which not being in the exact 'correct' selector marking can induce odd performance or even lock your mechbox in certain situations.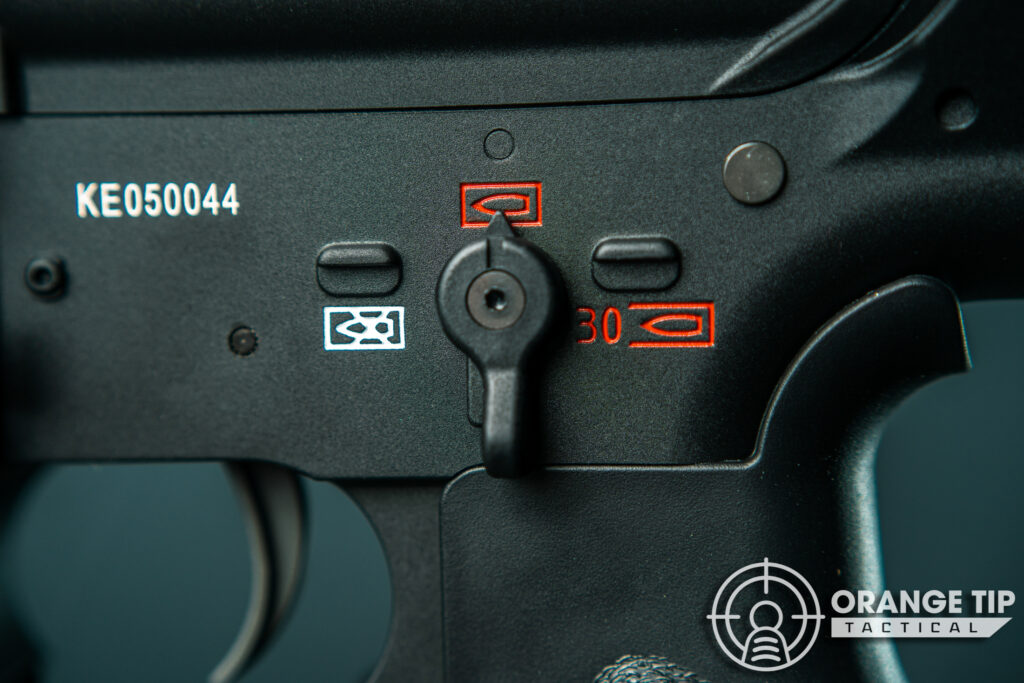 The top of the receiver is obviously equipped with Picatinny rail for mounting optics, and a flip-up rear sight stays out of the way until or unless you need it. The charging handle, used to access your hop-up unit, sits just behind it!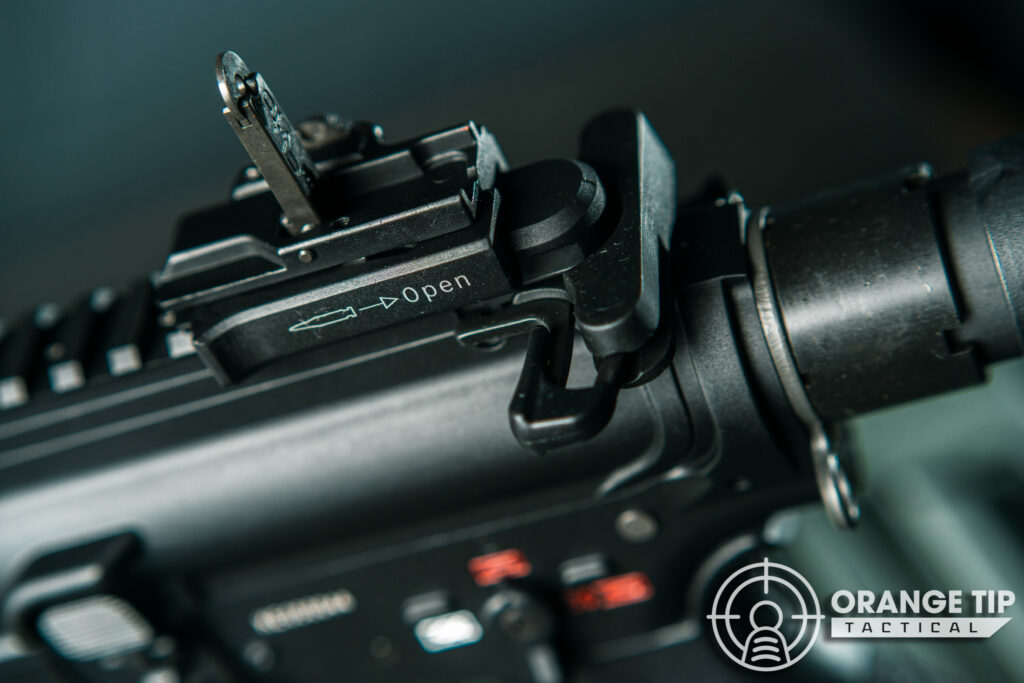 The pistol grip itself is a replica of HK's iconic take on the ancient A2 style grip, featuring a more aggressive palm swell, slightly lower angle, lack of finger grooves, and a backstrap that rides up the rear portion of the receiver to increase both retention and comfort. We dig it!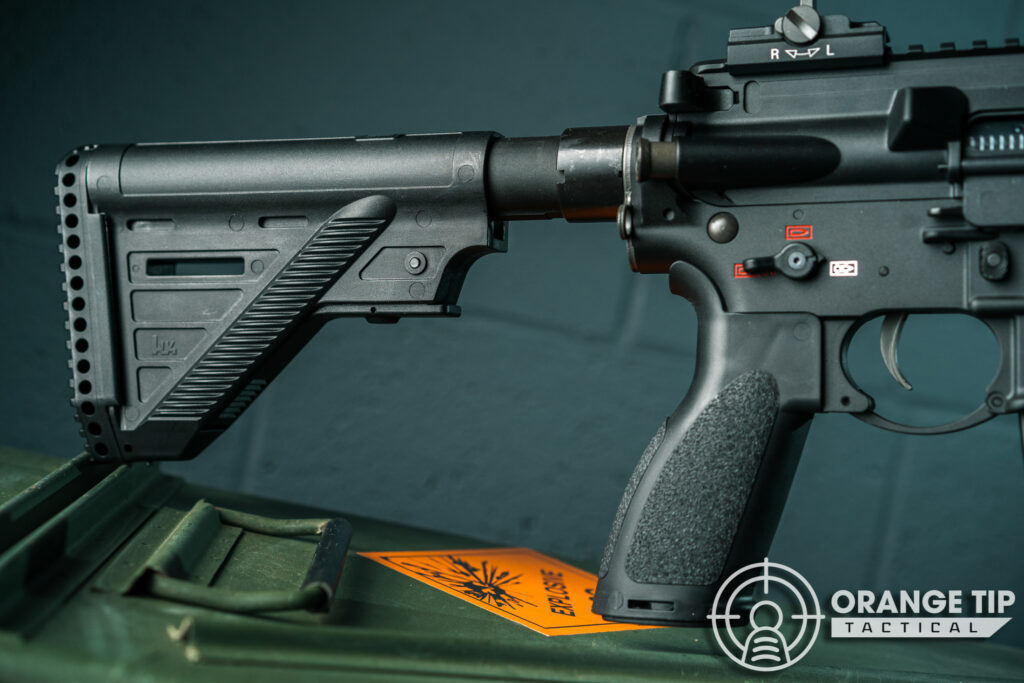 Just to the rear of the pistol grip is a sling attachment plate with options for connecting a wolf-hook style sling on either the left or right side of the AEG and the 416's stock itself. The A5 stock is adjustable for length of pull, meaning that you can fine-tune the distance of the AEG's receiver from your shoulder when aimed. Lastly, a sling loop compatible with most modern two-point slings is quite obvious near the rear of the stock, capped with a large rubber butt pad to ensure it doesn't slip when shouldered.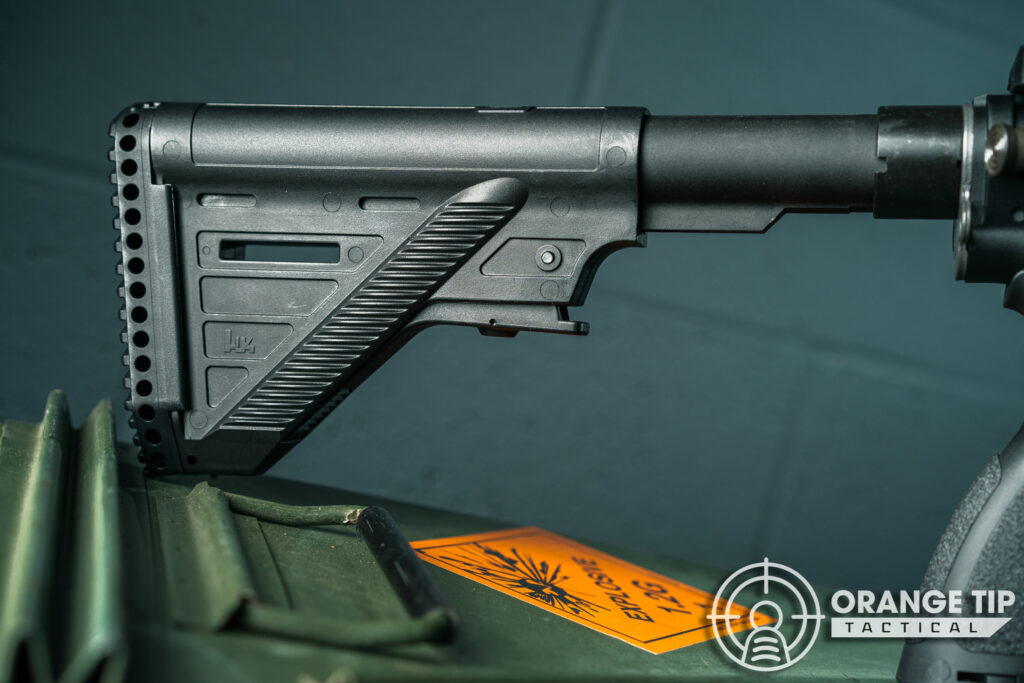 Just beneath the rear of the stock is a tiny latch, and flipping it releases the rubber butt pad to reveal your battery storage compartment within the buffer tube itself.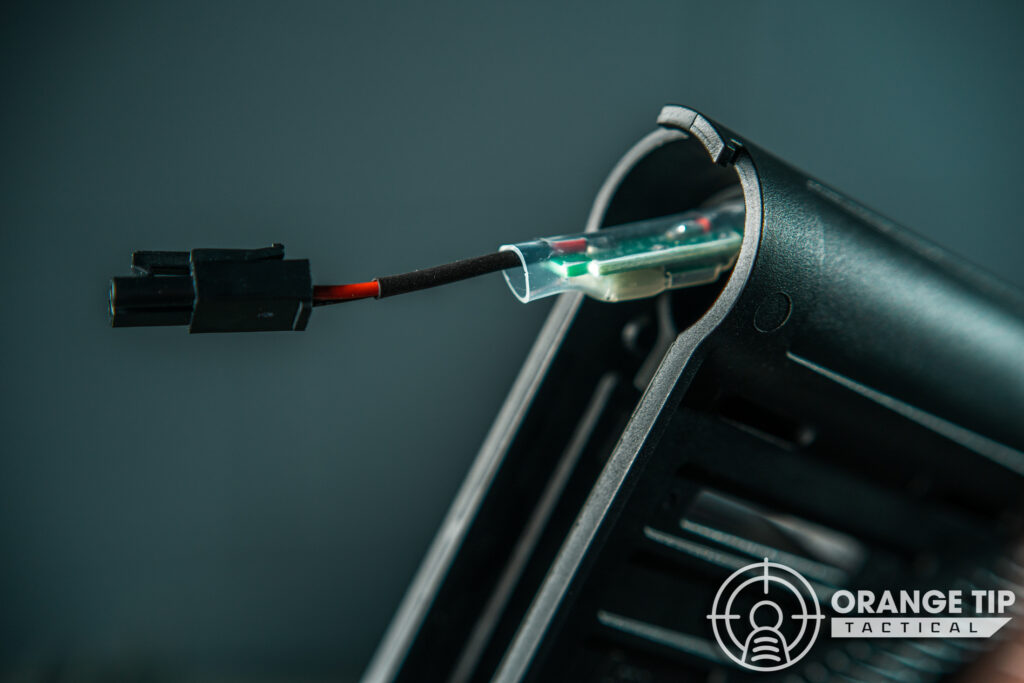 The 416 comes with one standard high capacity HK-style magazine that holds a bit over 300 rounds. Compared to a standard high capacity magazine, the 416 high-cap is unique in that it doesn't require the user to continuously wind an external wheel in order to feed all of the rounds in the mag.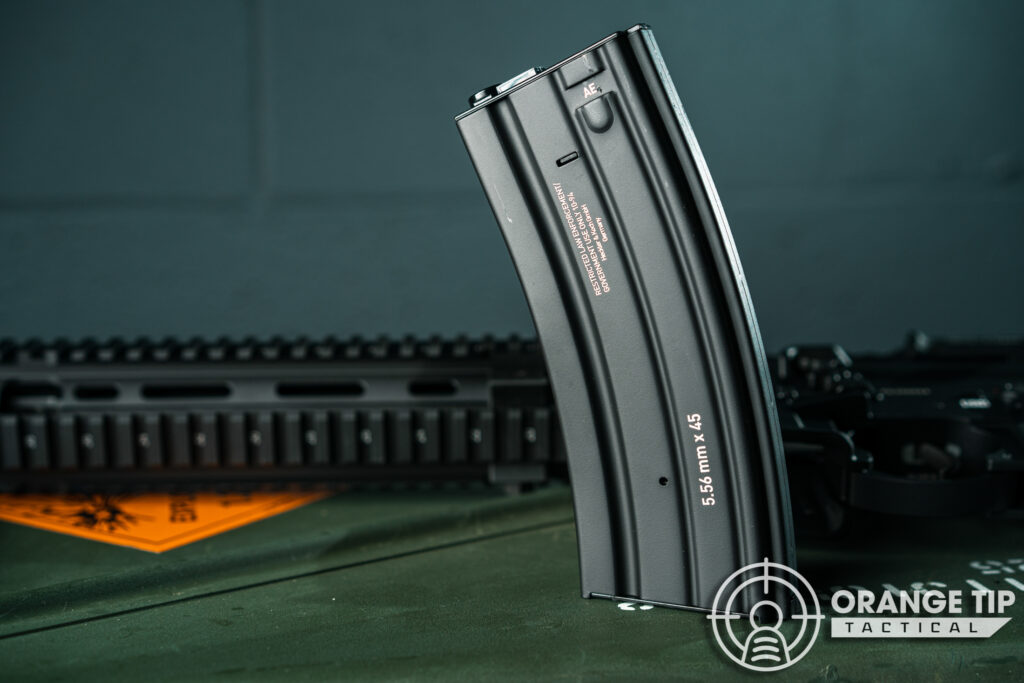 Instead, a small included tool fits into the port you see on the magazine–allowing you to wind the mag such that you've got enough tension to feed the entire high-cap reservoir!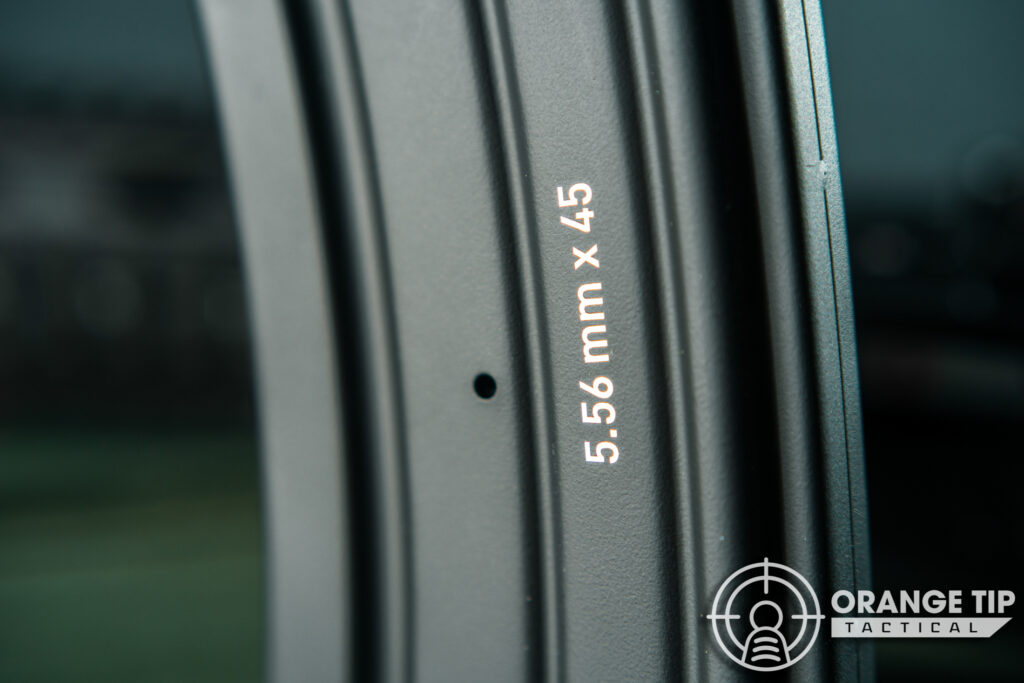 Overall, first impressions are about as solid as the AEG is itself–which is to say, we're impressed! Elite Force's reputation for quality shines through here, and even the most jaded, experienced airsoft is likely to be impressed by the external features and build quality.
How Does It Shoot?
Using .20g BBs, we clocked the 416A5 at right around ~395 FPS or so. This is just about the sweet spot as far as field AEGs go for us–you've got enough oomph to make those shots count, but you're not running so hot as to bump into field FPS limits for outdoor play a potential issue.
Although your local field may vary, we generally find that most outdoor airsoft fields enforce a chronograph limit of about 400 FPS as measured with a .20g BB–meaning we're in the zone bruhhhh. 😎 Considering that we're getting an FPS variance of approximately +- 2FPS, this is a good indicator that our internal compression is consistent and repeatable. Great!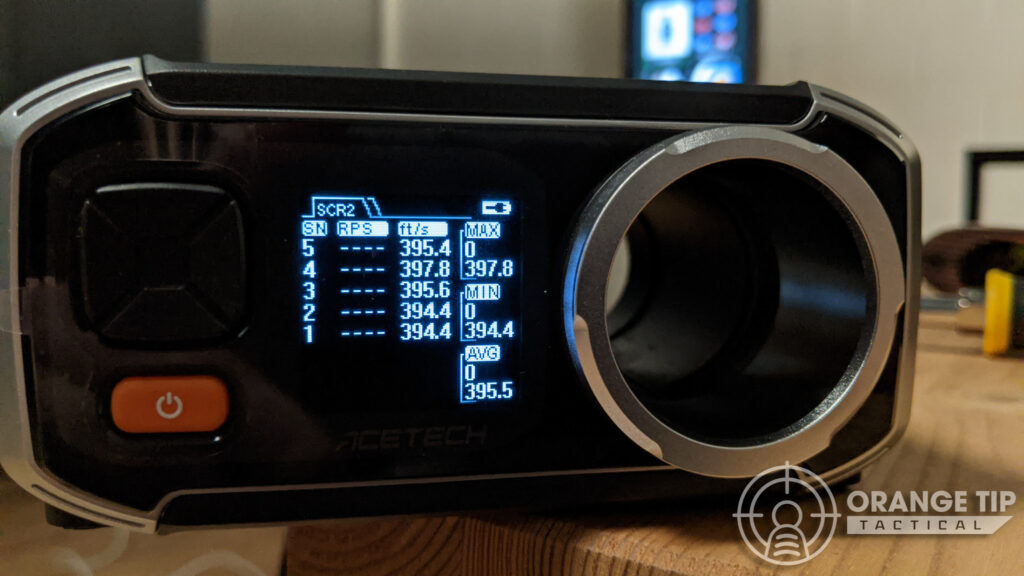 We've also got some pretty damn good accuracy going on with our 5-shot spread!
A ~2 inch spread at about 25 yards is more than reasonable out of a completely stock gun, and really showcases the efficiency of the 416's rotary hop up unit. It's also worth pointing out that shots 2 and 3 are literally on top of one another. While the 416 is by no means a DMR, we're real pleased with this level of tightness for an AEG with no accuracy upgrades!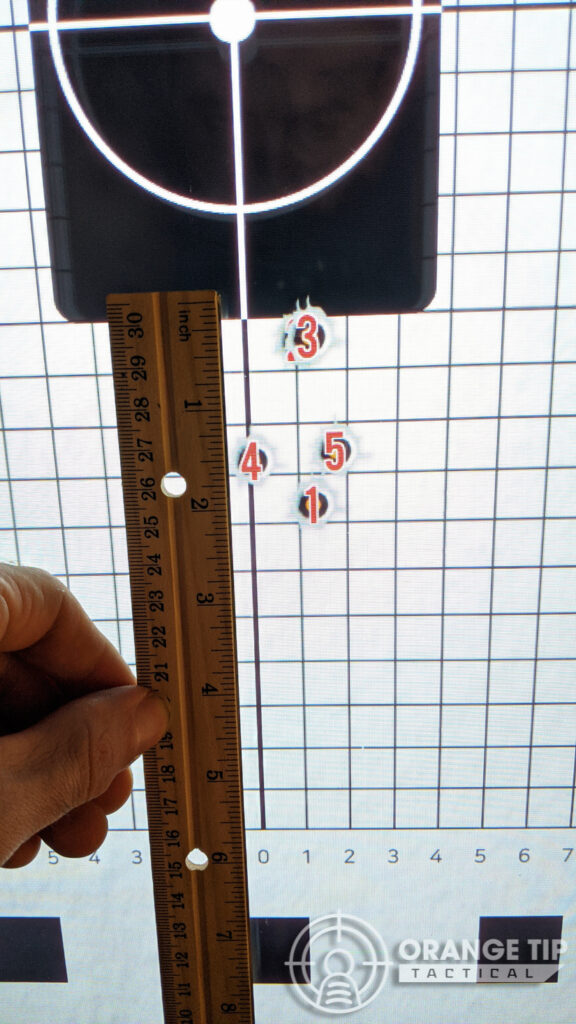 Upgrades and Accessories
As always, adding accessories to the exterior of your airsoft gun can be a roll of the dice in terms of out of the box fit. While there's always a chance a bit of modification will be required, these parts should fit with minimal sweat and tears!
Being at the forefront of high-speed special operations carbines in real life, chances are pretty good you'll want to head that direction as well if you wind up snagging a 416. To that extent, one of the first changes we'd make is swapping out the stock monolithic quad rail for a sleeker, DYTAC 416 MLOK handguard. This allows the AEG's handguard to much more easily mount a whole host of MLOK-compatible accessories, and even adds several more mounting angles to boot! Of course, if you're a baller, there's always a genuine Geissele Automatics Handguard should thoust feel the need to flex. 😜
438
at Evike
Prices accurate at time of writing
Prices accurate at time of writing
One of the biggest boons to owning an M4-type rifle is that the vast majority of aftermarket airsoft accessories are aimed directly at your platform, and although the 416 isn't quite an M4, a huge chunk of those accessories should still be compatible! Keep in mind you may need to consider mounting systems if you wind up switching Picatinny for the MLOK handguards above, but we'd probably snag something like this Night Evolution Scout Light if you need illumination for either night-play or darker indoor environments. If you'd prefer to have an integrated light and laser all in one, check out this Element PEQ15 replica! It's got a white navigation light, visible red laser, and an IR laser and illuminator too! Rad.
75
at Evike
Prices accurate at time of writing
Prices accurate at time of writing
Stay tuned as we test and add more accessories to the mix!
Optics
With the 416's Picatinny rail up top, you've got virtually endless options when it comes to optics. Something similar in profile to the Aimpoint T-1 is going to look right at home on your tricked-out AEG, and you can't go wrong with this Avengers Micro Red Dot that offers both red and green reticles!
50
at Evike
Prices accurate at time of writing
Prices accurate at time of writing
While we most likely wouldn't put a full size magnified rifle scope on the gun, magnification can occasionally be useful, and we'd probably opt for a flip to side magnifier similar to this setup–although it's worth noting that you should always check to be sure your magnifier and optic choices do indeed line up with one another.
50
at Evike
Prices accurate at time of writing
Prices accurate at time of writing
By The Numbers
Reliability: 10/10
Elite Force is one of the most reputable names in the game right now and for good reason–during our testing and evaluation phase with the 416, we had no hiccups at all! Obviously, all AEGs are going to develop gradual wear and tear over time, but it's quite nice not having to worry about any issues straight from the get-go.
Accuracy: 10/10
It's always a bit tricky to provide meaningful measurements of accuracy within BB gats, but the 416's ability to put multiple rounds through the same "hole" at roughly 25 yards or so is more than adequate for most dorksoft engagements-especially considering the gun's stock nature and the fact that it isn't meant to be employed as a marksman platform per se.
Effective Range: 8/10
Again, it's a stock gun and it should be judged as such. While you're not necessarily going to punching out super far, considering the territory your in and the barrel length, you should be able to hit targets out to about ~150 feet with absolute ease.
Rate of Fire: 7/10
14 rounds per second on an 11.1v Li-Po battery is pretty par for the course on stock guns. It's not bad by any means and is more than enough plastic to stay competitive in close quarters, but you may find yourself outgunned if you're regularly playing against speedsofters.
Ergonomics: 8/10
The 416 represents one of the most ergonomically-driven steps forward in terms of refining the classic M4-style AEG, and there's lots to love here! From the super comfy cheek weld on the A5 stock, to the swell of the HK style pistol grip, to ambi fire controls pretty much everywhere, you're gonna be in slaying nerds without triggering your carpal tunnel guaranteed 😉
Looks: 8/10
The 416 is pretty damn sleek in its stock configuration, and the potential to upgrade the platform into an even higher-speed iteration with add-on aftermarket accessories that emulate real SOF 416 setups scores this AEG some high marks in our book!
Customization: 9/10
While M4 accessories pretty much dominate the majority of the airsoft add-ons market, the 416 should be compatible with most, but you may run into fit issues here and there just considering the enormous scale of products we're talking about here. There are a few bits and bobs that actually aren't interchangeable with the standard M4 platform, but we'd be surprised if you manage to find a way to be limited by that. Outside of that, the world is indeed your oyster!
Conclusion
While the price can be a bit hefty if you're new to the game or are budget-minded, in our opinion, the Elite Force HK 416A5 is one of the best high-end, high-performance AEGs on the market today.
455
at Evike
Prices accurate at time of writing
Prices accurate at time of writing
With pretty much unlimited modularity, tight accuracy driven by a quality rotary hop up, and repeatable, consistent FPS that places you right on the verge of field FPS limits–we have no issues recommending the 416 for both milsim minded players looking for a base for their next build, as well as skirmish-oriented airsofters who value performance above all else.
Do you have the H&K 416 A5? Are you shopping around for a new M4? What do you think about it? Let us know in the comments below! For more M4 goodness, check out the best M4 AEGs for every budget!