Got a soft spot for the infamous silhouette of the 1911, but perhaps looking for a little bit of modern flair? You're in luck!
Today, we're taking a look at the AW Custom "Ace Competitor" Hi-Capa – a high-performance take on the futuristic "2011" style of the classic .45.
Let's dive right in and figure out if this is the right GBB for you!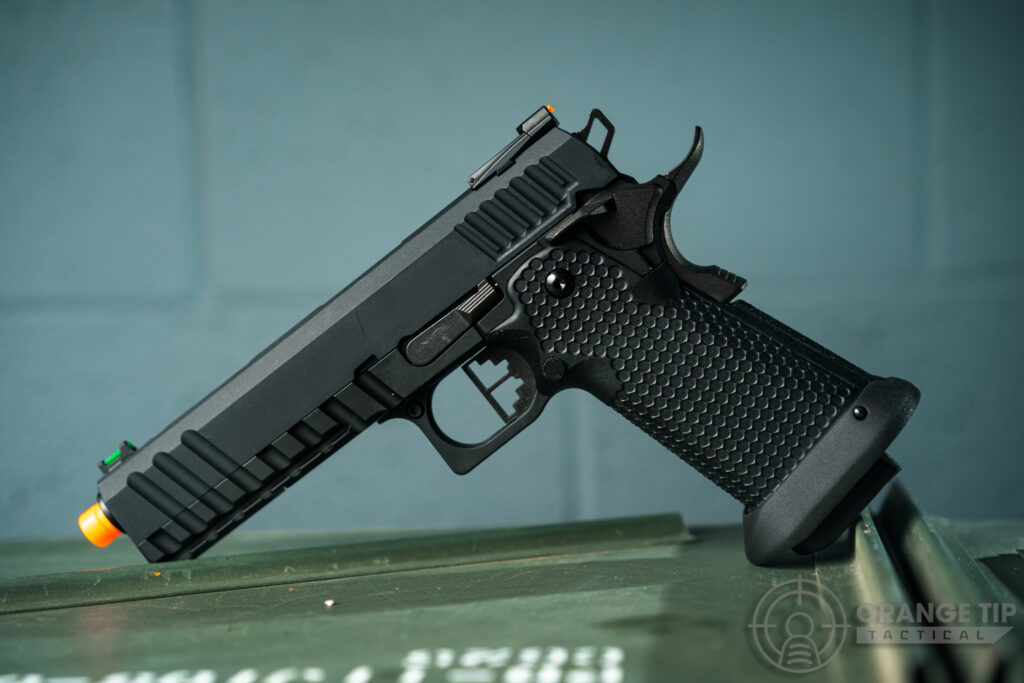 The Real Deal: History, Design, and Operation
Before diving into the dorksoft replica, let's set some context about just what a 2011 is, shall we?
Devised of as a way to modernize the original Colt 1911 platform, '2011' has become a bit of a catch-all phrase that refers to just that – a sleek, 1911-adjacent design that will usually feature upgraded fire controls, a railed Picatinny frame, and most importantly – double-stack magazines!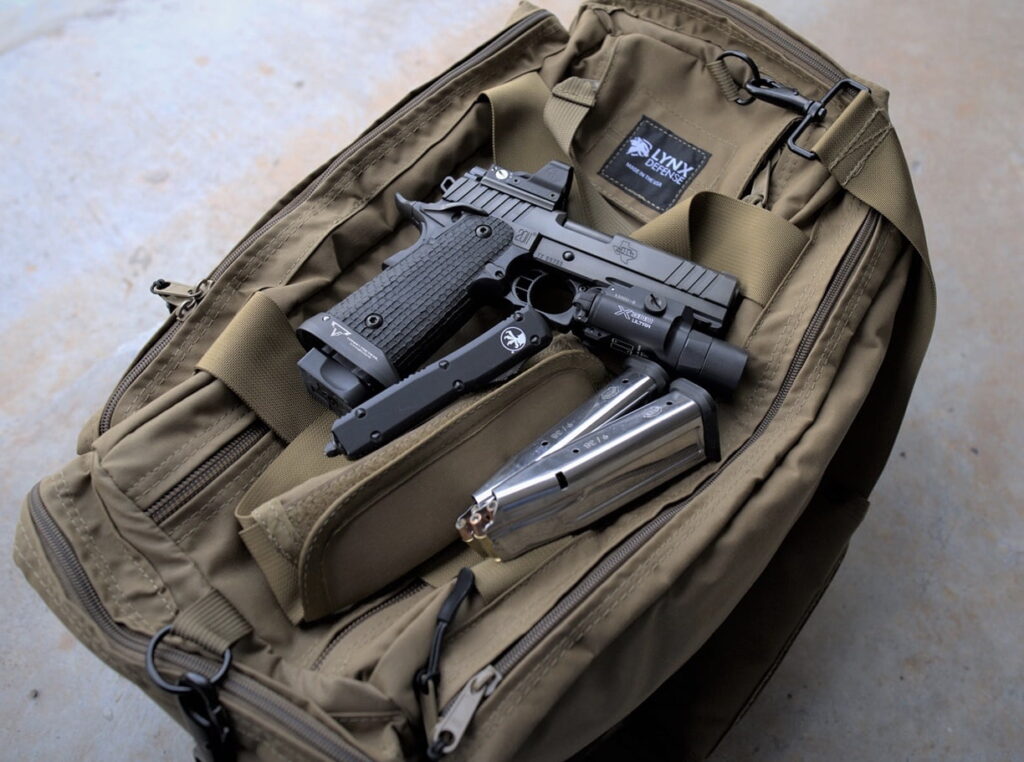 While there are a few more nuances to be had, we'll refrain from going too far into the weeds on this particular topic. Just know that for all intents and purposes, '2011' and Hi-Capa refer to a high-speed 1911 with big ol' high-capacity magazines. (Hi-Capa – get it?)
169
at Evike
Prices accurate at time of writing
Prices accurate at time of writing
The Airsoft Model
It should come as no surprise then that a slightly tricked-out 2011 is going to be perhaps a bit heftier than one might expect when first picked up – and the AW Custom is certainly quite the beast!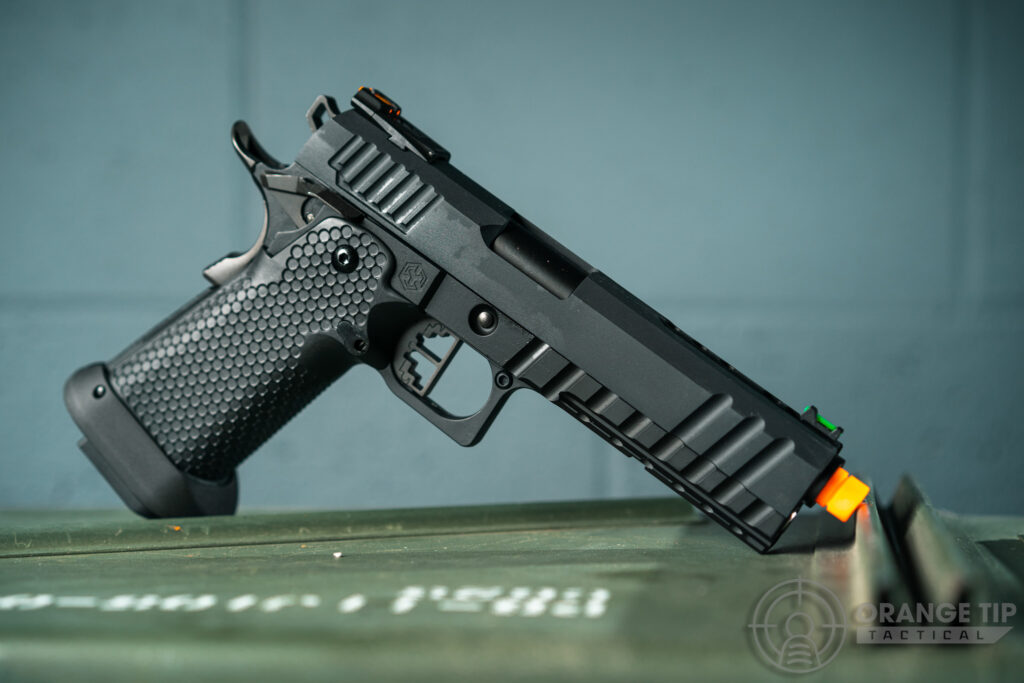 While the weight can be a bit jarring at first, it actually makes a lot of sense once you realize the amount of sleek external upgrades packed into this GBB pistol's frame. Let's go!
Fit, Feel, and Finish
You've probably guessed by now, but this is easily one of the most solid gas pistols we've ever played around with!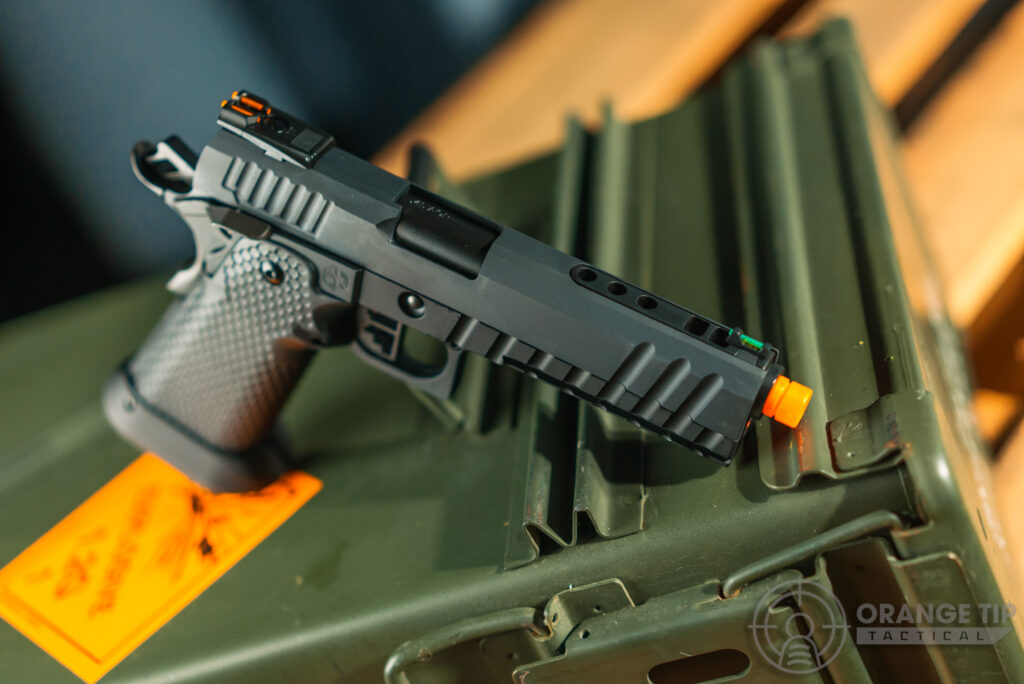 For starters, the AW Custom is full metal — which is a phrase that gets tossed around a ton in the airsoft industry, but in this case, means that both the frame and slide and nearly all functional components are indeed metal. HEFT.
Not to mention, you've got a much larger grip than you'd normally find on a standard 1911, featuring a honeycomb-pattern pair of panels to make sure you've got the most retention possible at all times.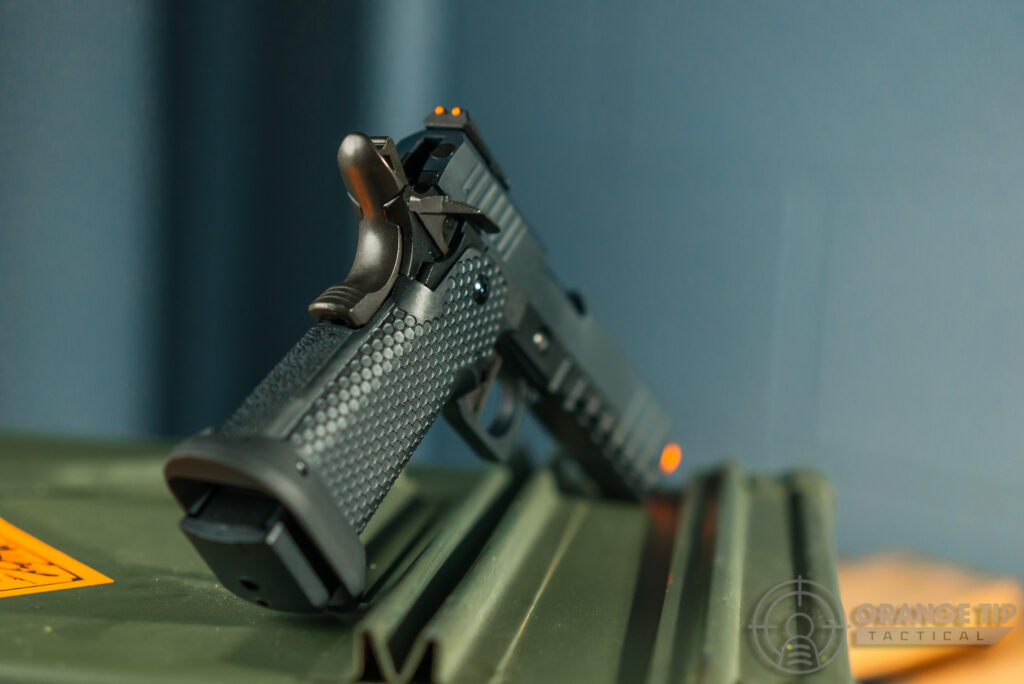 The AW Custom's fire controls feel fantastic to boot. You've got a grip safety that disallows the gun from being fired unless squeezed, and an additional thumb safety that needs to be flipped off before you're ready to sling plastic.
There are minimal amounts of travel in both, ensuring that you're not going to be fumbling around when push comes to shove.
The trigger itself is pretty darn crisp — being a replica of a competition flat trigger with only a minuscule amount of travel to the rear before dropping the hammer.
Given that the AW Custom is a single-action pistol, you don't need to worry about a heavier trigger pull induced by needing to pull the hammer back — once you're locked and loaded, this thing feels snappy!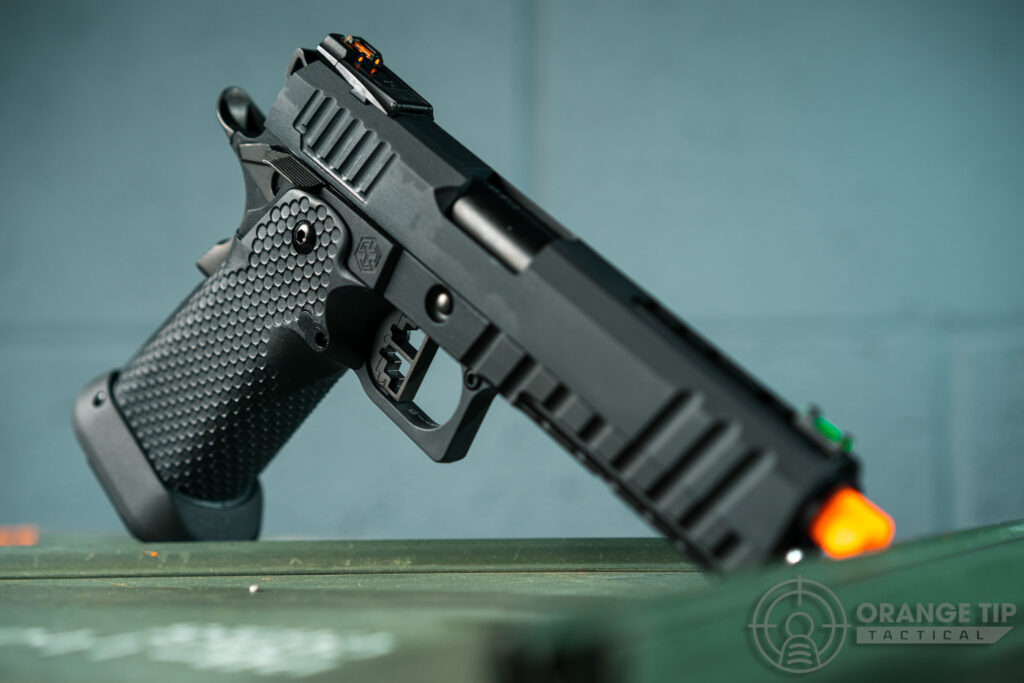 The AW Custom's slide is also chock full of serrations to help make sure you can slingshot that MF effectively when you need to either reload or lock the slide back for whatever reason. Overall, it gives the gun this super aggressive industrial feel that we love!
Your sights are fiber optic in nature, featuring a high contrast green up front…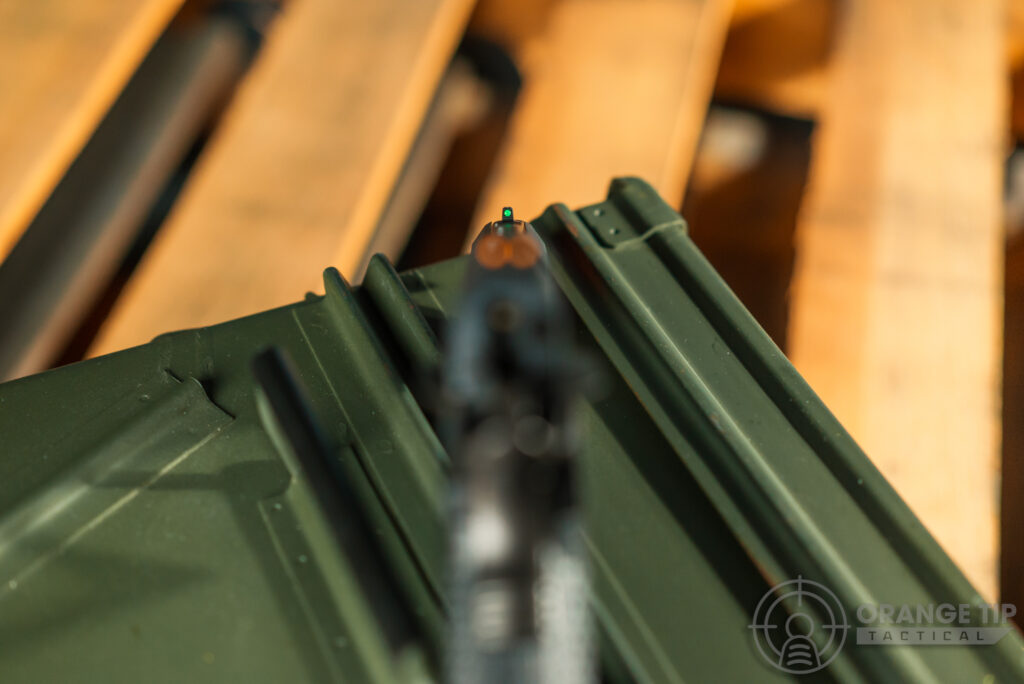 …and an equally vibrant pair of orange dots in the back, which should leave no question as to what your sight picture looks like across a variety of conditions!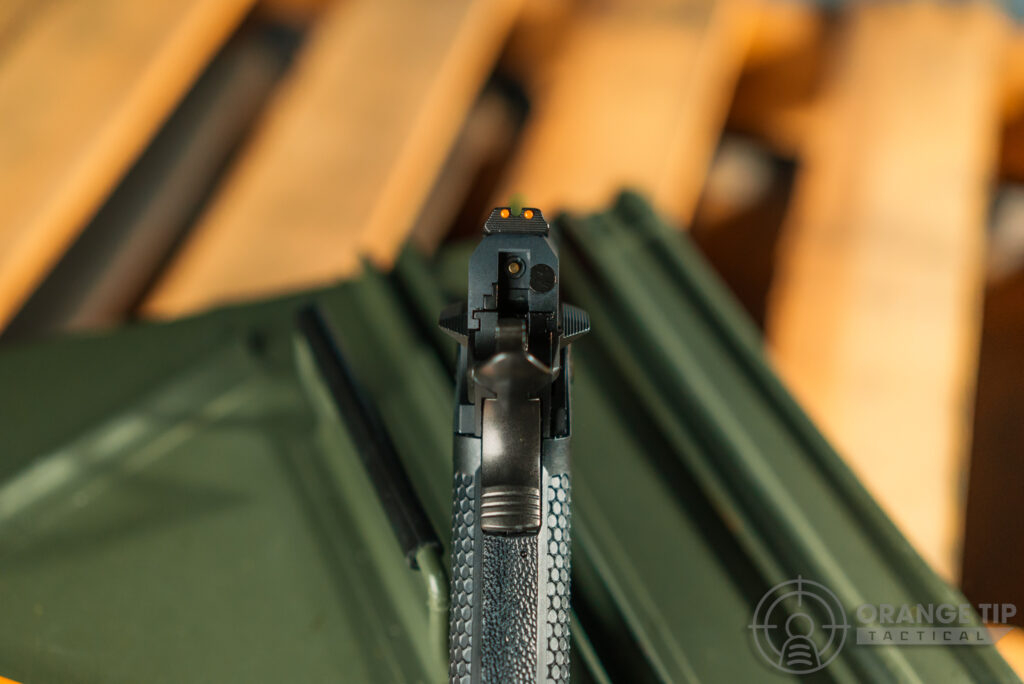 To top it all off, you've got a rather large Picatinny rail that runs almost the entire length of the underside of the frame up front. That should mean that there's (nearly) no pic-compatible accessory that can't be tossed on the AW Custom if so desired! (Though we probably still wouldn't put an M203 on it)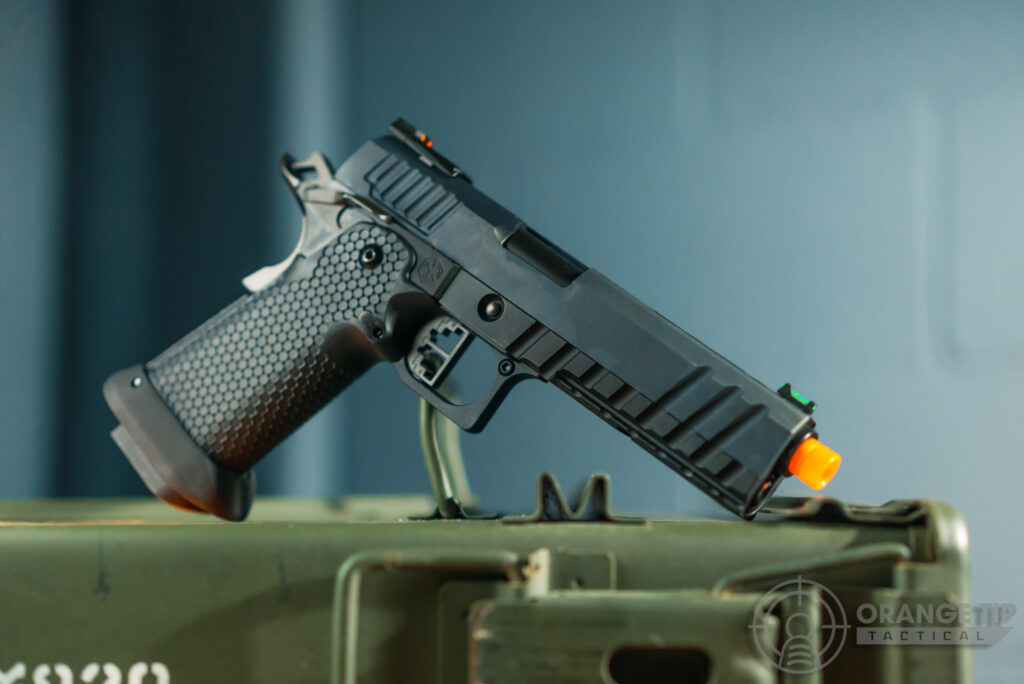 So How Does it Shoot?
Well, one thing's for sure — a full metal slide riding on a full metal frame certainly gives this bad boy some serious *KER-CHUNK*-type blowback action!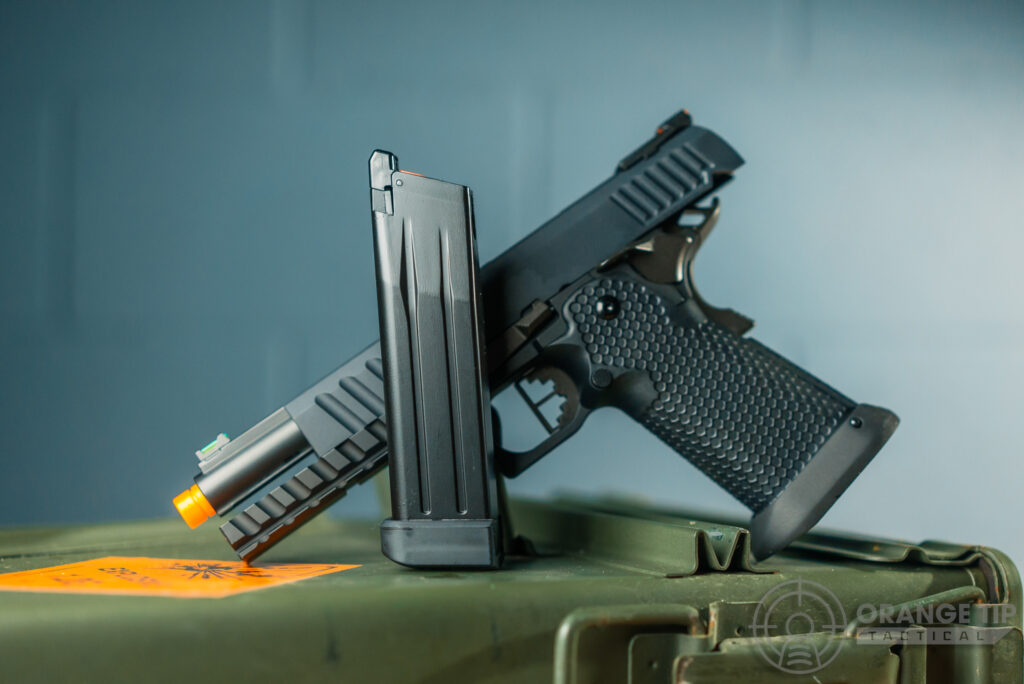 The AW Custom's magazines no-doubt factor into that chunk, considering the fact that they're about twice as thick as your standard 1911 mag, which means you've got a pretty enormous gas reservoir comparatively.
What's perhaps even more impressive is that the gun was consistently able to get through its entire mag without sluggish operation from the cool-down effect of rapid GBB firing. That might not sound impressive until you realize that the AW Custom's magazine holds an astonishing 30+1 rounds — easily one of the largest mag capacities we've seen in a handgun!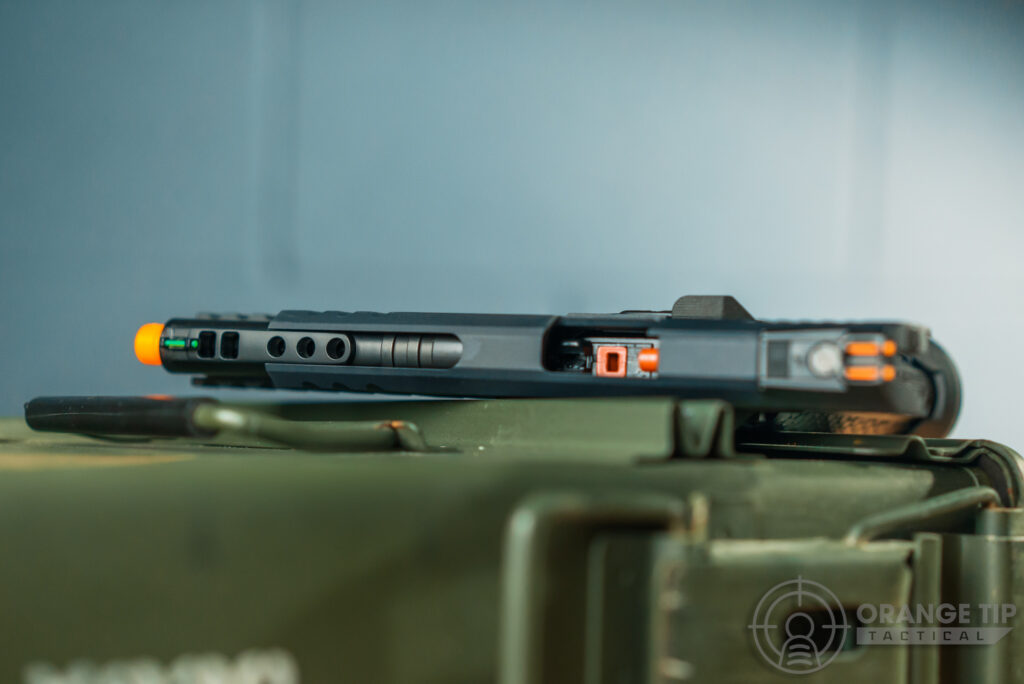 The AW Custom also features an adjustable hop up unit, which will help make minute adjustments to your BB's trajectory to make sure you've got the gun 'zeroed' at the optimal distance.
Keep in mind, pistols aren't marksman platforms by any means, but with a properly tuned hop up, you're going to be able to take accurate shots at mid-range targets and control the 'float' on the round.
The AW Custom clocks in right around 300-330 FPS as measured with the ubiquitous .20g BB — which isn't anything to write home about, but we'll gladly take the standard muzzle velocity for the assurance that the gun can get through its entire magazine!
Efficiency is the name of the game here, folks.
Upgrades
There aren't an enormous variety of upgrades floating around for the AW Custom, but there are some pretty fun options for magazines and more. Let's check them out!
Holster: When it comes to affordable hard-shell options for weirder Airsoft pistols, Matrix' brand of in-house holsters is hard to beat! They're reasonably priced, offer good retention, and are durable to boot.
23
at Evike
Prices accurate at time of writing
Prices accurate at time of writing
Magazines: Are you ready to get a bit ridiculous? Because we're feeling a bit ridiculous.
For those satisfied with the normal (large) capacity AW Custom magazines, you can pick up spares that run on either Green Gas or CO2 for anywhere from $30-45 respectively.
However, for those looking to seize upon the idea of having a high-capacity handgun, we present to you: The Hi-Capa Drum Magazine! Turn heads before you fire BBs at them with this admittedly absurd contraption, allowing you to carry 400 rounds by combining the winding 'wheel' mechanism often found in AEG hicaps with an enormous gas reservoir that makes it all viable!
149
at Evike
Prices accurate at time of writing
Prices accurate at time of writing
Carrying Case: If you're the type of airsofter even considering buying a drum magazine for your pistol, you're probably also going to want something a little bit more robust than the gun's plastic box for transportation – here's to you.
18
at Evike
Prices accurate at time of writing
Prices accurate at time of writing
Pistol Light: Make sure you've got lumens when it counts with this affordable, 400 Lumen LED light that'll attach right to that front Picatinny rail!
57
at Evike
Prices accurate at time of writing
Prices accurate at time of writing
By the Numbers
Reliability: 9 /10
We encountered only one small hiccup during our testing phase with the AW Custom, and it was admittedly induced when we repeatedly pushed a magazine past its cold failure point through about ~5 magazine dumps. We can't really fault the platform for that!
Accuracy: 8/10
The AW Custom's hop up unit seems to give it a slightly finer degree of adjustability than we generally see elsewhere – with a longer-than-average barrel to boot.
Effective Range: 8/10
Confidently snag those 60-90 foot shots with ease — on the higher side for GBB pistols!
Rate of Fire: 8/10
It's a semi-automatic pistol with a twitchy trigger, and there's no way you're going to run the gun faster than it'll fire unless you've got some kind of competition gamer fingers or whatever.
Ergonomics: 8/10
Those with smaller hands may want to steer clear as the gun's both hefty and a bit large, but for us? It's hard to find a 1911 adjacent platform that feels much better than this!
Looks: 10/10
It's like the pistol your grandpa used to shoot Nazis, but upgraded to look like it's from Blade Runner. What's not to love?
Customization: 7/10
Sure, our customization section almost entirely revolved around the fact that you can put a drum mag in a pistol, but also, have you considered how cool being able to put a drum mag in a pistol is?
169
at Evike
Prices accurate at time of writing
Prices accurate at time of writing
Overall 9/10
Conclusion
Despite its chunkiness, the AW Custom Hi-Capa is easily one of the coolest GBB pistols we've had the pleasure of taking for a spin to date.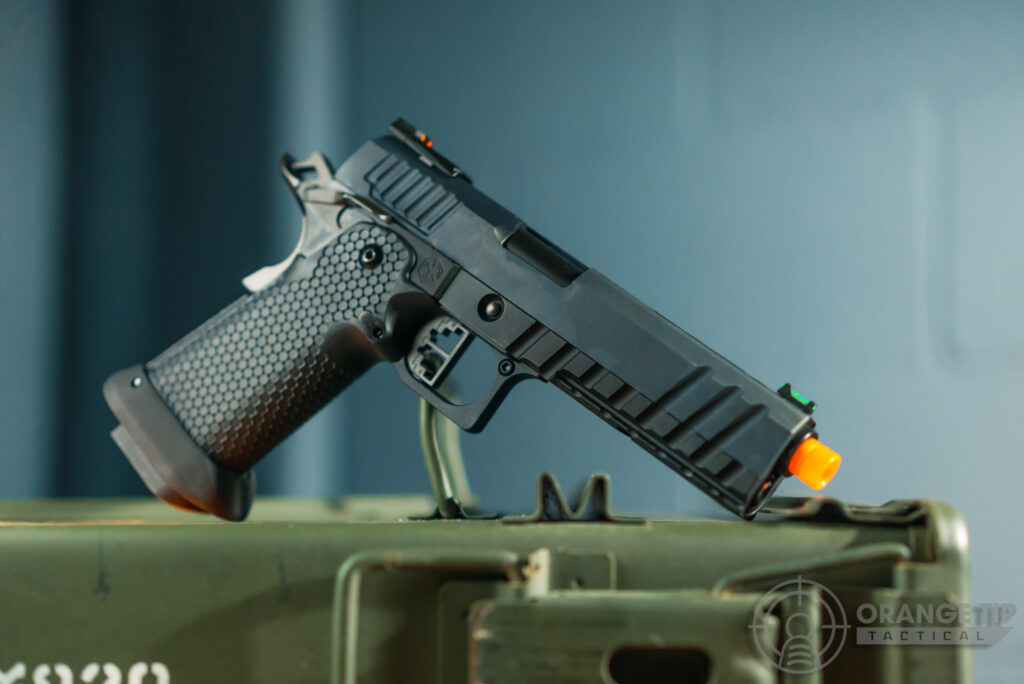 If aggressive, hard-kicking platforms that skew on the larger side are your particular jam, we have a hard time seeing how you won't have a blast with this bad boy!
Have you tried out one of these beauties? Want to? Leave us your thoughts in the comments below! And since you're here, check out some more great gas pistols!