Ever wondered if there was a better way to carry all your gear in the field than by simply stuffing it in your pockets? Maybe it's too hot to play with a plate carrier, or you don't want to drag a pack around with you?
We feel you, which is why we're going to talk a little bit more about battle belts.
By the time we're through, you're going to know the differences between a tactical belt and a battle belt, which one to use, and why you want them–as well as which are the best battle and tactical belts for your games.
Let's get down to business!
Battle Belts vs. Tactical Belts
So, these terms can get thrown around pretty interchangeably, but they're not actually the same thing.
Tactical belts are webbing belts that can be threaded through the belt loops of your pants and do double duty: holding your pants up and giving you a place to attach all your gear. You'll have to thread on your pouches and holster as you put your belt on, which means that you'll also have to remove all your gear to take the belt off.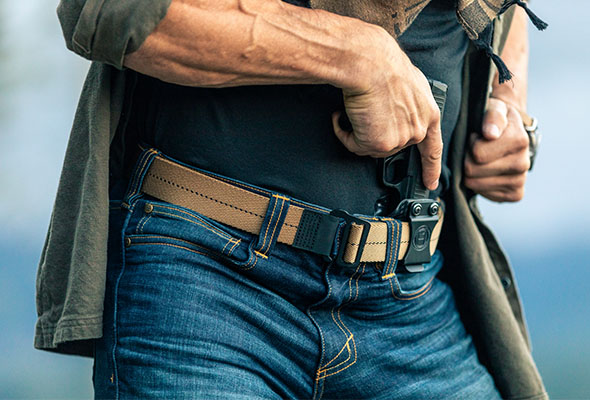 However, these belts are super lightweight and offer you a ton of customizable carry configurations, which means they're pretty popular with airsofters.
Battle belts, also called war belts, are a little more complex. These padded carriers are fitted with MOLLE ladders and velcro to provide you with plenty of space to comfortably carry pounds of gear.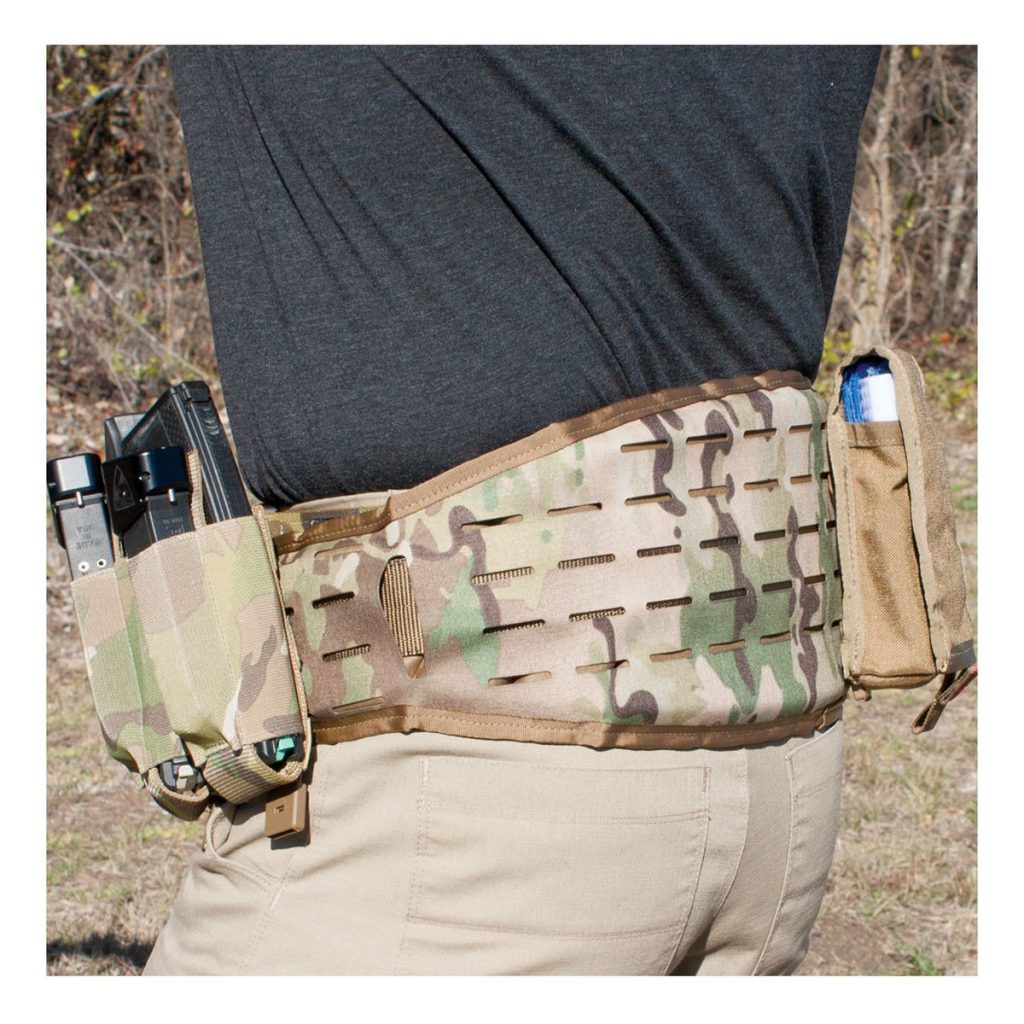 They're a little reminiscent of a lower back brace, but that's because the wide base lets the belt ride comfortably around your waist or hips. Because they don't feed through your belt loops, a battle belt can be worn over your outermost layer of clothing, making it much more accessible.
It's worth noting that most battle belts aren't actually belts, per se. They slot onto a web belt or a tactical belt, and that is what holds it in place.
Which Belt Do I Need?
The answer depends on your play style. Do you bring a lot of gear into the field that you need to access quickly, or do you tend to pack lighter and move faster? Do you get geared up for the day, or do you take your gear off between matches?
If you carry less gear or don't mind staying geared up all day, a tactical belt may work just fine for you.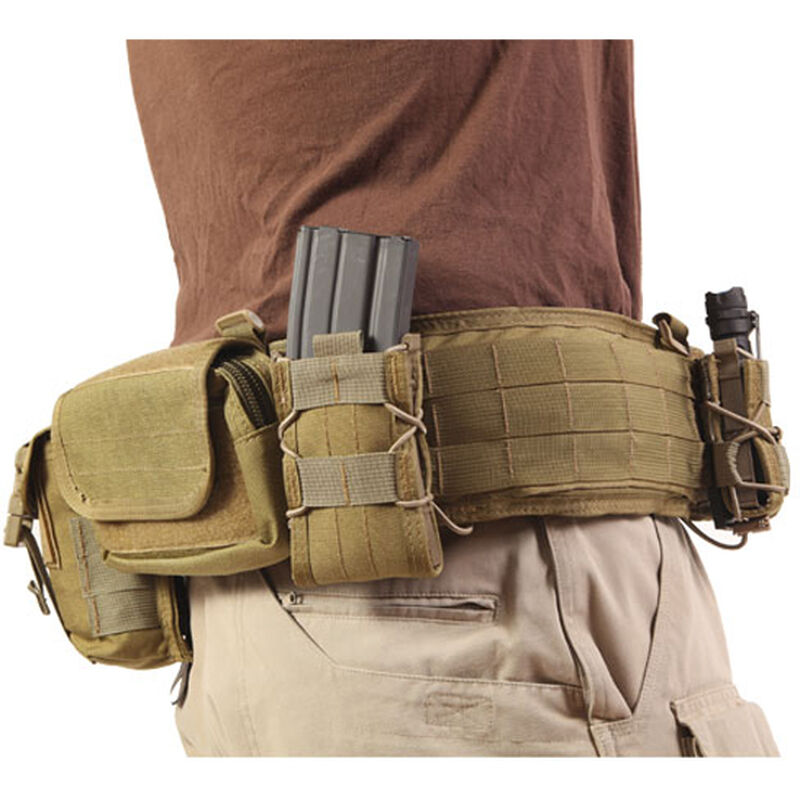 Alternatively, if you carry lots and lots of gear, like to take your gear off between matches, or want to wear your gear over your jacket, rather than under it, a battle belt is right for you.
And now, the part you've all been waiting for–our recommendations!
Best Battle Belts for Airsoft
For all you pack mules and gear junkies out there, here are a few of our favorite battle belts for every budget!
Condor is known for affordable, quality airsoft gear, and their Gen II Battle Belt is just another great product from this brand. 
Made of 100% nylon, this belt is contoured to move with your body, so it won't get int the way as you walk, bend, kneel, or squat. It features a padded mesh lining, which keeps your gear from poking you but also keeps you cool in warmer temps.
Like we said, battle belts need a tactical belt (or similar) to stay in place. Condor's Gen II battle belt makes it easy to thread a tactical belt through the velcro-fastened side panels. These panels also make it possible to wear a drop-leg holster attachment on either side.
There are also four D-rings mounted on the top edge, which allow you to wear an H-harness to help carry the load. With two rows of MOLLE straps, you might have a hard time getting all your gear secured, so we don't recommend this belt for our heavy packers.
Best Budget Battle Belt
24
at Amazon
Prices accurate at time of writing
Prices accurate at time of writing
This belt is a lot thinner than some of the others on this less, so it's less bulky, but that also means that you get less padding, and ultimately, a less durable design.
This belt from 5.11 Tactical and Viking Tactics is a big step up in quality, and also a bit of a jump in price, but it is so worth it. The 5.11 Tactical VTAC Brokos Battle Belt is made from weather-resistant 500 denier nylon with an aerospace mesh lining for your comfort.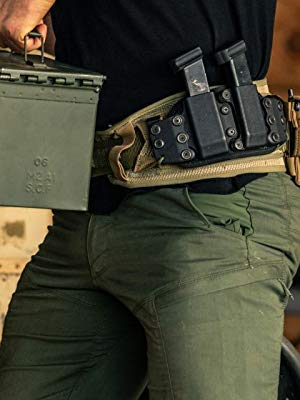 It's designed to evenly distribute weight around your waist, and uses flexible polymer inserts to help maintain its shape and prevent rolling or sagging.
With wrap-around MOLLE and 5.11 SlickStick webbing, you've got a ton of carry options. This also works fantastically with other 5.11 products, like their tactical belts and MOLLE pouch accessories.
Best Value
75
at Amazon
Prices accurate at time of writing
Prices accurate at time of writing
All you need to do is add your belt of choice, and the slotted MOLLE attachments mean that you can even connect attachments to your belt, should you need it!
This is one of our favorites, and Rory carried one for a while. The HSGI Laser Sure Grip Padded Slotted Belt offers some really fantastic features.
Neoprene padding offers a comfy, gel-feel ride for your belt, which means no more getting poked in the kidneys by your MOLLE pouches. Unfortunately, the solid lining means that this belt can get a little warm, but if you're playing in colder climates, you probably won't care.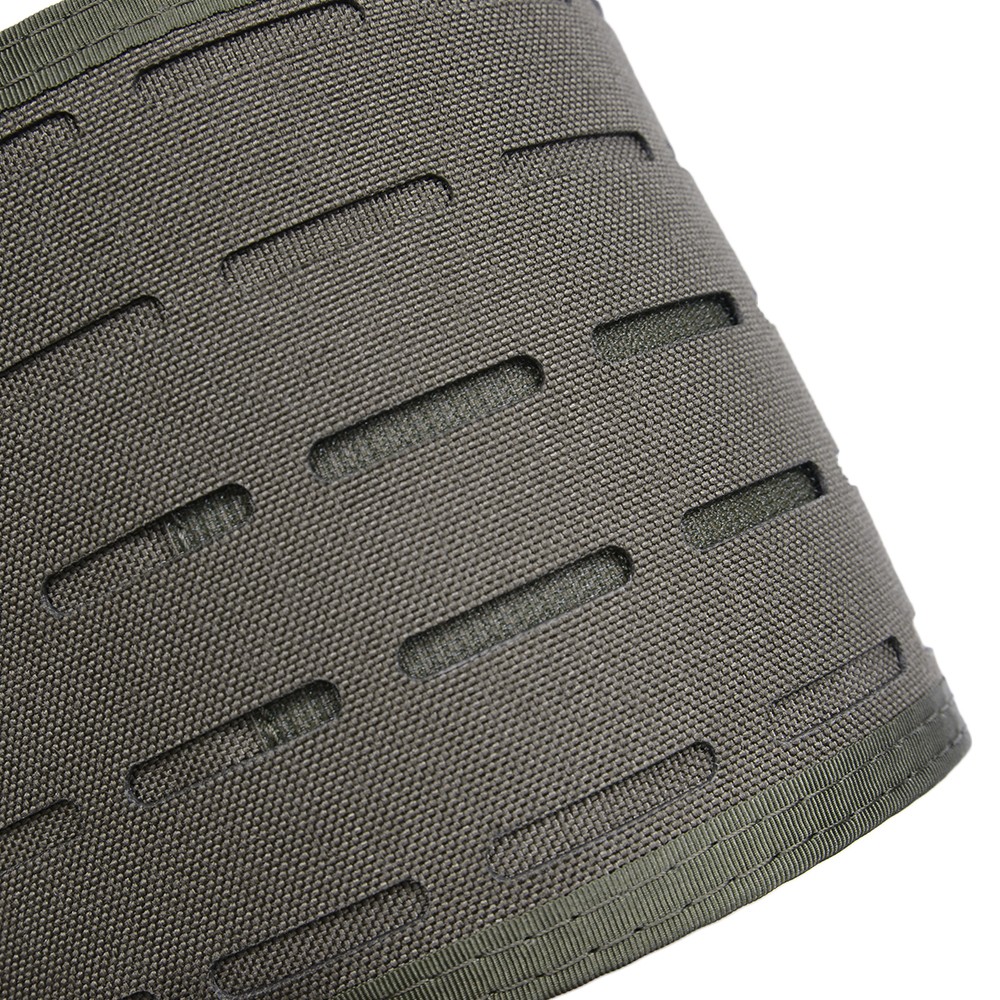 The laser-cut, proprietary MOLLE attachment system is made from 1000 denier Cordura laminate, which means you get less bulk, more attachment options, and–get this–it even features an additional row of slots across the back for even more space.
Best Overall Battle Belt
119
at Amazon
Prices accurate at time of writing
Prices accurate at time of writing
You can wear your tactical belt in any number of ways, thanks to the slots in the outer layer. Have a belt-mounted holster? No worries. Just weave your belt over a column or two of the attachment system and you're good to go!
Best Tactical Belts for Airsoft
Need a tactical belt to match your battle belt? We gotchu. Here are some of our favorite tactical belts!
Lightweight, basic, and easy to use–the Condor G.I. Style Nylon Pistol Belt is a great tactical belt for beginners.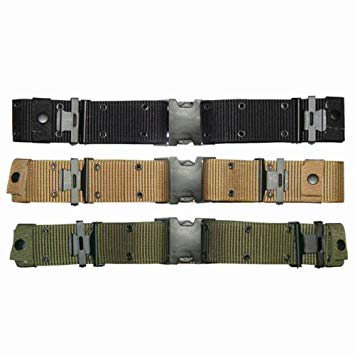 It fastens with a single-handed squeeze buckle for easy and fast removal and is adjustable up to 44". The belt is 2" wide, so you get a sturdy base for your gear or your battle belt.
Best Budget Tactical Belt
11
at Amazon
Prices accurate at time of writing
Prices accurate at time of writing
The nylon webbing is super durable, and this belt will hold you in good stead for your playing adventures.
BLACKHAWK! was created by a former Navy SEAL after his pack failed him… in the middle of a minefield. He made it out and set to work creating tactical gear designed with the needs of tactical people in mind, gear like the Enhanced Military Web Belt.
This modernized take on the classic military web belt features a number of upgrades that make this tactical belt a great choice. There's no heavy metal hardware to weigh you down, and the nylon webbing is strong and durable.
Great Value
26
at Amazon
Prices accurate at time of writing
Prices accurate at time of writing
It uses a side-release buckle for quick on and off, and is one of the top choices among military members, so you know it gets the job done. This belt comes in two sizes: Large (up to 43") and Extra-Large (44" to 49").
We introduced you to Viking Tactics above, but we're pretty excited to highlight their VTAC Cobra Rigger Belt.
First off, the ingenious interlocking buckle is a breeze to get on and off, but it also doesn't dig into you–important for when you're appendix carrying a concealed pistol. Hey, last-ditch efforts have to be made sometimes, right
Our Favorite Tactical Belt
70
at Amazon
Prices accurate at time of writing
Prices accurate at time of writing
It's lightweight, American-made, and super adjustable. We'd probably pick this belt again, as long as our wallets allowed it.
Buckle Up
And that's it! Battle belts are a really useful part of your kit and do a lot of heavy lifting for you–but that also means it's important to make sure you get one that will not only stand up to the rigors of your playing but also will keep up with you for years to come.
Do you use a battle belt to carry your gear? If so, which one? Any others you'd add to our list? Let me know in the comments–I love hearing from you. For all the latest, give Orange Tip Tactical a like on Facebook!