If you haven't heard (or figured it out on your own by now)… airsoft BBs sting. A lot.
Safety is our number one priority–which is why we emphasize the importance of eye protection so dang much–but there's also plenty of other non-mandatory gear that can make your airsofting experience a whole lot more comfortable, such as tactical vests and body armor.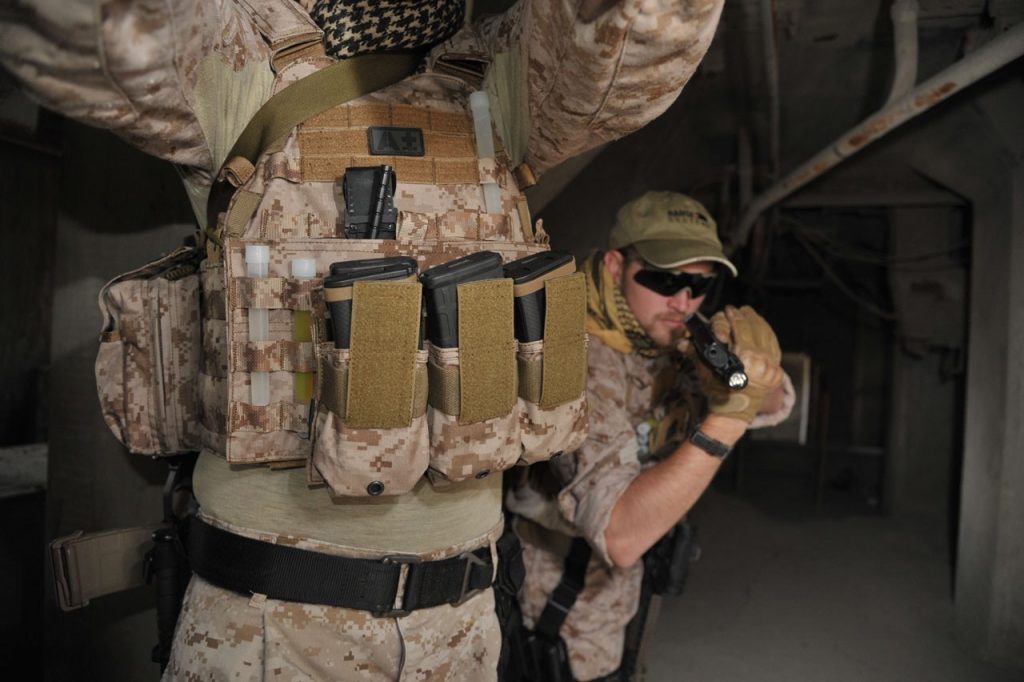 But of course, you don't want to spend your hard-earned pennies on useless junk that's going to fall apart the first time you take it out for a spin on the field.
And why should you? That's why we're going to give you the rundown of why you want body armor, what goes into good armor, and finally–the best airsoft tactical vests and body armor.
Why Do I Need Body Armor for Airsoft?
Okay, so "need" might be a stretch, but we can sure tell you why you might want body armor for your next air-scepade. 
First off, let's get the obvious out of the way–you'll look badass. Want to feel like Rambo? Bob Lee Swagger? The star of one of the countless war movies generated by the conflicts in the Middle East?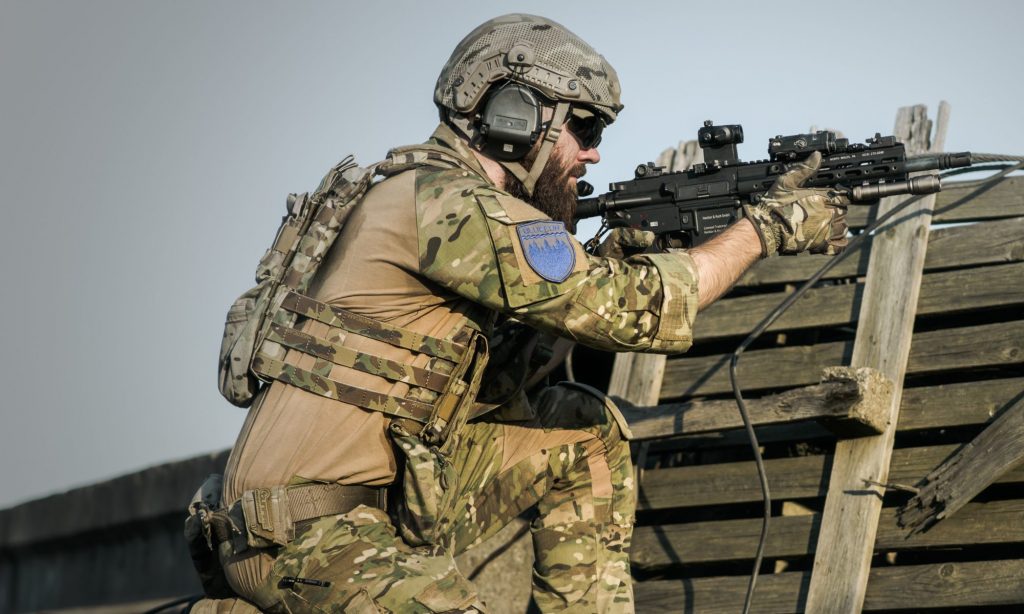 Then you want a tactical vest–simple as that.
Not only will you look cool as hell, but you'll also have pockets to carry all the gear your little heart desires. Extra mags? Check. Grenades? Check. Multitool, hydration bladder, a flashlight? Check, check, and check.
There's a lot of gear that can accompany you into the field and help your game, so long as you have a way to tote it all with you.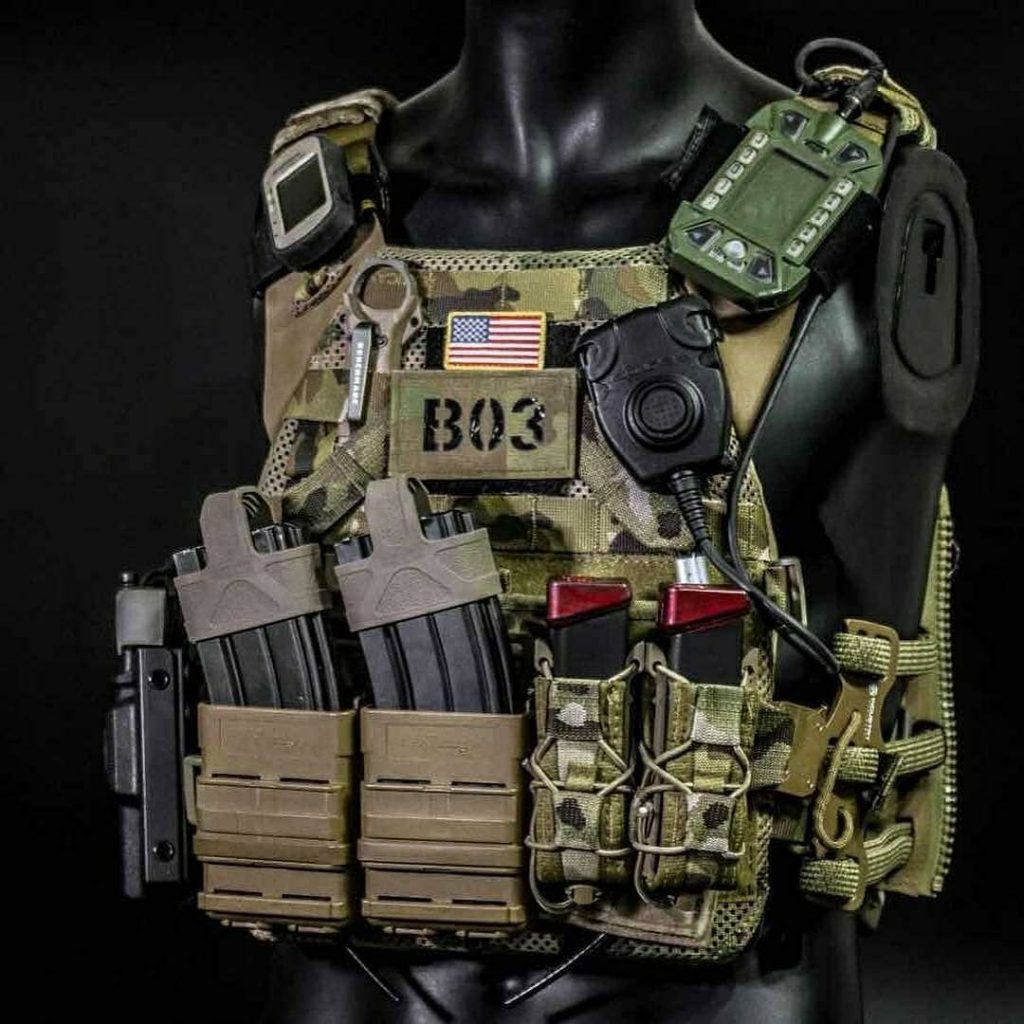 Finally, back to our initial point–airsoft BBs hurt. While torso shots can be less painful than say, knuckle shots, they still can leave painful welts and slow you down. Protect your chest, back, and those soft n' tender under-arm spots with a good tactical vest.
We promise you won't regret it.
What Makes a Good Airsoft Tactical Vest?
Now that you're sold on the idea of getting a tactical vest to add to your kit, let' s discuss what makes a good tactical vest.
After all, we wouldn't be doing our job if we didn't protect you from paying for a vest you ended up hating, right?
First off, let's talk about the design of different airsoft body armor types.
Types of Airsoft Vests
There are classic plate carriers, which strongly resemble (or simply are) the type of body armor employed by the military. 
Plate carriers go on over your head and fasten around your waist, and are designed to, well, carry bullet-resistant armor plate. The good news is, as an airsofter, you don't need the heavy armor plates in your carrier. You can either go without plates entirely, or sub in padded plates that are meant to diffuse airsoft impacts.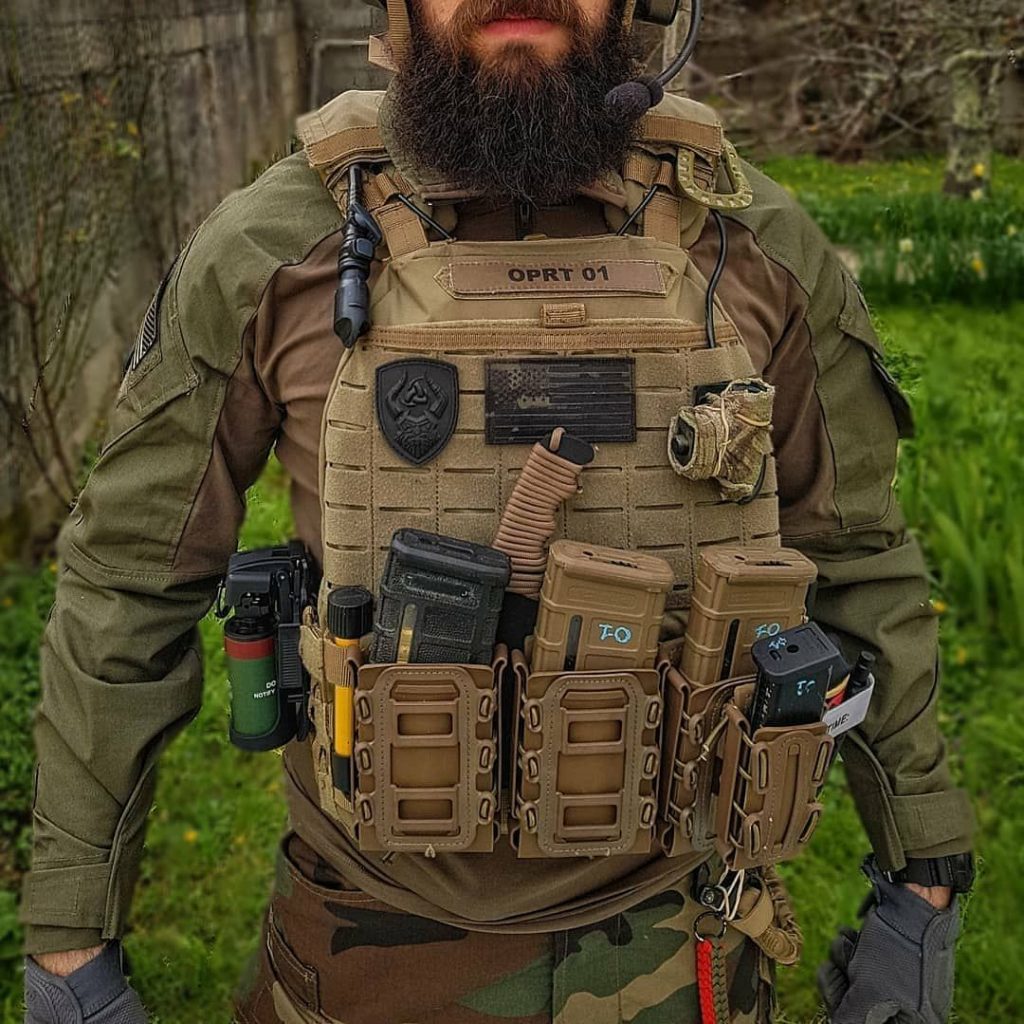 You also can take advantage of their customizable nature to install as many MOLLE pouches and accessories as you can reasonably fit–or like, as many as you actually need. You do you.
Next up, and possibly the most popular option, are cross draw vests. Why are these more popular than the super cool plate carriers? Well, they're easier to get on and off, thanks to a zipper down the front.
They're also less expensive in general, and come with all the pouches and pockets already sewn on, so they don't need you to purchase all the MOLLE pouches and attachments you'd need for a plate carrier.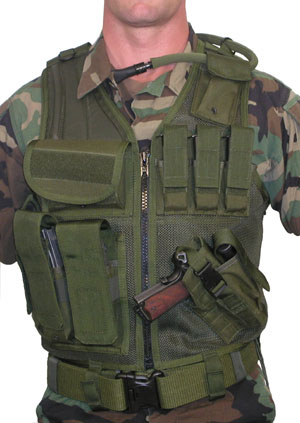 However, that does leave you with fewer options for customization, which can be a bummer if you're particular about your gear. If you're not picky or a hardcore airsofter, though, these should hold you in good stead.
Finally, there's the good old harness and battle belt option, which is less about padding and more about carrying your stuff while cutting your weight as much as possible–great for snipers trying to stalk enemies, not so great for CQB players getting nailed at close range.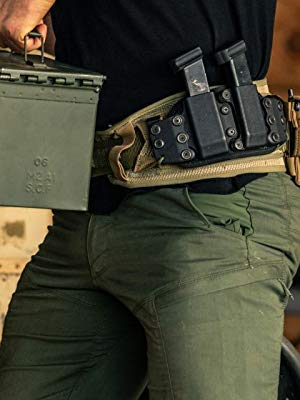 If you're more interested in this route, we talk about it more in our guide to the best battle belts.
Fit & Space for Accessories
Obviously, if the point of a piece of gear is to carry all your toys around, you'll want to make sure that it can do that. If you don't take too much with you into the field, you can get away with fewer pouches than those players who double as a pack mule.
Don't forget to make sure that there is a secure way to keep all those pouches closed, too. Nothing is a bigger bummer than reaching for something in your vest and realizing that it fell out of your pocket…  somewhere.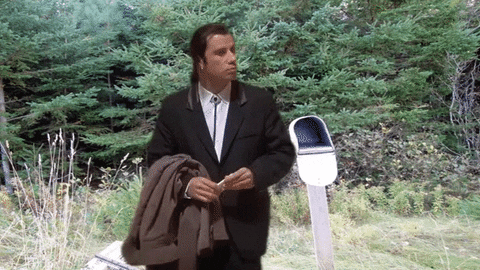 You'll also want a vest that fits you right. It should fit close to your body, but shouldn't squeeze you or restrict your range of motion.
Last, but not least, you'll want a vest that is well ventilated, especially if you play during the summer. It's a really big deal that your vest is breathable, trust me on that.
Durability
Not too much to say here, besides durability is a good thing. Your vest should be a piece of gear that lasts you many years' worth of games. Look for reinforced seams and quality materials, like high-count denier nylon or polyester.
Buying from renowned brands is almost always a safe bet, even though they may be a little more costly. It's better, if possible, to spend a little more on a quality vest, than needing to rebuy your vest every few years when your cheap one gets destroyed.
If you're on a tight budget, though, we'll have some options below that meet our standards for quality and are a little easier on the wallet.
Protection Level
While carrying lots of gear and looking cool while doing it are great and all, we also are in the camp that believes your airsoft gear should offer some level of protection. 
Plate carriers, especially when paired with lightweight plates or pads, offer phenomenal torso protection. Battle belts, on the other hand, protect your waist and not much else. Coverage, fit,  and padding make a big difference in the amount of protection your vest can offer you.
Now, let's get to the part you came here for–our recommendations for the best airsoft vests!
Best Airsoft Body Armor and Tactical Vests
If you're looking for a good quality vest at a bargain price, it's hard to go wrong with vAv Yakeda. This company is known for its affordable, yet quality, gear in the airsoft world. The Ultra-Light Breathable Combat Training Vest is a solid piece of gear that is great for beginners or casual players.
It's highly adjustable, which is great for sizing the vest to fit you and give you the best freedom of movement possible. The mesh base is made from 600 Denier Polyester, so it's pretty durable and breathable, even when fully loaded.
39
at Amazon
Prices accurate at time of writing
Prices accurate at time of writing
This vest features MOLLE webbing on the back, as well as a velcro ID patch. The front of the vest features a variety of detachable pouches, including magazine pouches, a radio pouch, and a cross-draw pistol holster.
While we can't recommend it for military or law enforcement personnel the way the seller does, it's a great first vest to get you in the game.
As we mentioned above, cross draw vests tend to be on the affordable side, and the Lancer Tactical Cross Draw Tactical Vest is another great pick for airsofters on a budget. 
Constructed from 600 Denier Polyester and a mesh base, it's plenty durable and breathable for summer games. It's fully adjustable, so it can fit a variety of body types and sizes and features an adjustable, quick-release belt.
50
at Amazon
Prices accurate at time of writing
Prices accurate at time of writing
This vest comes with a ton of neat features, including 6 pistol magazine holders, 4 rifle magazine holders, a velcro-secured back pouch that can hold a 2.5-liter hydration bladder, and a removable pistol holster that lets you cross-draw with your right hand.
It also has front and back ID panels, so you have some space for your name stripe, morale patches, and more.
Moving on to plate carriers, we have the ArcEnCiel Tactical Molle Vest. If you're looking for something a little more tactical-chic than a cross draw vest, but still don't want to drop a few hundred dollars on a plate carrier, this is a good option.
Now, we really wanted to make fun of the funky capitalization that so many airsoft companies use, but at least these folks were kind enough to explain that the company was named after the French term for a rainbow–arc en ciel. So, we guess they get a pass.
50
at Amazon
Prices accurate at time of writing
Prices accurate at time of writing
Anyways, this plate carrier doesn't have the same adjustability as some of the more expensive ones on our list, but it's a good beginner carrier with lots of features.
It's constructed from 1000 Denier Nylon with a PVC lining to help it maintain its shape. It comes with a variety of MOLLE attachment points, as well as space for sticking velco patches (c'mon, you know you love a good morale patch just as much as we do.)
As for the removable pouches that come with the vest, you get 3 magazine pouches, 2 communications pouches, a walkie pouch, a map pouch, a flashlight pouch, and an IFAK pouch, so you can bring plenty of supplies with you.
Additionally, this is an actual plate carrier, which means you can insert plates or pads to help protect your torso.
If you're a bit more of a DIYer and want more control over what's on your plate carrier (or like, you don't want pouches on your plate carrier, which is weird but okay) the Condor Modular Operator Plate Carrier is one of our go-tos.
It's a ridiculously popular plate carrier for airsofters because it blends quality with a wallet-friendly price for a carrier you feel good about purchasing.
Unlike the others above, this carrier doesn't come with any external pouches–you'll have to supply your own–but it does come with a front map pocket, an adjustable/detachable cummerbund, 4 pockets for plate armor, and a pocket to hold your hydration bladder.
67
at Evike
Prices accurate at time of writing
Prices accurate at time of writing
We also like the detachable shoulder pads (hello, relief from heavy gear) and the emergency drag handle, that lets your buddies pull your lifeless body out of the way after you've been eliminated.
It's made of rugged Nylon Cordura fabric with a lightly padded mesh base for comfort and breathability.
If you want a solid plate carrier that will last you through years, and years of serious play… the 5.11 Tactical TacTec Plate Carrier is the one for you. 5.11 is trusted by law enforcement and federal agencies across the nation.
Their TacTac plate carrier was designed from the ground up with the input of real tactical operators to create a plate carrier that met their needs. 5.11 put some revolutionary design into this carrier, making it lightweight and super comfortable to wear.
199
at Evike
Prices accurate at time of writing
Prices accurate at time of writing
It's made from 500 Denier Nylon with a laser-cut micro-loop web platform to support all your pouches. It will hold 2 ballistic plates in interior pockets and features a one-handed escape system so you can get it off easily.
This carrier also features front and back padding with wide airflow channels to help keep you cool, and padded yoke shoulder straps to help offset the weight of heavy gear on your shoulders.
And of course, we couldn't leave you without our bougie option–the Crye Precision JPC 2.0. If you're going to ask Santa for something because you've been extra good, may we suggest this carrier?
Sure, it's a little… a lot… more expensive than others on our list, but it's oh so worth it. This minimal, lightweight carrier maximizes protection while minimizing the amount of bulk and extra weight you'll need to lug around. Not to mention, it breathes great.
242
at Evike
Prices accurate at time of writing
Prices accurate at time of writing
It's easy to get it off in an emergency with a simple 2-step system, features high-performance stretch pockets to hold your plates in place, no matter how thick they are, and comes with an integrated low-profile cummerbund that allows you to add pouches to both the inside and the outside of the band.
There's hidden vertical webbing loops to support a detachable chest rig. There's a drag handle that supports up to 400 pounds. There's zippers located along the edges of the panels so you can add zip-on panels. There's just about anything you could want in a plate carrier–except for the price.
And even then, this Made in the USA beauty is worth every penny.
Not quite a cross draw vest, not quite a plate carrier, the Condor Outdoor Modular Chest Set is right at home on the airsoft field.
It offers 9 built-in 5.56 magazine pouches, a built-in hydration bladder carrier, and 5 internal mesh pockets–in addition to a bunch of MOLLE webbing.
86
at Amazon
Prices accurate at time of writing
Prices accurate at time of writing
It may not carry plates, but his padded rig still offers some great protection. The chest platform is detachable, so you can customize your loadout as needed. This rig also features padded shoulder straps for all-day wear.
If you're looking for the flexibility and coverage of a plate carrier, but don't need to actually carry armor plates, this vest is a great compromise.
Conclusion
There are a lot of options out there if you're looking for some torso protection on the field. It all comes down to what you're comfortable with, what your budget is, and, of course, what you like the look of.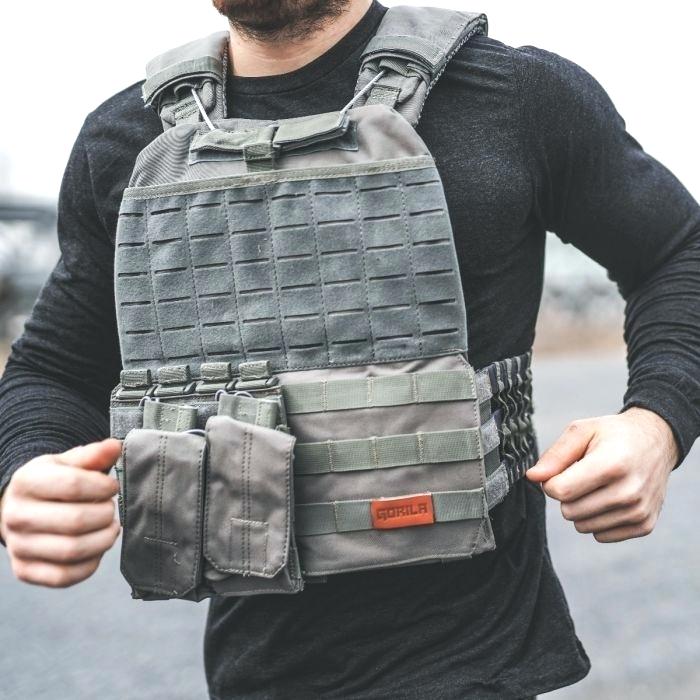 If you're working on a budget or just getting into airsoft, we recommend the Lancer Tactical Cross Draw vest. For those who want a plate carrier, it's hard to go wrong with the 5.11 Tactical Tac Tac Plate Carrier. And, if you want the best of both worlds, give the Condor Outdoor Modular Chest Rig a try.
So, how'd we do? Anything missing from our list that you'd recommend? Share with us in the comments. If you haven't already, give Orange Tip Tactical a like on Facebook!