As one of the longest lived airsoft manufacturers still in existence, Tokyo Marui's name carries with it a certain reputation (and a price tag to boot). Generally speaking, Marui products are renowned for their reliability, performance, and attention to detail, and the Next Generation Recoil Shock models up the ante by delivering substantial kinetic feedback with every shot!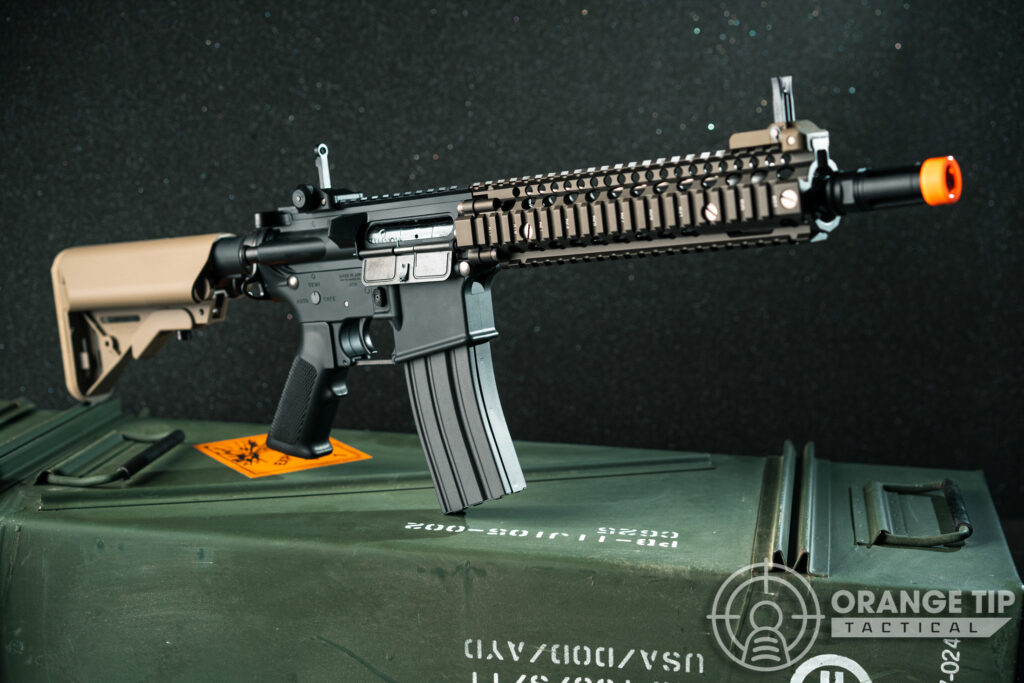 TM's MK18 Mod 1 is no exception–delivering a functional, accurate replica of the iconic SOPMOD M4 system used by forces under the SOCOM umbrella – but is this hot CQBR worth the admittedly steep cost?
Let's find out!
799
at Evike
Prices accurate at time of writing
Prices accurate at time of writing
Who's It For?
For the unfamiliar, the MK18 Mod1 is the Navy's classification for CQBR rifles created by pairing a Close Quarters Battle Receiver with an existing M4 lower receiver–though the rifle is in use with several other groups as well.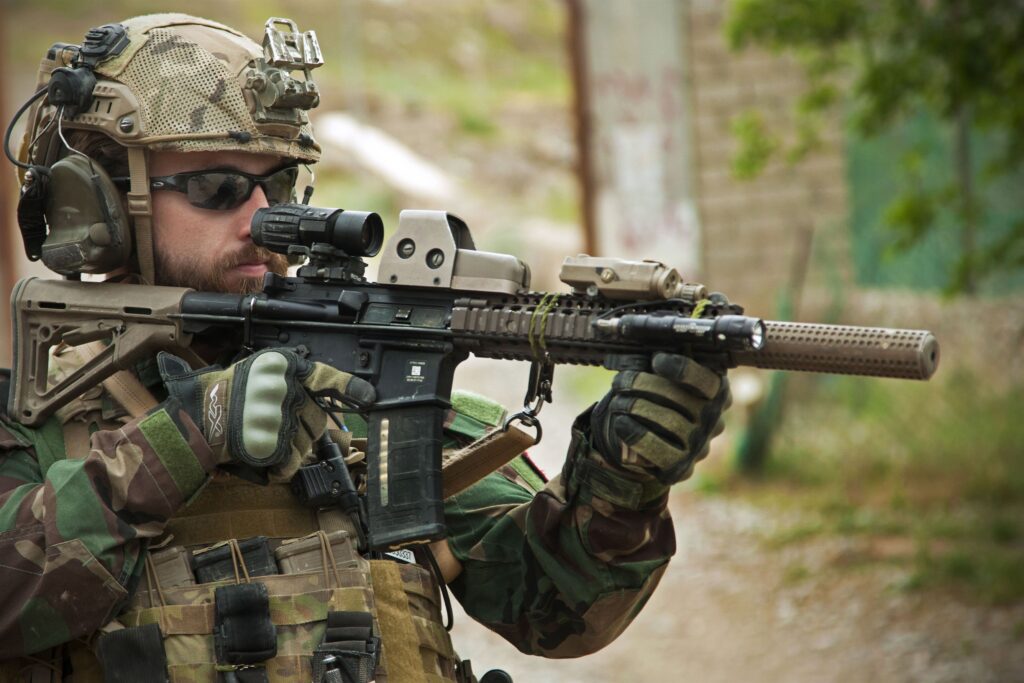 Notably, the MK18 Mod 1 is distinct from the Mod 0 variation in that the traditional M4-style gas block and front sight post have been removed, replaced by a low profile gas block that sits inside the Daniel Defense rail system.
As you might imagine–an airsoft replica deadset on recreating all the specifics here is going to be aimed directly at the nerdiest of Milsim nerds who geek out on and appreciate details like this! Considering that many different units have used the short-barreled MK18s in the past decade, impressionists and those looking to build reasonably accurate loadouts for attending more hardcore military simulation-style events will likely find a great base gun in Marui's MK18–if cost isn't a limiting factor for you.
Fit, Feel, and Finish
As one might expect of Marui, the MK18 looks and feels fantastic!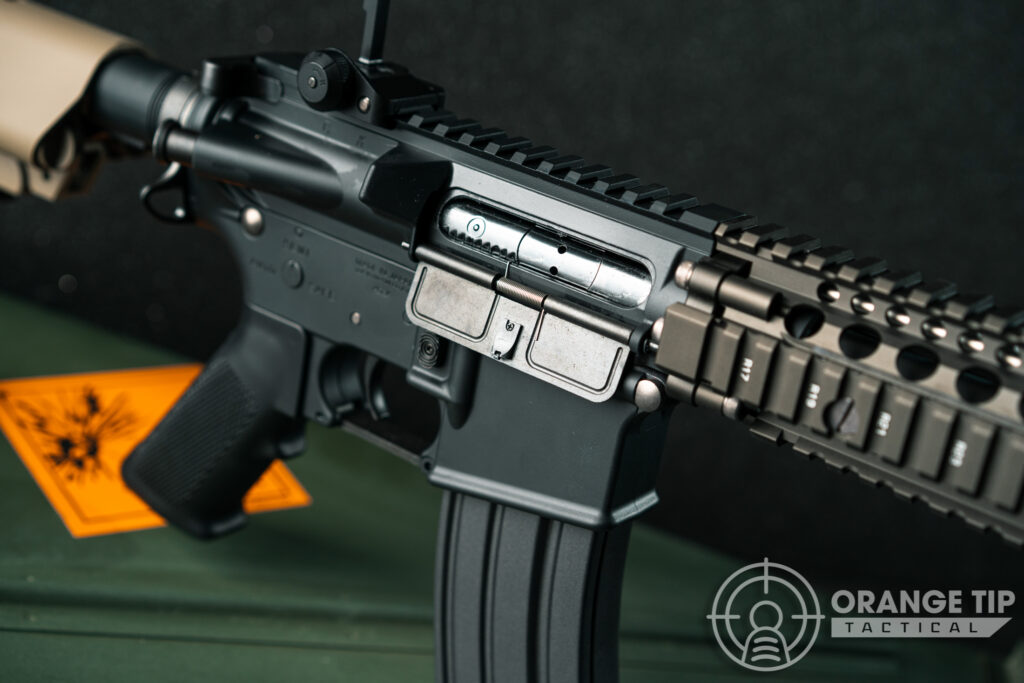 As is typical of Tokyo Marui, external quality here is fantastic. The gun's solid, with no wobble, shake or rattle to speak of!
From front to back: you've got a 10.5″ outer barrel adorned with a replica of the three-pronged flash-hider found on the real MK18, capped with a plastic orange tip that's held in place with adhesive and a set screw.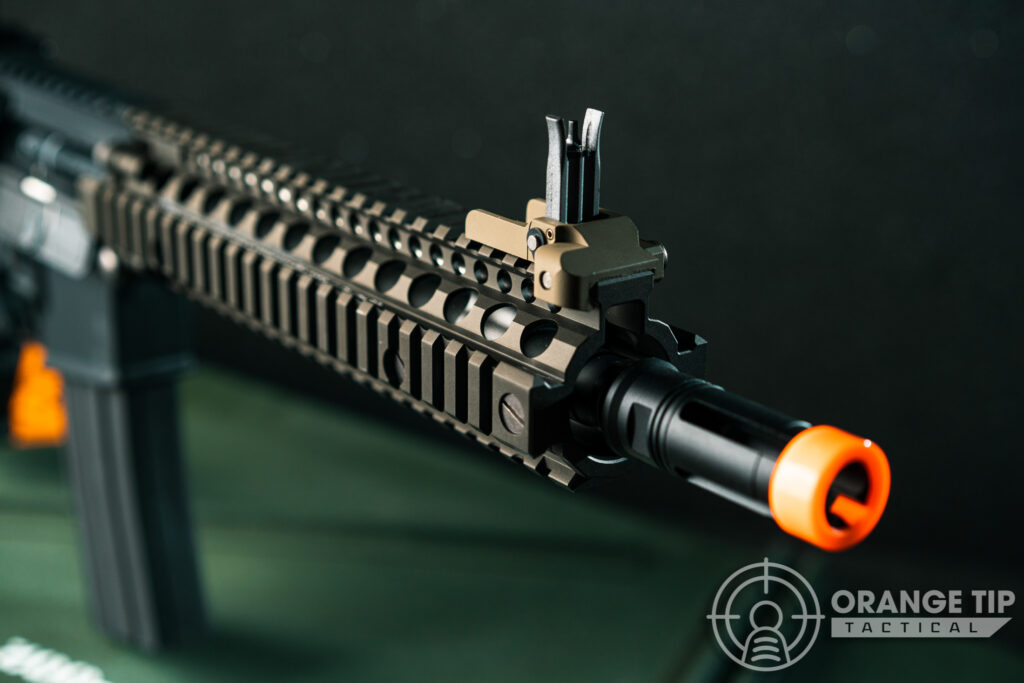 Just behind the business end is the flip-up front sight, itself a replica of the KAC front sight issued in the package. While you may notice that there are several contrasting shades of flat dark earth here–that's actually true to the real rifle as well! Actual MK18s are pretty easily identifiable by their mishmash of a general dark khaki color, and Marui's replica pulls this off quite well.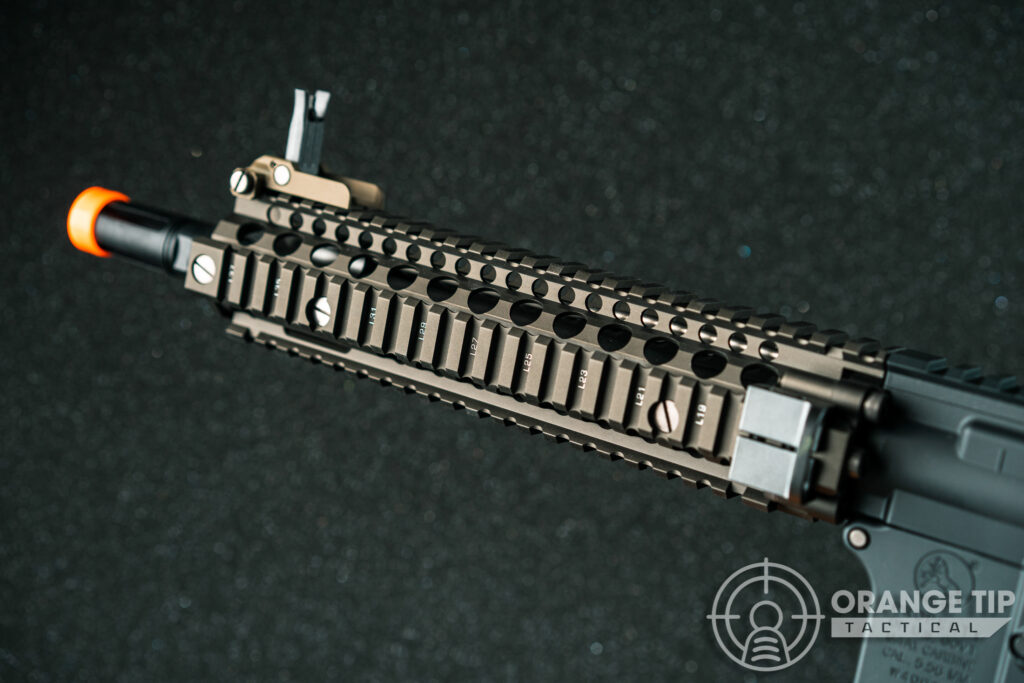 A licensed replica of Daniel Defense's MK18 rail is also faithfully recreated here. Sporting authorized DD logos tucked into the recesses where the two halves of the rail meet, the MK18 rail is free-floating–secured snug against the AEG's barrel nut with 6 set screws arrayed around the barrel.
This means that you've got a super solid platform for mounting accessories too, including the ability to mount either a RIS compatible M203 grenade launcher to the rail itself or directly to the matching barrel lugs by ditching the lower half of the rail system. With 4 10″ Picatinny slots in total, your ability to mount accessories is essentially endless!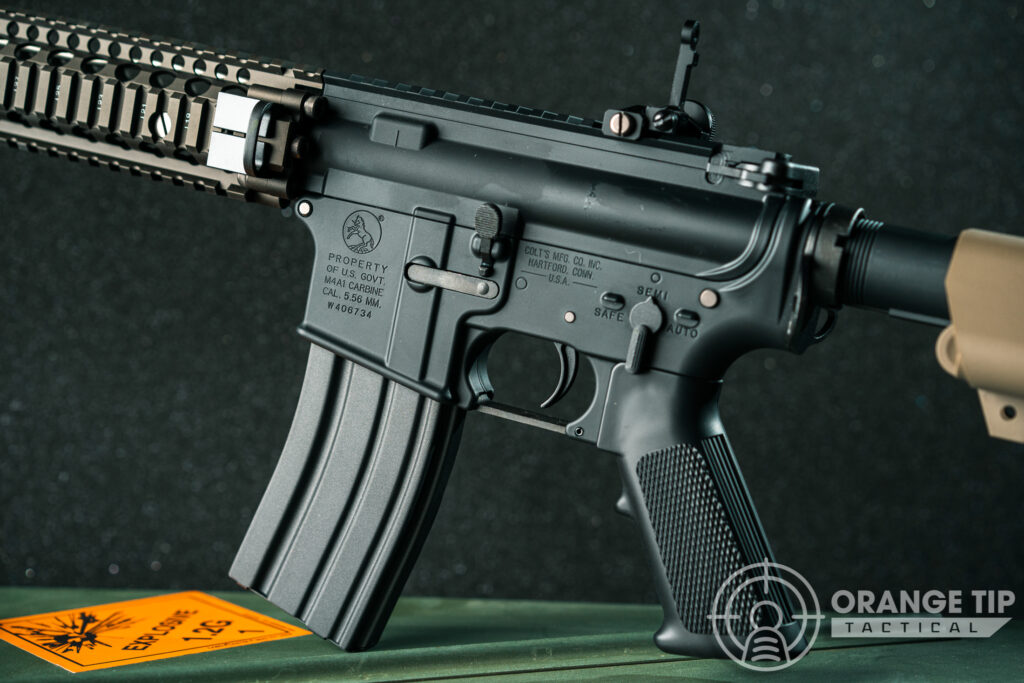 Included and pre-installed on the rail is a sling mount that sits just forward of the receiver, giving you a small but sturdy loop for use with wolf-hook style slings. It too can be moved about as is necessary by simply undoing the two allen locking screws.
The receiver itself is fully metal and sports Colt M4 trademarks–a contentious addition if you know anything about the history of trademarks and airsoft, but a very cool one now that we're all firmly on the right side of the law! 😅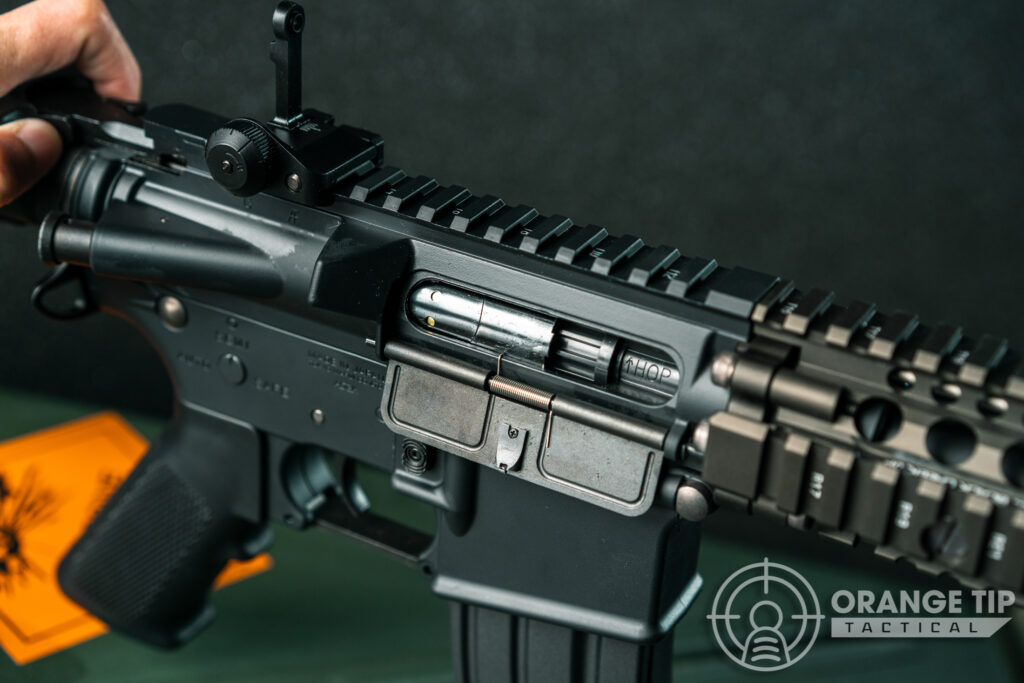 If you've played around with an airsoft M4 before, this is all going to be familiar territory for you. A mock bolt system slides back to reveal a rotary, drum style hop-up mechanism, which gives you a firm tactile "click" when adjusted to help with dialing your BB's flight path in just right.
As you can see, the rear of the receiver's optics rail features a rear flip-up sight as well! It's got adjustments for windage accessible via the large knob on the right side–although we doubt you'll wind up using that for airsoft, it's a nice detail nonetheless.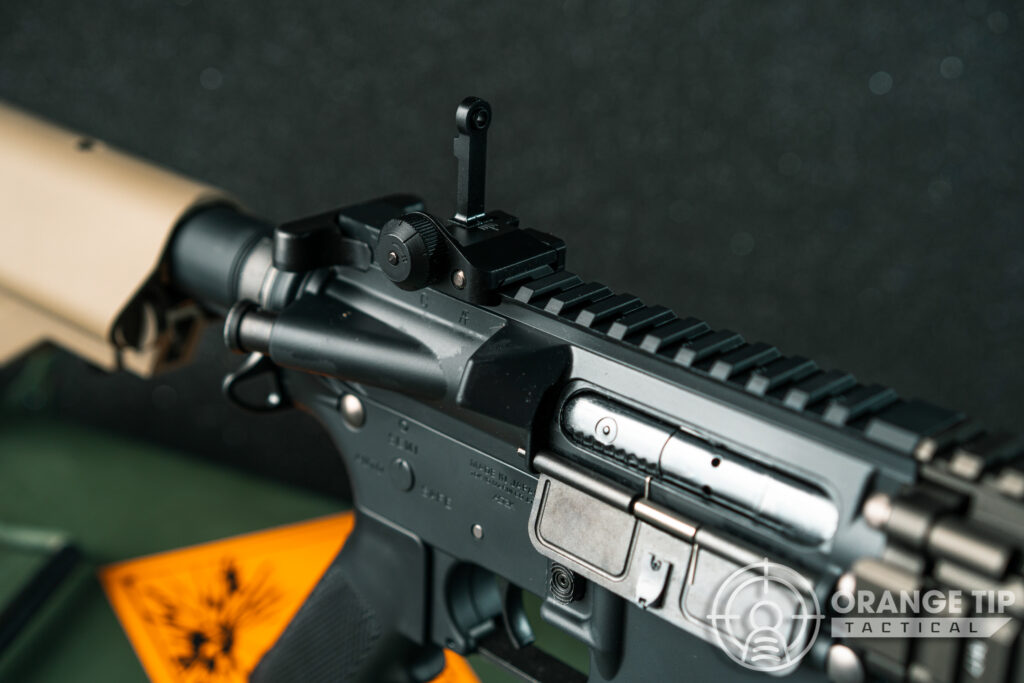 The pistol grip itself isn't anything to write home about, but it does the job. It's a standard A2 style grip that houses your motor, with an external motor height adjustment screw on the bottom of the grip.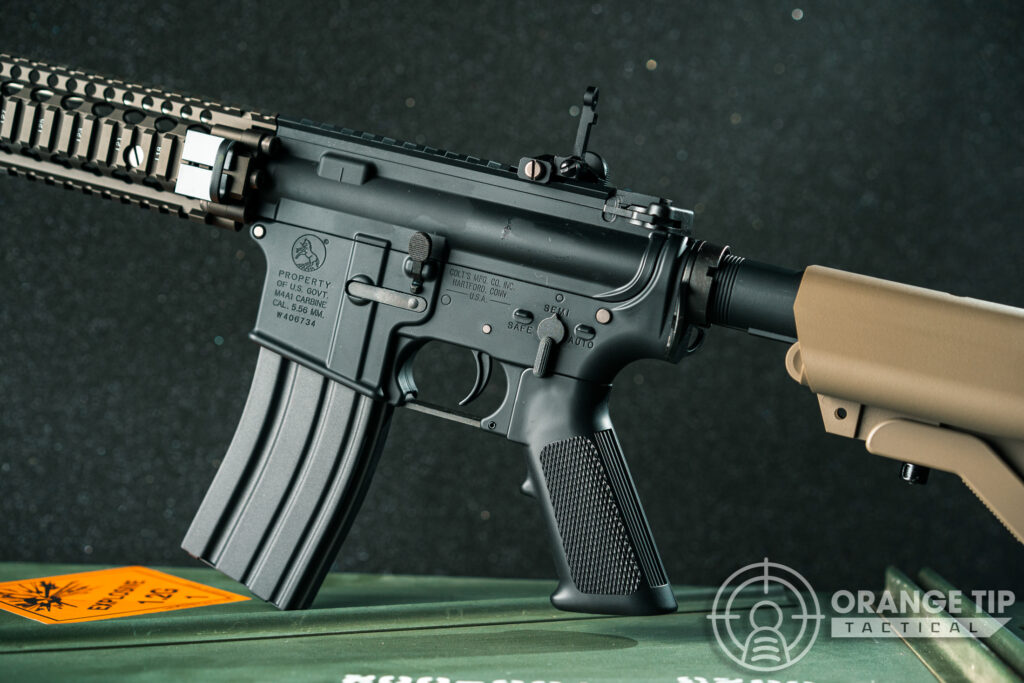 As you can see, you've got two rear sling points just aft of the receiver, sandwiched by the castle nut and buffer tube assembly. Just like the sling point up front, these bad boys are going to work best with an HK or wolf-hook style clasp, though you can definitely get creative with a bit of paracord if you need to.
Lastly, a crane-style FDE stock adorns the buffer tube. In addition to being your primary point of contact when shouldering the AEG, the butt plate is also removable and houses your fuse and battery storage systems. Neat!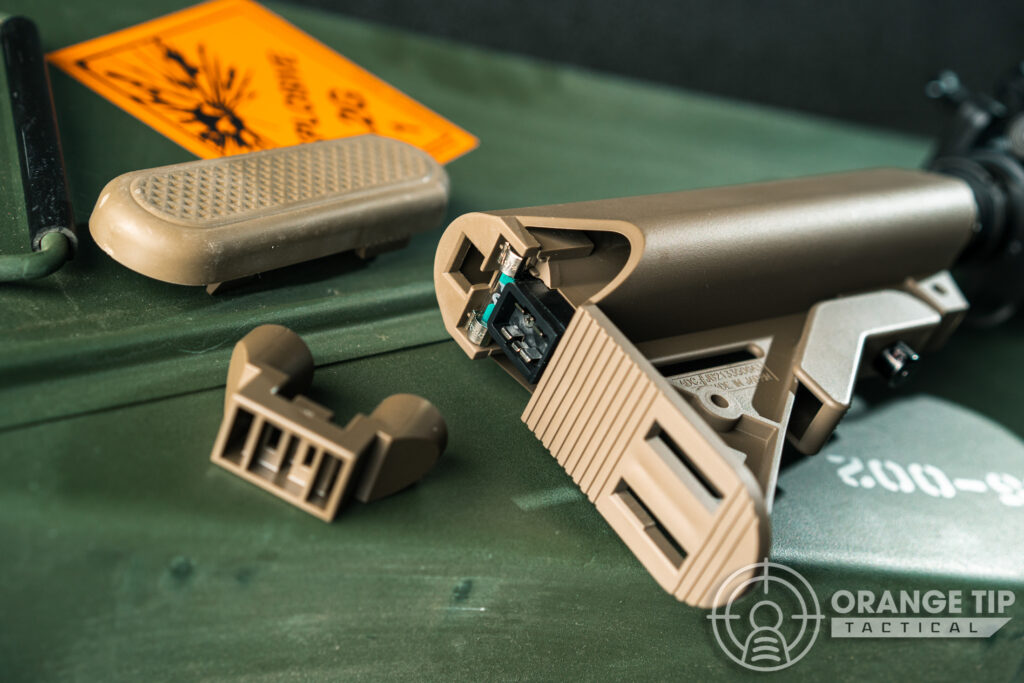 As you may have noticed, that fuse and connector system in the back isn't your typical Tamiya-style connector. All TM NGRS models come with a proprietary battery system–although you can swap the connectors out for a standard Tamiya plug with a few parts if you're so inclined!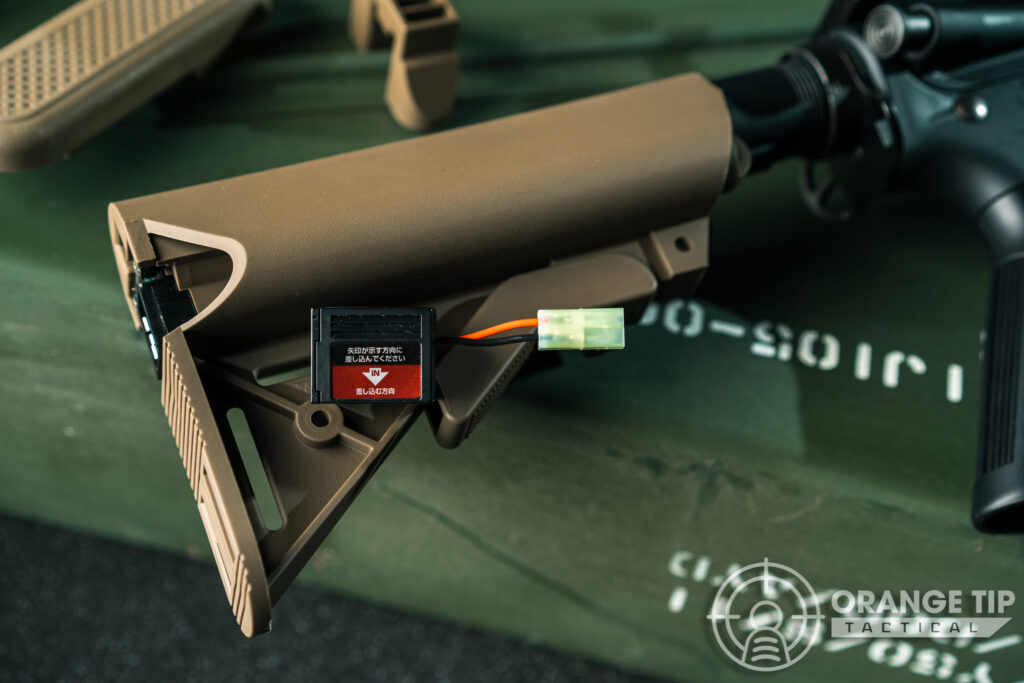 Initial impressions are pretty damn good! We'd expect nothing less from the masters at Tokyo Marui, but how's this hot little AEG shoot?
How Does It Shoot?
Obviously, since this is a Marui Next Gen Recoil-equipped AEG, firing the gun is going to provide you with some rad kinetic feedback every time you pull the trigger!
The NGRS system feels great, and simulates the recoil found on real firearms as a result of the rearward travel of the bolt required to chamber the next round. Here, it's recreated entirely for fun and to add another layer of realism to your BB dork experience, but it's quite neat! It's comparable to a gas blowback rifle in feel–chunky and with a good "thunk" to it, but not so much as to throw off your aim or become unpleasant.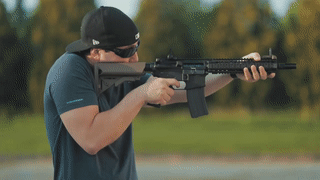 In other words, it's the level of quality you'd expect from Tokyo Marui!
FPS wise, you're also going to be in familiar Marui territory. Most TM guns abide by Japanese laws regulating allowable power in BB guns and replicas–dictated by Joules as a measurement of power generated. As such, the Marui MK18 is hitting right around 300 FPS or so stock, but the repeatability of the shots and FPS spread show that FPS isn't everything!
Tokyo Marui AEGs generally run a little bit lower velocity wise, but their stellar internals and hop up components mean that you should have no issue getting those rounds where you need them when it counts the most. There are also plenty of ways to upgrade an NGRS AEG to get that FPS back into typical territory found on CQB and outdoor fields if you're so inclined!
Additionally, when using Marui NGRS magazines, the MK18 will cut off the rifle from firing when it detects the magazine is empty–meaning no more surprises when you go to pull the trigger and only send puffs of air your opponent's way! Another cool little feature that makes the MK18 a winner in the eyes of milsim-oriented enthusiasts.
Upgrades and Accessories
As this is an M4-based platform, you've got a ton of options when it comes to kitting out your blaster! In keeping with the general SOPMOD Block 2 look and feel of the AEG right out of the box, we'd probably toss something like this scout light on the DD rail up front, with something like this FDE stubby vert grip for finer control in CQB. For guns of this era, a PEQ-15 Laser Designator is going to be right at home–and this one's got visible light, and green +IR lasers if you're the kind of fancy lad that plays bb guns with night vision! 😵
79
at Evike
Prices accurate at time of writing
Prices accurate at time of writing
Looking to really step up that firepower? Something like this rail-mountable M203 grenade launcher is going to allow you to sweep rooms with shower shells, or lob pyro at opponents from afar using a TAGINN shell and projectile. HELL YEAH.
59
at Evike
Prices accurate at time of writing
Prices accurate at time of writing
Optics
While many different optics were issued in the SOCOM Block 2 package, many aren't available in airsoft replica form! (At least not reliably). The Elcan Spectre and EOTech 553 optics in FDE would be a solid addition if you can scrounge em up, but barring that, we're partial to G&G's Micro Red Dot that'll look just as good considering you've got a CQBR length barrel!
60
at Evike
Prices accurate at time of writing
Prices accurate at time of writing
By The Numbers
Reliability: 10/10
We had no issues during our testing and eval phase with the AEG–and again, if there's one thing Tokyo Marui nails, it's quality! We suspect that in its stock iteration, the MK18 will run for a good while yet to come. While there are many jokes in the community about releasing Marui's signature "gearbox fairies" if you ever decide to upgrade the gun, you can take that as a testament to just how good the Marui factory's attention to detail is. No complaints here!
Accuracy: 10/10
As mentioned, Marui hop up units are quite nice, and landing repeatable hits at both short and mid-range distances when you've got it dialed in is a breeze! We're pretty pleased with our Mk18's group at 75 feet, and have no doubt you can eke some extra accuracy out of it with a tightbore barrel.
Effective Range: 7/10
Again, this is a CQBR-length barrel, so your range is going to suffer a tiny bit–but that's also not quite what this AEG was designed to do. You're going to be limited past ~100 feet or so, but for those focusing on the fight up-close, this shouldn't be an issue.
Rate of Fire: 7/10
While it's a stock gun, Marui's own proprietary battery is an 8.4v NiMH pack, meaning that you're likely not going to be getting the kind of RPS you might be used to with lithium polymer batteries. That being said, the RPS is still healthy–though we'd definitely look into higher speed gears in the future if the amount of BBs you're able to quickly put into the environment is a concern for you.
Ergonomics: 8/10
It's an M4! It's essentially the Honda Civic of airsoft, and while you're basically able to trick it out to your heart's content, it's plenty comfy from the get-go if you'd rather leave it stock.
Looks: 9/10
For us, the Block 2 M4 is one of the more iconic pieces of equipment from the past 20 years of small arms tweaking, and seeing Marui's recreation up close makes us feel some type of way. Down to the mismatched FDE colors, this thing's got just about as much charm as it can have without actually being real!
Customization: 9/10
Once again: M4! You're snagging a platform for which the vast majority of airsoft accessories and upgrades are produced–truly, the world is your BB oyster. 🦪
Conclusion
While the price tag is admittedly quite steep, for the milsim-minded player that's of the "buy once, cry once" mentality, we have no issue giving the TM MK18 NGRS our full endorsement!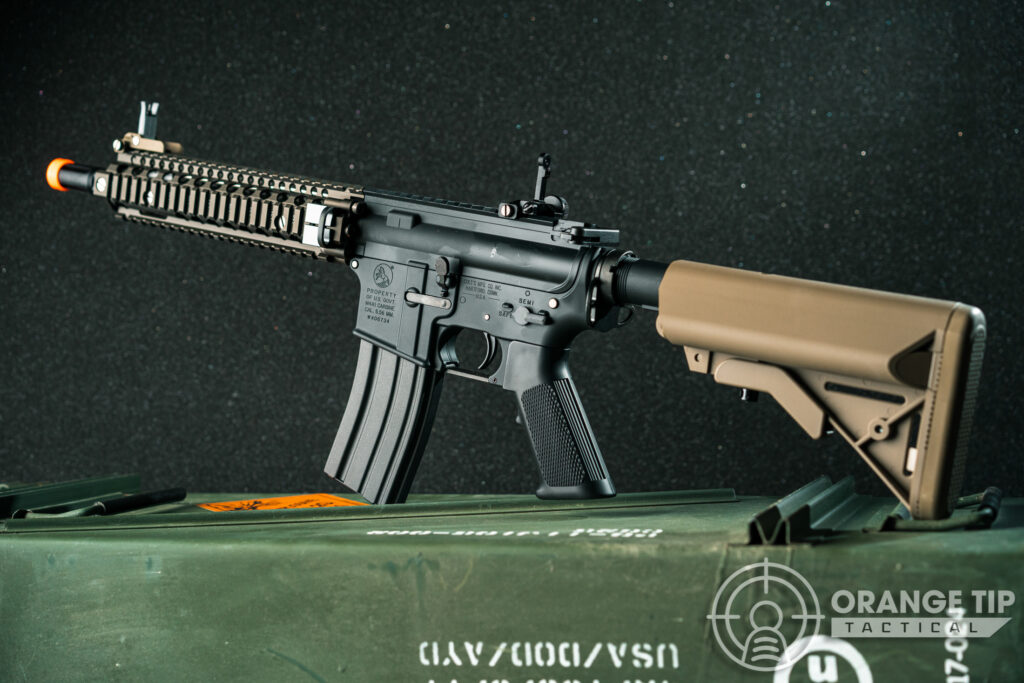 The combination of detail, performance, quality and the feel of having an AEG buck in your hands as you fire it is just too cool to pass up, and if you're thinking about hitting a weekend-long milsim event with a kit that utilizes a Block 2 M4 of some flavor, we think you'll be pretty damn pleased with one of the raddest Mk18 builds currently on the market. 😎
799
at Evike
Prices accurate at time of writing
Prices accurate at time of writing
Whatcha think about the TM MK18 NGRS? Love it? Hate it? Gotta have it? Let's chat in the comments below! If this intrigues you, check out the Best M4 AEGS for All Budgets!