First cutting their teeth in the world of gas blowback pistols before moving into the AEG game, KWA is a brand that has managed to garner a dedicated following–and for good reason!
First appearing at a time when many players had to choose between either solid externals or upgraded internal components when choosing an out of the box airsoft gun, KWA has managed to deliver a whole host of AEGs that break the mold on both stock performance and affordability.
Perhaps one of the most popular models by virtue of it being a tabula rasa for later upgrades, the KM4A1 is an absolute beast of an AEG–let's dive in!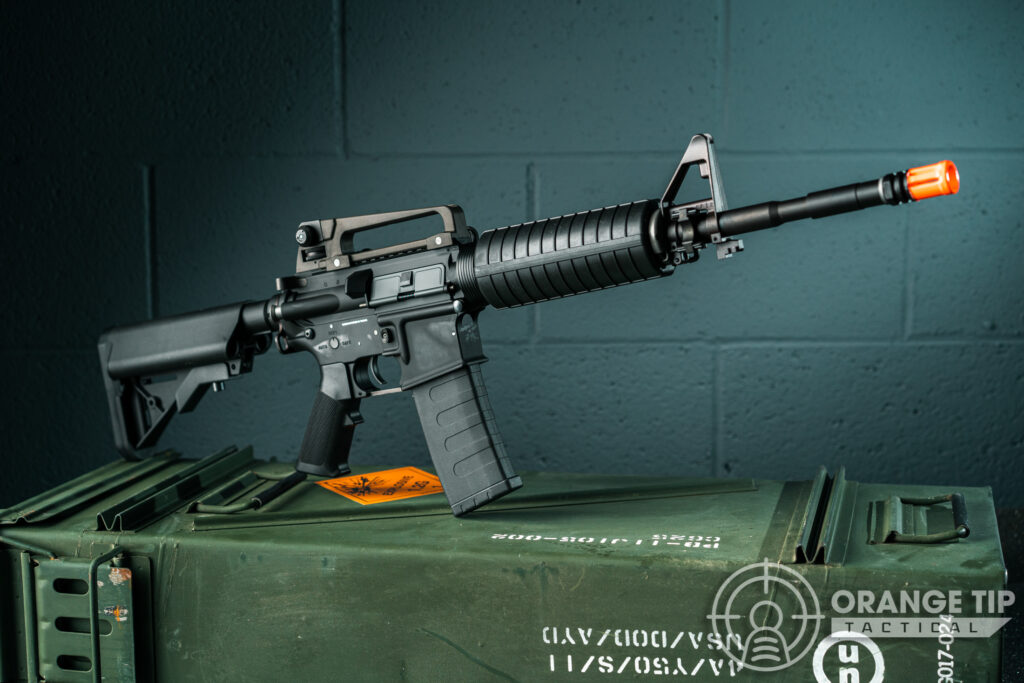 Who's It For?
The KM4A1 is one of the rare AEGs that's got some serious broad appeal no matter what your particular niche might be! From beginner players that have managed to save up a decent chunk of change to experienced vets looking for a solid base for their next build, the KM4 delivers–and we have no qualms about giving it the official OTT Seal of Approval if such a thing could be said to exist. 😎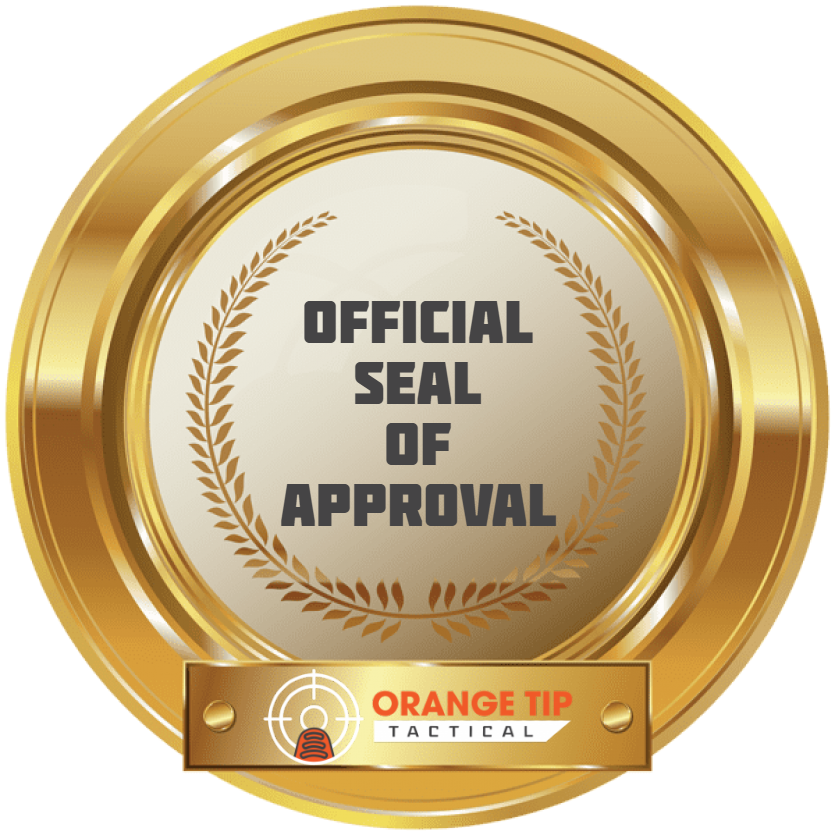 Fit, Feel, and Finish
Initial impressions are great! The KM4's got some serious heft to it without feeling unwieldy, and a vigorous shaking reveals no real play anywhere on the AEG outside of the expected rattle from the sling swivels, etc.
Anecdotally, I actually owned a KM4 years ago when they first came out, and can personally attest to how durable KWA's externals are. While attempting a particularly stupid flanking maneuver that involved scaling a sheer sandstone rock face, I fell a good 15 feet with the KM4 slung on my back, landing directly on the AEG. Much to my surprise (and delight), the gun took the impact just fine–with no exterior damage or adverse performance as a result! There's not a lot of brands that you can say that about, I'd reckon.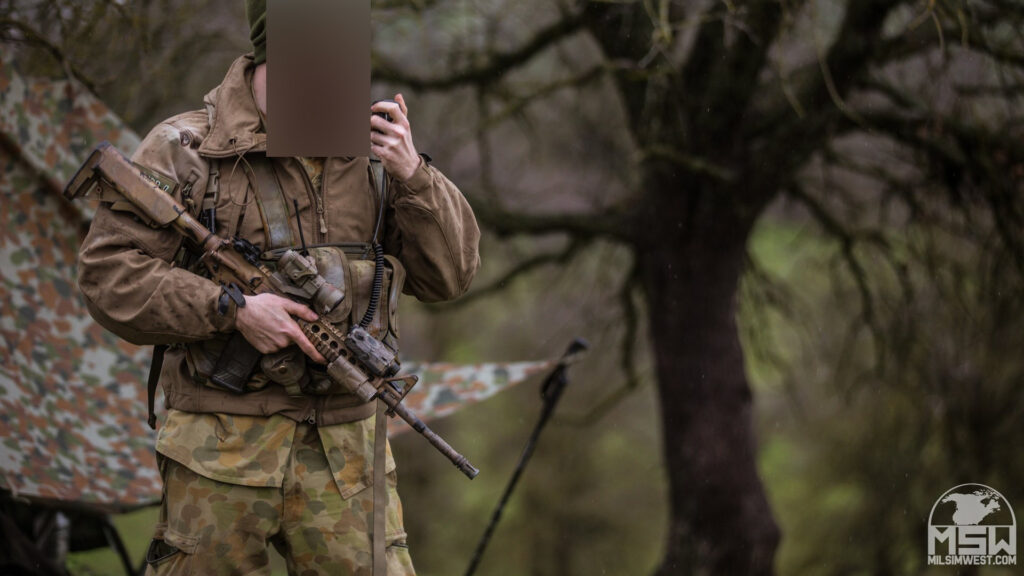 From front to back, you're going to be in very standard M4 carbine territory here, but that's not a bad thing!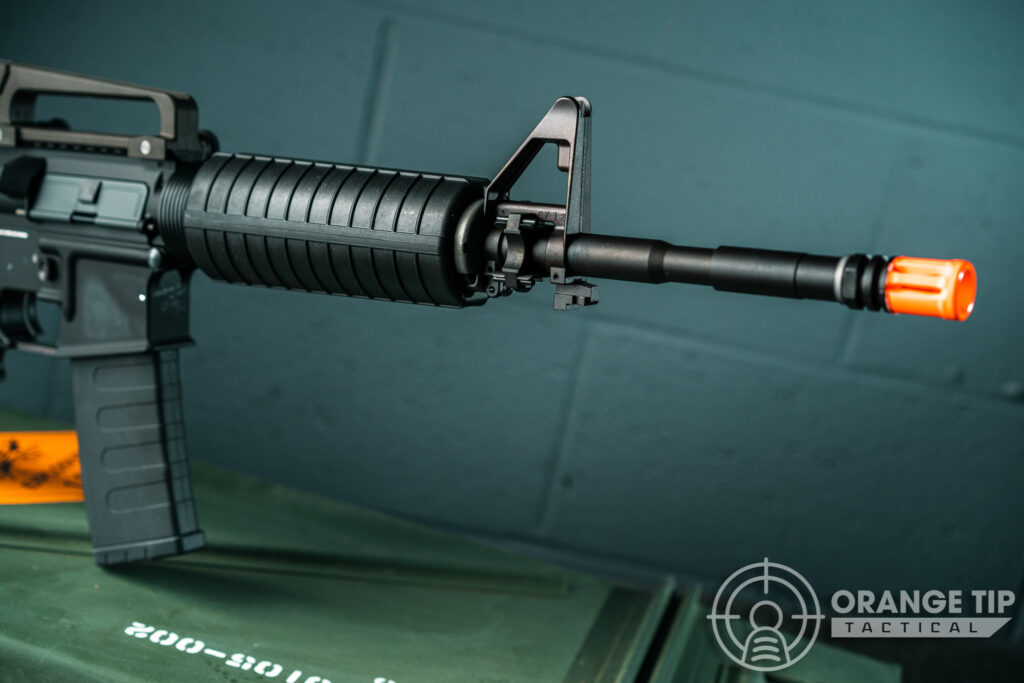 You've got a full metal 14.5″ barrel assembly adorned with a metal A2 birdcage style flash hider, painted blaze orange with an enamel for safety. Beneath the muzzle device are your standard airsoft 14mm CCW threads as well.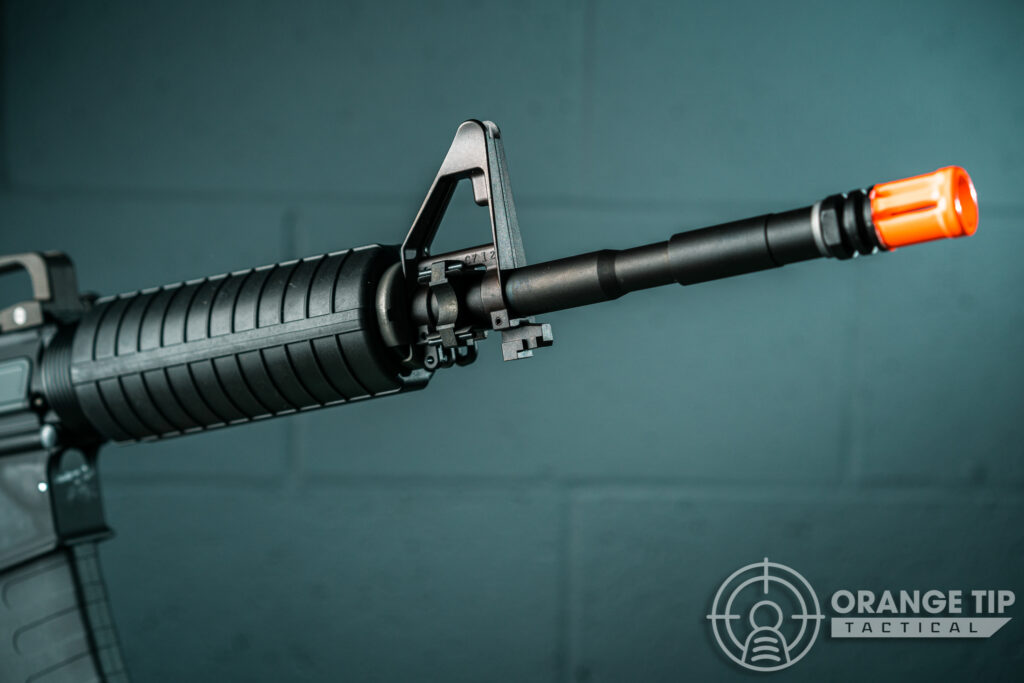 You've got a lug underneath your front sight post for mounting a bayonet, just like the real M4A1, although obviously that's not really going to come into play on an airsoft gun.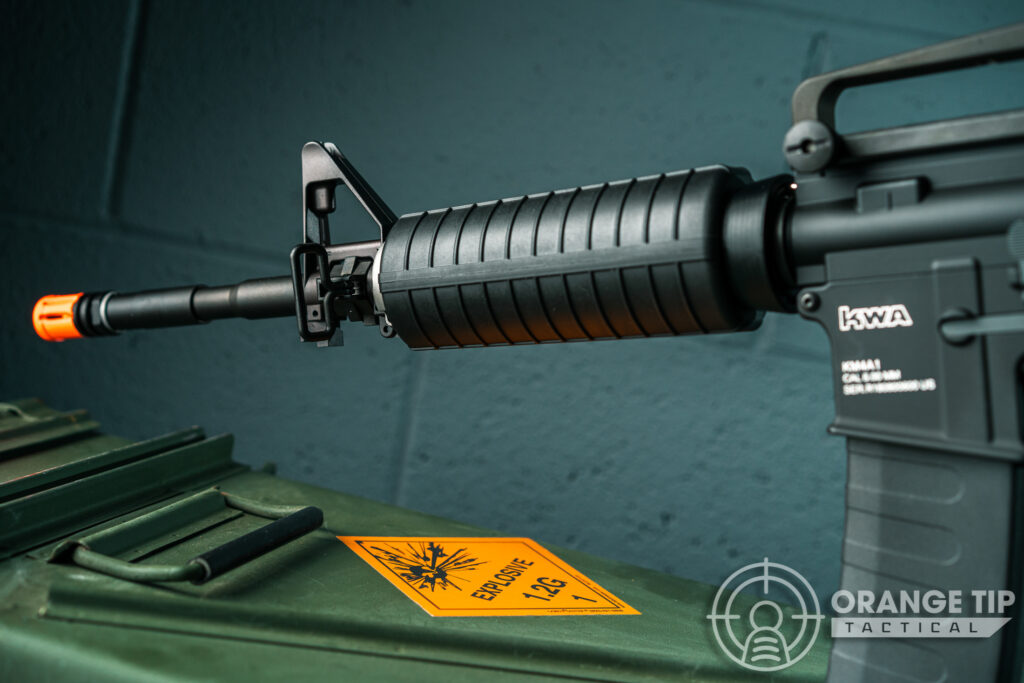 A metal sling swivel oriented vertically clamps onto the barrel between either end of your front sight post, and allows you to attach pretty much any clasp-based sling imaginable. The handguards are a reinforced polymer, just like the actual M4, and have a nice flat black finish to them. There's a tiny bit of play in the handguards, but if you're like most players, you're probably going to wind up throwing a rail system on this bad boy at some point anyhow.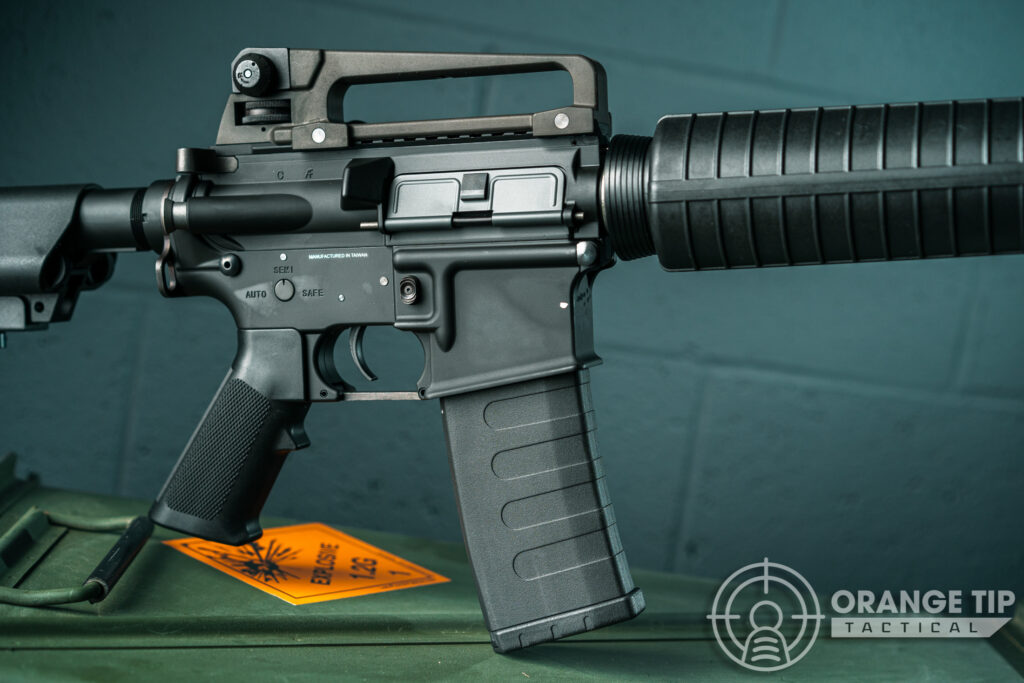 A bit further back and you're now at the AEG's receiver, which as mentioned, is full metal and quite sturdy! Up top sits a detachable carry handle that provides your rear iron sight (complete with windage and elevation adjustments), while protecting the receiver's optic rail when you're running the gun stock.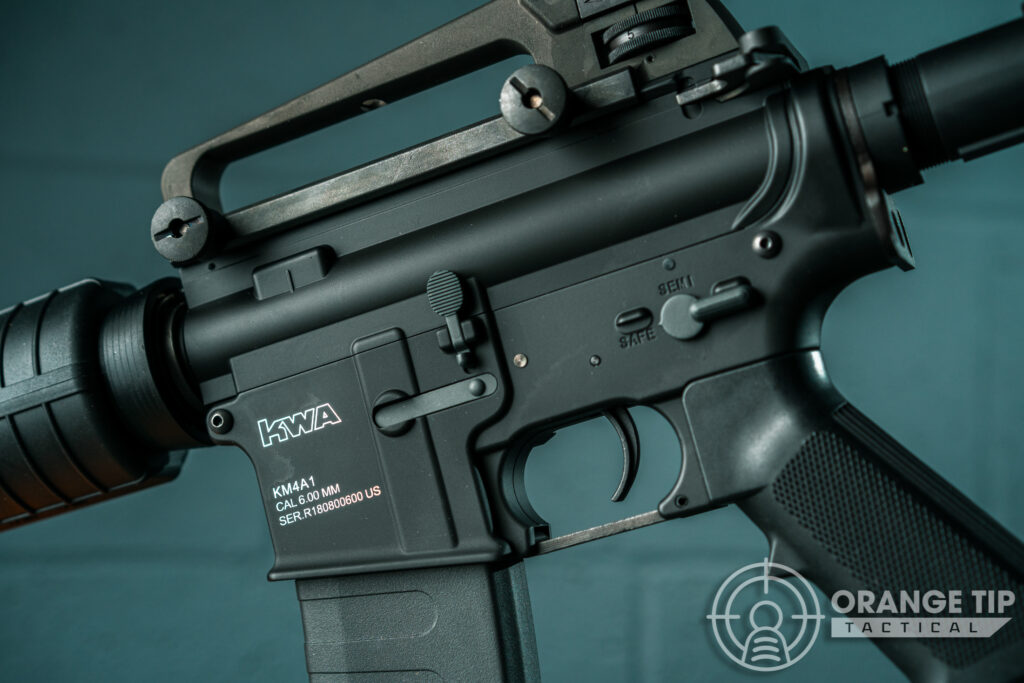 Those large thumbscrews twist off to release the carry handle from its perch, providing you with a full flat-top optics rail if you'd rather rock some glass! Your fire controls are all going to be quite standard here as well–the fire selector moves fluidly without feeling too loosey-goosey and emits an audible click when you hit one of the 3 positions.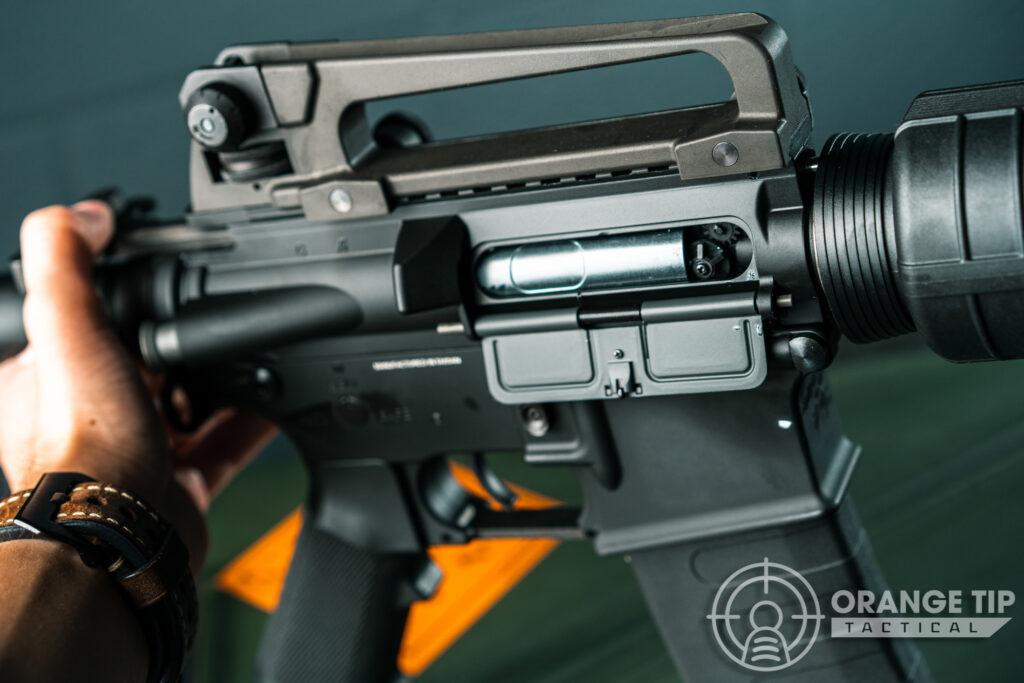 Back on the reverse side of the receiver, pulling back on the charging handle is going to retract the mock bolt, which reveals your hop-up dial. Unfortunately, the KM4 still utilizes an older "gear" style hop-up unit instead of the newer rotary style hop up units, but it still works great!
You just won't have that tactile click when adjusting just how much hop is being applied to a BB–which means you've got to be a little more careful when dialing your flight path in.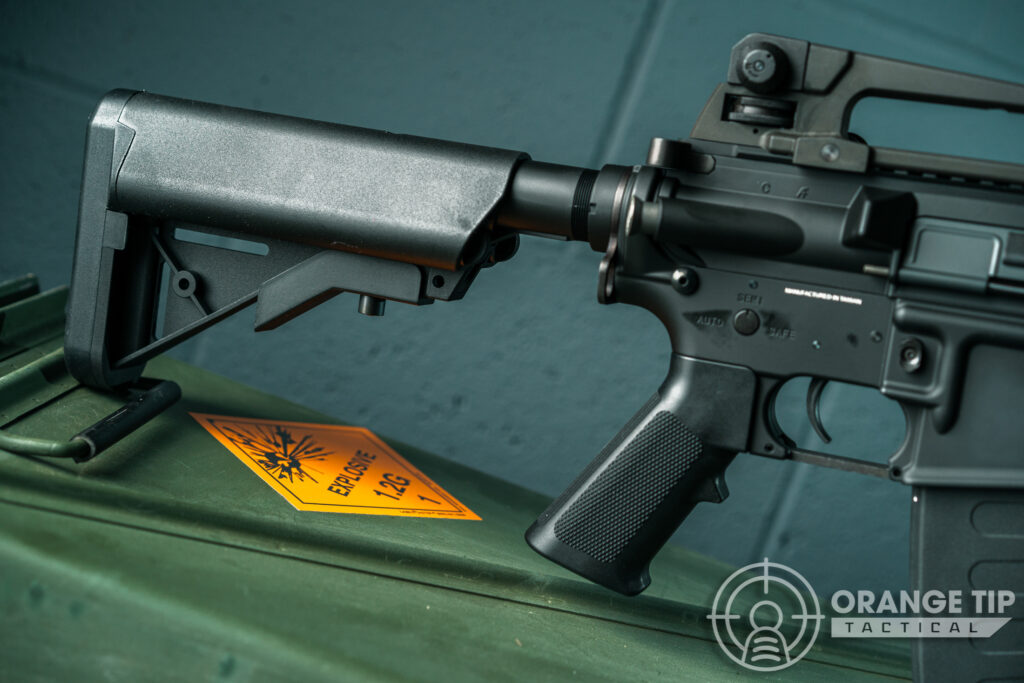 While the gun's rear assembly isn't anything to write home about, what with its standard A2 pistol grip and Crane-style stock, KWA's approach to how exactly a Crane stock battery assembly works was pretty revolutionary at the time it was new–and the design still holds up!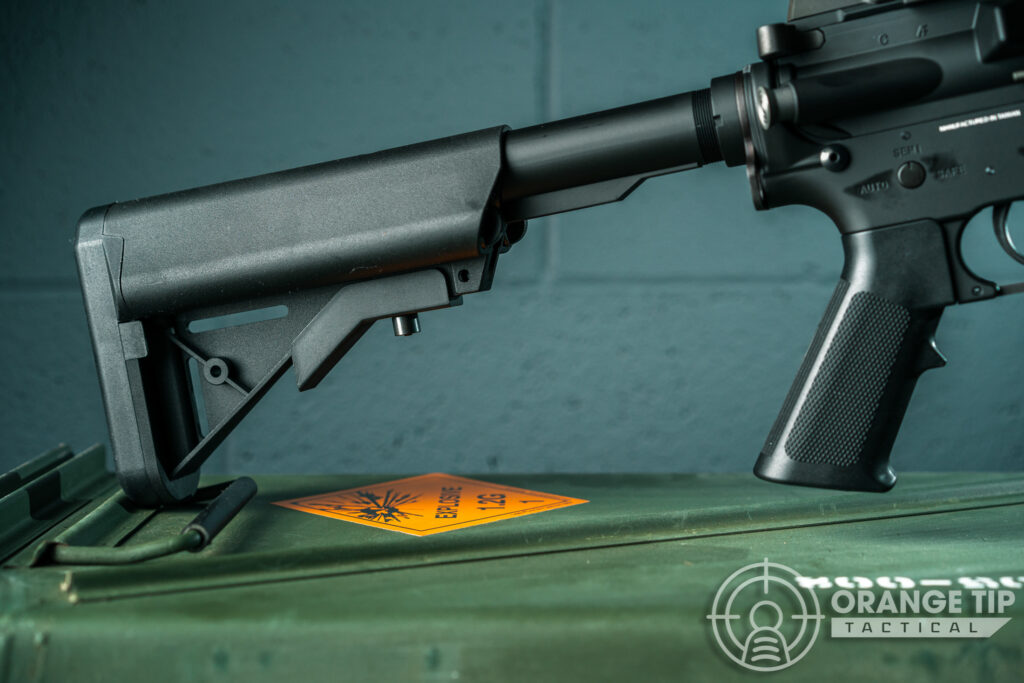 In addition to being fully adjustable for length of pull, the stock features a curly-cue style wire harness that routes through the buffer tube in such a way that allows you to retain the ability to adjust the stock even with the battery installed!
That might not sound like a big deal now, but in ~2012 or so, this was a pretty damn big deal. Also, the buttstock's cap that protects your battery compartment has tabs that slot into the outside of the stock, rather than utilizing the inferior design of manufacturers that have the tabs run through slots in the stock itself–which inevitably creates undue stress on the tabs that can snap them over time. Not an issue here!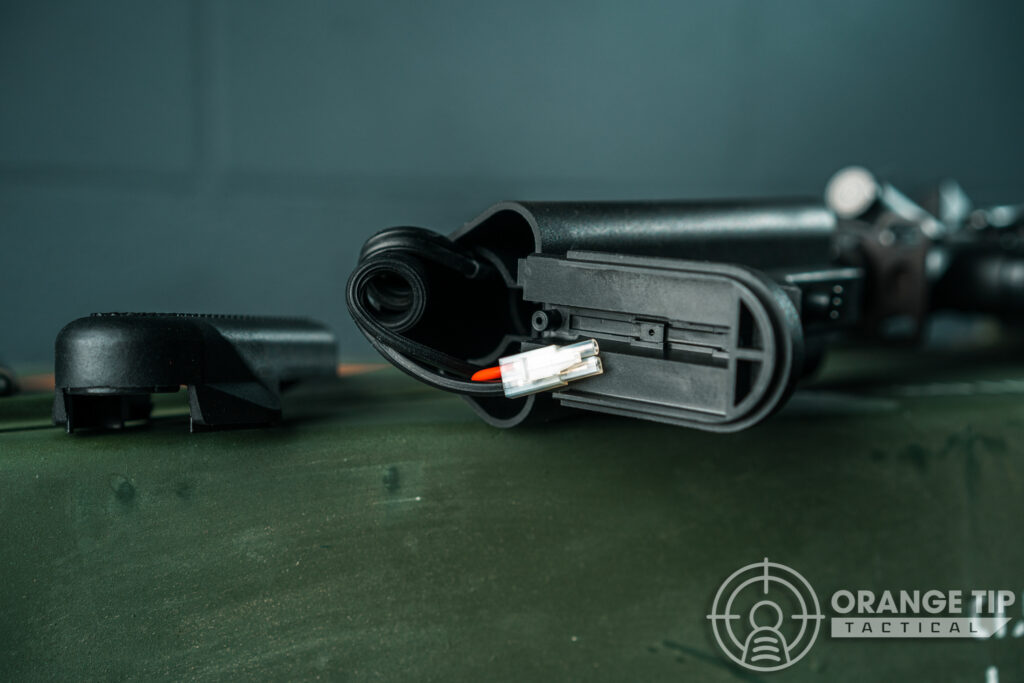 Previously, crane stock setups were notorious for pinching wires and damaging batteries if you weren't careful about adjusting them with the battery installed–occasionally leading to some pretty catastrophic blowouts if you happened to eat through enough wire insulation to have your bare battery wires wind up coming into contact with the metal buffer tube.
We probably don't have to tell you that that's unideal!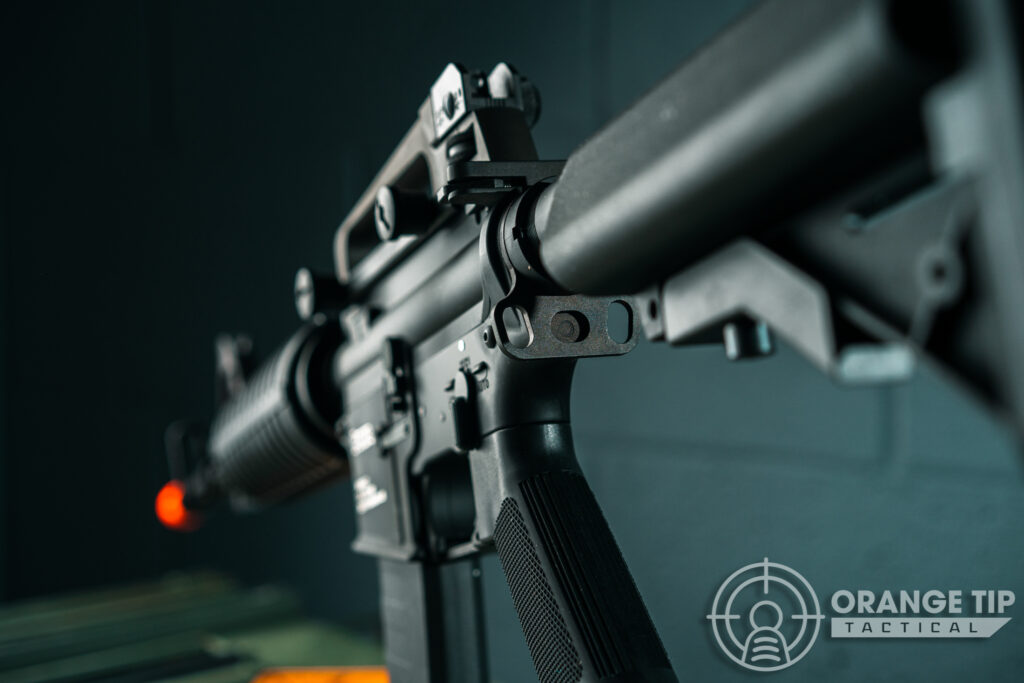 A rear sling plate is also installed just ahead of the stock, giving you two sling mounts off to either side–although obviously, that might get wacky considering that the front mount is only oriented in one direction!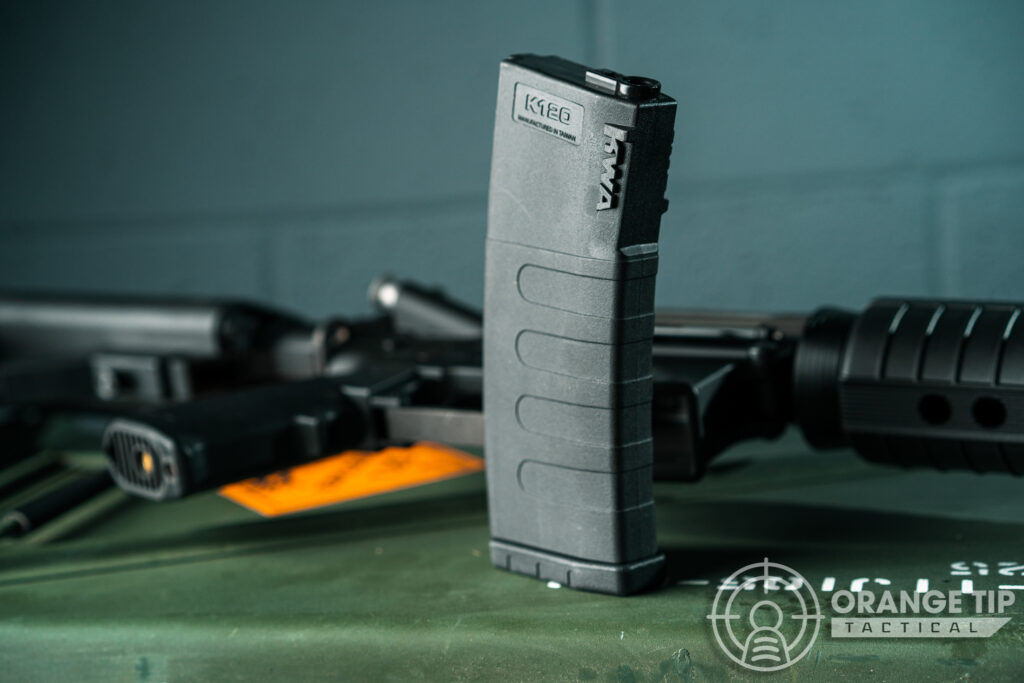 Lastly, the KM4 comes with one 120rd KWA K120 midcap. Made of high-density polymer, the K120s feed quite nicely and lock into the magazine well with a nice solid thunk.
How Does It Shoot?
Loading the gun's midcap up with .20g BBs, we managed to record some pretty rad muzzle velocity results!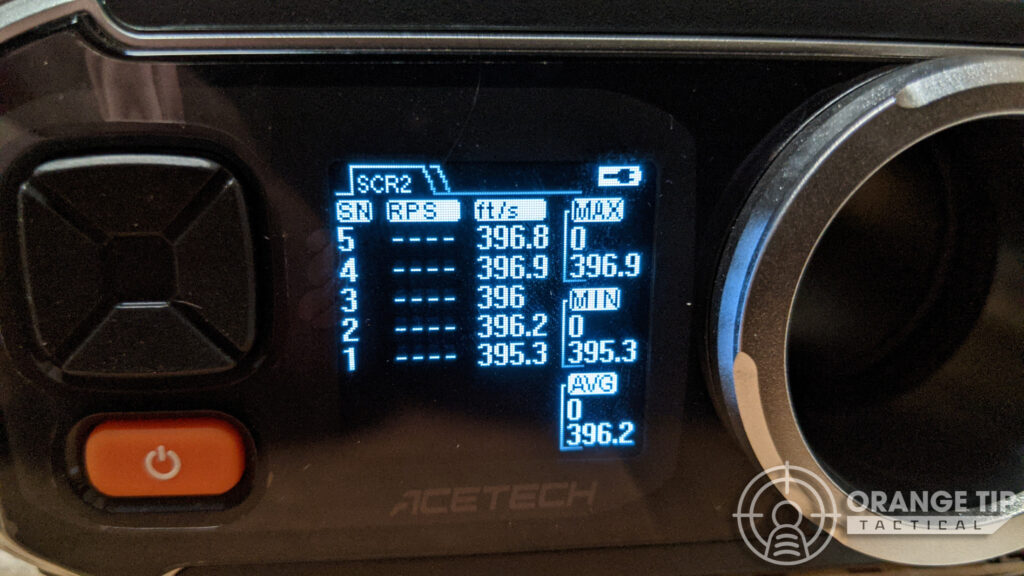 A ~1FPS difference between five shots is pretty damn good, and is an excellent indicator that the AEG's compression parts are working reliably. Considering that most outdoor airsoft fields enforce something in the range of a ~400FPS limit as measured with a .20g BB, you're golden if you're looking at using the KM4 for mid-range engagements in field-type play!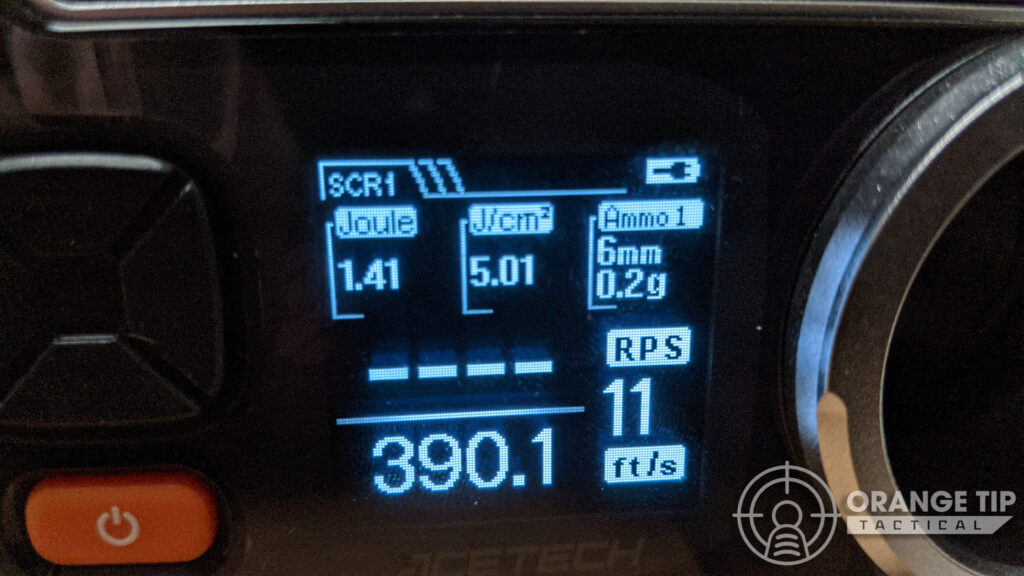 The rate of fire is pretty average with an 11.1v Li-Po battery, but it's still plenty serviceable. This is likely due to KWA's penchant for leaning towards torque in both their motor and gear sets rather than speed–which means you've got the brute force necessary to run a stiffer spring if you'd like – but you're likely not going to be in BB hose territory without some substantial tinkering.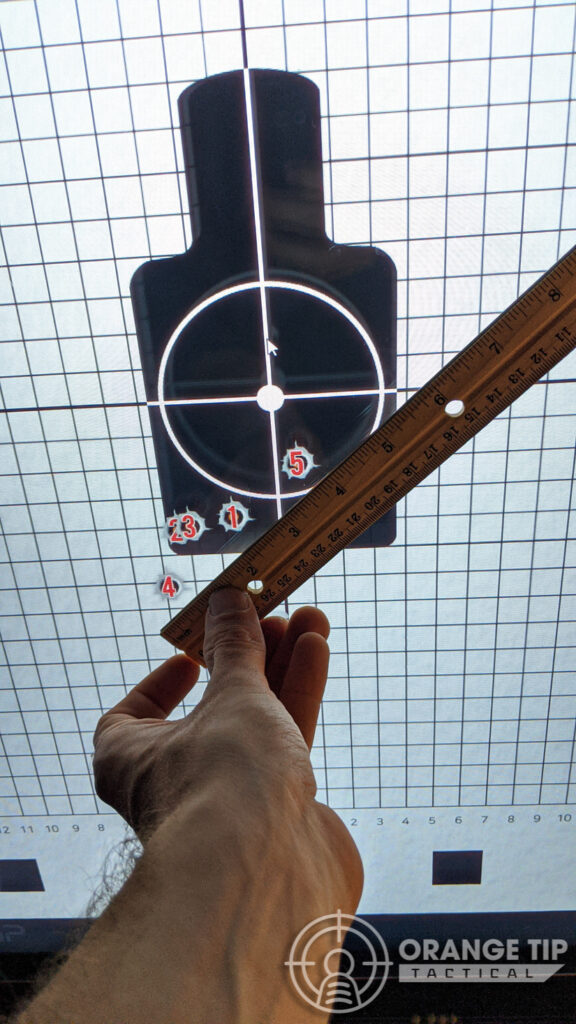 Accuracy wise, you're looking at about a ~4″ spread at roughly 25 yards straight out of the box – which in our opinion is plenty accurate considering you're not likely to be using this particular AEG as a marksman platform!
Upgrades and Accessories
As we mentioned, that flat-top receiver means that you're free to mount any optic you please! As the KM4 is going to excel at mid-range engagements, something like this G&P Aimpoint-style red dot is going to give you fast target acquisition without the potentially unnecessary magnification of larger, bulkier rifle scopes.
60
at Evike
Prices accurate at time of writing
Prices accurate at time of writing
The KM4 doesn't come with a railed fore-end stock, however, and if you're trying to add accessories and such, you're going to need a rail of some sort. Madbull's licensed replicas of the Daniel Defense rail lines are great if you want 4 rails and no-frills, and should be easy to install on the gun to boot!
91
at Evike
Prices accurate at time of writing
Prices accurate at time of writing
There's always something like this slim Dytac MLOK Rail if you're looking at a more high-speed solution, but be advised that you're going to need to ditch the front sight post and snag a low profile gas block if you go that route.
85
at Evike
Prices accurate at time of writing
Prices accurate at time of writing
Now as for what to actually put on the rails? You can't go wrong with like, an angled foregrip to take a bit of strain off your support wrist, and we're always partial to simple scout light setups if you need a bit of illumination!
65
at Evike
Prices accurate at time of writing
Prices accurate at time of writing
By The Numbers
Reliability: 10/10
KWA's entire brand is built on their durability, and we weren't surprised that our entire testing phase with the AEG ran as smooth as butter! No misfeeds, no hiccups, no gearbox locks–just good, repeatable plastic-slinging fun.
Accuracy: 8/10
Tight groups with a stock gun are certainly always a pleasure, and the KM4 doesn't disappoint here! We personally might throw in a tight-bore barrel at some point if you wanted to tighten those shots up even further, but for the vast majority of players, the gun's stock accuracy is going to be just fine.
Effective Range: 7/10
Due to KWA's generally excellent compression, your effective range is probably going to be a little bit higher than most stock AEGs: ~150 feet or so with a maximum range of maybe a bit further past that. As this is primarily going to be a field gun, that's totally acceptable, but a rebuilt hop-up unit, tightbore barrel, and maybe an FPS boost if permissible at your local field are going to really up the ante if you need to punch out a bit further!
Rate of Fire: 6/10
Again, totally average for a stock AEG, but that's because KWA gearboxes tend to be super torque-y. This likely isn't your best bet if you're looking for a plastic hose straight out of the box, but we'll take the increased toughness and ability to effectively pull heavier springs with all that torque over a straight ROF build–especially for field play!
Ergonomics: 7/10
It's an M4–which are just fine ergonomically (and maybe even the standard by which most other guns are judged), but it's also not anything to write home about. Comfortable, sure, but not amazing in its stock configuration–although that's not a condemnation! You've certainly got room for improvement if you're thinking about adding specific comfort-based upgrades in the future.
Looks: 8/10
The familiar silhouette and profile of the M4A1 is a classic by now – and while this is entirely subjective, there's still something cool about bone-stock airsoft AR variants. Thumbs up from us!
Customization: 9/10
One of the bigger selling points of picking up an airsoft M4 is that the aftermarket accessories market is almost tailor-made specifically for you! While this has changed in recent years with many more manufacturers beginning to offer parts for non-M4 guns–rest assured that the world is essentially your oyster when it comes to new parts you might want to slap on.
Conclusion
For the budget-minded player that's maybe been around for a while and is thinking about taking the next step further into this dorky hobby, the KWA KM4A1's blend of affordability, performance, and longevity means you're likely going to get your money's worth–and then some!
As mentioned above, I've owned this exact AEG before personally long before my time here at Orange Tip, and I'll be the first to tell you I am not easy on my guns and gear. My personal KM4 has survived spills and abuse that absolutely would have destroyed less-durable AEGs and it just kept truckin'. 😎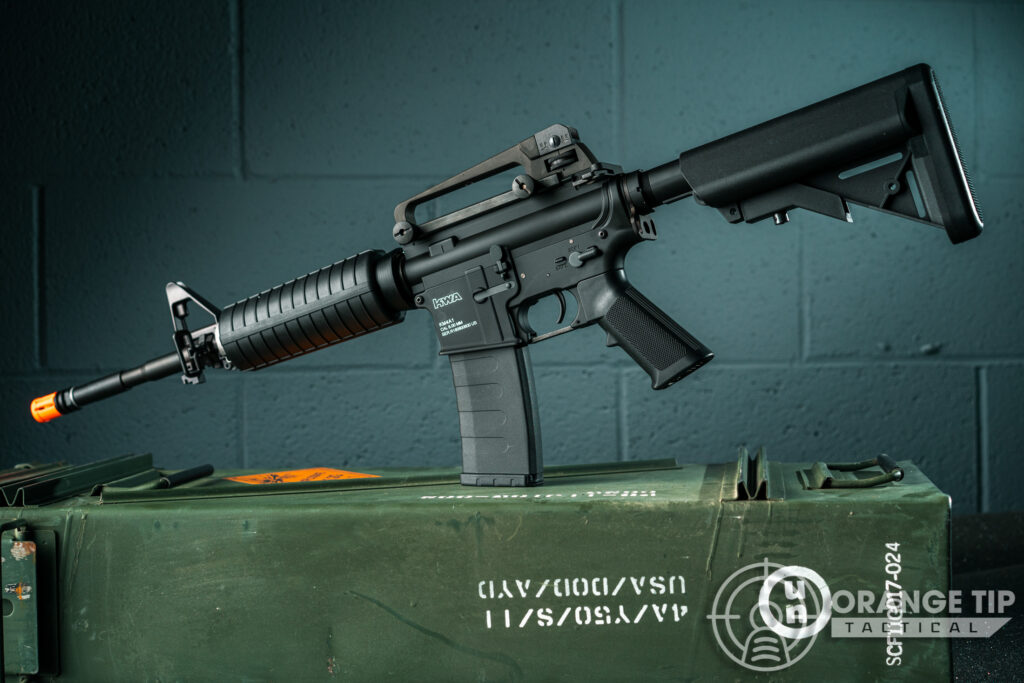 I'd normally say something like "buy once cry once" here, but considering the lower cost of entry? There's not much to cry about unless they're tears of joy when you inevitably wind up landing with all your weight right on the gun–only to find that it's ready to keep going as long as you are.
So what are your thoughts about it? Do you own a KWA KM4A1? If so, do you love it as much as we do? Tell us all about it in the comments! And don't forget to check out more of the Best M4s for every budget to see if anything else catches your eye.