What happens when two absolute titans of their respective industries collide?
Well, if those titans are Evike.com's expert airsoft tinkerers and Salient Arms International's resident gun wizards…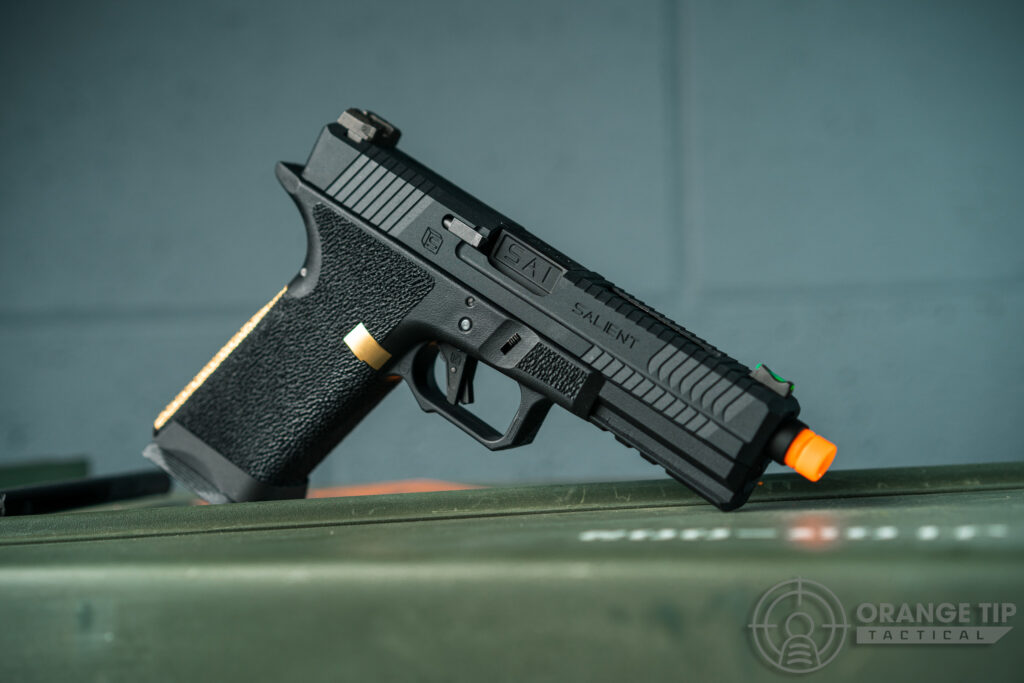 The result may just be the EMG / SAI BLU – a top-of-the-line gas blowback pistol sure to delight both the hardcore, performance-driven airsoft nerd and real-steel shooters looking for top-tier ergonomics for training purposes!
How's the SAI BLU stack up against the GBB competition? Read onward!
Hopefully, the information here will help you figure out if this high-precision piece of dorksoft hardware is right for you!
The Real Deal: History, Design, and Operation
Let's get some context going before we dive in, shall we?
The real SAI BLU is made entirely in-house and is described as being craft-made for users who adore the ergonomics of the M&P but require the reliability of the Glock.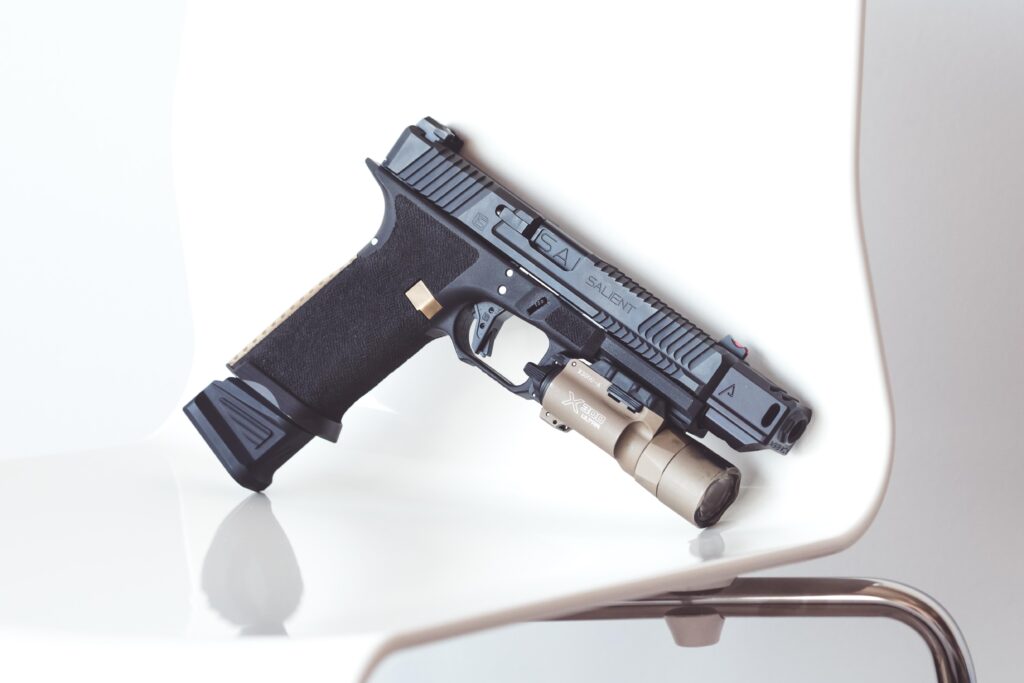 The real SAI BLU is pretty much a work of art — featuring precision cuts to the slide that enhance gripability and reduce weight. It's also got attractive nitride finishes across the metal surfaces, a frame stippling and double undercut job, and more!
To put it short: It's a serious, precision-driven firearm for those with more than a bit of coin to drop.
The Airsoft Model
To say that SAI's conjured some pretty high standards for a replica to meet might be an understatement!
But luckily… SAI themselves were involved in the creation of the airsoft training replica.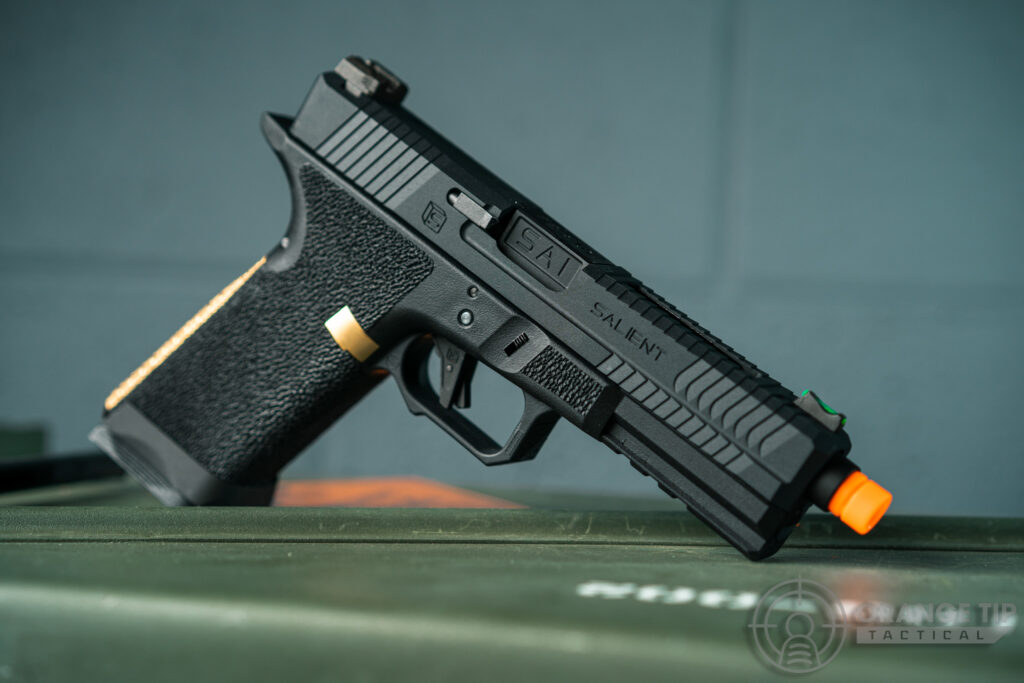 The result? Easily one of the nicest, out-of-the-box GBB pistols we've had the pleasure of getting our grubby, Cheeto-dust-laden fingers on!
While there are plenty of perfectly serviceable gas blowback pistols on the market, there are those times where you just know you've got something quality in your hands. And this is certainly one of those times!
Fit, Feel, and Finish
The SAI BLU feels substantial without feeling cumbersome — it's evenly balanced, and its weight is spread pretty evenly throughout both the frame, slide, and magazine.
Exactly what you'd expect.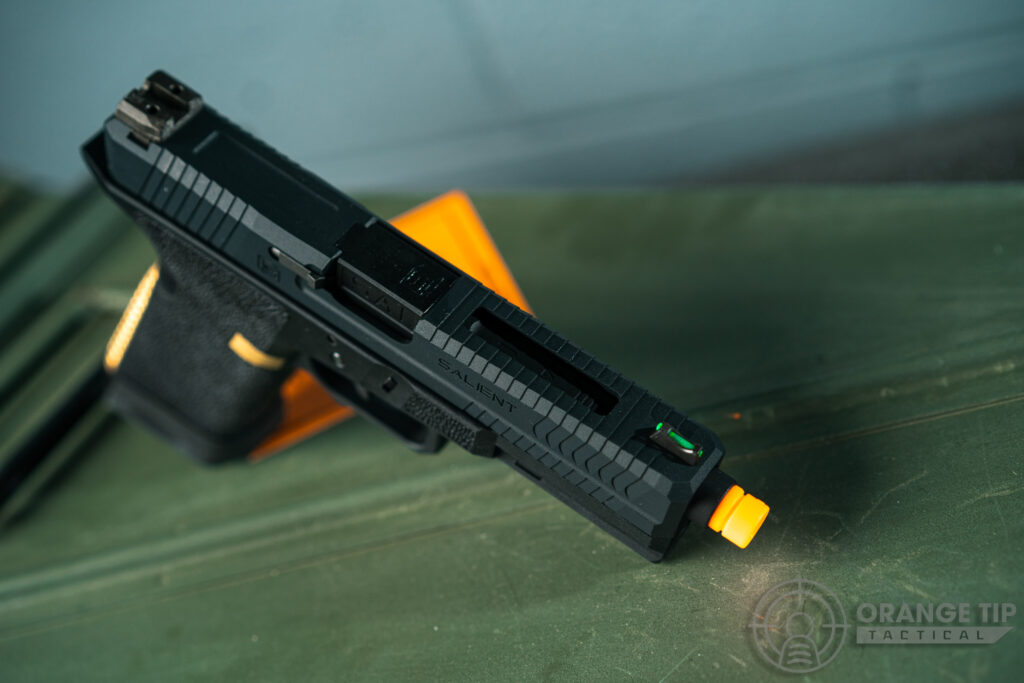 The gun's solid, and unlike some competitor models and brand names, you've got relatively little movement once the almighty shake test has been employed — the utmost of scientific rigors.
The SAI BLU's entire finish is an attractive matte black across both the frame and slide. And the stippling texture on the grip is impressive!
You're going to have to intentionally slip out of your presentation grip to lose hold of this bad boy, meaning that even the sweatiest of you should have no problem with GBB retention. 😉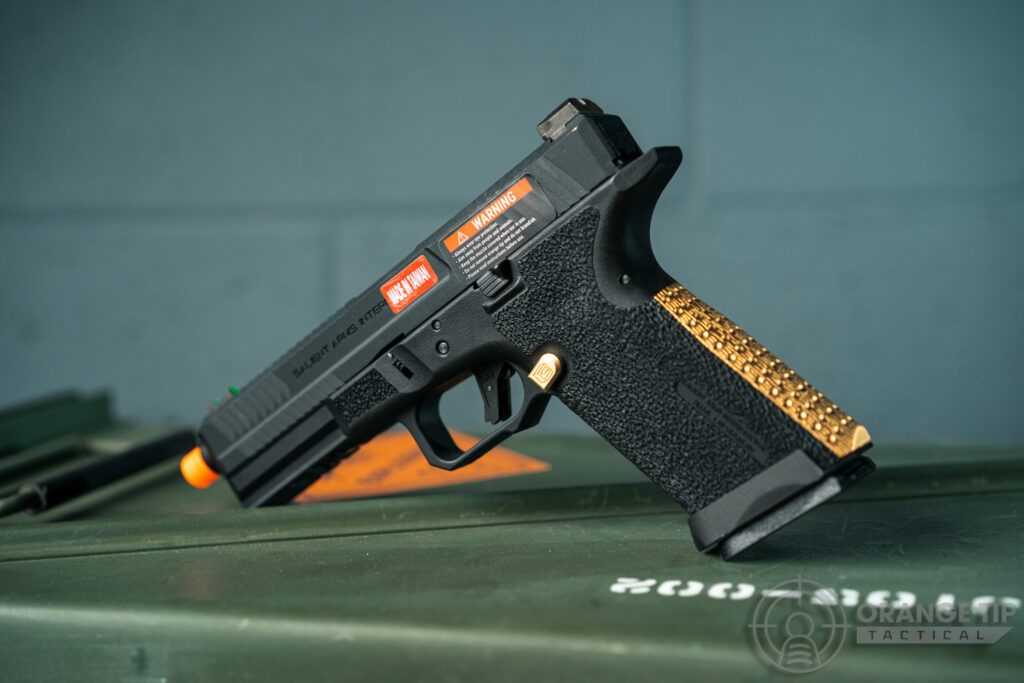 The golden brass rear strap and mag release button provide a tiny splash of flair amidst an otherwise serious tone — a small, but professional-looking flex.
The front of the frame features stipples as well, providing an adequate surface for your thumbs to rest assuming you're utilizing a thumbs high and forward grip (tip: you should be).
The front of the frame also features a standard Picatinny rail for lights and lasers. Unlike the sometimes finicky Glock, it should be compatible with nearly all standard pic accessories on the market!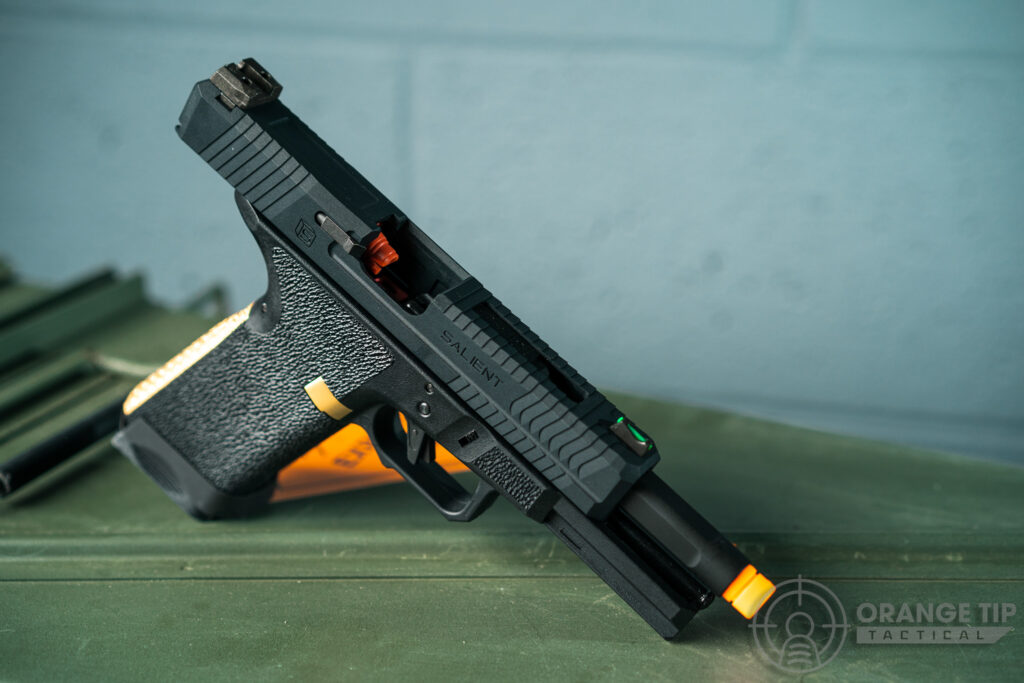 The slide locks back on an empty magazine, and it feels crisp! You've got a high-visibility green fiber front sight, making acquiring your sight picture quite easy even without an optic.
Additionally, although the SAI BLU comes with the mandated orange tip, it does indeed also come with a threaded barrel extension and matching thread protector. That means that the mock suppressor of your dreams is only a credit card purchase away!
The trigger guard's double undercut further enhances your retention over the platform, allowing you to apply upward pressure with your support hand to stabilize the gun even further!
In short? We dig it.
So How Does it Shoot?
Sure, she's a right pretty looker, but that's not going to help you much when the plastic starts flying unless she can hold her own in a fight, eh? (Why do I keep talking like a bad DnD barkeeper?)
Thankfully, the SAI BLU performs as well as it looks!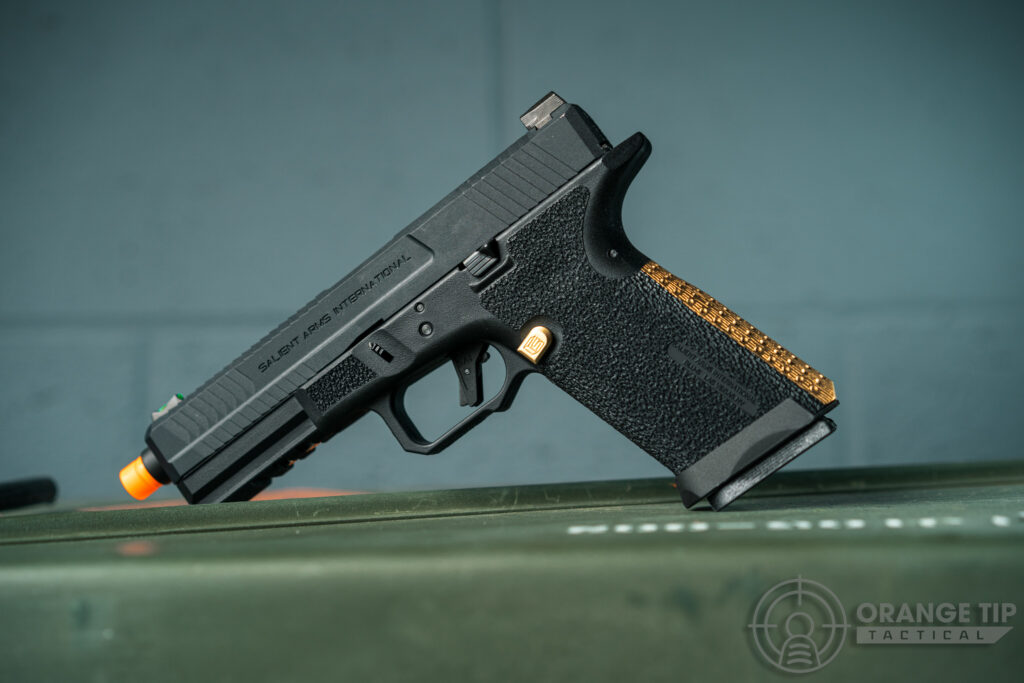 The SAI BLU hits hot! Depending on temperatures, you're going to be coming in right around 360 to 390 FPS as measured with a .20g BB. This will put you in the same general range as most AEGs at outdoor fields!
Although, keep in mind that your shorter barrel means you're not going to be reaching out and touching the competition. But it's a pistol…so, you shouldn't really expect that to be the case either.
The trigger is impressively snappy — with only about ~8mm of travel before a very minuscule wall and a clean break. Need we say it again? PRECISION!
What's more, the SAI BLU's magazines hold an impressive 25 rounds of plastic punishment. On average, ours held about 1.5 magazines worth of gas before needing to be topped off once more.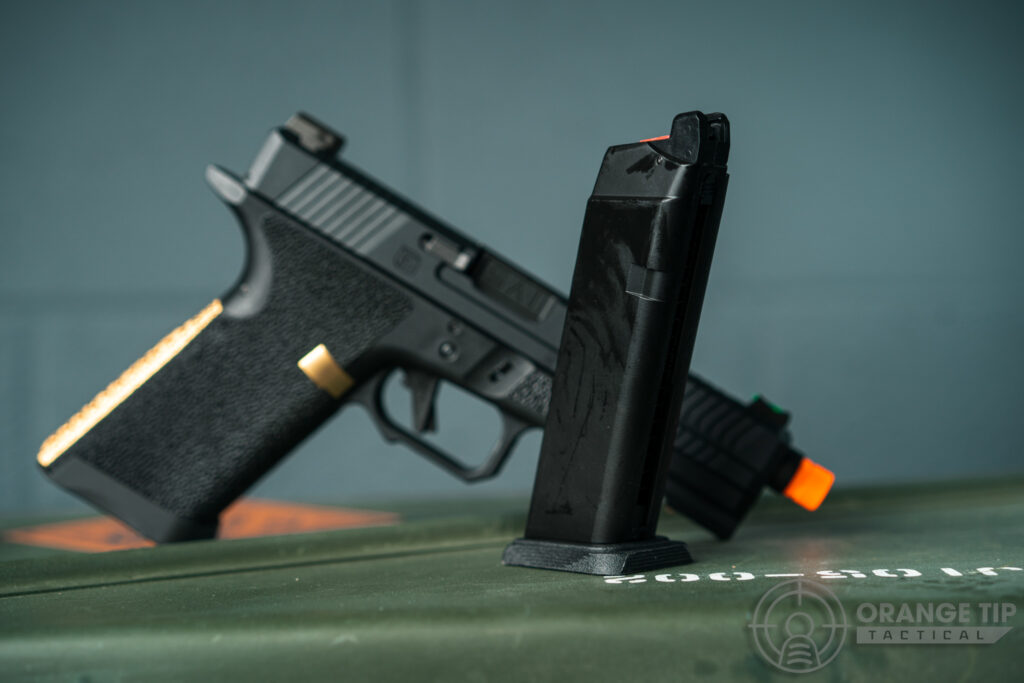 The SAI BLU even includes an adjustable hop up which isn't incredibly common on gas pistols. This allows the user to adjust the overall trajectory of the round by applying modest backspin to the BB – fine-tuning the 'drop off' point.
While won't land epic major league gaming headshots from across the field, we were getting accurate shots out to 80 to 100 feet with only a bit of velocity drop-off at the end.
Again, it's a pistol and it's really meant for getting nasty up close – and at that, it excels!
Upgrades
One of the costs of pulling from a few different name-brand manufacturers to your end product is that you wind up with compatibilities from across the board. While the SAI BLU utilizes many Glock-type parts, it sadly isn't compatible with most Glock-type holsters.
However, given that you've got that huge pic rail space upfront, let's fill it up!
Holster: To the best of our knowledge, this Matrix Hard Shell Holster might be one of the only ones on the market that readily accepts the SAI BLU – it's not fancy, but it works!
25
at Evike
Prices accurate at time of writing
Prices accurate at time of writing
Magazines: Looking to make sure you've got plenty of mags on hand? Consider swapping over to CO2 magazines, which give you even more bang for your buck with a much higher gas capacity!
45
at Evike
Prices accurate at time of writing
Prices accurate at time of writing
Mock Suppressor: A fake can doesn't have to just be for looks! Consider adding this ACETECH Tracer unit – when used in conjunction with tracer BBs, you'll be able to see your shots glide into the target!
69
at Evike
Prices accurate at time of writing
Prices accurate at time of writing
Pistol Bag: Rep the set and carry your piece of art in fashion with SAI's own dedicated pistol bag 😀
89
at Evike
Prices accurate at time of writing
Prices accurate at time of writing
By the Numbers
Reliability: 10 /10
We encountered literally zero issues with the SAI BLU during our time with it — from jams, magazines freezes, low-velocity rounds, and so forth. Happy to report we're in the clear!
Accuracy: 8/10
Accuracy is always a weird one to judge with airsoft handguns, but the SAI BLU hits player-sized targets well outside of the ranges you're likely going to be lobbing pistol rounds inside of — and that works for us!
Effective Range: 8/10
The fact that the SAI BLU is just outside of AEG range knocks this one up a notch for us – it's still not a marksman platform, but it gets the job done!
Rate of Fire: 10/10
Go HAM on that snappy little trigger and tell me this thing won't keep up with you 😁
Ergonomics: 9/10
Easily one of the most ergonomic pistols we've taken a look at here. From the grip angle, to grip texture, to flared magwell, and more — we have very little to complain about. Although, it would be nice if the gun included accelerator ledges on the thumb textures fore of the receiver!
Looks: 9/10
It's sleek, matte, modern and full of aggressive cuts and lines that make it look like this GBB means business. The golden accents really seal the deal!
Customization: 7/10
There's not a huge host of aftermarket parts available for the EMG SAI BLU line, but they do exist – and as long as your tinkering inclinations are in the realm of the external, you'll be well within the lines here!
Overall 8/10
Conclusion
If you're the type that needs a flashy piece sure to turn heads as much as it is to take them, we can't recommend checking out the EMG SAI BLU training pistol enough!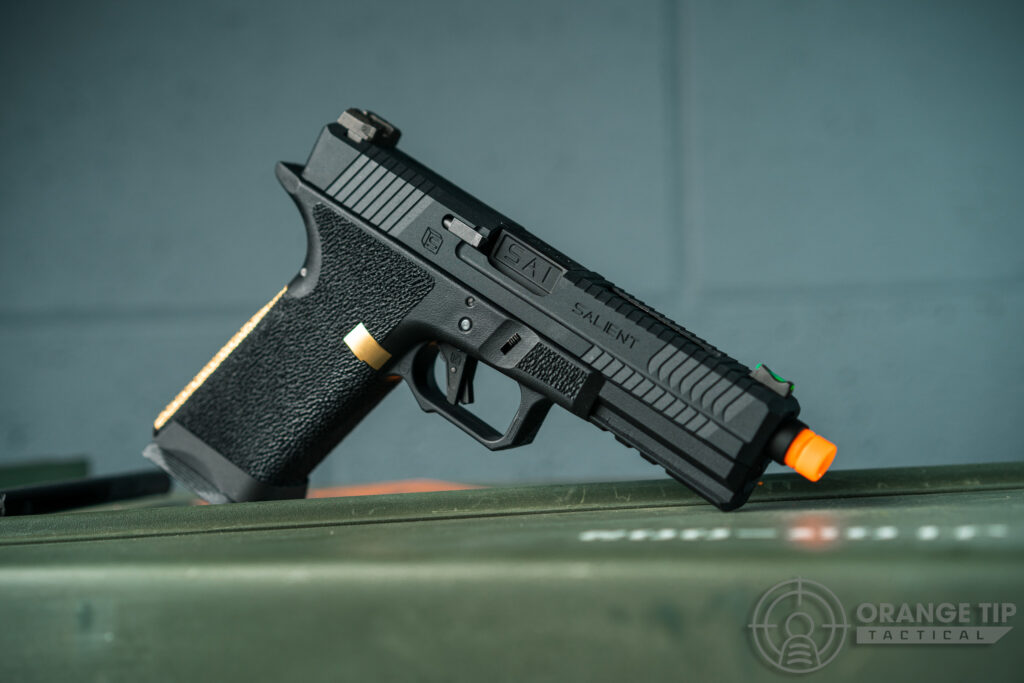 Again, it's easily one of the highest performing GBB pieces we've peeped over at OTT and we have a feeling you're going to dig it too – if you've got the cash to drop on what's likely to be a secondary BB gat for most!
Have you tried out one of these beauties? Want to? Leave us your thoughts in the comments below! And since you're here, check out some more great gas pistols!