What happens when two titans of their respective parallel industries come together to combine their expertise into a single, unique training tool? The answer probably looks a lot like the beautiful AEG you see just down below–the fruit of an intensive collaboration between powerhouse airsoft retailer Evike.com and progressive firearms manufacturer Salient Arms International!
With some obvious radical aesthetic flair and a handful of cutting-edge internal tech, the unfortunately-named acronym-laden EMG SAI GRY is sure to turn heads–but is it also a worthy platform for shooting plastic BBs at them?
Let's find out!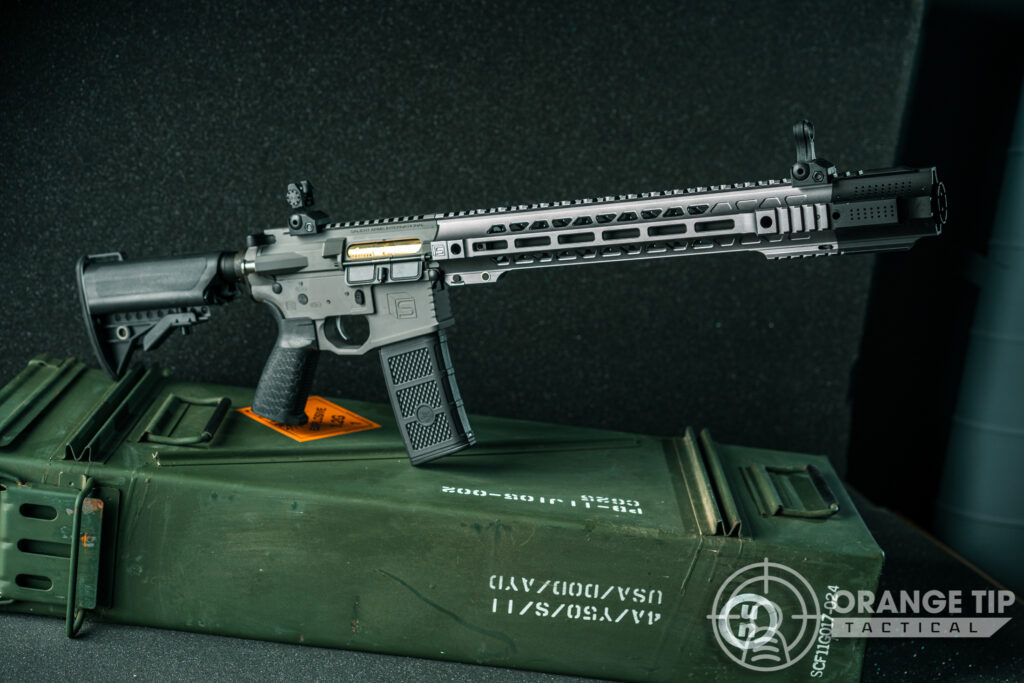 Who's It For?
A bit of a departure from the AEGs we normally cover in this space, the GRY bills itself as a training tool first and an airsoft gun second.
Does that mean a whole lot if you're on the airsoft side of things? Well, no–but rest assured if you're a serious real-steel shooter that runs a setup similar to the GRY, it may well be an effective training aid when it comes to keeping your muscle memory fresh.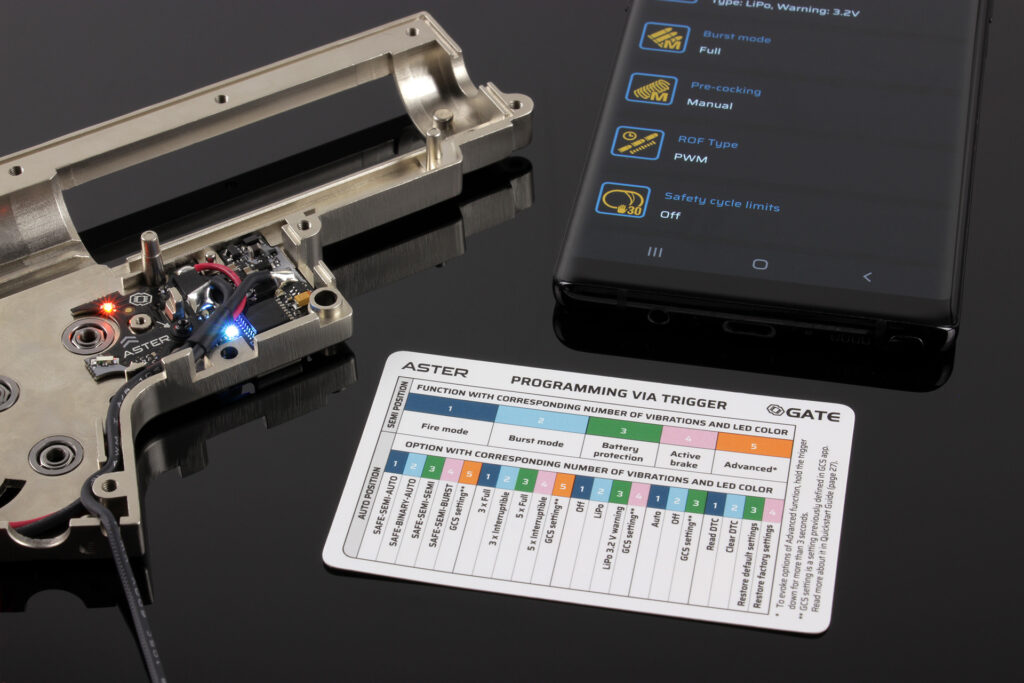 However, that isn't meant to discourage the BB-inclined folks like us out there–quite the contrary! While the GRY does utilize a lot of rugged external features that come straight from the innovative minds at SAI, it's also got a lot going on under the hood as well–such as the built-in ASTER v2 MOSFET that gives you the ability to fine-tune your shooting experience with a companion app!
With a whole lot of bells and whistles and a slightly steep sticker price, the GRY is aimed firmly at upper-middle level players experience-wise–and given its general lack of resemblance to anything in use by various militaries of the world, milsim-oriented players are likely going to steer clear.
445
at Evike
Prices accurate at time of writing
Prices accurate at time of writing
For the competitive-minded player who enjoys contemporary visuals and some serious out of the box performance, the EMG SAI GRY is a pretty damn good primary choice!
Fit, Feel, and Finish
What you'll probably notice first and foremost is that distinctive "Jailbreak" muzzle device up front!
The Jailbreak is an innovative approach to a muzzle device in real life, and while we won't get into the specifics here, SAI's approach of integrating a muzzle device into the rail system itself as opposed to the barrel has been faithfully recreated here!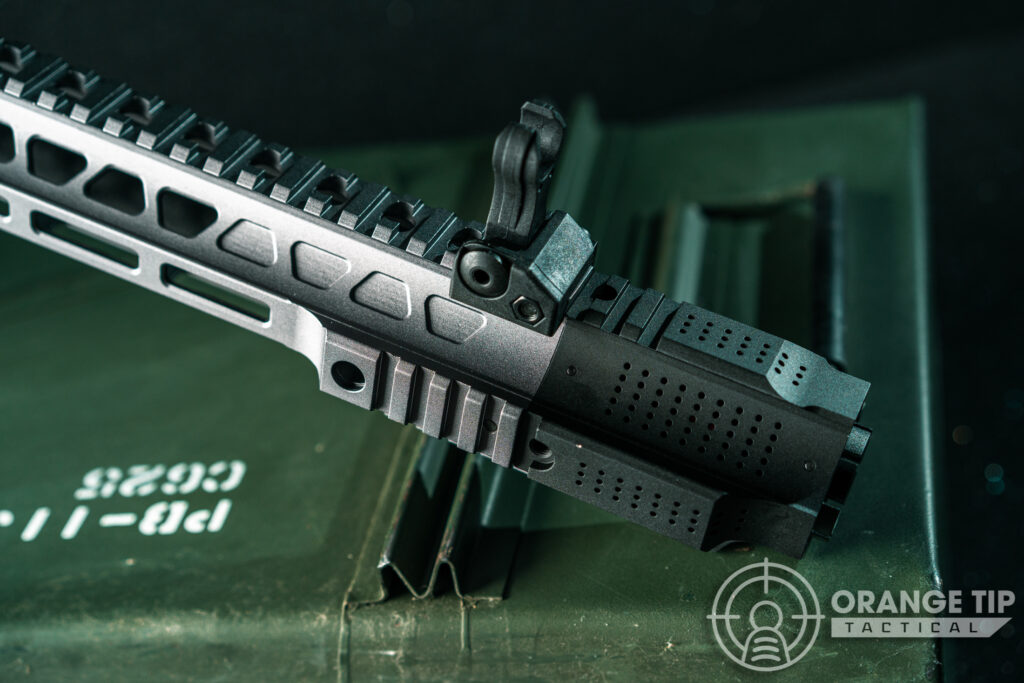 The Jailbreak can be added or removed at will, and just like its real-life counterpart, allows you mount whatever muzzle brake, comp, etc. directly your barrel without getting in the way. The GRY comes pre-installed with a standard orange birdcage flash hider…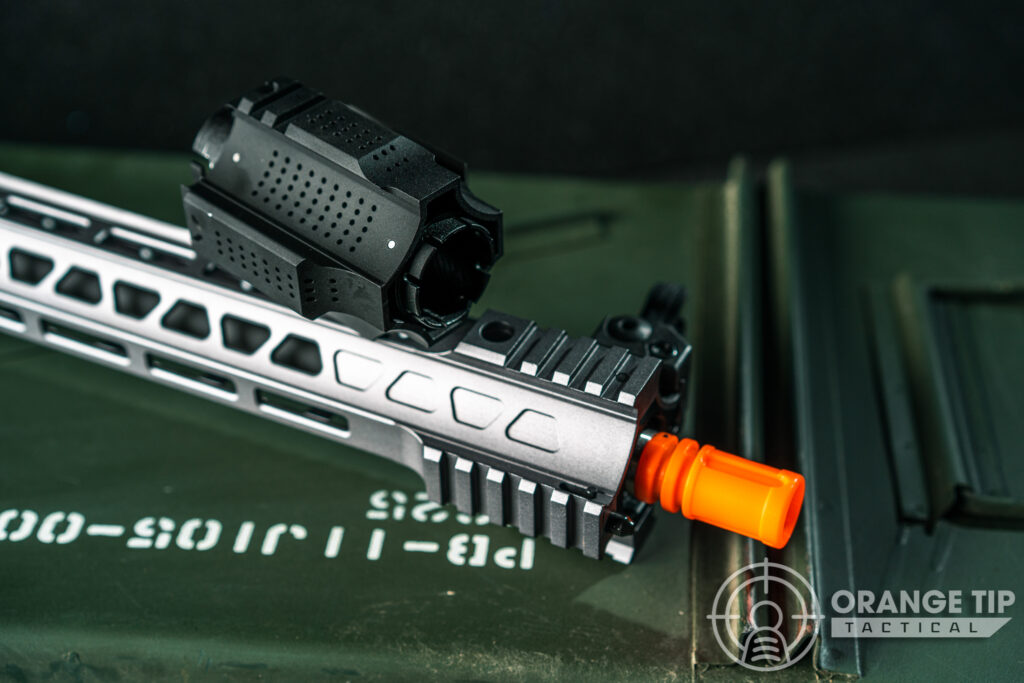 …but also included is a sleek muzzle brake that'll thread to the barrel, if you so choose!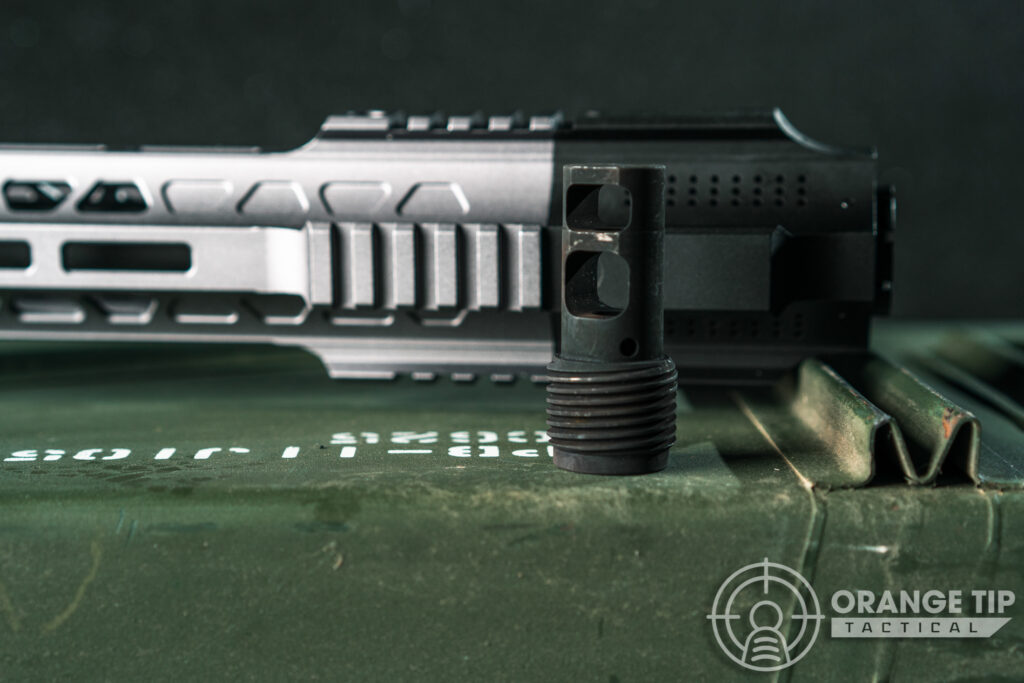 Moving back a bit to the rail system–which is another cool piece of replicated SAI innovation! A super lightweight, thin, and sturdy M-lok design with Picatinny bits up front where it mates with the Jailbreak device, and flip-up sights to boot!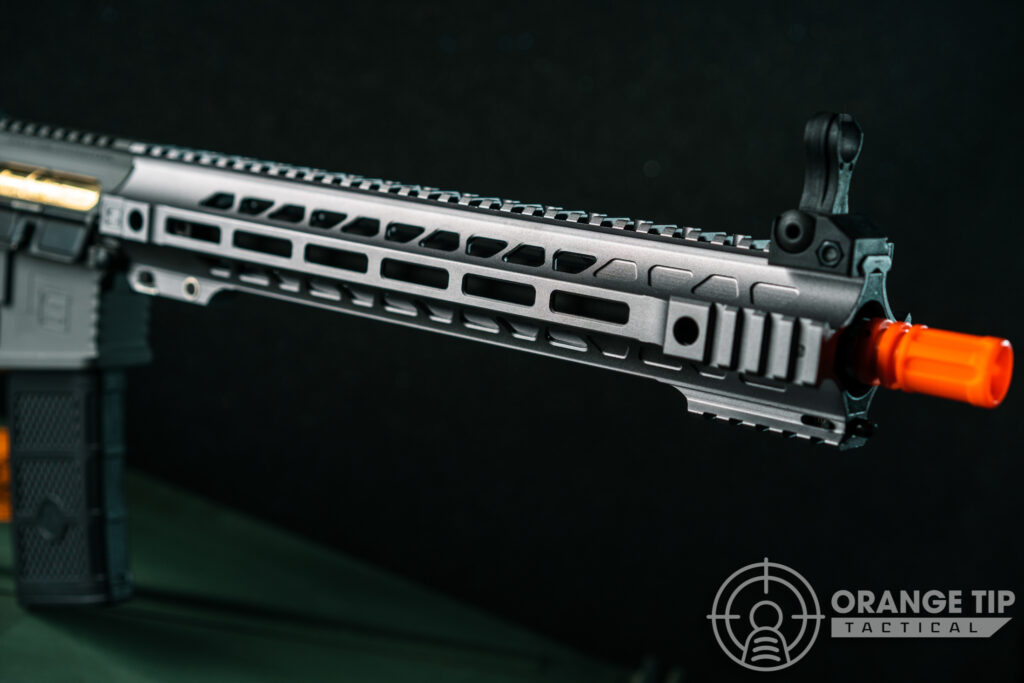 It should also be noted that each one of the lateral picatinny rails contains a QD sling mounting point, with two more further back where the rail meets the receiver.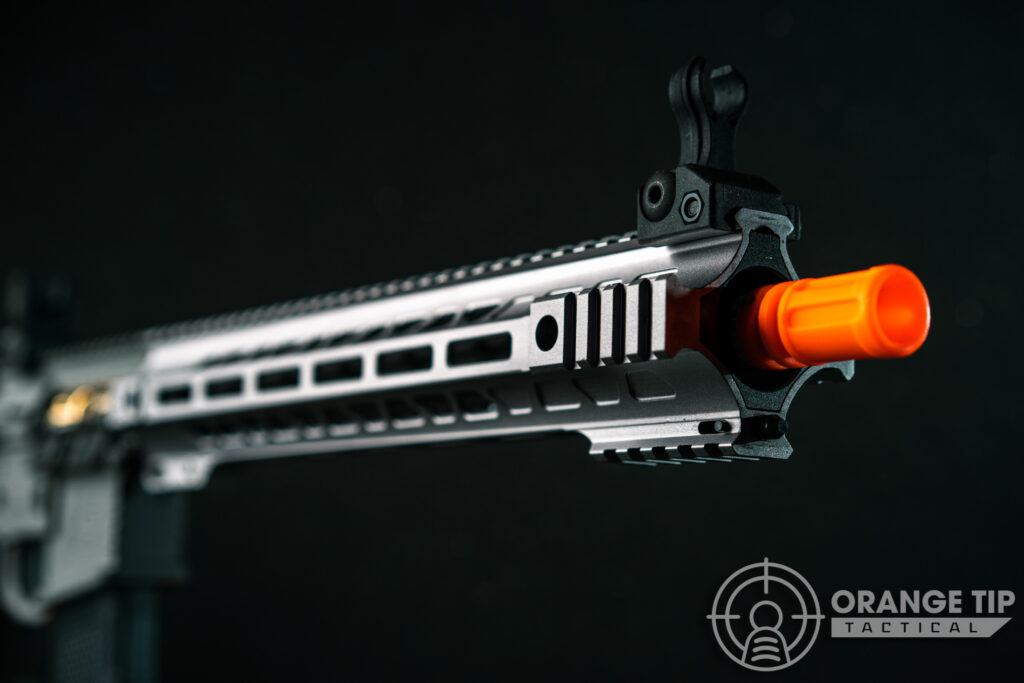 The GRY's rail feels just about as good as it looks! I have something of a soft spot for slim-profile, minimalist rails that allow you to get a natural C-clamp on the rail with your off-hand.
A bit further back to the receiver itself, and you're going to be in standard M4-platform territory, although with a few cool extra bells and whistles!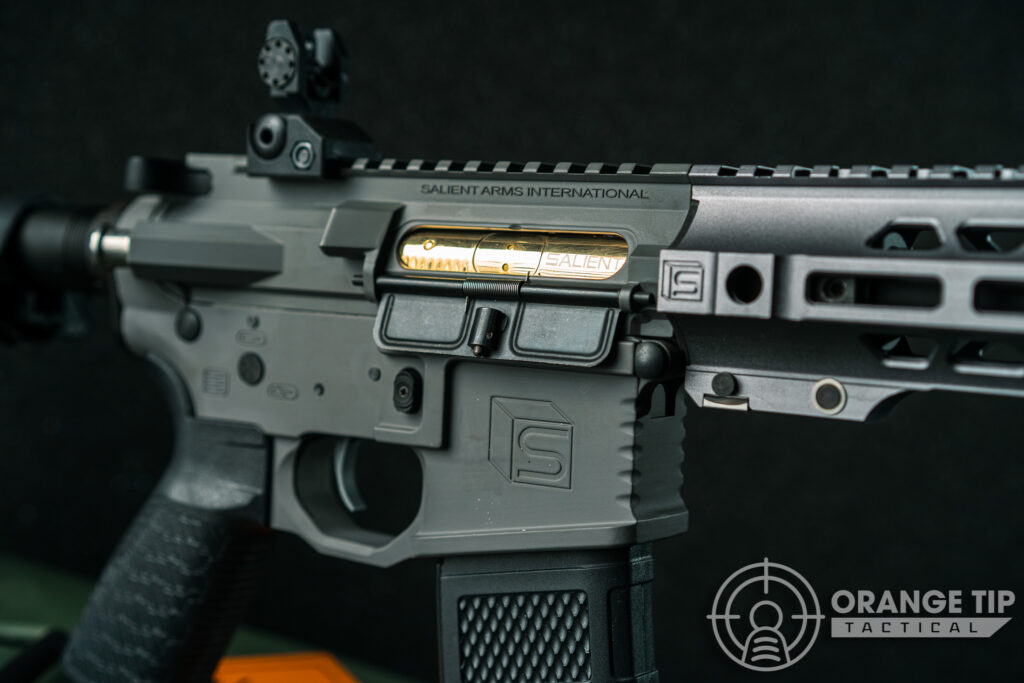 The distinctive cuts and profile of a Salient Arms AR receiver are obvious and prominent, and the SAI trades look great! An optics rail up top allows for the attachment of whatever Picatinny compatible sights your heart desires, and while not functional, that blinged-out mock BCG do be lookin' fly AF. 😎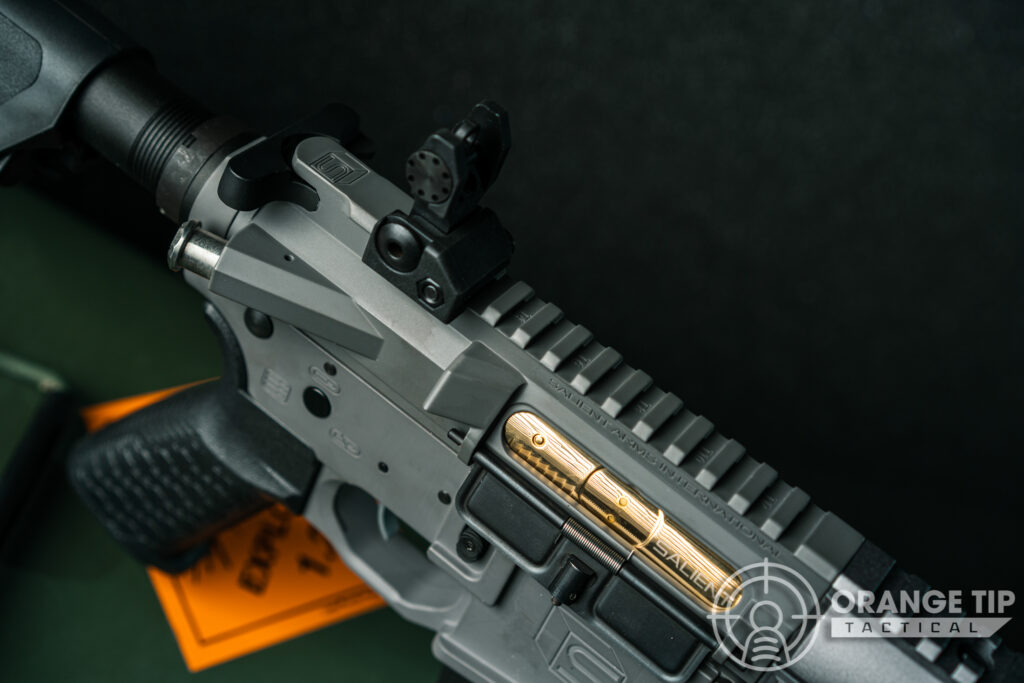 As one might expect, your hop up is accessed via the pulling back on the charging handle, which in turn retracts the fake bolt and gives you access to your adjustment controls.
It's worth mentioning however that unlike many other airsoft M4s on the market today, the bolt does not lock to the rear when the bolt release is pressed down, meaning that you've got to get the hang of adjusting your hop up while having that charging handle pulled to the rear.
This is a bit hard to photograph, but it's not terrible–just a QOL feature that'd make things a tiny bit easier if included.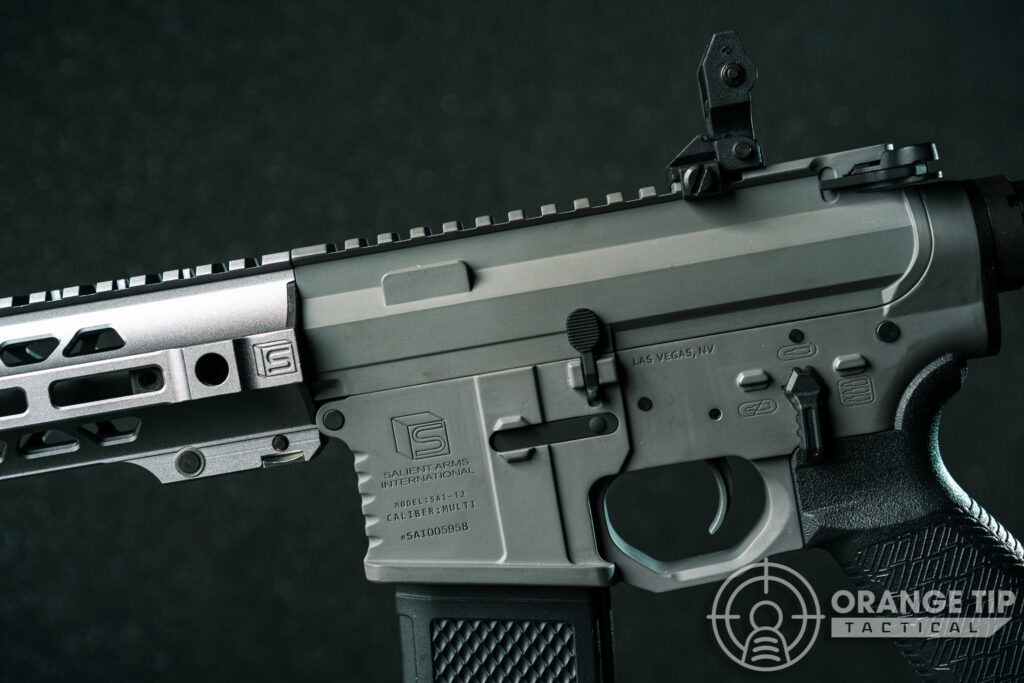 The flip side of the receiver hosts your fire control selector lever – itself being a licensed replica of Strike Industries' own selector switches which look and feel great! While there isn't quite as much of a positive click when moving between positions as we'd normally like, the lever stays put, and it's still pretty easy to tell where you are in terms of fire settings without it.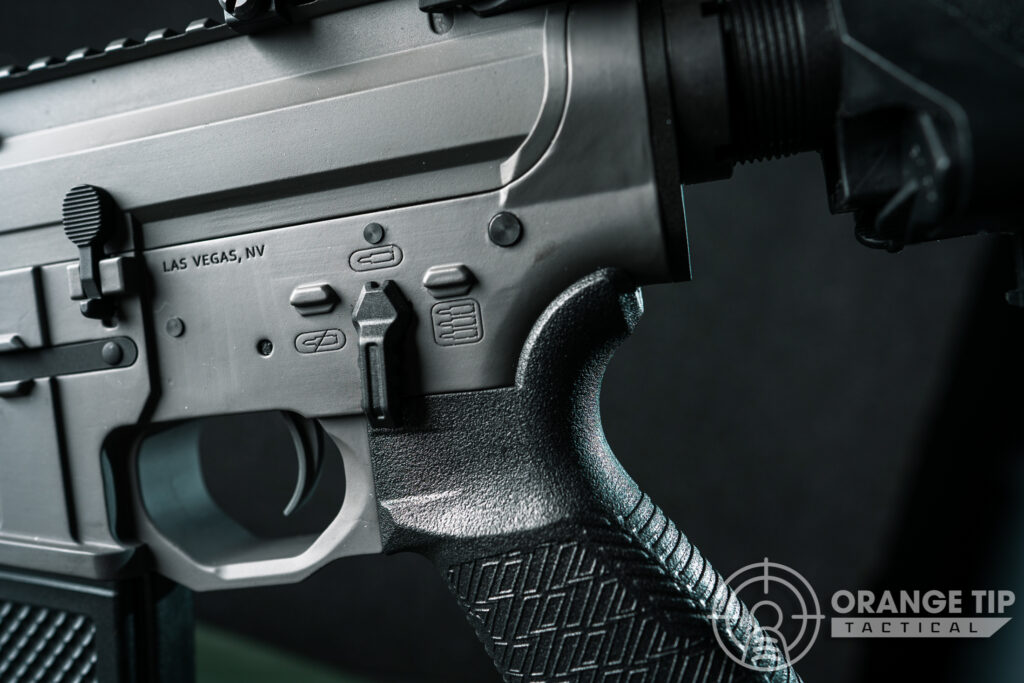 The pistol grip itself is a G&P MOTS motor grip derivative of some flavor–and the stippling and ergonomic cuts are super nice! An enormous improvement over your standard A2 grip fare, and likely a smidge higher than the MOE-esque grips out there as well (Although this is obviously subjective).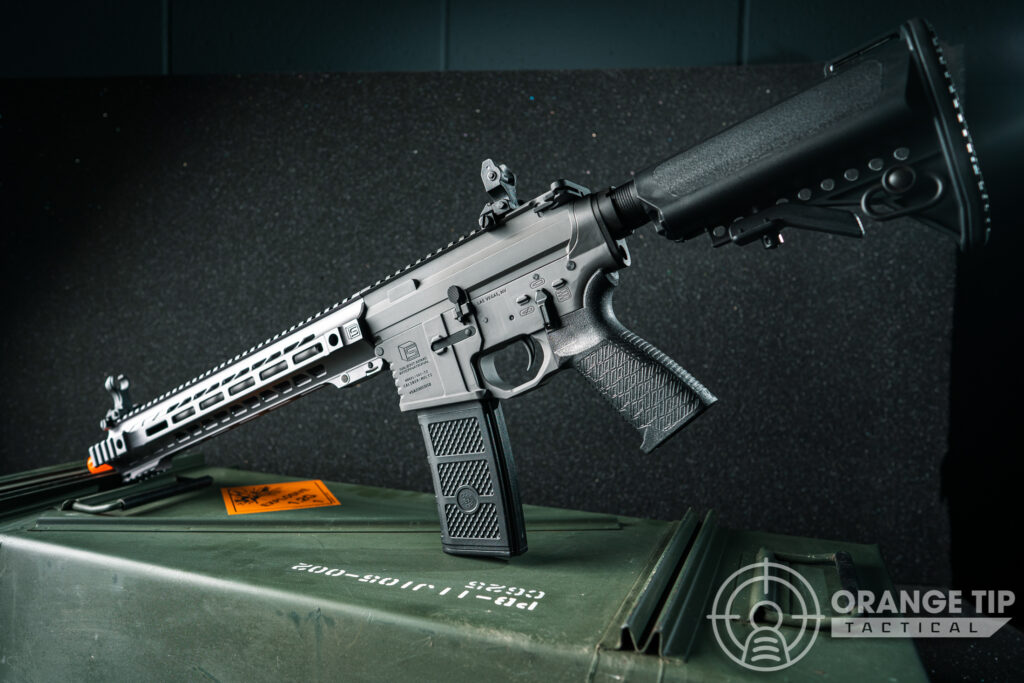 More G&P furniture adorns the AEGs buffer tube–this time a G&P MOE SL carbine stock that comes pre-installed with a QD sling attachment point just aft of the stock adjustment lever. Profile-wise, it's reasonably similar to a crane stock and features the same sort of saddle "flares" off the main line of the stock that allow for a proper cheek weld, and it's adjustable to your specific length of pull to boot! (Obviously.)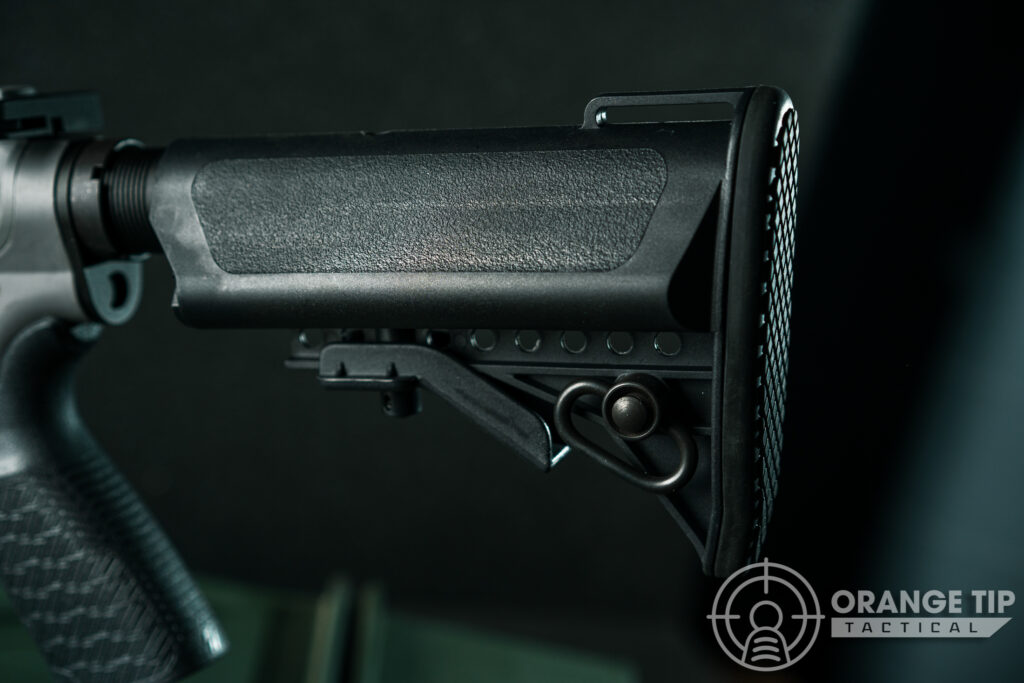 As can be seen, you've also got a top loop for slings if you'd rather not deal with QD hardware at all, as well as a rubber butt pad for a tiny bit of added comfort where it counts.
As you may have guessed, the buffer tube assembly is where all of your battery bits and bobs are stored also–although unlike most other M4s, you do actually have to remove the stock to get to it.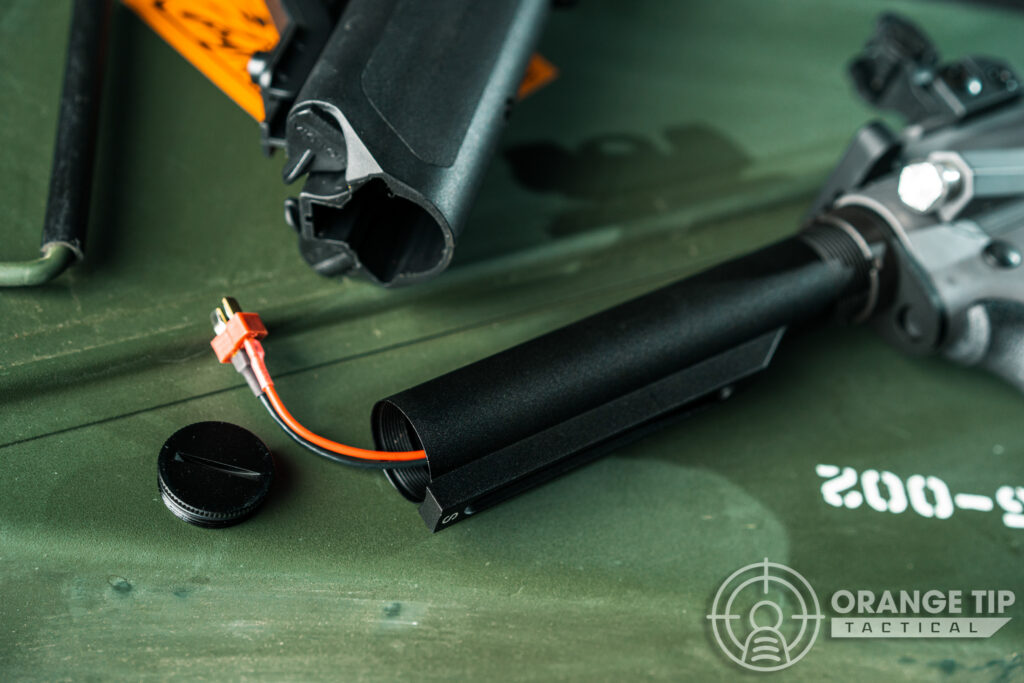 Once the stock is free, simply screw the buffer tube cap off, and you're good to go!
The gun comes pre-wired for Deans type connectors as well–which many folks do wind up doing down the road as an upgrade over the standard Tamiya connectors, but obviously, you're going to need a corresponding Deans battery as well. Don't be that guy/gal/person/human!
How Does It Shoot?
Likely one of the first things you're going to realize when you plug the GRY in and get blappin' is just how crisp that trigger pull is!
The gun's MOSFET is doing a ton of work here, and without getting into the nitty-gritty, means that you've got a super sensitive trigger that requires very, very little travel to turn the gearbox over and fire. In turn, you're going to be able to take very fast shots on semi-automatic with near-instant follow-ups!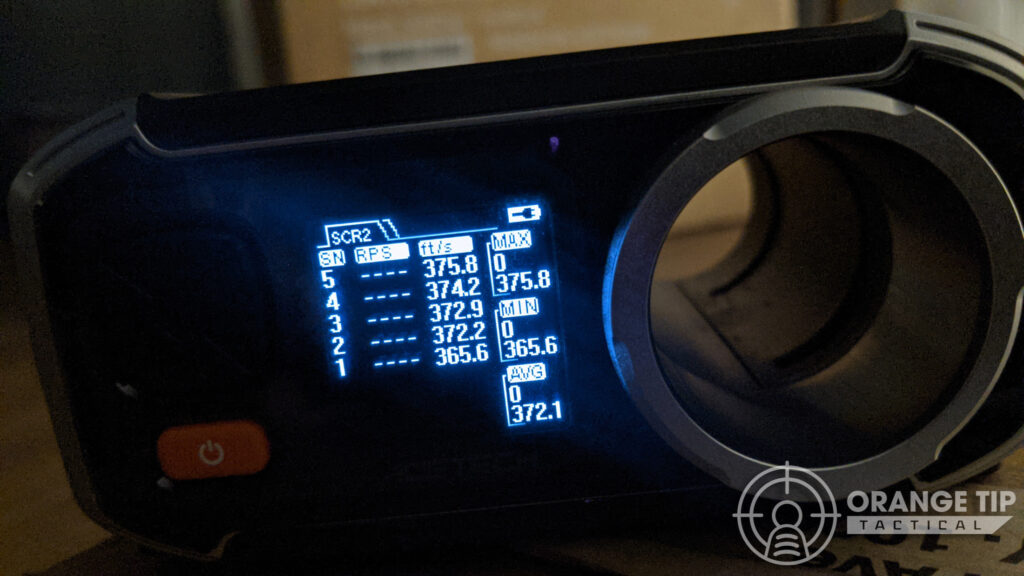 A 5 shot chrono test shows a +-10FPS spread between ~365-375 – but the good news is that you're probably not going to bump into any issues with most field chronograph limits in that FPS range as most fields are ~400FPS or so for open, woodland-type environments (read: not CQB). ~370s are pretty much the sweet spot if you never want to be worried about chronoing hot!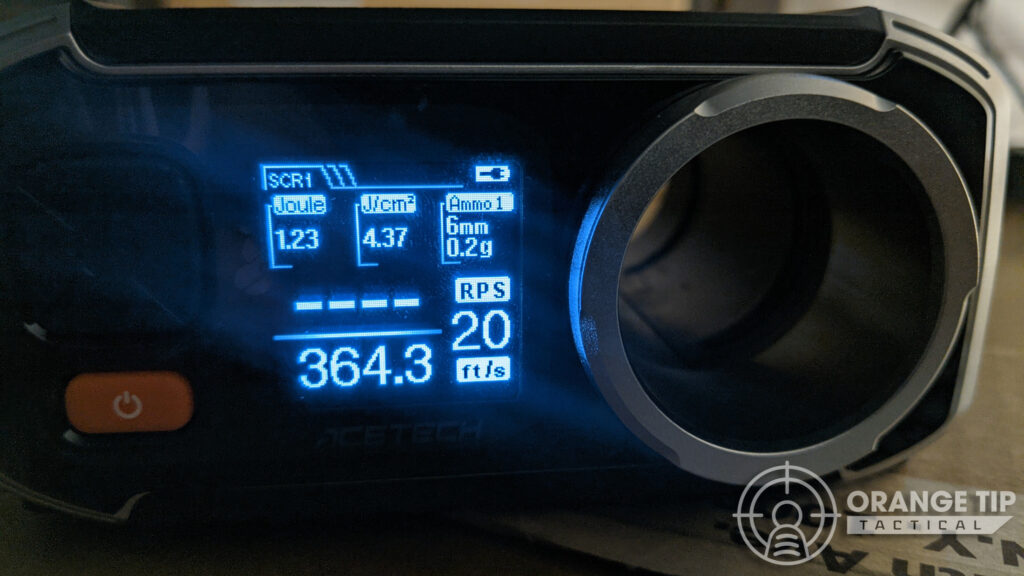 With an 11.1v Li-Po battery, the GRY rips! 20 rounds per second is nothing to sneeze at, and while you can obviously bump it up further if spitting a wall of plastic hate at your opponents is your primary concern here, we're in pretty respectable territory from the get-go!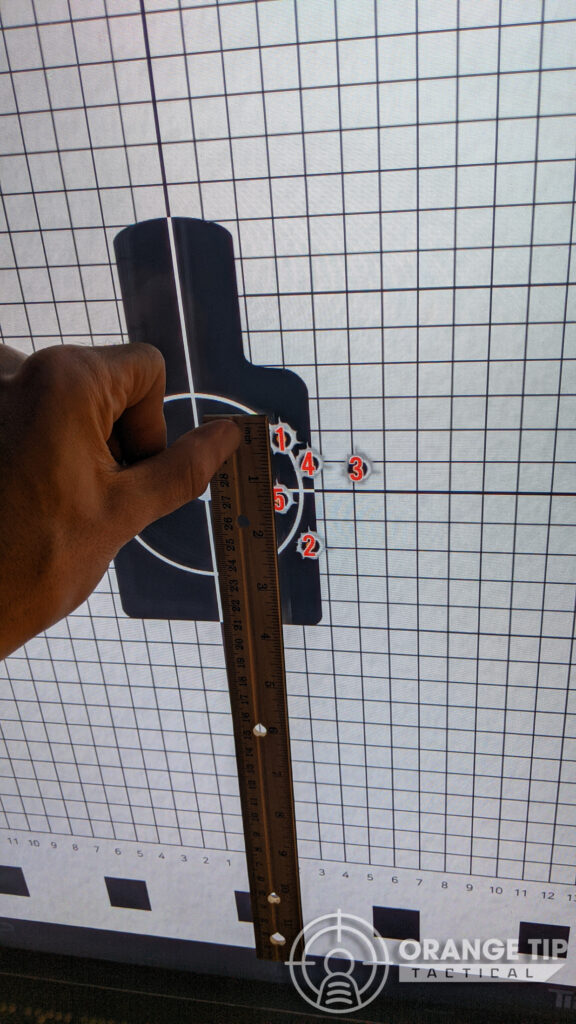 Similarly, stock accuracy is pretty damn decent! A 2.5″ spread at ~50 yards or so is going to be more than adequate to take shots that count in the medium engagement distance zone that the GRY is really going to excel at.
Upgrades and Accessories
As this is an M4 platform, you're going to be able to enjoy the benefits of a pretty massive aftermarket accessories selection!
Personally, we'd probably play to the gun's strengths and utilize that sweet sweet MLOK handguard upfront. Considering you've already got a few pieces of Strike Industries hardware floating around the AEG, why not add a Strike Industries LINK angled handstop up front to let you really drive that support hand forward?
36
at Evike
Prices accurate at time of writing
Prices accurate at time of writing
If you foresee the need for illumination, consider slapping this Night Evolution scoutlight on one of the gun's forward Picatinny rails!
65
at Evike
Prices accurate at time of writing
Prices accurate at time of writing
Optics
The gun's optics rail is going to allow you to install any Picatinny compatible sight you choose, but we're partial to smaller, sleeker designs like this Avengers T1 to maintain the gun's overall minimalist profile!
50
at Evike
Prices accurate at time of writing
Prices accurate at time of writing
By The Numbers
Reliability: 10/10
EMG AEGs have a reputation for top-notch quality, and there's no exceptions here! During our T&E phase with the gun, we had no issues whatsoever and don't expect there to be in the future, either.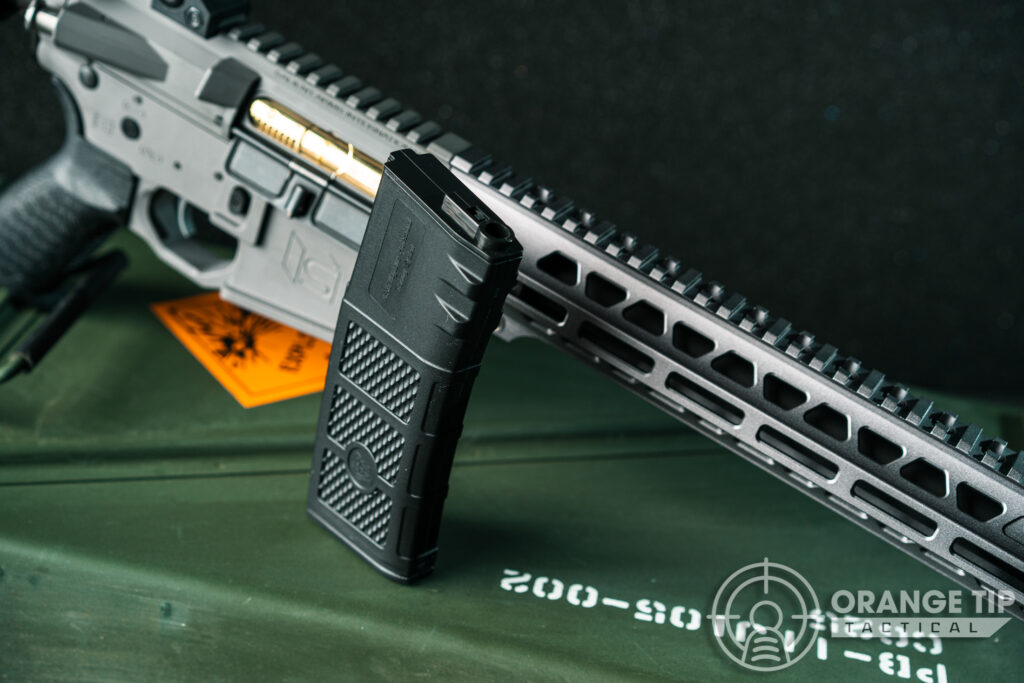 Accuracy: 9/10
While you could conceivably tighten those groups up a bit more if with the installation of a tightbore barrel and some other inner components, we suspect that most folks are going to find the stock 2.5″ groups more than adequate for most of what you'll be using the GRY for!
Effective Range: 7/10
While you're certainly not going to be turning this into any kind of DMR platform in its stock configuration, we expect you'll be plenty happy with the AEG's stock range of ~150 feet accurately or so, with a maximum range probably a bit beyond that! Again, the GRY is really going to excell in mid-range encounters–and for that, it should serve you quite well.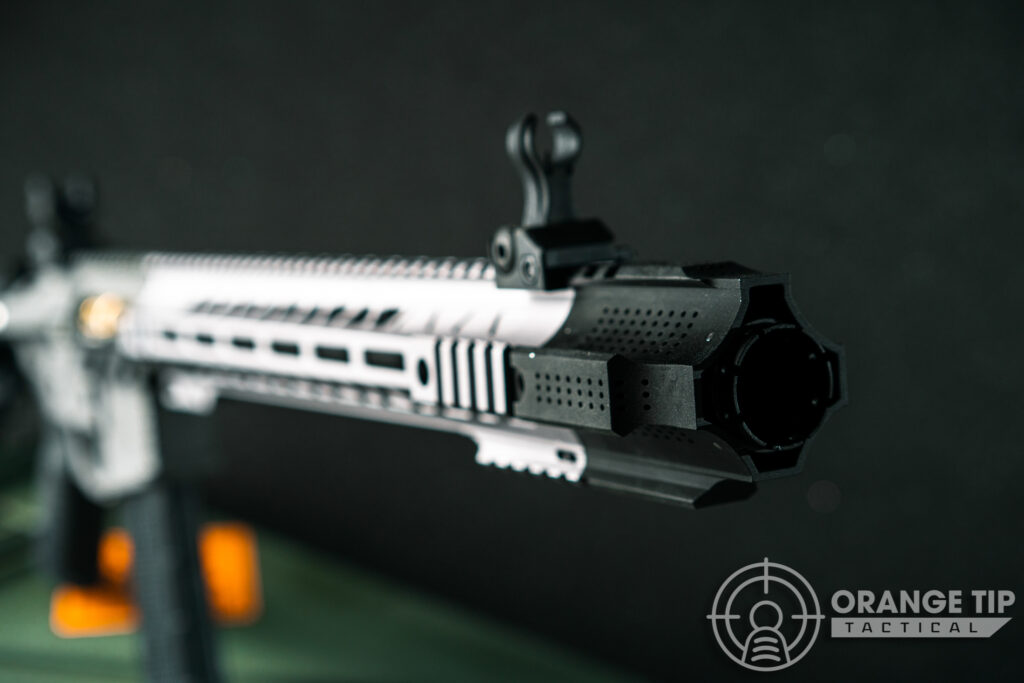 Rate of Fire: 9/10
20 rounds per second with an 11.1v Li-Po on a gun you know can handle the stress lithium polymer batteries can put on your internals. Blast away!
Ergonomics: 9/10
From the minor details like the palm-swell of the grip to the super slim MLOK handguard, the GRY is built from the ground up to sensibly move with your body in a way that provides stability and comfort–and boy howdy, does it do that well!
Looks: 9/10
Perhaps the only incredibly small gripe we've got is the fact that the gun's still using Picatinny rails up front on that handguard–which feels a tiny bit outdated considering the overall futuristic flair SAI brings to the table! Again – the smallest critique – but overall these thing just absolutely oozes a e s t h e t i c 😎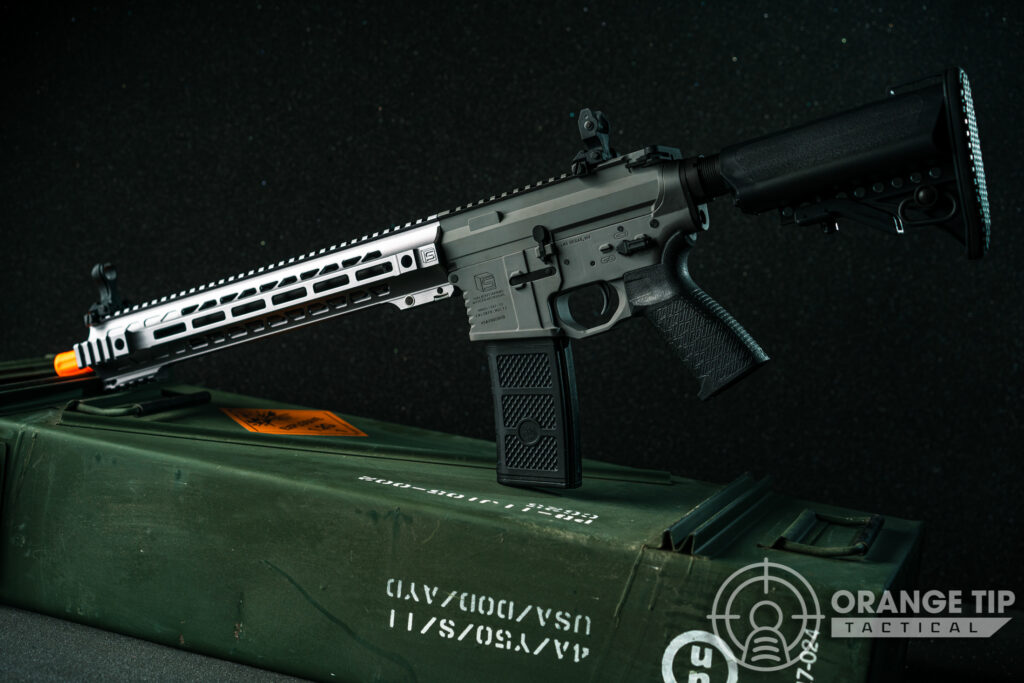 Customization: 9/10
At a certain point we're just going to start putting "lol it's an M4" here, but indeed–it is an M4! The vast majority of the airsoft aftermarket's components are open to ye, should ye be brave or fool enough to pursue them.
Conclusion
For those looking to snag a high-end AEG that sacrifices neither performance or aesthetic to bring you an incredibly functional and modular airsoft gun, we have to imagine you're going to be pretty happy with the EMG SAI GRY–unless you have an irrational hatred of acronyms (😡).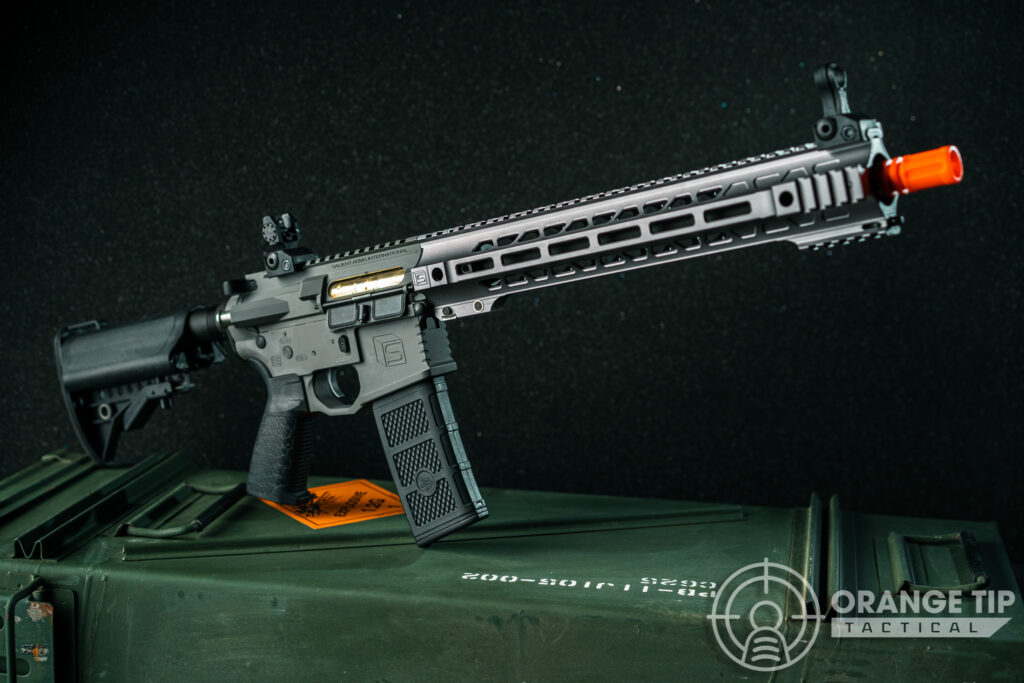 Its snappy trigger, sleek visuals, and programmable MOSFET make it easily one of the coolest AEGs we've had the opportunity to play with this year, and if you get a chance to give it a shot, we imagine it'll tick those boxes for you also!
So, what say you? Are you in the market for a big-boi gun, or just daydreaming about somedays when money is now object and BB gats are lyfe? Let us know your thoughts in the comments below. And, as always, if you're looking at M4s, be sure to check out the Best M4 AEGs for All Budgets!